Barely one week after the Democratic Republic of Congo declared an end to its ninth outbreak of Ebola, it announced, on 1 August, its 10th. Only, this time the deadly virus has struck a new part of the country, one rife with armed groups and long ravaged by conflict.
Here's our briefing on the latest outbreak and the unique response challenges it poses.
Where is the new outbreak?
The first suspected cases were reported in Mangina, a town about 30 kilometres southwest of the city of Beni (pop: 350,000), in the eastern province of North Kivu. Suspicions were raised after a 65-year-old woman died showing telltale symptoms of Ebola Virus Disease (EVD) – which include high fever, external and internal bleeding, vomiting, and diarrhoea.
At the woman's burial, seven mourners who – in keeping with local tradition – touched her body, became infected.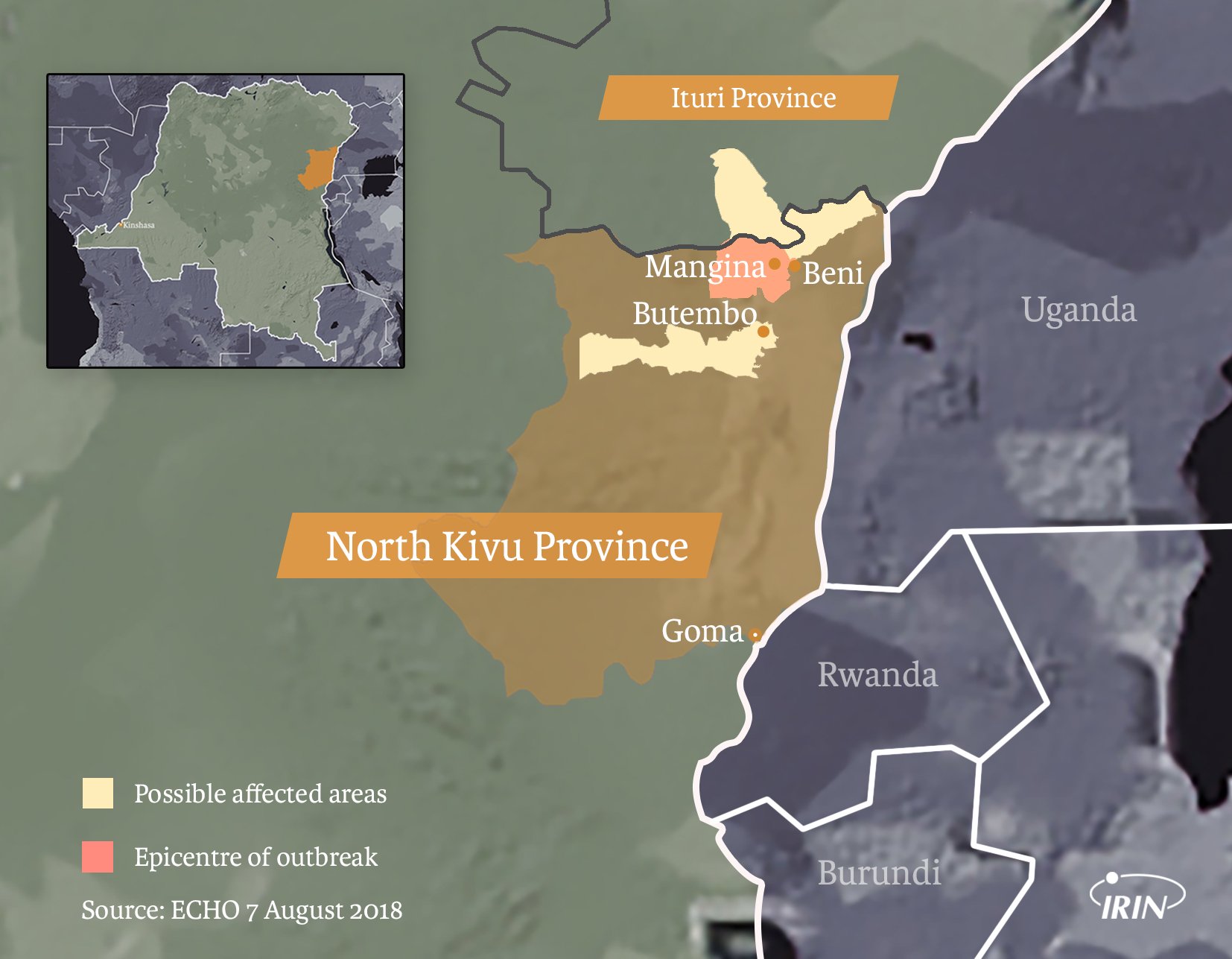 As of 8 August, the Ministry of Health has recorded cases of haemorrhagic fever in five "health zones", or catchment areas, in North Kivu: Beni, Butembo, Oicha, Mabalako (where Mangina is located) and Musienene. Cases have also been reported in neighbouring Ituri Province's Mandima health zone. Lab tests have confirmed the presence of Ebola only in Beni (four cases) and Mabalako (13 cases) health zones.
Congo's previous outbreak erupted in May in Equateur Province, on the opposite [western] side of the country.
According to the Ministry of Health, both outbreaks feature the Zaire species of the genus ebolavirus (one of four species that causes EVD in humans) but genetic sequencing of samples taken from the new outbreak reveal it to be an entirely different strain to the Equateur one – in other words, it is a new, separate outbreak.
This is the first time any strain of Ebola has struck in North Kivu, and experts consider the emergence of the Zaire species – which has a mortality rate of up to 90 percent – in eastern Congo to be a particularly worrying development.
How many people have been affected?
Congo's Ministry of Health has attributed 34 deaths in North Kivu and two in Ituri to haemorrhagic fever. Laboratory tests have confirmed nine of these fatalities – eight in Mabalako and one in Beni – were caused by Ebola.
Across the six affected health zones, there have been 44 cases of haemorrhagic fever, 17 of which are known to have been caused by the Ebola virus. The others are "probable cases" where it was not possible to obtain biological samples for testing. A further 47 suspected cases of Ebola virus – all in Beni and Mabalako health zones – are currently being investigated. A mobile testing laboratory is now operating in the town of Beni and a second will soon be set up in Mangina.
By way of comparison, Congo's previous outbreak, which took place in the eastern Equateur province, killed 33 people. Between 2014 and 2016, a major Ebola epidemic in West Africa – where, unlike in Congo, the disease was virtually unknown – claimed more than 11,000 lives.
Could this become a major epidemic?
Too early to say really, but asked what worried him most about the current outbreak, Peter Salama, deputy chief of the UN's World Health Organisation and head of its Health Emergencies Programme, told ScienceInsider: "Beni is very close to Butembo, a commercial centre with a lot of trade that has a population of 800,000 to one million. And Beni is on the road to Goma, another major population centre, where we've already had suspected cases.
"Superspreading in a village might mean seven people in Mangina with an unsecured burial. In an urban area, it might mean one person going to a shopping centre and affecting 1,000. That's going to be a trend we're going to have to grapple with for years and decades to come."
Mangina also lies about 100 kilometres from the Ugandan border, across which there is a constant flow of people and goods, including rebel fighters.
How violent is this region?
North Kivu in general, and the area around Beni in particular, have for decades been plagued by violence; dozens of armed groups operate in the region and a million people are internally displaced within the province. Many are staying with friends or relatives, creating the kind of cramped living conditions that only help the transmission of Ebola.
"In some households, nine people share a tiny bedroom. And they move around a lot in search of food," Janvier Kaserea Kasayiryo, a spokesman for civil society groups in Beni Territory, told IRIN. "These are the kind of encounters and contacts that favour the spread of the outbreak."
On 7 August, citing local officials, Reuters reported that 14 bodies had been discovered in the town of Tubameme, about 40 kilometres from Mangina. Those killed were said to have been kidnapped by an armed group last week.
Since 2014, about 1,000 people in the Beni area have met violent deaths.
Ituri, another province where infections have been reported in the latest outbreak, has also seen a recent eruption of violence.
What lessons have been learned from the previous outbreaks?
Chief among the reasons why the Ebola epidemic that struck West Africa between 2013 and 2016 killed more than 11,000 people was that it took about three months for the virus to be confirmed as the cause of a spate of mysterious deaths that began in southern Guinea in December 2013. By the time the virus was identified, 60 people had died and the outbreak had already spread to the two neighbouring states of Liberia or Sierra Leone.
It was not until August 2014, by which time around 1,000 people had died, that the WHO declared the epidemic a Public Health Emergency of International Concern, which helped mobilise a major global response.
Having experienced so many Ebola incidents, Congo has established tried-and-tested response systems, which have contained outbreaks relatively quickly and kept death tolls relatively low.
Speed is key, according to Bathé Ndjoloko Tambwe, who heads the Ministry of Health's Ebola response unit. "The outbreak had hardly been declared on 1 August when we launched the response on the 2nd," he told IRIN. 
"Also, with this new outbreak, we are seeing politicians getting involved. That's reassuring in terms of mobilising people and resources," he added.
Congo's previous outbreak in May also saw the first major use of an experimental vaccine, rVSV-ZEBOV, which appeared to play a key role in containing the virus in Equateur. All known contacts of infected parties were located as soon as possible and then vaccinated in a so-called "ring vaccination" campaign, which proved highly successful as none of the 3,300 people vaccinated in Equateur developed EVD.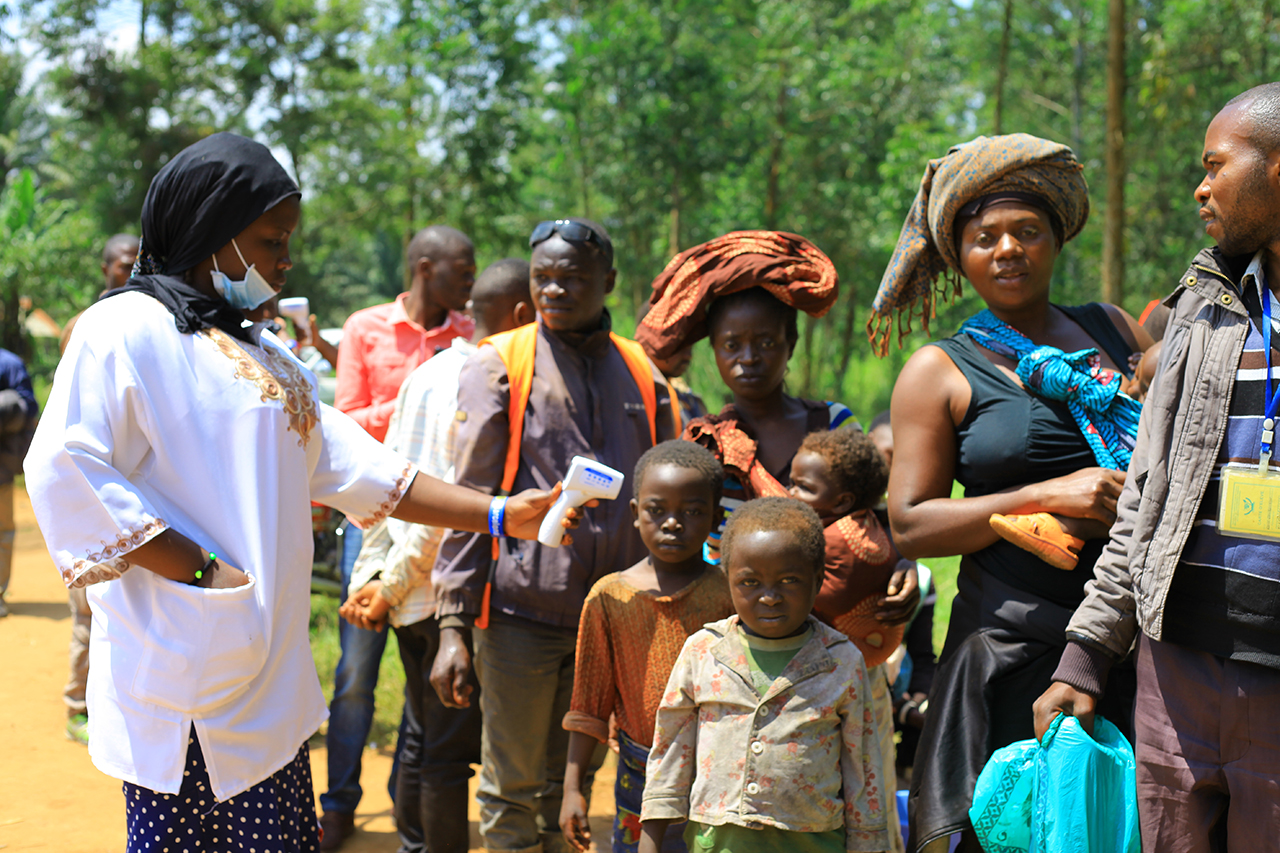 Can the same be done here?
The experimental vaccine is only effective against the Zaire species, so it can and is being deployed in North Kivu to contain the outbreak.
Congo has 3,200 vaccines left over from the last outbreak, and their manufacturer, Merck, has 20,000 more in stock. The first vaccination teams began working in Mangina on 8 August and preparations are being made to mount another "ring vaccination" campaign.
As was the case in Equateur, a major challenge here, in a region with little electrical power, will be to keep the vaccines at a temperature of -70 degrees Celsius by setting up a "cold chain" – a series of refrigeration units dotted across the area of the outbreak.
But a more formidable hurdle is the widespread insecurity that could prevent the free movement of health workers, surveillance teams, and teams tasked with explaining to local communities how to reduce the risk of contracting the Ebola virus.
And because vaccination teams may need to keep their field visits very short, the WHO is considering vaccinating all the residents of villages home to suspected infections, rather than spending time on the laborious process of identifying contacts. That said, about 1,000 contacts have been identified in North Kivu already.
Is there any treatment for EVD?
There is no specific medical treatment for Ebola patients. Those showing signs of EVD are given supportive therapy, which includes balancing the patient's fluid and electrolytes, maintaining their oxygen status and blood pressure, and treating such patients for any complicating infections. Treatment centres have been set up in Mangina and Beni.
Some therapeutic treatments are under development. Details here.
What about prevention?
Raising awareness about the nature of the Ebola virus and how it is spread is a key element of efforts to contain the outbreak. In an attempt to both respect local custom and to limit the spread of the virus, the Ministry of Health is promoting what it calls "safe and dignified burials".
Relatives of people who die "can no longer touch the corpse because it is wrapped in a special bag before being buried," a health ministry official told IRIN, noting that this went against the tradition of washing and hugging the bodies of deceased loved ones.
"We are working with communications experts, psychologists, as well as religious and traditional leaders to make people understand the need to abandon these traditional practices," he added.
Ebola is named after the Ebola River, near the village of Yambuku where the first known outbreak occurred in 1976.
(Additional reporting by Anthony Morland)
cs-am/ag