Furious winds shredded entire villages, stripping off roofs and walls, flinging debris through the air, and burying people under the rubble. It was the 20th of February 2016 and Fiji was on its knees. When all was said and done, Cyclone Winston had crashed through half the population and churned up $1 billion in damages.
As the extent of the destruction from the most powerful storm ever recorded in the Southern Hemisphere became clear, the head of the Fiji Red Cross, Filipe Nainoca, ran through an enormous list of tasks: shelter, water systems, logistics – all of it on an unfathomable scale. He knew the Red Cross, his country even, couldn't do it alone.
"None of us – none of us in Fiji – had ever experienced it before," Nainoca recalled in an interview with IRIN. "We all needed help. Everybody." 
But Nainoca also had something else on his mind.
The international response a year earlier in neighbouring Vanuatu, after Cyclone Pam, had been completely overpowering. International aid agencies, donors, and the United Nations swept in, bringing their own systems and ways of doing things. For Pacific Islanders in the aid community, it was a watershed moment that shaped how subsequent disasters have been managed.
When Cyclone Winston struck, Fiji's government was determined not to let the same thing happen, Nainoca said. And so was he.
Nainoca asked the Red Cross umbrella organisation, the International Federation of Red Cross and Red Crescent Societies, for specific expertise. But the foreign aid workers, he cautioned, would have to integrate with his team, not run it. "I made sure that we stayed in control of our response," he said.
Nainoca has a clearly articulated vision of what "localisation" – the aid sector's latest buzzword for overhauling humanitarian aid – means to him. "It's our local plan; not a plan that is designed for us."
The debate over locally driven aid takes on added urgency in the Pacific Islands, a region lashed by cyclones, floods, and frequent drought. Rooted in the belief that locals know best what their communities need, "localisation" aims to empower them – whether it be indigenous peoples, community organisations, local NGOs, municipal authorities, or national governments – to lead responses to crises on their own turf.
But when it comes to localising aid, the international community has been slow to loosen its own grip on power.
'Our way'
There's a particular way disaster response is supposed to work. When a disaster strikes, the government assesses the damage and, if necessary, asks the aid community for support. International agencies are expected to fall in line under a nationally led response.
"It means giving up power. It means moving resources"
Loti Yates, who leads disaster management for the Solomon Islands government, told IRIN how he sees it: "Whoever comes in will have to work within our context, not the [other] countries working within their [own] context."
But the reality is often far more tangled. When Cyclone Pam tore through Vanuatu, it also brought in a torrent of NGOs, surge staff, and the aid sector's labyrinthine coordination system. Some new arrivals had minimal experience working in the Pacific region, let alone Vanuatu.
In interviews with IRIN, multiple people from NGOs, governments, and the UN described a response that was overwhelmed and effectively taken over by international staff – to the chagrin of national authorities in Vanuatu, and the anxiety of other Pacific Island nations.
"The Cyclone Pam response suggests that despite all of the rhetoric in recent years about the need to 'localise the humanitarian response', when we are presented with an opportunity to do this, we struggle to step back and not have things done our way," a review of the relief efforts by four prominent NGOs concluded.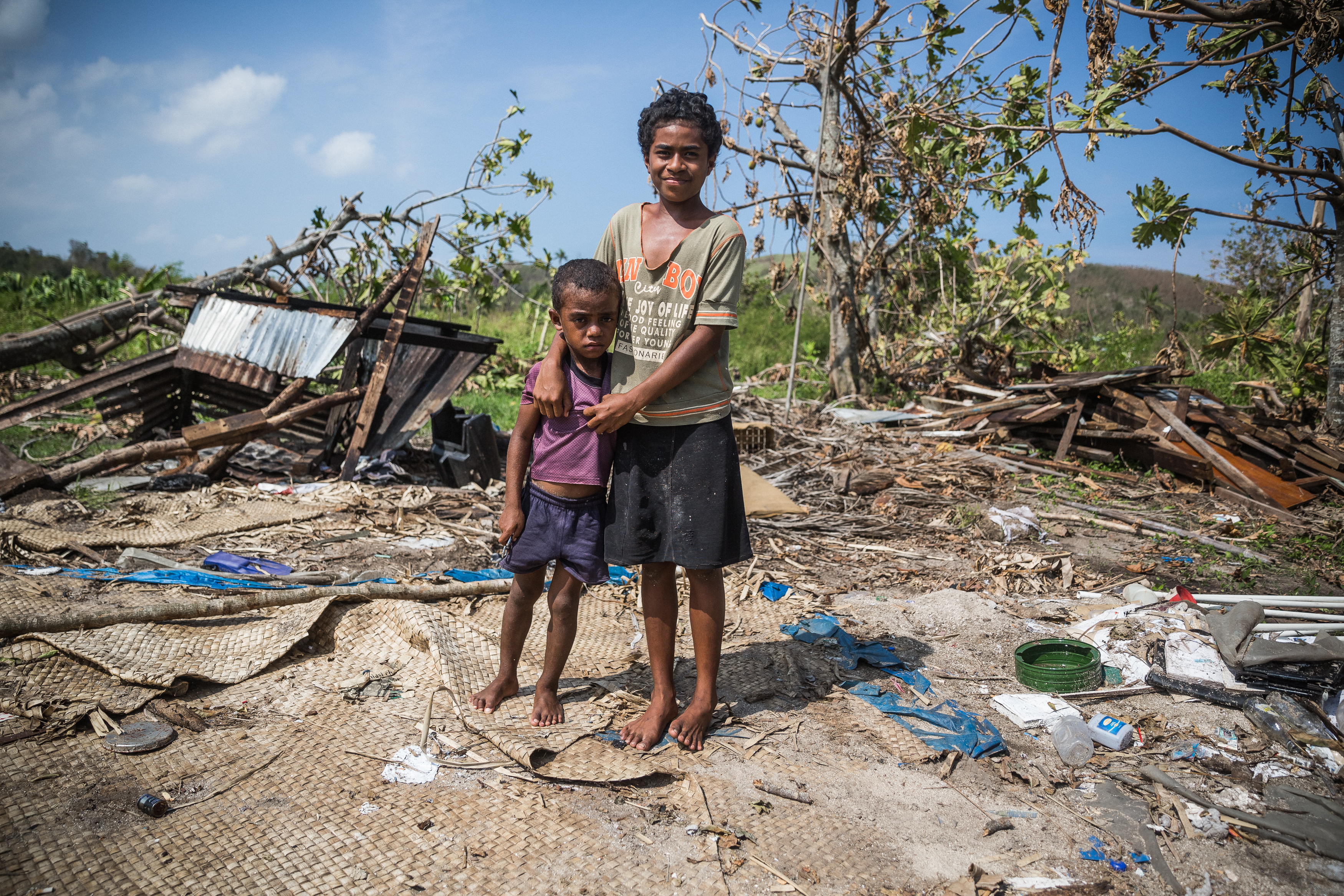 Power dynamics
Localisation encompasses a range of goals aimed at ensuring humanitarian efforts are driven by people on the ground where disasters actually hit – part of a larger "Grand Bargain" of reforms, agreed between major donors and UN agencies, meant to overhaul the way aid is delivered. 
Internationally, the debate has often focused on the most quantifiable aspect of these reforms: funding. The aid community has committed to the lofty but so far gapingly elusive target of shifting one quarter of humanitarian funding to local and national responders.
But the discourse is more nuanced in the Pacific Islands. Local aid workers speak of rebalancing power, developing skills, and building – or in some cases, rebuilding – relationships with international partners. Funding is important, but so is the power to use it, when aid is often knotted with strings and programmes are hatched in corporate offices an ocean away.
Recent research commissioned by the Australian Red Cross pinpoints this power imbalance as a key hurdle on the path to localisation in the Pacific. It can often play itself out in the simplest of ways. In one aid meeting documented by researchers, two international workers spoke for more than half the time, even though there were 11 local counterparts in the room.
In between disasters, the aid sector pumps in millions of dollars to local organisations to build skills and expertise. But when push comes to shove, it's the UN agencies, the international NGOs, and the donor governments that still control the funds and make substantive decisions. In spite of the localisation agenda's ambitious aims, enacting locally driven aid has been a glacial process.
"We really have to get to the bottom of why things don't change," said Emele Duituturaga, who leads the Pacific Islands Association of Non-governmental Organisations. "And a lot of that is attitude. It means giving up power. It means moving resources, and we know from other areas of work that it takes a long time for those things to really happen."
Building trust
Sune Gudnitz, who until recently headed the Pacific office of OCHA, the UN's emergency aid coordination body, said the entire humanitarian system has a "complete lack of appetite for failure", which has left the Grand Bargain reforms at a standstill.
"We talk the talk about localisation and how we should empower communities and [civil society organisations]," Gudnitz told IRIN. "But where is the trust to really let them come up with a model and show they can do it?"
This issue of trust seeps through discussions – whether it's national governments exerting control, NGOs that want a greater role, or the international aid groups and donors that still hold the purse strings.
"We're beginning to lose trust in that process: whether coming here every year and talking about our issues will benefit us"
As the largest donor to the Pacific Islands, Australia has a heavy footprint when it comes to disaster response.
Jamie Isbister, the humanitarian coordinator in the foreign affairs department, told IRIN that Australia's vision of localisation is one in which decisions are made "at the lowest level possible".
But donors also have their own checks and balances that determine where the money goes; they want reassurances that their funds will be well spent.
"If you're committed to localisation, it's not simply about how you can find better ways to put money or cheques or funding into local organisations," Isbister said. "That is part of it. It's got to be based on a level of trust, a level of confidence."
A way forward?
The localisation debate in the Pacific digs up long-held grievances: memories of commandeered disaster responses, unfulfilled promises, and fickle funding.
Still, the aid community here is pushing forward.
At a recent meeting of the main humanitarian agencies in the region, held in Suva, Fiji's capital, aid workers continued piecing together the concept of localisation.
Participants discussed alternatives to the web of traditional aid funding and ways of building and using local know-how, rather than relying on experts parachuted in from abroad.
Local organisations outlined the support they need to take on greater roles in the next inevitable disaster. National authorities offered firm reminders of their jurisdiction. Representatives of international agencies spoke of their own limitations, and the pressures that feed the urge to swoop in during crises.
The discussions were marked by cautious optimism, but also by a degree of impatience and frustration. 
"Localisation isn't new," said Masi Latianara, who heads Habitat for Humanity Fiji. "There have been years of this discussion; years of this discussion; a lot of talk."
Many are left wondering when all this talk will morph into more tangible progress.
"Somehow, [the discussion] has been repetitive over the years," Michael Foon, the national disaster management officer for Kiribati, told IRIN. "And so we're beginning to lose trust in that process: whether coming here every year and talking about our issues will benefit us. Is it just for these people to listen to us, then when we come back the next year, we're talking about the same stuff?"
"For us," Foon said, "I think what we're looking for is more action."
(TOP PHOTO: A child and a man stand on the roof of a home damaged by Cyclone Pam, on Ifira Island, off the coast of Vanuatu's main island of Efate in March 2015. Cyclone Pam flattened homes and wiped out 96 percent of agricultural crops in the most severely affected areas. Vlad Sokhin/UNICEF)
il/ag