Migrant arrivals to Europe in 2015 were widely expected to surpass the record levels reached in 2014, as conflicts in Syria and elsewhere raged on. But the staggering number of sea arrivals to Greece in recent weeks appears to have taken many by surprise.
Greece recorded more than 50,000 arrivals in July, according to the UN's refugee agency, UNHCR, surpassing in just one month the 43,500 who arrived during the whole of 2014. The figures for August are likely to be even higher – last week alone, 21,000 migrants, the vast majority of them refugees from Syria, Afghanistan and Iraq, crossed the relatively short stretch of the Mediterranean that separates Turkey from Greek islands such as Kos, Lesvos and Chios. 
"We've been warning for months of a mounting refugee crisis [in Greece]," said William Spindler, a spokesperson with UNHCR. "We saw large numbers of arrivals in the first months of the year, so it was to be expected they'd increase in the summer months. We expect these numbers to continue probably until October, but they won't stop."
Despite UNHCR's warnings, Greece was poorly prepared for the influx. The country already lacked a properly functioning asylum system and only three of the islands have formal reception facilities.
"Reception conditions in Greece have been sub-standard for years. This is a structural problem. It's not due to the present economic crisis," Spindler told IRIN.
UNHCR has put the cumulative number of sea arrivals this year at about 265,000, with Italy receiving 104,000 migrants since the beginning of the year via the treacherous Central Mediterranean route, which has already claimed 2,200 lives this year.
Frontex, the EU border agency, released figures on Tuesday putting the total number of migrants detected at EU borders between January and July at 340,000, nearly three times the figure for the same period in 2014.
The agency, which relies on member states to allocate it equipment and manpower in order to be able to help frontline states like Greece, is calling for more support.  
"If you have such high numbers of migrants crossing, it's necessary to be able to control these flows, to make sure everyone's identified and detected," Frontex spokesperson Izabella Cooper told IRIN, adding that allocations from member states so far were not adequate to provide the necessary support to Greece. 
Chaotic self-relocation
After months of intense negotiations, a proposal by the European Commission for member states to accept 40,000 asylum seekers from Greece and Italy over two years with the aim of easing the pressure on those countries resulted in only 32,000 places being pledged. The relocations have yet to begin and in the meantime, Spindler pointed out, "the migrants are relocating themselves, sometimes under a lot of distress and hardship, sometimes with the help of smugglers and not necessarily going to places where they will find the help they need."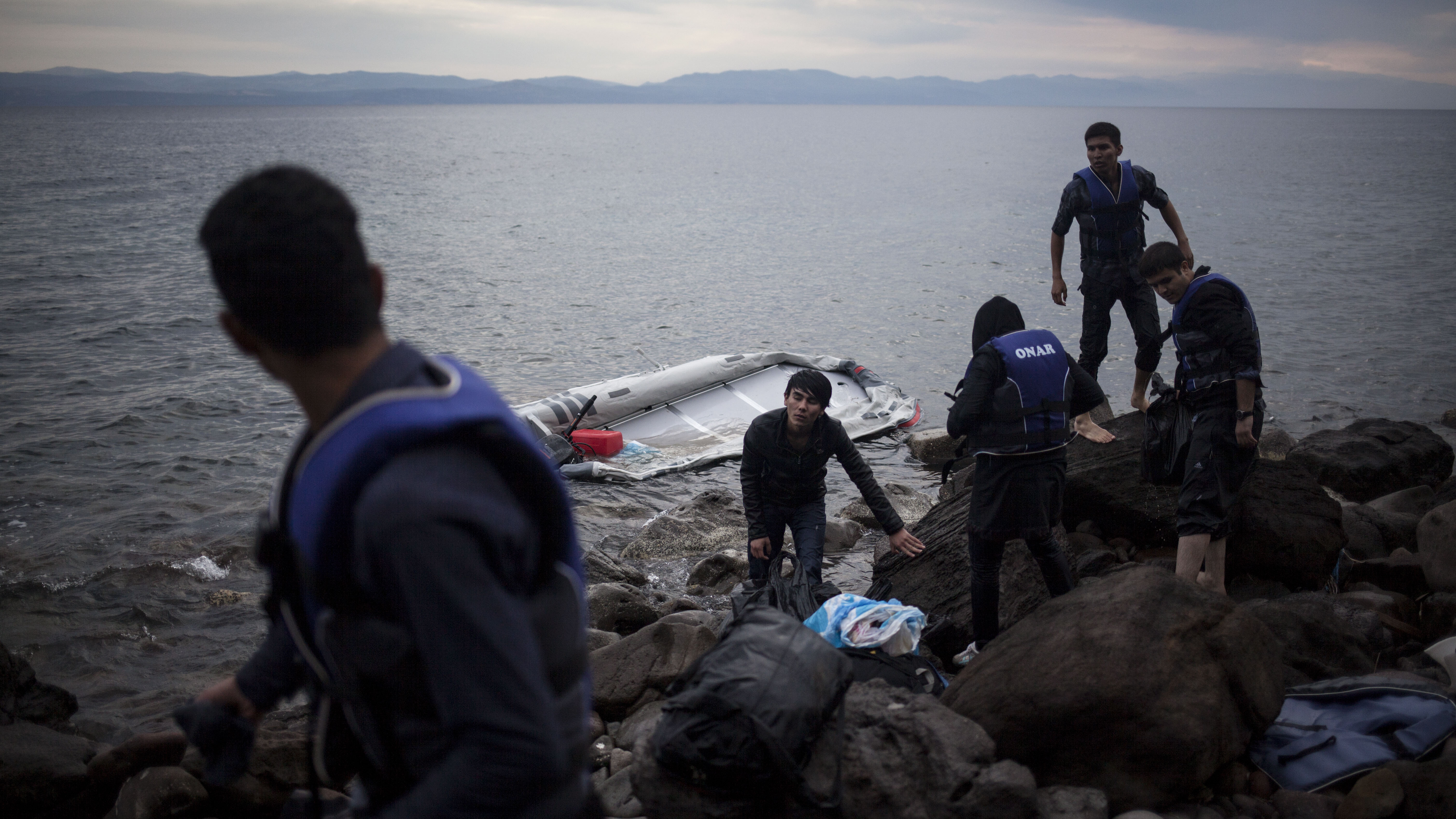 For the majority of migrants arriving in Greece, the next destination is Hungary – the southern edge of the EU's passport-free Schengen zone. More than 110,000 asylum applications have been registered in Hungary this year, a five-fold increase from 2014, and reception centres are overwhelmed. More than 80 percent of migrants leave the country within days of arrival, according to the International Organization for Migration (IOM). Some only continue on as far as Austria, where the asylum system is similarly unable to cope, but a much larger number are heading for Germany.
This week the German government is expected to revise an earlier prediction that it would receive 450,000 asylum applications in 2015, to as many as 750,000. It is unclear how even a country of Germany's size and wealth will absorb such numbers considering that many asylum seekers are already being accommodated in tents and assisted by volunteers.
UNHCR would like to see a more orderly distribution of migrants that would give national and local authorities time to plan in advance. For now, "countries and in some cases cities are being left to their own devices to cope as they can," commented Spindler.
He argued that providing more support to developing countries hosting the majority of refugees, such as those neighbouring Syria, could also go a long way towards reducing secondary movements towards Europe.
"All humanitarian actors have difficulty raising funds for operations in those countries, and of course that has an impact because if people aren't getting enough food that might trigger movements towards Europe."
Joint approach needed
Earlier this month, the EU approved 2.4 billion euros (US$2.6 billion) in funding over six years to help countries such as Greece and Italy cope with the surge in migrant numbers, but Spindler suggested that the bloc has a duty and the resources to do more. 
"There are very good initiatives but they could be much more effective if taken by the EU as a whole," he said, pointing to the example of Italy's Mare Nostrum sea rescue operation, which saved thousands of lives last year but lacked sufficient support from other member states to continue.
UNHCR as well as many other refugee and human rights groups have been critical of moves by several member states to invest in increased border controls and barriers rather than improved reception conditions and systems for processing asylum applications.
UK Home Secretary Theresa May is due to meet with her counterpart in France on Thursday to sign an agreement that is expected to include further security measures to prevent the roughly 3,000 migrants camped out in Calais from reaching Britain.
Meanwhile, Hungary is building a fence at its border with Serbia designed to repel the thousands of migrants arriving via the Balkans. The government wants to impose prison terms of up to four years for those who damage the fence. 
Europe's focus on keeping people out rather than managing an ever-growing global refugee crisis is failing.
"Europe's focus on keeping people out rather than managing an ever-growing global refugee crisis is failing," said Gauri van Gulik, Deputy Europe and Central Asia Programme Director at Amnesty International, in a statement on Wednesday.
"Rather than the piecemeal reactions so far, it's clear that the EU needs a more holistic approach, and must provide safe and legal routes to enter Europe so people don't have to risk their lives en route."
Cooper of Frontex agreed that border control was not the panacea, "but one piece of a bigger puzzle." 
"The only way to manage these flows is to stabilise the countries of origin, to dismantle people-smuggling networks and also to find a common European approach when it comes to asylum and integration," she told IRIN.
ks/ag