Canoes glide through the black, stinking water as children run along an overhead maze of precarious walkways through Makoko, a growing slum on stilts in Nigeria's sprawling commercial capital, Lagos.
Many of the original residents of Makoko are fishermen attracted from across the region to hopes of a better life in Nigeria, West Africa's oil-rich economic powerhouse. But life is tougher than they had imagined.
"I moved here to fish, to set up a business," said Martins Oke, in his 70s, who left his village on the Benin border when he was a small boy. "But some days I don't even catch a single fish."
Many Makoko residents have been here for generations, losing touch with family back home. Pride stops others from returning to their communities empty handed.
Despite the hardship, every year more and more people come to Lagos.
It is already one of the world's mega-cities – a crime-ridden, seething mass of some 15 million people crammed into the steamy lagoons of southwest Nigeria. Two out of three Lagos residents live in a slum with no reliable access to clean drinking water, electricity, waste disposal - even roads.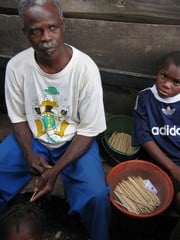 As the city population swells by up to eight percent every year, the slums and their associated problems are growing. The government estimates that Lagos will have expanded to 25 million residents by 2015.
"By 2015 Lagos will be the third largest city in the world but it has less infrastructure than any of the world's other largest cities," said Francisco Bolaji Abosede, Lagos Commissioner for Town Planning and Urbanisation.
Abosede is keen to emphasise that his is not a political appointment – a euphemism for corruption. His desk is piled high with maps and proposals for new developments and regeneration projects for Lagos Island – the city's central business district.
A world away
Sunday Merunu rarely ventures from his stilt-home in Makoko into downtown Lagos, although he can see it from where he sits amongst his fishing nets.
Merunu shares a two-room shack with three other adults and eight children. The family buys water by the bucket for drinking, cooking and bathing. Like the estimated 15,000 other residents of Makoko, all the family's waste and raw sewage go directly into the inky water beneath their homes.
Merunu's house has a couple of light bulbs and even a television, but electricity supply by the state power company, NEPA, is at best erratic and most nights the family has only kerosene lamps for light.
"We spend 20 naira [15 cents] to buy water every couple of days and divide the electricity bill between a few families," said Merunu. "There isn't enough money left over to send the kids to school."
The World Bank has identified nine of Lagos' largest slums, Agege, Ajegunle, Amukoko, Badia, Bariga, Ijeshatedo/Itire, Ilaje, Iwaya and Makoko, for upgrading with a US $200 million loan to improve drainage and solid waste management.
An estimated one million people will benefit from the loan, which is the largest single project backed by the World Bank in Nigeria.
Since President Olusegun Obasanjo's elected government came to power in 1999, ending 15 years of military rule, millions of dollars have been spent on urban regeneration and projects aimed at reducing crime, but results have been poor.
Security forces rarely venture into Makoko, except perhaps for the occasional demolition of shanty houses. Instead, security is provided by "Area Boys", self-styled vigilante groups made up of unemployed young men that defend their territory with threats and often violence.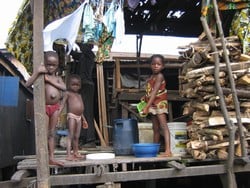 Corruption at the root
Like the Area Boys, at every level of society in Lagos someone is looking to make their levy.
Nigeria is one of the most corrupt countries in the world, according to international NGO Transparency International. Since independence in 1960, billions of dollars of Nigeria's oil revenue have been siphoned from state and government coffers into Swiss bank accounts of the country's rulers.
Nigeria's rampant corruption and lack of enforced regulations have enabled buildings to go up unchecked – only 30 percent of houses in the city have an approved building plan.
The Ebute-Metta area of Lagos is a short drive inland from Makoko. New buildings are falling down almost as fast as they are going up. Poor workmanship and corrupt inspectors means that buildings less than five years old are collapsing, sometimes crushing to death whole families inside.
"We had noticed the cracks in the walls, but we never thought it would collapse," said Debola Igbosanmi, who had a shop on the ground floor of 71 Bola Street before it caved in without warning in mid-July, killing about 20 people.
According to Abosede at the Lagos Town Planning office, 199 buildings in Ebute-Metta alone have been identified for testing for poor workmanship. Many still have people living inside.
Abosede says his office is cracking down on corruption. It's a crusade that President Obasanjo says he is spearheading since taking up office nearly eight years ago. Although Obasanjo has won praise overseas for his anti-corruption drive, his critics say that the president has used his Anti-Corruption Bill only against his opponents.
In August, the woman at the forefront of his government's anti-graft campaign, Ngozi Okonjo-Iweala, quit as foreign minister after being relieved as finance minister in June. This was evidence, critics said, that she had been a little too good at her job.
Okonjo-Iweala led negotiations that resulted in Africa's biggest debt write-off of US $18 billion. She also initiated reforms which saved Nigeria US $500 million by forcing the renegotiation of contracts that had already been awarded.
But Okonjo-Iweala's successes merely scratch the surface in a country where corruption is not just a government pursuit but has seeped into the very fabric of society.
Abutting Makoko is Iwaya, one of the oldest slum areas of Lagos. There, Chief Murtiala Aremu Oloko sits in this three-storey home rising out of the haphazard sprawl.
When asked to list the needs faced by his "subjects", Oloko laughs, "It would take all day." The problems are too numerous, ranging from healthcare shortages to schools shortages and more, he says.
When asked what he was doing as the traditional leader in Iwaya to help his people, Oloko didn't pause: "That depends what they give me."
---
This article was produced by IRIN News while it was part of the United Nations Office for the Coordination of Humanitarian Affairs. Please send queries on copyright or liability to the UN. For more information: https://shop.un.org/rights-permissions