Indigenous communities in northern Argentina, from the snow-covered Andes to the dry Chaco woodlands, have long felt disregarded by the central government, discriminated against by Argentines of European descent, and systematically abused.
Around 2.4 percent of Argentina's population identifies as Indigenous, census data shows. And the National Institute of Indigenous Affairs counted 513 of the country's 1,790 Indigenous communities as being in Salta province alone.
Women here have been confronted by a rise in gendered violence, perpetrated by migrant and non-Indigenous men as well as by members of their own communities. A cycle of poverty and structural exclusion has fed this violence and left some communities struggling to survive.
Among the most vulnerable individuals have been children, including teenage girls.
In February, around 30 women from Misión Kilómetro Dos, an Indigenous Wichí community, signed a letter to Abel Cornejo, security minister of Salta province, saying they had become pregnant as a result of abuse, and demanding that the non-Indigenous men who fathered their children recognise paternity. They hoped it would help them to receive child support from the fathers, prevent future abuse, and provide their children with answers about their identity. 
The women decided to file the report after Pamela Julia Flores, a 12-year-old girl from their community, was murdered. Pamela had been missing for two days when, on 15 January, a local man found her body clumsily hidden among the low shrubs and dust where a highway bridged a creek. She had been stabbed to death. 
A 17-year-old boy from the community who was in a relationship with Pamela is currently in preventive detention charged with her murder. At least two other Wichí girls have been murdered this year, allegedly by non-Indigenous men: Florencia Isabel Torres, 14, was stabbed by her older ex-partner in the town of Pichanal; and, weeks later, Jorgelina Reinoso, a 16-year-old, was killed in the neighbouring province of Chaco, allegedly by an older man.
These femicides were committed against a backdrop of Indigenous poverty, marginalisation, and discrimination – a byproduct of Argentina's brutal colonialist history and a national discourse that still often portrays it as a nation descended from white Europeans.
A recent verdict by a federal judge determined that the killing nearly a century ago of some 500 Indigenous people in Chaco province – known as the Napalpí massacre – was a premeditated attack by the state that could be termed a crime against humanity.
Calling out the abuse for what it is
Misión Kilómetro Dos, near the hamlet of Pluma de Pato, is a dusty cluster of small bare-brick, clapboard-and-tin houses shielded from the road by a thicket of dense, thorny trees some 400 kilometres from the provincial capital, also called Salta. Women and girls cradle infants and herd errant toddlers into yards ringed by rough wooden fences. As in much of the region's rural areas, the state is largely absent.
Laura*, 30, is one of the women who signed the letter to the authorities. Her mother became pregnant with her after being raped, and she doesn't know who her father is. "In the past… they would see a woman walking alone and grab her and take her by force, make her do it," she said. "That's how they were. And I was born because of that."
Laura, in turn, became pregnant as a teenager after encountering the father of her child – a 42-year-old married, non-Indigenous man from another province – working on a road. Following the birth of her child, he disappeared. "I don't think it was such a loving relationship, because the guy was maybe ashamed because of my race, because of my colour," Laura said. She now regards their entanglement as abuse.
While data on gender-based violence in Argentina's Indigenous communities is sparse, a 2017 UNICEF report found far higher levels of pregnancy among 10-14 year olds in Salta, as well as in neighbouring Chaco and Formosa provinces. The report also highlighted that Indigenous girls were more likely to suffer from obstetric violence.
Generally, abusers are in a position of economic, social, and racialised dominance over the women. Perpetrators are often well-connected men from nearby non-Indigenous towns, in some cases abusing women who come to work in their homes as maids. "Many of these relations were not consensual, and many of them happened at a very early age, in conditions that we now recognise as abuse," the women's letter states.
Some campaign groups such as Movimiento Mujeres y Diversidades Indígenas por el Buen Vivir refer to abuse by non-Indigenous men as "chineo", since these men often describe aggressively pursuing and abusing Indigenous women as "chinear" ("to Chinese"). However, other activists feel this replicates the racist custom of describing Indigenous women as "chinitas" (literally, little Chinese women). Several Indigenous women in the region told The New Humanitarian they also experienced GBV at the hands of men within their own communities.
Abusers sometimes offer goods such as clothing or food in a bid to portray their actions as a form of transactional sex, but in other cases groups of non-Indigenous men grab women and children from their communities, or on the roadside, and gang-rape them.
In 2019, six men were sentenced to 17 years in prison each for the 2015 gang rape of a 12-year-old Wichí girl with learning disabilities. Known pseudonymously as "Juana", she was left pregnant. She gave birth to the baby by Caesarean. It suffered birth defects and did not survive.
Despite the landmark ruling garnering national media attention, campaigners say Juana still isn't receiving adequate state support, while such attacks remain common. Through a mixture of fear, shame, and the inability of many Indigenous women and girls to communicate fluently in Spanish, most go unreported. This is compounded by claims that police often refuse to record reports of gender-based violence, sometimes mocking or insulting the women.
Miguel Angel Velardez, head of institutional relations for the Salta police, told The New Humanitarian he couldn't deny such experiences. "We are training ourselves all the time so that this kind of thing doesn't happen," Velardez said. "One hundred percent of police agents in Salta have been trained [in line with Argentina's legal framework on GBV]." 
Children dying of malnutrition
A recent study, reflecting both urban and rural settings, put poverty rates in Salta as the highest in the country, with over half of the state's overall population classified as poor, rising to roughly 60 percent in rural areas alone.
Poverty, which worsened during the COVID-19 pandemic and is compounded by racism, isolation, and government neglect, is also driving a hunger crisis in Indigenous communities marked by rising childhood malnutrition. 
In January 2020, Salta's governor declared an emergency in the remote departments of Orán, San Martín, and Rivadavia after six Wichí children died of malnutrition. Emergency measures remain in place as fatalities have continued, including Clarisa Pereira, a two-year-old Wichí girl who died of malnutrition near the town of General Mosconi in late June.
The situation is striking because Argentina is considered an upper middle-income country by the World Bank. It has the third-highest GDP per capita in South America, after Chile and Uruguay, and has long been a destination for migrants from poorer neighbouring countries such as Bolivia and Paraguay.
Most official statistics in Argentina aren't broken down by ethnicity. However, analysis by the Ombudsman's Office for Children and Teenagers found that 37 percent of children in Salta who suffered from stunting in the second quarter of 2021 were Indigenous – while only 6.5 percent of the state's overall population is Indigenous. In 2020, infant mortality in Salta was the second highest in the country – 12.4 per 1,000 births, compared to the 8.4 national average. The highest rate was in the neighboring Formosa province.
Of the 79 children under five years of age who died in Salta province during the first quarter of 2022, roughly half of them were underweight, according to a government report.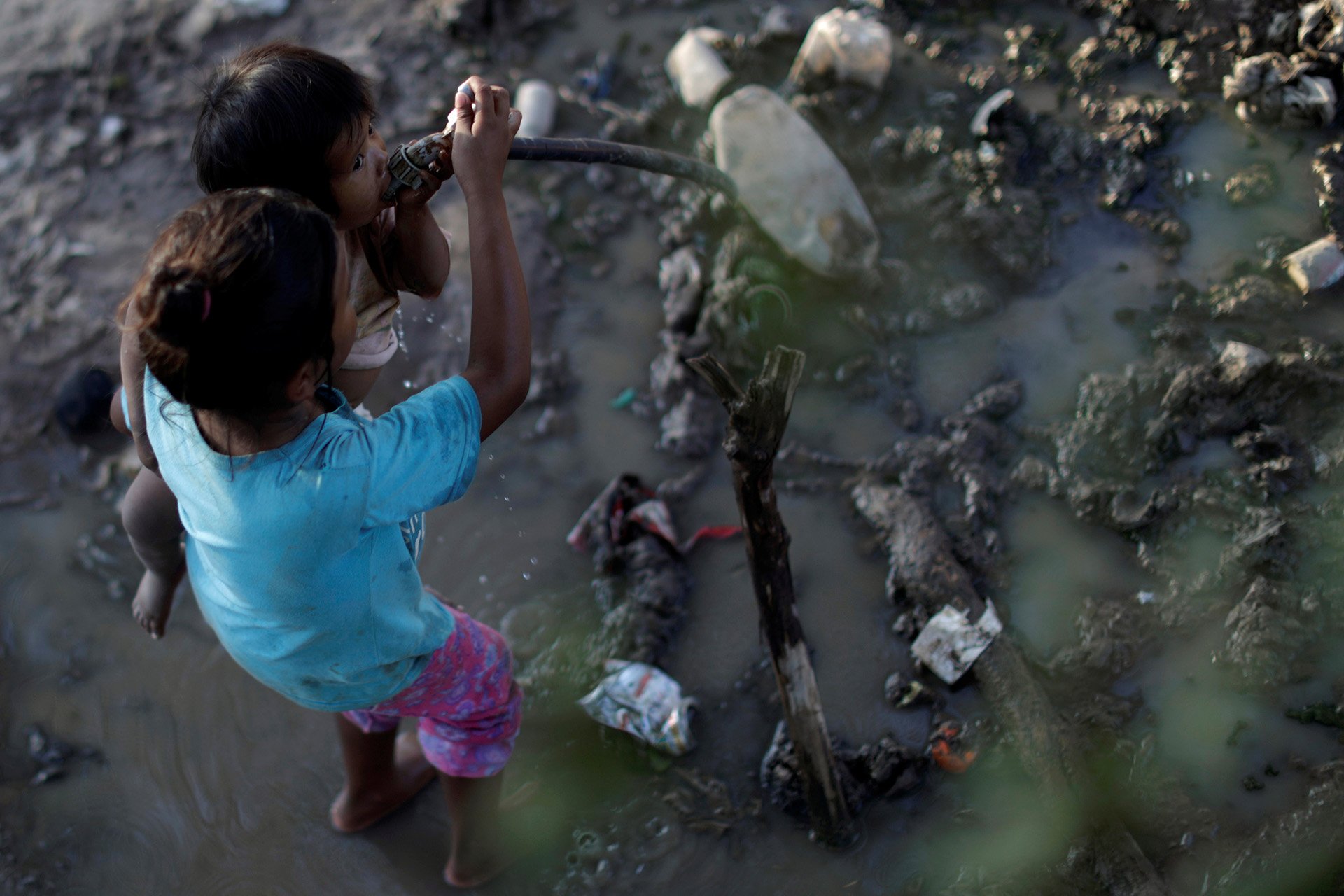 The official cause of death among children is often respiratory infections, gastroenteritis, or dehydration. But Diego Bustamante, director general of Pata Pila, a NGO working on malnutrition in northern Salta, said they can be regarded as deaths "in the context of malnutrition". He said most of the children losing their lives to malnutrition are Wichí.
Alina*, who preferred not to give her real name due to fears it might cause more problems from local landowners, runs a soup kitchen in a community of 30 families near the Wichí village of Misión Chaqueña, some 80 kilometres west of Misión Kilómetro Dos. It operates four days a week, while a second local group, Fé y Alegría, brings food to the community two days per week. 
Alina said that when families are unable to catch fish in the river and collect carob from the forest, which they eat or exchange for groceries, they are often limited to boiled rice or flour tortillas. "That means there's a lot of malnutrition, because they don't have the protein they need to eat," she explained.
Salta province passed an intercultural health law in 2014 requiring hospitals to have intercultural bilingual facilitators to accompany Indigenous families to translate and explain often alien medical procedures and terminology, and help them express their concerns to medics. But the law was never properly regulated and is rarely implemented in practice. In July, Salta's Court of Justice ordered the provincial government to provide the bilingual staff and facilities stipulated in the law.
Community group and self-help
Red Cross Argentina runs humanitarian projects in northern Salta focusing on improving access to potable water, training women to prevent and respond to GBV, and providing primary health assistance. UNICEF works on community detection and treatment of acute malnutrition in the region, running healthy cooking and anti-violence training.
But these efforts only scratch the surface of the assistance needed. Frustrated by discrimination and exclusion from state institutions, Indigenous women have increasingly been forming their own community organisations to fill the gaps in support.
In Misión San Francisco, an urban Ava Guaraní community in Pichanal, Kuape Äi, meaning "I'm here", is a group of volunteers assisting women in their community who are experiencing gender-based violence.
"Four years ago, we trained as sexual and reproductive health promoters," said Leticia Quispe, the group's spokeswoman. "From there, we worked together on different interventions in the community."
The group, composed of 13 abuse survivors, has direct experience of racial and sexual discrimination and institutional violence at the hands of police and medics. This ranged from long waits, to dismissive treatment and insults at hospital, to being blamed for their abusive partners' behaviour.
Kuape Äi runs craft and baking workshops to help women in the community generate an independent income. It collaborates with other community organisations to try to provide greater support to families by combating malnutrition and GBV at the same time.
One such group is Tekove Katu, meaning "Place of More Life", a canteen for underweight preschool children. 
As her three-year-old ate chicken and rice, Marianela*, 23, told The New Humanitarian how she was able to leave her violent partner with the support of Kuape Äi and Franciscan monks living in the community.
To escape a violent and impoverished childhood, she had left home young to live with her boyfriend, becoming pregnant with her oldest child at the age of 16. But her partner was controlling, physically and emotionally abusive, and soon started to drink. 
"He threatened me. If I didn't want to have sex, he would try to make me do it," she said. "I put up with it because maybe I was blind in love with him." Despite the beatings, she was afraid of going to hospital because she didn't know who would look after her children if she was admitted overnight. 
Eventually, in 2021, she told the monks about the abuse. They called the police, who helped her remove her belongings from the house and provided accommodation for her to live in. Now, she sells api (a hot, sweet corn drink), fried tortillas, and pastries that she makes at a baking workshop organised by Sonia Ruíz, a member of Kuape Äi. She takes her daughters to Tekove Katu to eat.
Gustavo Farquharson, Salta's representative at the National Institute Against Discrimination, Xenophobia and Racism (INADI) – part of Argentina's Ministry of Justice and Human Rights – told The New Humanitarian that the regional and national government needs to hire Indigenous staff, meaningfully implement existing legislation such as the intercultural health law, and assign greater priority to the problems Indigenous communities face.
In numerous cases, INADI Salta has pursued legal action against hospitals and other public bodies for failing to provide adequate attention to Indigenous women. However, Farquharson said there was a lack of "political will" among many officials, and discrimination and racism pervade all levels of government, making meaningful change difficult without broader, coordinated action.
Abuse by non-Indigenous men, for instance, was "not given the importance needed to be able to eradicate it", he said. INADI and Indigenous women's campaigners are calling for such crimes to be punished with harsher penalties, on the grounds that race and gender are aggravating factors.
Together with regional politicians, INADI Salta presented a bill to make equality, inclusion, and anti-discrimination training compulsory for all public functionaries in the province. It was approved by Salta's regional deputies in early July and is now with the province's Senate for debate.
Despite all the challenges, Marianela is optimistic she can raise her daughters with the support of her community. "I think if I got another partner it would be the same or worse," she said. "For now, I'm good on my own. I'm happy with my daughters. We're getting ahead on our own."
*Names have been changed to protect the security of the women.
Edited by Paula Dupraz-Dobias.