As medical professionals across the globe grappled with COVID-19 infections, microbiologist Dr. Bhavani Eshwaragari was confronting a quieter – though no less dangerous – pandemic. Reviewing patient samples in her laboratory in Continental Hospital in the southern India city of Hyderabad, she began to notice an alarming trend as the pandemic wore on: Almost all of the cases of Klebsiella pneumoniae, a bacteria that causes infections such as pneumonia, were resistant to antibiotics.
"Especially during the Covid time there has been multi-drug resistance," she told The New Humanitarian at her lab in February. Eshwaragari estimated that of the 40 to 50 samples of patient bacteria the hospital tested each day, around 10 percent were drug resistant.
The impact in low resource settings such as conflict zones may be particularly devastating.
Rising antimicrobial resistance (AMR) had been ringing alarm bells across the world long before COVID-19 emerged. A report published in the Lancet earlier this year – the first to estimate the global burden – calculated that antimicrobial resistance was directly responsible for almost 1.3 million deaths in 2019 – more than HIV or malaria. 
While this will result in longer hospital stays and higher costs of treatment for patients across the globe, the impact in low resource settings such as conflict zones may be particularly devastating.
"The supply of antibiotics in those regions is very limited," said Dr. Bhishmaraj Srivastava, strategic medical lead (South Asia) at Médecins Sans Frontières (MSF). Specialised equipment and experienced doctors, essential for accurate and speedy diagnosis, are also often in short supply, he said. "Getting those kinds of facilities available in resource-limited or conflict settings is a very major challenge." 
The result of drug-resistant infections in such areas is that "illnesses become more prolonged, death rates become more severe," said Srivastava. "What becomes even more frustrating is that it's preventable," he added. "It's a problem that could have been avoided in the first place."
Now, experts worry that the coronavirus pandemic may have exacerbated the problem by accelerating antibiotic misuse, compromising infection control in hospitals, and curtailing vaccination and sanitation programmes. While concrete data has been difficult to collect during the pandemic (some countries, like India, halted data collection for much of the pandemic), anecdotal evidence like Eshwaragari's as well as emerging reports suggest a steep rise.
Last week, the US Centers for Disease Control and Prevention released a report noting a rise of at least 15 percent in "resistant hospital-onset infections and deaths" in the first year of the pandemic – undoing much of the progress in the US battle against antimicrobial resistance. In addition, the World Health Organization issued an "urgent" call last week to ramp up research and development of vaccines to fight AMR. 
'A socio-economic problem'
In India, drug-resistant pathogens such as the ones seen in Eshwaragari's lab have been becoming increasingly commonplace in recent years, pinpointing the country as central to the battle against emerging resistance. 
Part of the problem in India and elsewhere lies in an overdependence on antimicrobials – drugs such as antibiotics.
The country's high population density and rate of infectious diseases, combined with a chronically underfunded healthcare system, create the ideal breeding ground for drug-resistant infections. (India spends just 1.25 percent of its GDP on public healthcare, according to a 2020 Oxfam report, ranking the country 154th, or fifth from bottom of the countries studied.) The highest number of multi-drug-resistant tuberculosis cases in the world, according to 2021 WHO research, occur in India, accounting for around one quarter of the global total. 
Part of the problem in India and elsewhere lies in an overdependence on antimicrobials – drugs such as antibiotics and antifungals which target infections in the human body. India has one of the highest out-of-pocket healthcare expenditures in the world, likely a result of its low spending on public healthcare. It is often cheaper to buy antibiotics over the counter than it is to visit a private healthcare provider. Regulations to limit access to antimicrobials – where they exist – are rarely enforced. One study conducted in 2018 in a city in southern India found that 78 percent of pharmacies dispensed antibiotics without a prescription.
"This is truly a socio-economic problem," said Dr. Guru N. Reddy, founder and managing director of Continental Hospital. He blames the overuse of antibiotics on "a lack of adequate regulations compounded with [a lack of] proper healthcare-dispensing systems." 
Antibiotic resistance occurs naturally as bacteria evolve, but antibiotic misuse can dramatically accelerate the process. When patients take incorrect or unnecessary antibiotics, bacteria that are sensitive to the drug are killed off, leaving behind only the drug-resistant strains. These propagate, accelerating the growth of AMR.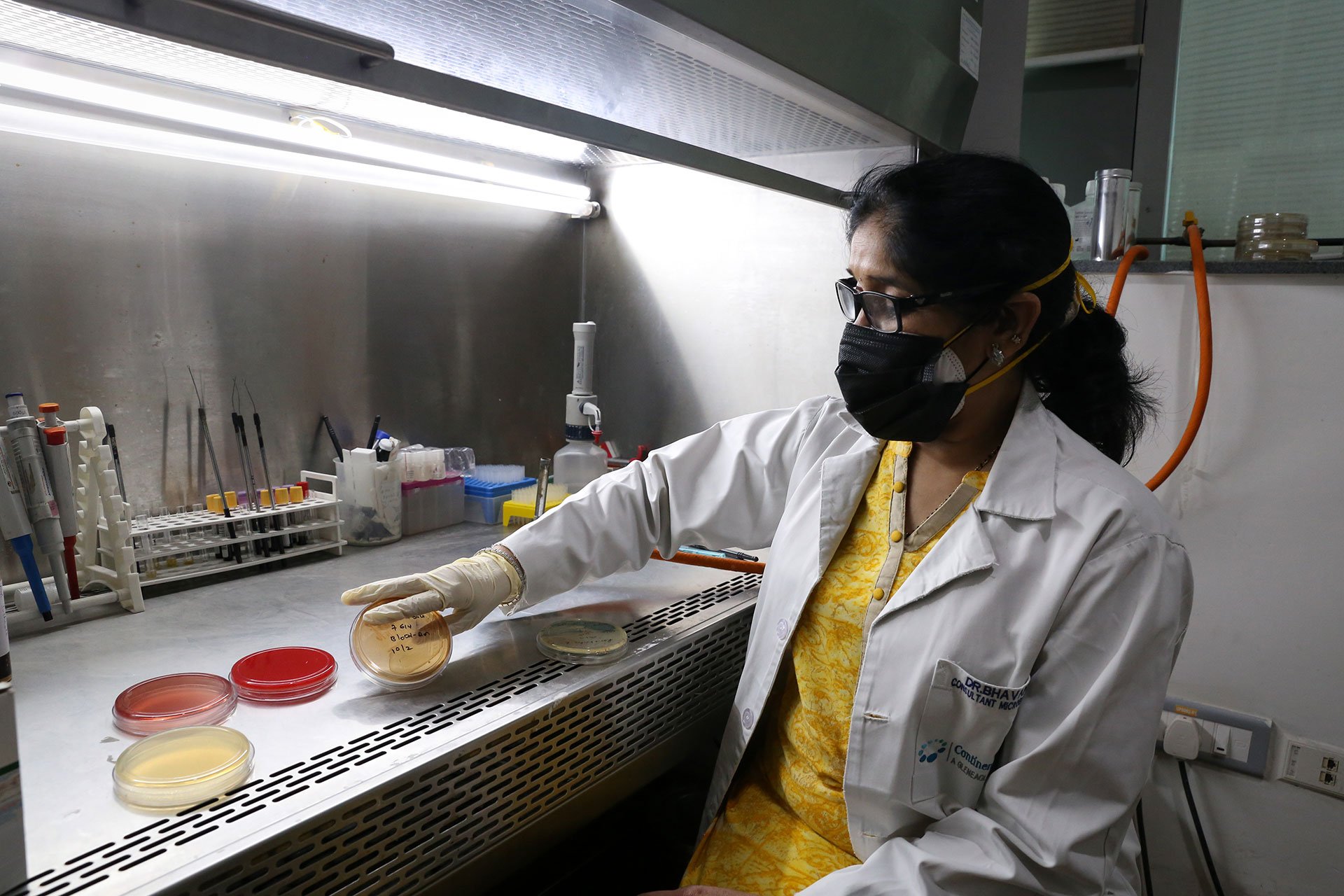 The COVID-19 pandemic exacerbated the problem around the globe. As cases began to ramp up in early 2020, patient demand for certain drugs – even those not scientifically proven to treat the coronavirus – skyrocketed. In India, sales of the antibiotic azithromycin increased drastically, although antibiotics have no impact on viral infections such as coronaviruses.
"The highest sold medication in India is azithromycin antibiotic," said Reddy. "You know why? Because of COVID. Patients just went to the pharmacy, got hold of this azithromycin and started taking." 
One study, which collected monthly data from 2018 until the end of 2020, estimated that an excess 216 million doses of antibiotics were consumed in India between June and September 2020 — during the first wave of the pandemic — alone.
In India and around the world, antibiotic misuse also increased inside hospitals. As admissions rose, overcrowding and overstretched hospital workers meant less attention was paid to basic infection control measures, such as hand washing and disinfecting equipment. An increase in secondary infections, such as pneumonia and sepsis, resulted, which many doctors attempted to pre-empt by administering precautionary antibiotics. When patients did contract secondary infections, there was a lack of diagnostic equipment to determine which ones, forcing doctors to administer broad-spectrum antibiotics instead of targeting specific pathogens.
"Compromised infection control and lack of diagnostic support are definitely the reasons why a lot of drug prescriptions happen," said Dr. Kamini Walia, senior scientist at the Indian Council of Medical Research (ICMR). "And that's something that was exacerbated during this time."
In an attempt to combat growing antimicrobial resistance in India, the ICMR in 2018 introduced national Antimicrobial Stewardship guidelines, which lays out best practices for hospitals and trains doctors on the importance of targeted prescriptions and tracking antibiotic usage. The guidelines encourage doctors to use a mobile app to check the sensitivity of the antimicrobial susceptibility of any given microorganism to a particular drug, as well as current antibiotic policies before prescribing.
The initiative also aims to improve access to rapid diagnostic tools and drug-sensitivity testing. Advanced laboratory tests can rapidly diagnose both the pathogens present in a sample and their antimicrobial susceptibility. That helps to determine the most appropriate drugs for a patient, resulting in quicker and more effective treatment, and also allows the ICMR to track antimicrobial resistance patterns across the country. This is important, explained Walia, because "unless we have evidence, we can't push for change."
Turning to technology as a solution
While India's population density and overburdened healthcare infrastructure make it an area of concern for the emergence of antimicrobial resistance, the problem is hardly unique to India. Drug-resistant infections increased during the pandemic in a number of countries in the Americas, Dr. Carissa F. Etienne, director of the Pan American Health Organization (PAHO), noted in a media briefing last November. PAHO data since the beginning of the Covid-19 pandemic shows that while 90 percent of COVID-19 patients in hospitals in the region were given an antimicrobial, only an estimated 7 percent actually required these drugs to treat a secondary infection.
In environments with high levels of displacement, such as Ukraine and other conflict zones, drug resistance can become a challenge.
Vaccination and sanitation programmes, which aim to decrease the number of overall infections, were curtailed in many places during lockdowns or as resources were diverted to fighting the pandemic, further exacerbating the rise of drug resistance. Globally, 23 million children missed out on basic vaccines in 2020, according to WHO and UNICEF.
In environments with high levels of displacement, such as Ukraine and other conflict zones, drug resistance can become a challenge. At a March press conference, the WHO warned that the conflict in Ukraine could increase the country's cases of drug-resistant tuberculosis – already one of the highest in the world. In conflict settings, "decades of progress in important public health areas like tuberculosis are lost, sometimes in days or weeks – and that threatens everybody," said Dr. Mike Ryan, the executive director for WHO's Health Emergencies Programme. 
In conflicts, other humanitarian crises (including pandemics) or situations where healthcare is underfunded, technology can step in to fill the gap left by a shortage of medical professionals, said Srivastava of MSF. Basic equipment and apps can connect healthcare workers in remote areas to specialists, which "helps improve the decision-making as well as the prescription practices," he said. 
Artificial intelligence has the potential to take this one step further, by helping to improve diagnostic accuracy and providing an automated interpretation of test results, he noted. Artificial intelligence in such settings is "more cost effective, it's more mobile" than getting trained medical professionals on the ground, said Srivastava. 
Back in Hyderabad, the patients at Continental Hospital are some of the privileged few: they have access to one of the city's best private hospitals, with state-of-the-art diagnostic technology and an in-house laboratory. Doctors there diagnose and test the drug-sensitivity of most infections within 30 minutes, the hospital's founder and managing director, Reddy said. 
"The faster we do this, the faster we get the right antibiotic to the patient," he added. "Which should be the norm in taking care of sick patients." 
While that technology is still out of reach for many in public hospitals across India, the Covid-19 pandemic may offer one silver lining, as it "brought a lot of focus and concern around antimicrobial resistance, globally as well as in India," said ICMR's Walia. "So now, physicians are more concerned about increasing levels of drug resistance than they were pre-Covid."
Edited by Abby Seiff