When Biak* walked into a classroom on 1 June, the first day of Myanmar's school year, it bore no resemblance to the one he had last set foot in more than two years prior, when he was in fourth grade.
Then, he wore a green-and-white uniform and sat at a wooden desk at a government school in Yangon. Now, he has no uniform and studies inside a tarpaulin tent located at a community school for people displaced by war.
In between, Biak experienced one hardship after another. On 1 February 2021, the military seized power, and within a week the country had erupted in protests. By April, soldiers had shot hundreds of people dead, and in May Biak left Yangon with his mother and sister, travelling about 1,000 kilometres northwest to Thantlang, Chin State to stay with his grandfather, who had fallen sick.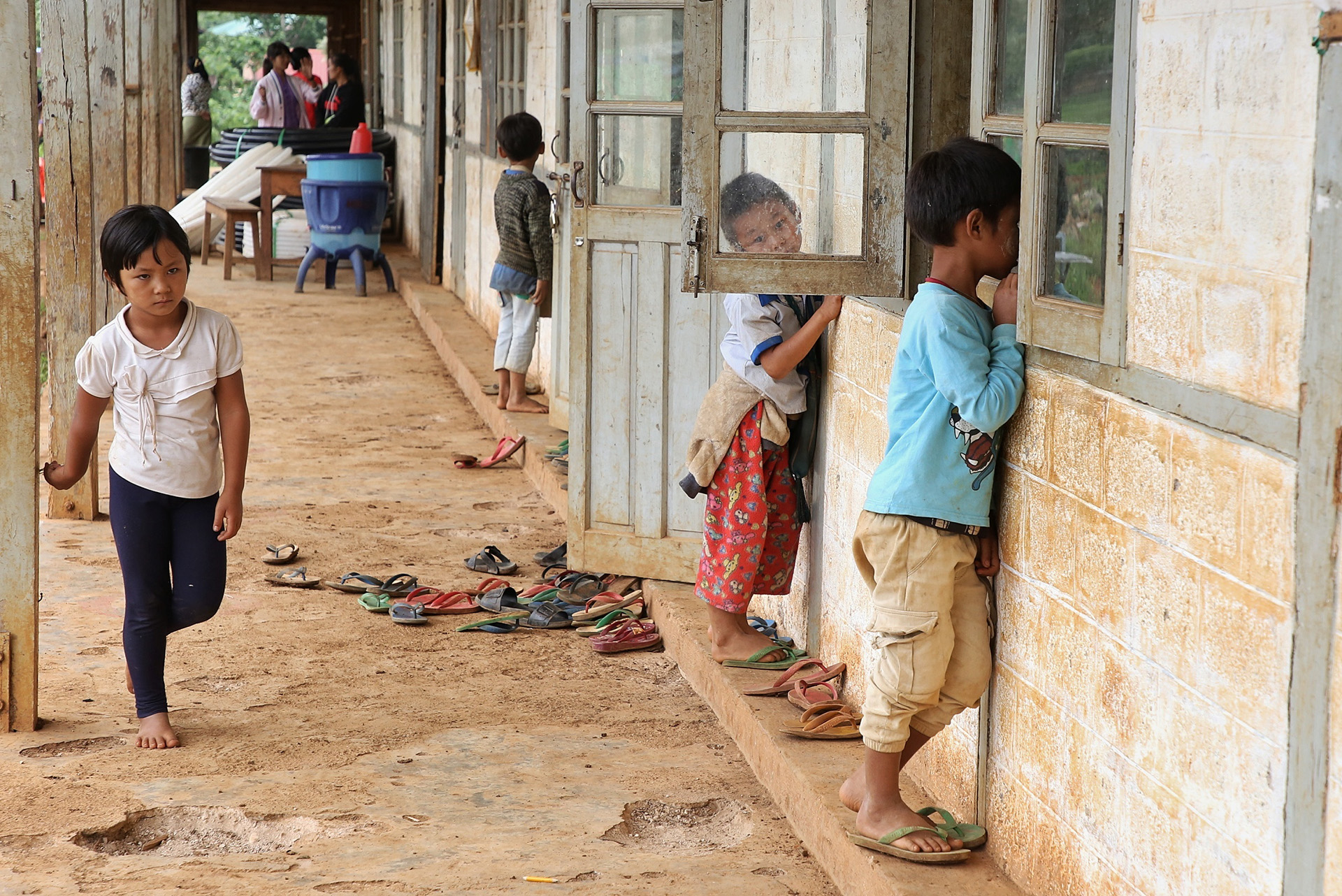 By then, civilians across the country were rapidly moving from cities to rural areas and taking up arms. The military responded by attacking entire communities. In September it set fire to Thantlang for the first of what have since been at least 30 times, displacing all of its 10,000 residents.
Now, most of the mountainside town lies in smouldering ashes, but in nearby displacement camps and villages a township education committee made up of striking civil servants and local volunteers is running 51 schools, attended by more than 7,000 students.
One of them is Biak, who is trying to make up for lost time in the classroom even as he copes with the trauma he endured. "I heard and witnessed shootings and bombings," he told The New Humanitarian. "I saw bullet holes and shattered windows," he said. "My English skills have dropped, and my Burmese speaking skills are also getting worse because of the military coup and because now I am displaced by war."
Biak is one of more than eight million school-aged youth in Myanmar who lost two years of formal education – first to the pandemic and then to the coup, which prompted mass boycotts of schools under the military administration. Although Myanmar remains in the throes of civil war and a deepening humanitarian crisis, ethnic revolutionary organisations and new independent administrative bodies are now operating extensive school systems across the country as they strive to ensure that children don't miss a third year of classes.
'Their own education' 
When former government schools opened last June under the State Administration Council (SAC), the official name for Myanmar's junta, only 10 percent of eligible students enrolled. At the time, a civil disobedience movement had gained widespread popularity, including a campaign against participating in a "military slave education", and more than 100,000 teachers were on strike.
Safety concerns also played a role in the low enrolments: As of last March, military forces had occupied more than 60 education facilities, according to a joint statement by UNICEF, Save the Children, and UNESCO; while Save the Children also documented more than 100 violent attacks on schools as of last June. The military and anti-coup groups traded blame for most of these attacks, which occurred within a broader pattern of explosions targeting military-linked infrastructure.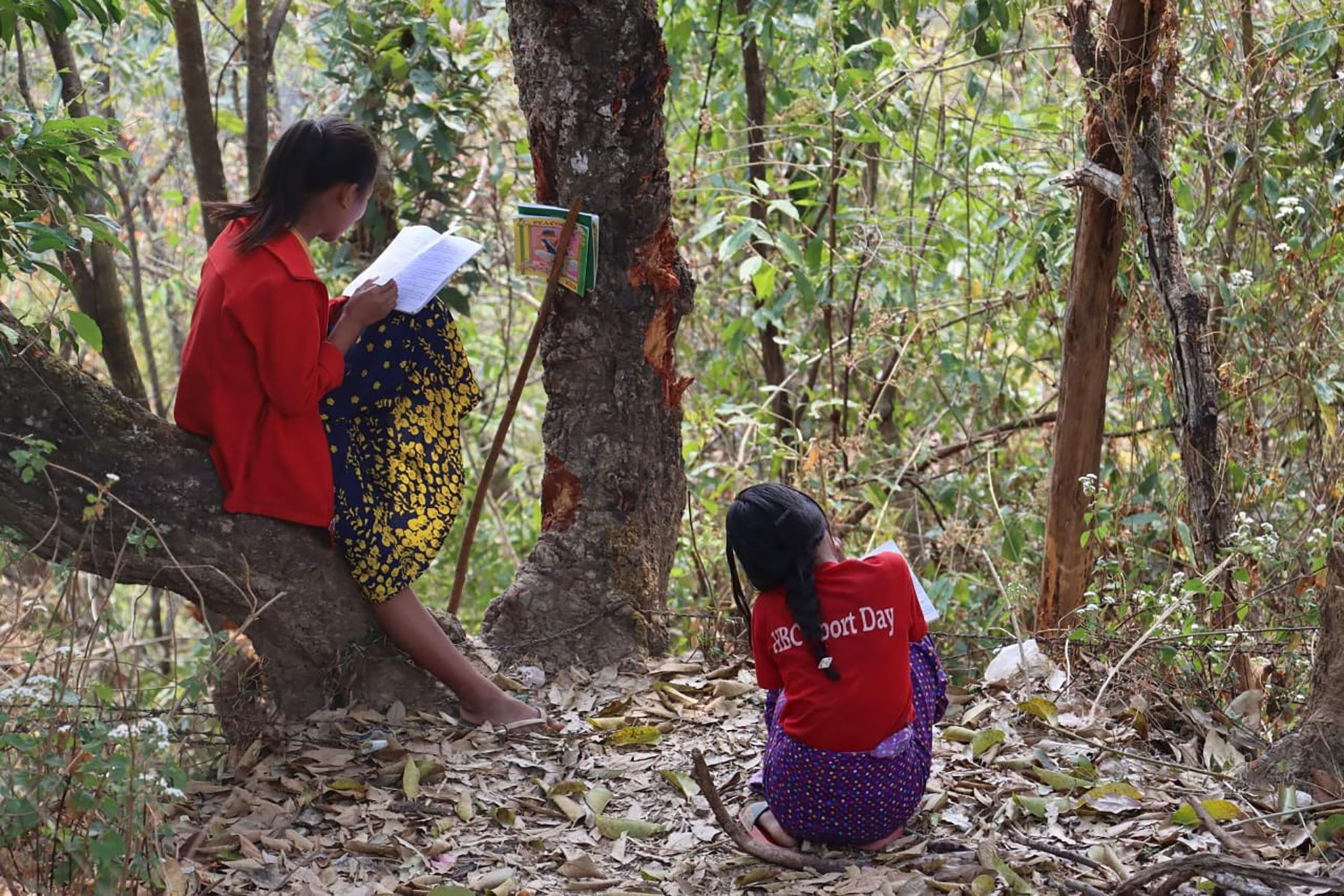 But students who refused to attend military-run schools had few alternatives at the time. The National Unity Government (NUG), which is running in opposition to the junta and seeks to establish a federal democracy, endorsed the strikes and pledged to build a parallel education system, but little had materialised by then. Enrolments shot up in school systems that ethnic revolutionary organisations have been running for decades along the country's borders, but demand far exceeded capacity and some schools had to turn students away.
A year later, although the military claims that 5.2 million students enrolled in its schools – more than five times as many as last year – these enrolments are primarily concentrated in urban areas where the military exerts its greatest control, according to Saw Kapi, an ethnic Karen who has been working on education reform in Myanmar for the last eight years.
A dramatically different picture is emerging in areas, mostly rural, where an intense fight for territorial control is playing out, and where the military has inflicted some of its most horrific violence. As resistance groups gain ground, longstanding ethnic revolutionary organisations have expanded existing school systems in their territories, while administrative teams made up of striking civil servants, elected politicians, civil society groups and local volunteers have established school systems from the ground up in contested areas and areas where armed resistance groups now claim territorial control.
"The people are ready to establish their own education systems and provide education services to communities where they are," said Saw Kapi. "We are seeing significant enrolment in newly established schools in [rural] areas, and also a desire not to recognise the SAC as a legitimate government providing public services."
Teaching in the face of danger 
The New Humanitarian spoke with educators and students in three areas of the country where ethnic revolutionary organisations and so-called "people's administration teams" are running education systems in the midst of war, serving tens of thousands of students.
"We are afraid that a bomb will drop on our school while we are teaching," said Khu Oo Reh*, a teacher in Demoso township in southeastern Karenni State, also known as Kayah State. "When we hear bombing or shooting in the distance, it gives us a chill and unsafe feeling, but we have to continue teaching for the children's education and future."
The military has since last May retaliated against Karenni's rising armed resistance with airstrikes and artillery fire, repeatedly targeting civilians and their homes and at times bombing displacement camps. More than 170,000 people, or half of the state's population, are now internally displaced, according to civil society groups. 
Despite these adverse conditions, an education system run by the Karenni Education Department under an ethnic revolutionary organisation has expanded from 45 to 129 schools over the past year and is now serving more than 12,000 students, according to Maw Mimar, its director of border and IDP education.
She said that expanding needs have exceeded available resources, but that the schools are doing their best to adapt, including by teaching poems and songs where there are no schoolbooks and making their own tables and chairs out of bamboo. 
The schools are also unable to provide a salary to teachers, who are mostly civil disobedience movement participants or recent graduates from Karenni community schools and ethnic colleges. Now, they are splitting their time between school and income-generating activities like farming and raising chickens and pigs, said Mimar.
On top of these challenges, facilities are limited. Some classes are running in former government schools the military can no longer access, and others are being taught in churches. However, many of these buildings are now housing IDPs, so 12 schools are running outdoors. "We usually teach [students] under the trees or in nearby bamboo groves, where we think it's safe," said Mimar. "When it rains, we have to stop teaching."
Hybrid curriculum 
Communities in Chin State, which has seen intense fighting and military attacks since last April, were among the first to establish new school systems outside of the military administration last October. According to Salai Sucia*, a civil society worker involved in coordinating education initiatives in southern Chin State, more than 170 schools are now running in Mindat and Kanpetlet townships.
Educators at the new schools in Chin are using a hybrid curriculum that incorporates elements of the former government curriculum and lessons in students' ethnic languages, said Salai Sucia.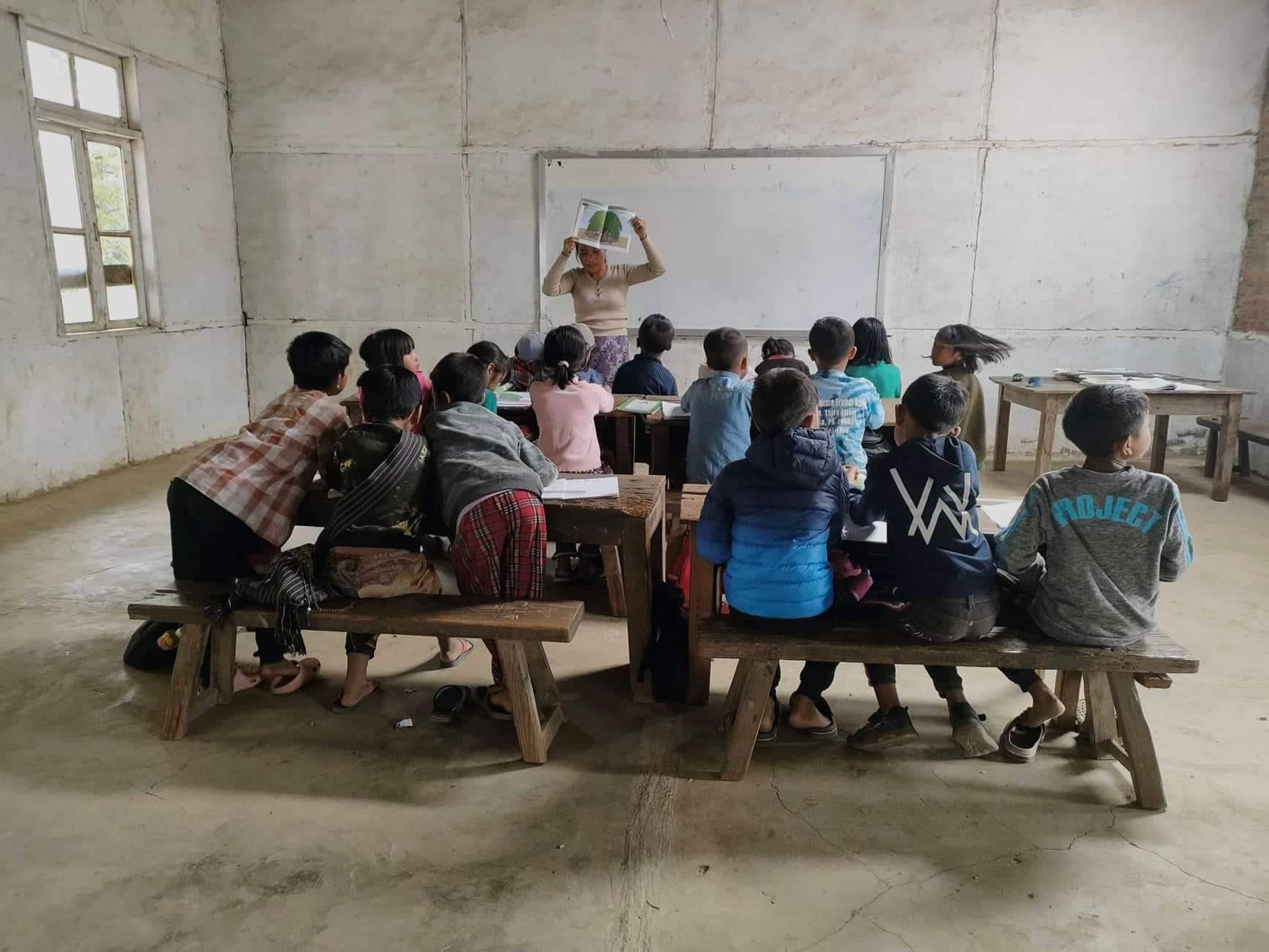 But these new schools are facing immense challenges, many of them similar to those faced in Karenni State. "IDPs are staying in the school buildings, so we cannot teach there; we teach outside under temporary tents made of tarpaulin," said Salai Cross Thang, education committee chairperson in Thantlang township. "Most of the teachers are young people, so they depend on their parents to do this volunteer work."
The military has also systematically shut down the internet in embattled areas across the country, including in Chin State where most townships have lacked connectivity since September. A local media post from June shows educators in Mindat township participating in an online training from the top of a hill in order to get a signal, their phones propped up by stands of twigs.
Resisting oppression  
Myanmar's northwestern Sagaing region has suffered intense violence over the past year, as the military responds to armed resistance in the region by systematically burning villages and killing resistance fighters and civilians alike. But even as the crisis continues, township education boards under the National Unity Government have opened hundreds of schools.
In Kani township, where 148 schools are now running, teachers and students regularly hide in the forest for days or weeks at a time. "We are often attacked by military forces, so we have to flee often, said Myat Moe*, a teacher. "It hinders the ability to catch up after two years of school closures."
Still, she and other educators are trying to continue providing instruction as much as they can. "While we are fleeing, we cannot teach formally; we can only teach stories and poems to younger children. After the soldiers leave, sometimes we substitute the days that they missed," said Myat Moe.
The need to earn an income has also shortened school hours in Kani, where not only teachers but also students are working – including Myat Moe's 16-year-old niece Htin Htin*, who rolls cheroots. At 400 kyats ($0.22) per 100 cigars, she can earn around 50 cents for a half-day of work. It is just enough to buy two notebooks, whose cost has doubled since the coup. "Although I want to do classwork and homework, I cannot do much because I have to earn an income too," said Htin Htin.
Htin Htin is also distracted by the war. "I don't feel safe at school. It is worse when military helicopters or fighter jets fly very low," she said. "We always worry that soldiers will burn our house when they attack our village, so whenever we run I need to pack my books and other valuable things."
Still, Htin Htin is determined to continue studying. "I believe that I need to be educated to resist this kind of oppression," she said.
*Pseudonyms have been used to protect sources from risks of retaliation from the military for speaking to the media.
This article was supported by a grant from ARTICLE 19 under Voices for Inclusion, a project funded by the Netherlands Ministry of Foreign Affairs.
Edited by Abby Seiff.