It will soon be a year since Khaled Nasser's home was destroyed by an Israeli bomb, but he and his six brothers are still sleeping in the balcony of a small rented flat in north Gaza, waiting for aid to help them rebuild, as they worry about yet another war.
Around 40 members of 51-year-old Nasser's extended family, including his wife and nine children, all stay in the same three-room, 80-square-metre apartment. There's not enough space for them all to sleep inside at the same time, let alone enough beds.
They're among the more than 110,000 people forced to flee their homes at the height of 11 days of war that began last May 10, as the Israeli army (by its own count) hit around 1,500 targets in Gaza – home to some 2.3 million Palestinians – with airstrikes and shelling.
Most took temporary shelter in schools or with friends and family, before eventually going back home. But some 1,800 families – around 10,000 people – remain unable to return. Many, like Nasser, have been counting on money or assistance from aid groups, Gaza's government (the territory has been run by the political and militant group Hamas since 2007), or the UN. But this hasn't arrived.
Read more → 'I've never seen scenes as ugly': Treating Gaza's wounded
As they wait, tensions are building again inside Israel and the West Bank – tensions that many fear could spiral into yet another war. After a spate of killings by Palestinians, including a shooting at a Tel Aviv bar, that began in March and left 14 people (mostly Israelis) dead, the Israeli army has increased arrest raids in the West Bank over the past month, spurring clashes and killing 26 Palestinians.
Israeli forces have killed significantly more Palestinians in the first three and a half months of 2022 than last year (40 versus 7 by the UN's count; 47 to 10, according to the NGO Euro-Mediterranean Human Rights Monitor*). Meanwhile, Palestinian protests at Jerusalem's al-Aqsa mosque (which Jews also consider holy and call the Temple Mount) have been met with a crackdown by Israeli police, who say rioters are causing the violence.
"We still haven't repaired our damaged home, and now we're even more concerned about our safety."
Similar scenes in East Jerusalem preceded last year's war between Israel, Hamas, and other militant groups in Gaza. The UN says the Israeli military killed 260 Palestinians, including at least 129 civilians. Thousands of rockets fired by Palestinian groups into Israel killed 12 civilians. Most of the international community regards East Jerusalem – alongside the West Bank and Gaza – as occupied by Israel since a six-day war in 1967, but Israel considers it to be annexed and part of Israel.
Nasser, who cannot work because of an injury, told The New Humanitarian his money has run out and his wife has taken on extra work as a cleaner to pay for rent. They could afford to board up their bombed-out home, but that's it. "We're very scared that another war will be launched again," he said. "We still haven't repaired our damaged home, and now we're even more concerned about our safety."
'We have seen nothing yet'
Nasser clearly remembers the night his home was destroyed.
"We were all sitting together, around 70 members of the family, during a night of brutal bombing around the [Gaza] Strip," he recalled. "Suddenly, a series of airstrikes bombed the street just in front of our building. Our house was immediately split into two halves. One part was completely destroyed; the other was rendered uninhabitable."
According to local authorities, 50,000 homes in Gaza were damaged by the days of heavy bombardment. More than 2,000 were either completely destroyed or damaged so badly that they were impossible to live in. Water, sewage, and electricity infrastructure were also hit.
After the bombing stopped, promises of assistance poured in, much of it directly to UNRWA, the UN's agency for Palestine refugees. Adnan Abu Hasna, UNRWA's spokesperson in Gaza, said the agency received $60 million from donors to fix and rebuild homes. Notably, Egypt and Qatar pledged $500 million each for reconstruction.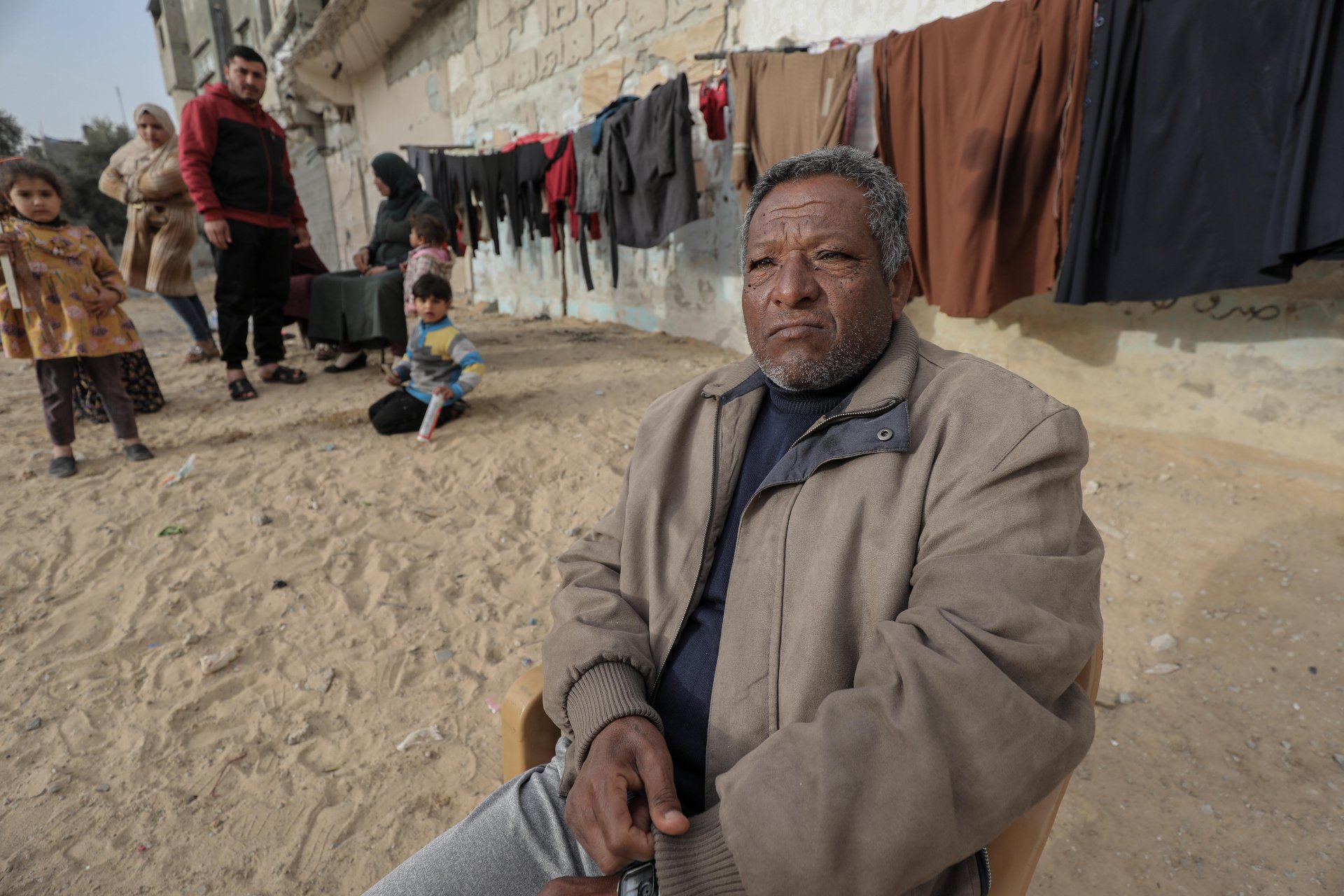 By now, more than 44,000 of the damaged homes have been repaired, according to a group that coordinates aid organisations working on shelter in Gaza. But reconstruction has been slower when it comes to dwellings that were razed to the ground.
UNRWA began with the less badly damaged houses, Abu Hasna said, before moving on to dealing with properties that were completely demolished. He acknowledged that the process hasn't been swift. "It's just a matter of logistics and coordination," he said. "Preparing the necessary documents usually takes time."
This is frustrating for people like Nasser, who said he received 2,000 Israeli shekels (around $600) in rental assistance from UNRWA, then nothing else. Abu Hasna said UNRWA has set aside $4 million in rental subsidies for refugee families whose homes were severely damaged or destroyed during the war, with initial payments intended to cover six months, and another tranche for four months.
But Nasser wants more than just rental help. He said he has received promises of rebuilding assistance from international organisations and Gaza officials, with no outcome.
"They came and assessed the damage, but we have seen nothing yet," Nasser said, adding that every week his family asks UNRWA and Gaza's Ministry of Public Works and Housing for help, "but they keep saying that we have to wait because the priority right now is repairing damaged homes."
Restrictions and delays
Hamas, which has run the Gaza Strip since 2007, says Israel's longstanding blockade of Gaza is to blame for most of the delays. Naji Sarhan, undersecretary of the Ministry of Public Works and Housing for Gaza, told The New Humanitarian that "reconstruction is almost completely on hold because Israel is imposing restrictions on the entry of funds and materials" into Gaza.
For years, Israel has imposed tight restrictions on the entry of basic construction materials it considers to be "dual use", meaning they could be used for both peaceful and military purposes, because it considers Hamas to be a terrorist organisation (as does the EU, the UK, the United States, and other countries).
It also banned the entry of basic construction materials into Gaza for three months after the war, according to Gisha, an Israeli human rights organisation that monitors freedom of movement for Palestinians. Restrictions were eased in late August of last year.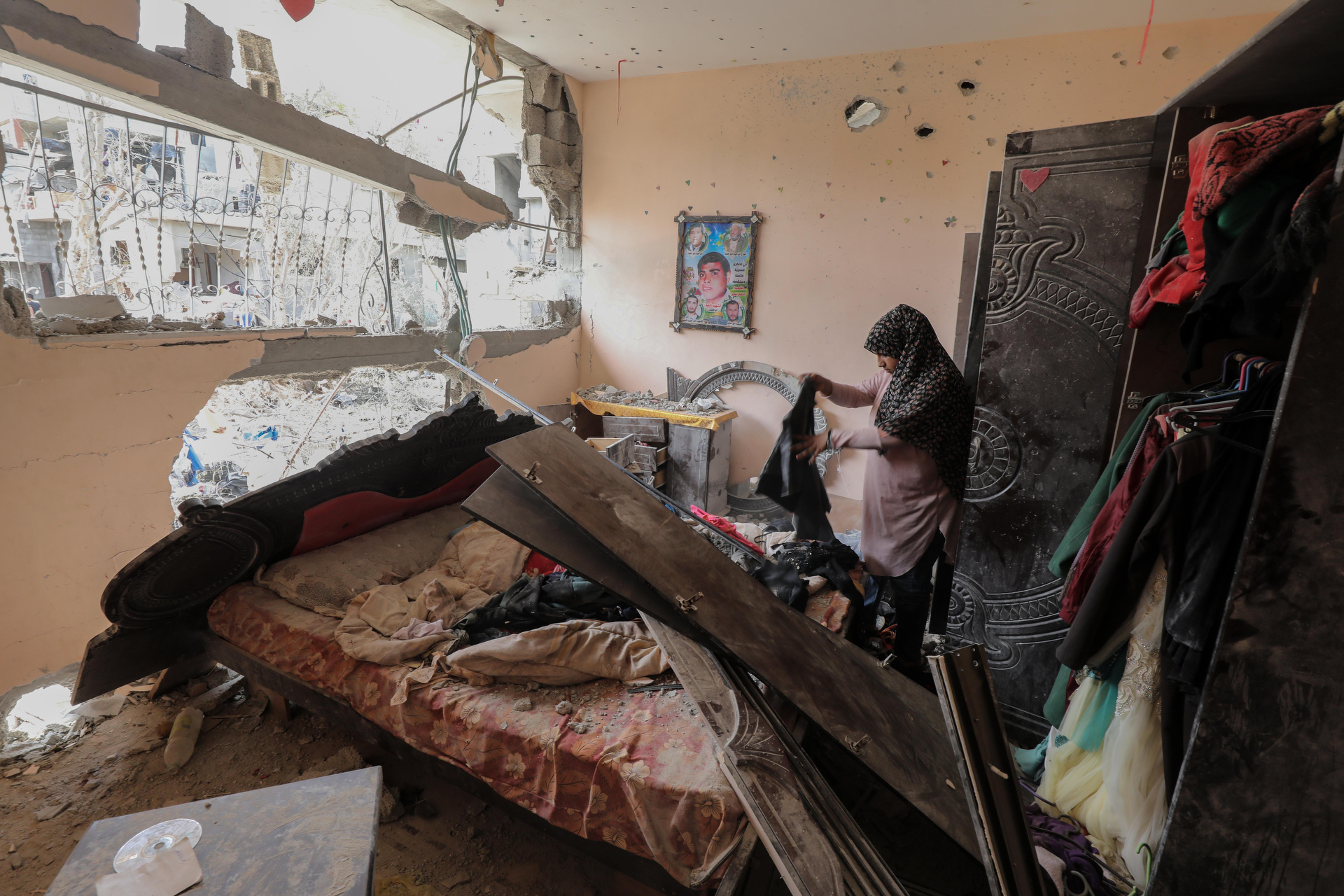 "Given Israel's three-month block on entry of construction materials into Gaza and questions about funding for construction, as well as ongoing restrictions enforced by Israel on access to necessary items, rubble was cleared quickly, but reconstruction has been slow to start," said Gisha spokesperson Shai Grunberg. "We know that Israel is holding up vital items needed for Gaza's water and sewage systems, including spare parts, machinery, and electromechanical equipment, and thus deteriorating the situation of Gaza's fragile infrastructure even further."
Funding is also an issue.
According to Sarhan, Qatar (which did not respond to requests for comment) has so far given only $10 million of the $500 million it pledged. This has been used to fix damaged roads and around 100 housing units and 12 residential buildings.
Egypt's projects, he said, "are progressing well, but they are actually considered construction projects rather than reconstruction of the Strip, which means that they do not directly focus on rebuilding destroyed housing units and buildings". Egypt also failed to respond to requests for comment, and Sarhan said it's hard to be sure exactly how much money it has really given.
Twice displaced
Some people have been through the cycle of bombing, ceasefires, and reconstruction multiple times, including during and after a 50-day war in 2014 in which, according to a UN Human Rights Council report, "the scale of the devastation was unprecedented".
Hassan Abuamsha, a 58-year-old grandfather, recalled how he had to evacuate his home in north Gaza in 2014 after it was hit by Israeli airstrikes.
He received $10,000 to repair his home, only for it to be hit again during the May 2021 bombardment. The second time, the building was almost "completely destroyed, except for one part that was only partially destroyed", he told The New Humanitarian. "So we are living in that part."
Read more → Gaza's vicious circle of war, truce, and reconstruction
"Every organisation that comes to assess the damage to our home promises that the reconstruction will be very soon," Abuamsha said. "But we are starting to lose hope that we will ever have a home again."
The slow process of reconstruction is compounding the already fragile humanitarian situation in the blockaded Gaza Strip, where the unemployment rate hovers around 50 percent. After 55 years of occupation, most people are forced to depend on aid.
The cold winter was miserable. Now, temperatures are heating up for an uncomfortable summer, and some fear they won't withstand any more bombing.
Khaldiya Enssir, 52, lives with her married son now, after her home was damaged during the May 2021 airstrikes.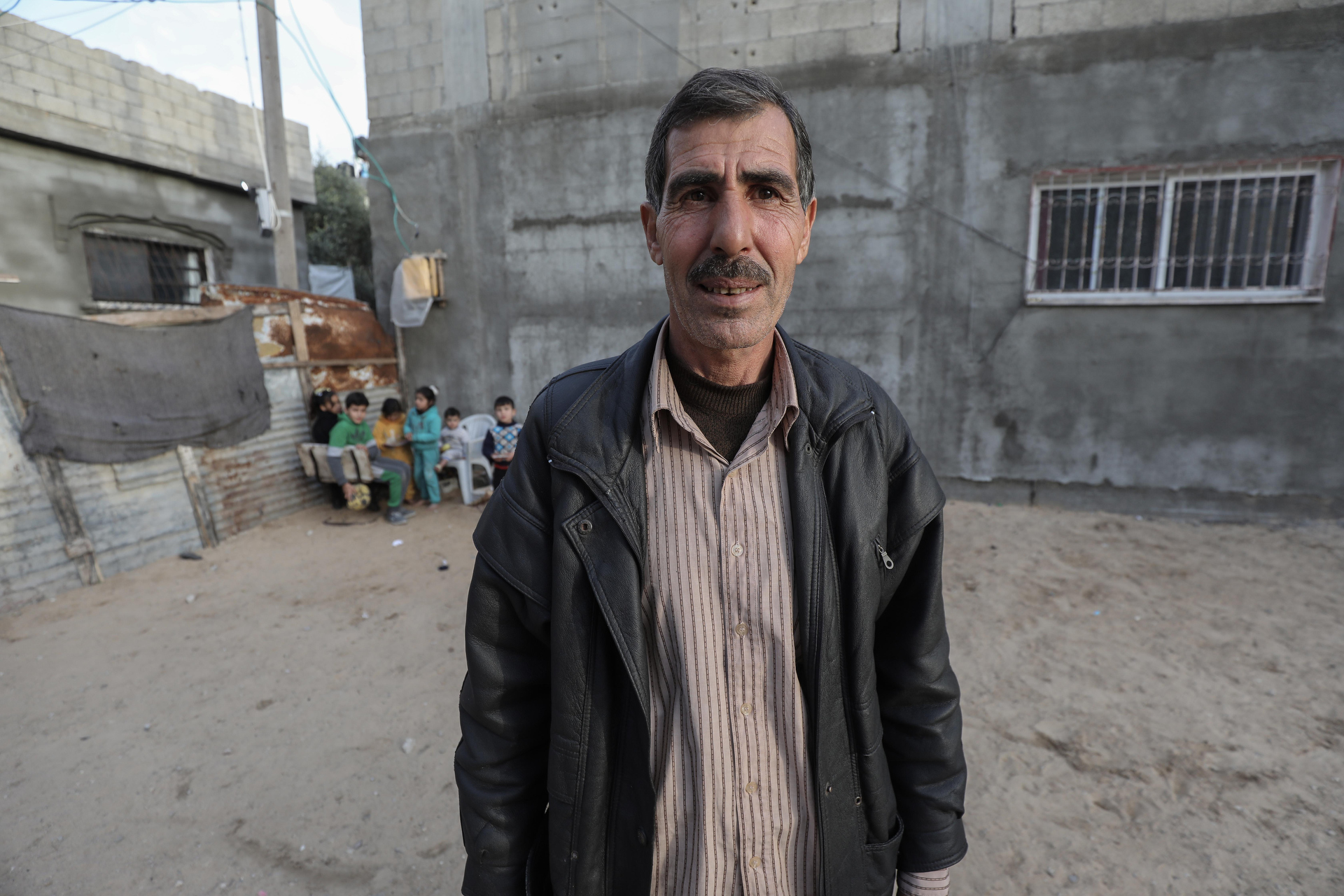 "The walls in my home are cracked and, when it rains, rainwater leaks into the house and we get wet. During windstorms, you can imagine how freezing it gets inside the house," she said.
Enssir has received around $4,000 from UNRWA to fix her home. But completely redoing it would cost more than that. "We are [just] trying to repair the basics," she explained.
As for Nasser and his dozens of family members, they're still likely to be sleeping on the floor of their rented flat for some time. While they're hoping they might be able to return to a rebuilt home sometime soon, they're also making sure they're ready to flee and shelter in a school if a new war comes.
"These days, as tensions rise, we have all our stuff already packed," Nasser said.
*The author is also strategy director of the Euro-Mediterranean Human Rights Monitor.
Edited by Annie Slemrod.