In order to avoid being hit again, Alaa Shamali made sure the new apartment he and his family moved to after their home was destroyed in the 2014 Israeli offensive wasn't close to Gaza's border fence with Israel.
But the latest Israeli airstrikes proved him wrong. The building housing his new home in Gaza City's northern al-Rimal neighbourhood was completely destroyed on 16 May, leaving over 40 families homeless, including his.
"I am back to square one," 35-year-old Shamali told The New Humanitarian. "After spending three years in temporary housing waiting to move to our new home following the destruction of our house [in 2014], now me, my wife, and [our] five children have to repeat the cycle."
Shamali's experience is far from unique. Thousands of people lost their homes in the latest offensive, and for many this was not the first time.
The 2014 Israeli offensive into Gaza, which lasted 51 days, left around 18,000 residential units destroyed and about 100,000 people homeless, according to the UN's agency for Palestine refugees, UNRWA.
The latest Israeli airstrikes, which lasted 11 days, are estimated to have completely destroyed more than 2,000 residential units and damaged an additional 15,000, leaving around 120,000 people homeless, according to data posted on 26 May on the official Facebook page of the Gaza government media office.
The airstrikes occurred after weeks of growing Israeli-Palestinian tensions in East Jerusalem over the threat of the forced expulsion of Palestinian families from their homes.
When the violence reached the Al-Aqsa Mosque compound and hundreds of Palestinians were reported injured, Hamas – the ruling party of the local government in Gaza – gave an ultimatum to Israel to withdraw its forces from the site. The next day, the Israeli government said Hamas fired hundreds of rockets towards Israel, to which Israel responded with airstrikes.
Israel has launched four major military operations against Gaza – in 2008, 2012, 2014, and the latest one this May. Israel cites self defence and "deterrence", as Hamas and other groups have fired unguided rockets into Israel hitting civilian targets. It also accuses militants of deliberately positioning themselves in civilian locations, which Hamas denies.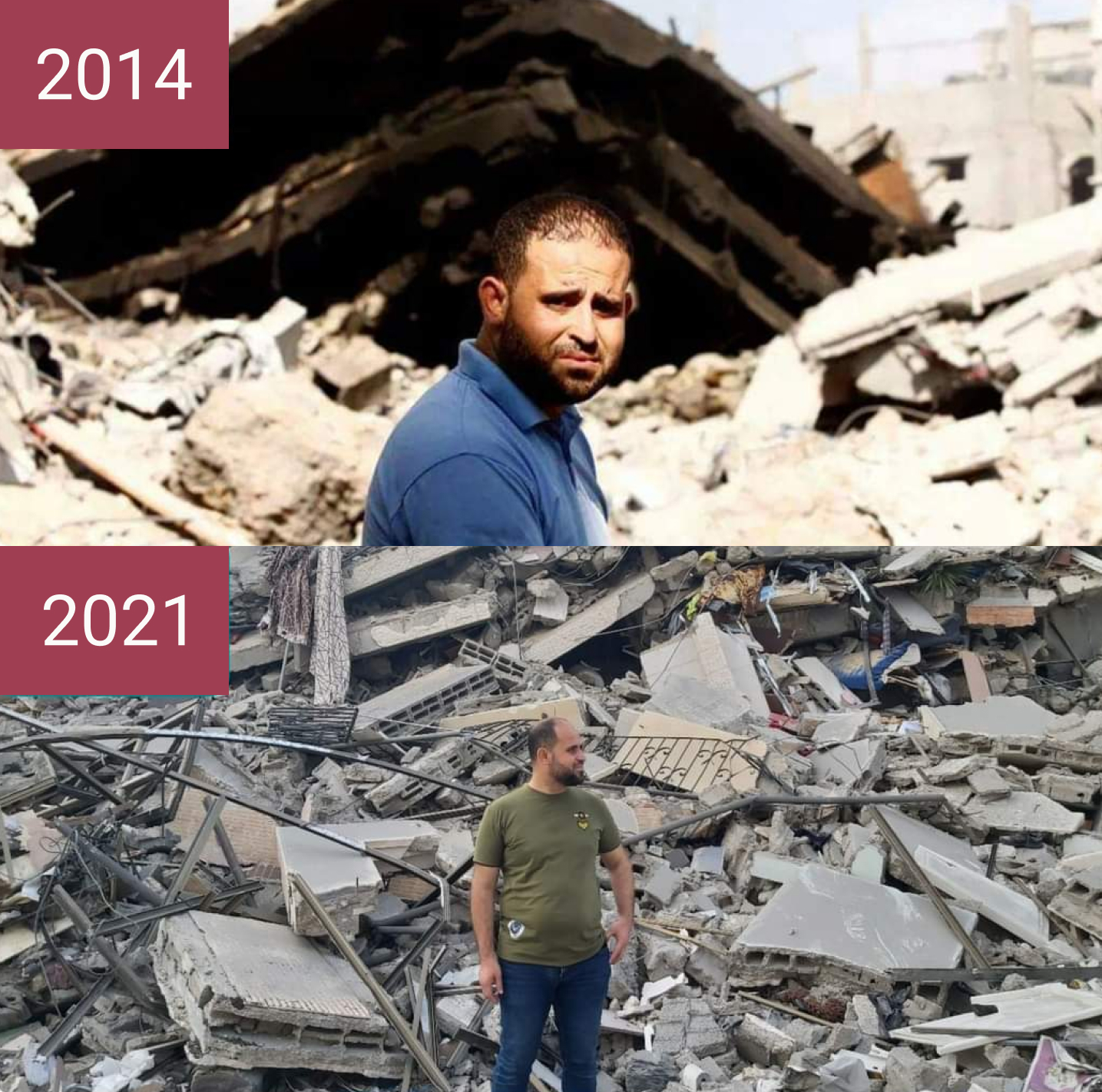 According to Palestinian officials, Gazans are still suffering from the consequences of Israel's earlier military operations, even now.
"There are houses that were destroyed in previous offensives and haven't been reconstructed yet," Naji Sarhan, the deputy head of Gaza's Works and Housing Ministry, told The New Humanitarian. He estimated the number of units pending reconstruction from previous offensives to be 1,700.
Where's the help?
Several countries have pledged aid to Gaza in the wake of the latest wave of Israeli airstrikes.
Both Egypt and Qatar pledged $500 million each for reconstruction, while the United States ($5m), the EU (approx. $10m), Germany (approx. $49m), and China ($1m) pledged a total of $65 million in humanitarian aid. The United States ($32m), the UK ($4.5m), and China ($1m) also pledged a total of $37.5 million to UNRWA. In addition, Beijing agreed to send 200,000 COVID-19 vaccine doses.
However, according to officials in Gaza, this aid does not always get delivered.
"Reconstruction efforts usually face delays and political pressure on the donors, let alone the Israeli occupation's hindrance of the reconstruction aid," the head of the Gaza government media office, Salama Marouf, told The New Humanitarian.
Israel accuses Hamas of using aid to fund their military capabilities; the latter denies such accusations.
"We are in the process of forming a national team made up of independent figures to supervise the delivery of aid to refute the occupation's accusations about the money not reaching those it's intended for," Marouf said.
During a Gaza reconstruction conference held in the Egyptian capital, Cairo, in October 2014 – after the last major Israeli airstrikes and a military ground offensive – countries pledged a total of $5.4 billion to the Palestinian territories, of which $3.5 billion was earmarked for Gaza.
"Some countries did not carry out their pledges," Sarhan, from the Gaza housing ministry, said. Following the 2014 offensive, "we only received 20 percent of the total pledges made", he added.
The World Bank found that a total of $1.85 billion was delivered, and that only 32 of the 53 participants had fulfilled their pledges by July 2017; almost three years after the conference – noted as the cut-off for paying contributions.
Until recently, Gaza officials were still speaking about working on securing funds to reconstruct the damage caused by the 2014 offensive.
In a 2019 news conference, the then deputy of Gaza's Ministry of Works and Housing, Mofeed al-Hasayneh, noted that efforts to reconstruct what the 2014 Israeli offensive had destroyed was not complete yet due to "the large scale of destruction and Israel's obstruction of the entry of needed material for reconstruction".
During the conference, the former official said he was "working hard to secure requirements for reconstructing all the destroyed residential units".
Israel has been imposing an extensive land, sea and air blockade on Gaza since 2007, citing security concerns after Hamas took control over the strip, following a conflict with its Palestinian political rival Fatah that erupted after the latter refused to acknowledge Hamas' victory in the 2006 legislative elections.
The US, the UK, the EU, and Israel – among others – designate Hamas as a terrorist group.
UNRWA funding issues
UNRWA is often under financial strain, and the former Trump administration stopped funding the agency in 2018. However, President Joe Biden announced he would restore US funding, and in April committed another $150 million.
A spokesman for UNRWA in Gaza, Adnan Abu-Hasna, told The New Humanitarian that tens of thousands of Palestinians were still entitled to aid from the UN agency as a result of the previous Israeli offensive. "We need $70m to deliver all entitlements related to 2014," he said.
As for the scale of the recent damage, Abu-Hasna noted that they will start assessing that, as well as the cost of reconstruction, within days.
"Our new home is smaller, because the aid conditions stipulated that the house size should not exceed 200 square metres, while our original house was 250 square metres."
"We already asked for $38 million, while the military operations were ongoing, to respond to emergency aid," he said. "There was a positive response to that call, manifested through several pledges," he added, explaining that UNRWA had already received $10 million in emergency funding.
As for reconstruction money, so far we've received nothing, Abu-Hasnah said: "There are international pledges, but these have not been translated into actions yet."
And even when the aid is delivered, some Gazans say the compensation doesn't match what they've lost.
"It took me and my five-member family three years of living in mobile rooms made out of tin, then renting a house with the assistance of some associations, until finally our house was reconstructed," 65-year-old Gomaa Ahmad Shaath told The New Humanitarian. "But our new home is smaller, because the aid conditions stipulated that the house size should not exceed 200 square metres, while our original house was 250 square metres."
An engineer working on Shaath's rebuild project, who asked to remain anonymous for fear of losing his job, confirmed that the donor had made it a condition that houses didn't get rebuilt on the same total space they were located on before.
Whatever size home they end up getting, the more disturbing problem for many Gazans is that there is no guarantee their houses won't get destroyed again and again in a vicious circle of strikes, destruction, ceasefire, reconstruction – then war and destruction all over again.
"The ceasefire doesn't grant us much safety. We have a conviction that such agreements are fragile and could be broken any time. We have no sense of security even amid a ceasefire," Shamali said. "Even when our houses get rebuilt, we know deep down that they can be destroyed again any time."
This article was produced in collaboration with Egab, which connects journalists from the Middle East and North Africa with news organisations worldwide.
mh/da/ag/bp