Four months after two powerful storms barrelled through Central America in quick succession, the humanitarian emergency they left in their wake endures for thousands of the people they displaced, especially for many women and girls in the worst-hit areas.
Hurricanes Eta and Iota pounded Guatemala, Honduras, and Nicaragua in November, destroying homes and businesses, laying waste to agricultural land, and decimating longer-term food supplies. Other Central American countries, southern Mexico, and northern Colombia also suffered severe damage. More than 300 people were killed across the region, including over 100 listed as missing but believed to have been buried by landslides.
Many survivors remain homeless and hungry. In Honduras, more than 7,500 people displaced by the disaster are still residing in 181 shelters, while others continue to sleep rough in makeshift camps along roadsides. In Guatemala, almost 700 people are still living in shelters, while shelters in Nicaragua closed in December as displaced families returned to their communities, where many built makeshift housing. Between the three countries, more than 200,000 homes were damaged or destroyed.
Northern Central America is a disaster-prone region, but countries are not getting the attention they need from the international community, said Véronique Durroux-Malpartida, a spokesperson for the Latin America and Caribbean office of OCHA, the UN's emergency aid coordination body.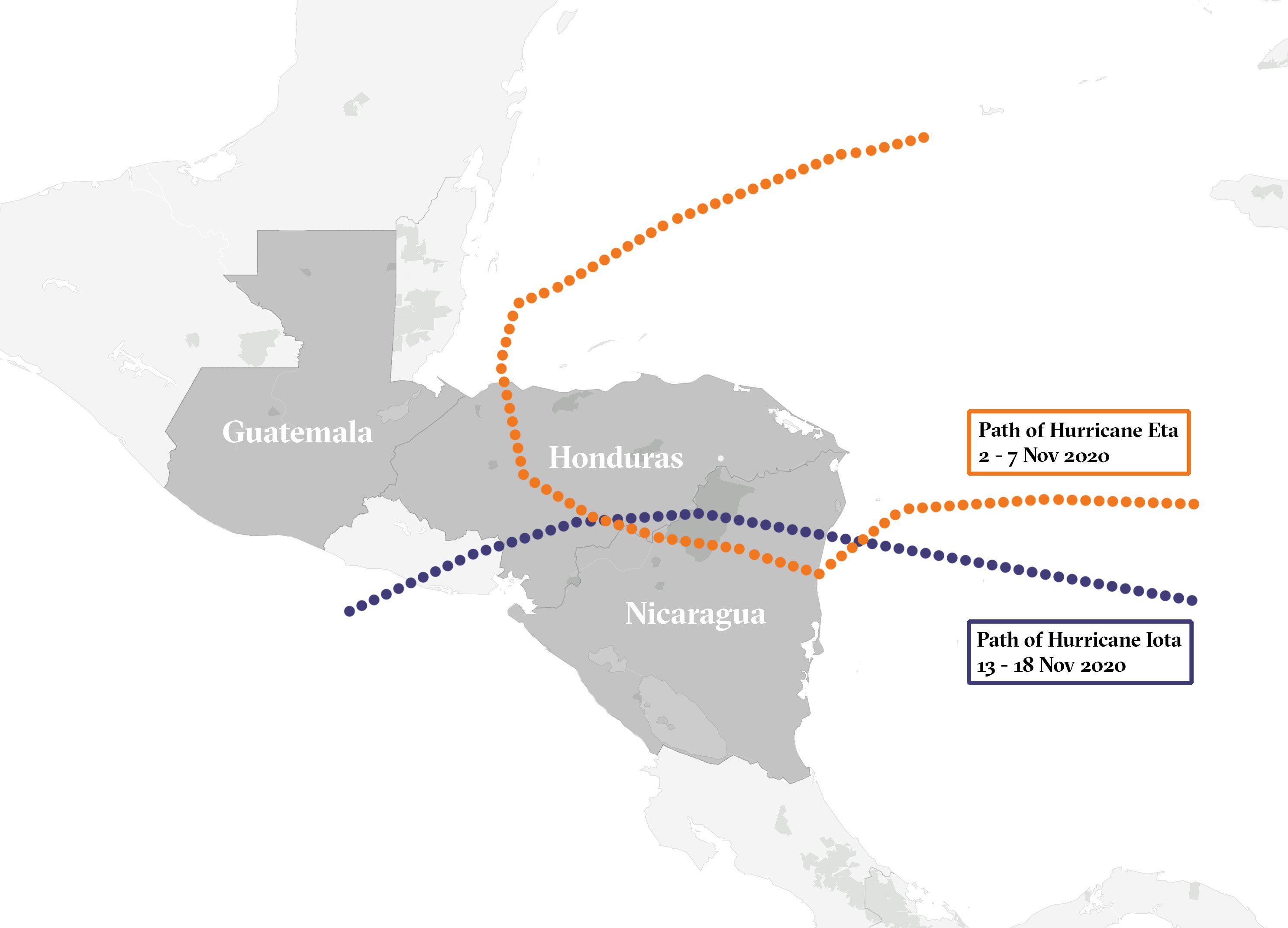 "It is a region plagued by many inequalities, and those vulnerabilities can easily turn a 'development' situation into a humanitarian crisis, threatening lives, and causing displacement. Particularly vulnerable populations include Indigenous peoples and women," she told The New Humanitarian.
"We are worried that they may not have recovered from the impact of hurricanes Eta and Iota by the time the 2021 hurricane season starts on 1 June."
Driving US-bound migration
A World Food Programme survey in January found that approximately 15 percent of people in the region had "concrete plans" to migrate following the disaster, up from eight percent in 2018. Many Hondurans whose lives were upended attempted to migrate northwards to Mexico and the United States only to find their routes blocked by the authorities in neighbouring Guatemala.
Daniela Cruz, a 26-year-old single mother, and her seven-year-old daughter were living in a simple wooden home on a bank of the Chamelecón River, eight kilometres south of San Pedro Sula, the second largest city in Honduras, when Hurricane Eta hit. Throughout the region, low-lying areas like theirs were soon inundated.
"We lost everything," Cruz told TNH in January at a highway checkpoint in Río Hondo, Guatemala. Upset at being returned to Honduras, Cruz and two other young Honduran single mothers displaced by the hurricanes comforted each other while soldiers and police officers stopped vehicles to check the occupants' nationalities. 
In the aftermath of the storms, Cruz and her daughter – together with other relatives – ended up in one of the many informal encampments that sprung up for storm-displaced people in northwestern Honduras. "We were not able to get into a shelter. We went to live under a bridge," recalled Cruz. "There was no medical attention at all. We begged for change and bought paracetamol when we needed it [for a fever]."
Cruz said there was no aid from the government, and they never saw any international humanitarian medical personnel, which became a problem later in December as her cousin's partner was eight months pregnant when the hurricanes hit. "She had the baby there with a midwife," she said. "The midwife lived under the bridge too."
After leaving her daughter in the care of the girl's father and his family, Cruz entered Guatemala in January with thousands of other Honduran storm survivors.
The Guatemalan government considered the "migrant caravan" a threat to security and public health, as few had the negative COVID-19 test results required for entry. Guatemalan military and police forces blocked the group's advance and eventually returned close to two thirds of the estimated 7,500 Hondurans.
Cruz made it more than 80 kilometres (50 miles) on foot into Guatemala before she was stopped at Río Hondo and sent back. But she and others who had lost everything to flooding had no homes in Honduras to go back to.
Maternal healthcare and child hunger
More than half of the Hondurans still living in shelters are women and girls, who are also disproportionately affected by the coronavirus pandemic. The hurricanes exacerbated conditions that contribute to gender-based violence and limited access to reproductive and sexual healthcare, according to a recent UN Women and CARE report analysing gendered impacts of the pandemic and the storms in Honduras.
The UN Population Fund estimated late last year that more than 70,000 pregnant Honduran women were affected by Eta and Iota, and that over the course of three months more than 2,300 could suffer from obstetric complications. In Honduras, there are still 214 breastfeeding babies in shelters, as well as pregnant women and girls.
Both the mother who Cruz described giving birth under the bridge and her infant are now in good health, but in other cases women experienced complications during labour. Many villages were also cut off from access to healthcare when flooding washed away bridges and roads connecting them to clinics. More than 1,300 roads were damaged or destroyed in Honduras and Guatemala alone.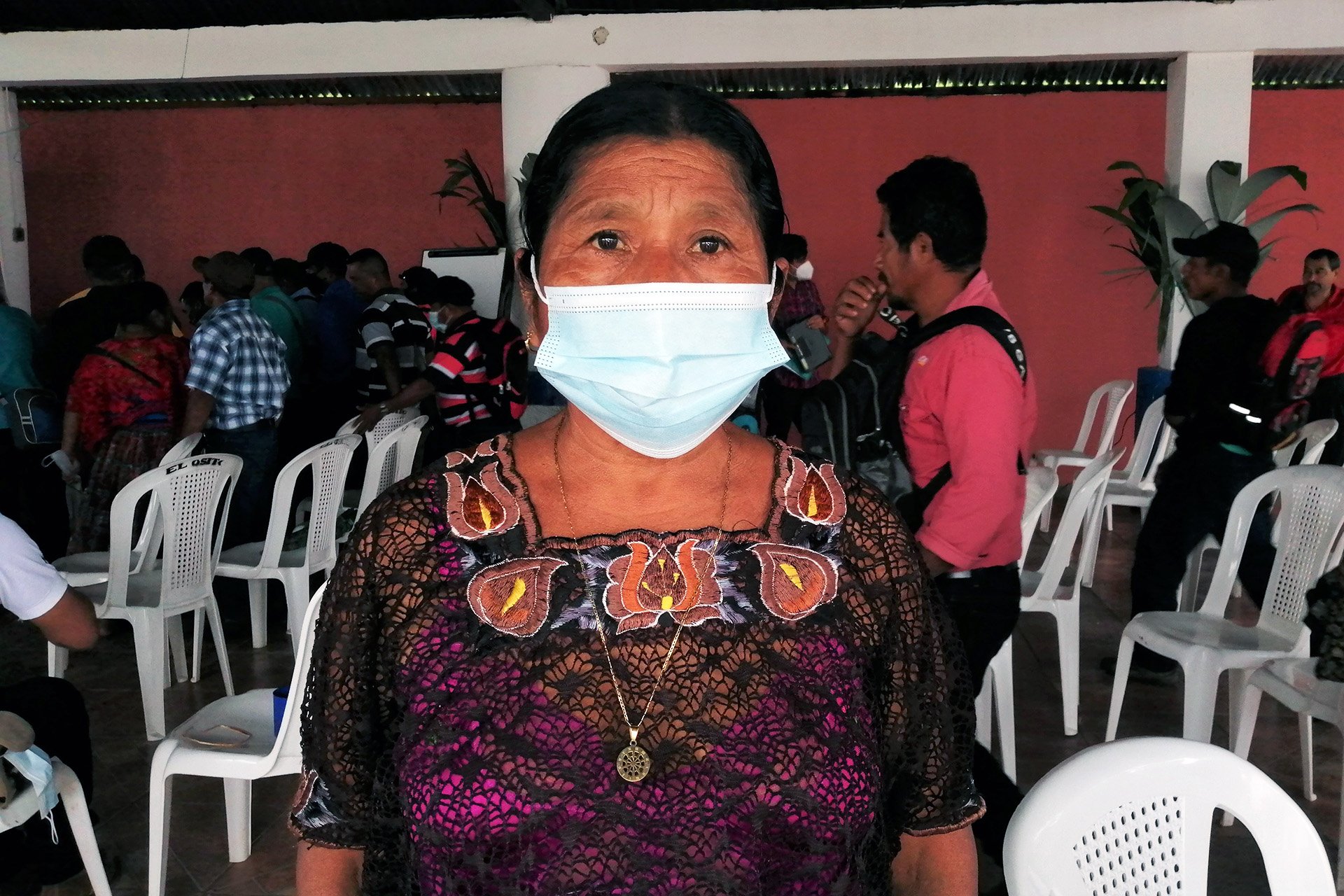 Tres Arroyos, an Indigenous Maya Q'eqchi' village 250 kilometres from the capital, was completely cut off for several days due to overflowing rivers, until residents set up a makeshift raft system. María Pop, a 59-year-old traditional midwife from the village, said no women or girls experienced major pregnancy or birth complications during that time, but she knew of others who had not been so fortunate.
When Pop began working as a midwife, her village was only accessible on foot and she said she had witnessed the life-or-death difference access to health clinics can make when there are serious labour complications. "There are babies who die," Pop told TNH, as she attended an assembly of Q'eqchi' traditional authorities and community leaders in the town of El Estor. "Before, when there was no road, women died too."
Soaring food insecurity is likely to have ongoing and long-term impacts on maternal and child health across Central America.
US-funded famine monitor FEWS NET is forecasting earlier, increased, and more severe hunger crises in the region, in part due to above average prices of staples like maize and beans due to crop destruction. The hurricanes destroyed an estimated 200,000 hectares of cash and subsistence crops.
According to WFP, hunger has risen almost fourfold in northern Central America since 2018 due to the storms and the economic fallout of the pandemic, and 1.7 million people are now in the "emergency" category of food insecurity and need urgent food assistance. 
In children, food insecurity increases risks of cognitive development, as well as physical and mental health problems. During pregnancy, food insecurity has been connected to low birth weight, iron deficiency, and gestational diabetes.
Weakened systems
The hurricanes damaged hundreds of healthcare facilities in the region. In the remote predominantly Indigenous northern part of Nicaragua where both Eta and Iota made landfall, several were completely destroyed. In Honduras, more than 400 health facilities were damaged, some destroyed, leaving an estimated two million people with limited or no access to healthcare, while another 200 facilities suffered damage in Guatemala.
The public health systems in both Honduras and Guatemala were also already beset by chronic shortages and corruption scandals, even prior to the pandemic, which further stressed capacity. Private facilities exist, but few can afford them. For every 10,000 people, there are only 3 doctors in Honduras and 4 in Guatemala, compared to 26 in the United States and 28 in the UK, according to World Bank data.
The infant mortality rate in Guatemala is 21 deaths per 1,000 live births, and 15 in Honduras – compared to 6 in the United States and 4 in the UK. Maternal mortality ratios per 100,000 live births in Guatemala (95) and Honduras (65) are also many times higher than in the United States (19) and in the UK (7). Most maternal deaths worldwide are due to inequalities in access to care and can be prevented, according to the World Health Organization.
A Médecins Sans Frontières team in Honduras is trying to fill gaps in reproductive healthcare in Choloma, a city just north of San Pedro Sula where it opened a maternal-infant clinic four years ago.
When Eta and Iota hit, flooding and damages shut down half of the clinics in Choloma, and for weeks MSF was running the only facility with round-the-clock obstetric care, said Juan Carlos Arteaga, MSF's project coordinator in the city.
"Prenatal checkups were totally disrupted," Arteaga told TNH. "In emergencies, it was harder for people to arrive." Initial support quickly waned, and as the displaced moved between various official and community shelters in search of food, tracking people down to follow up on their medical, psychological, and other needs became next to impossible, he added.
Underfunded response
The hurricanes hit while global media attention was heavily focused on the US presidential elections, and the international donor response has been lacklustre. OCHA issued a flash appeal for Honduras, seeking more than $90 million to cover immediate needs. To date, only a third of the goal has been met, half of it donated by the US government.
"I don't think the humanitarian world took this as seriously as it merited," said Vlatko Uzevski, who led an emergency medical response team from health non-profit Project HOPE in western Honduras following the hurricanes. "There is a need there, and people need support."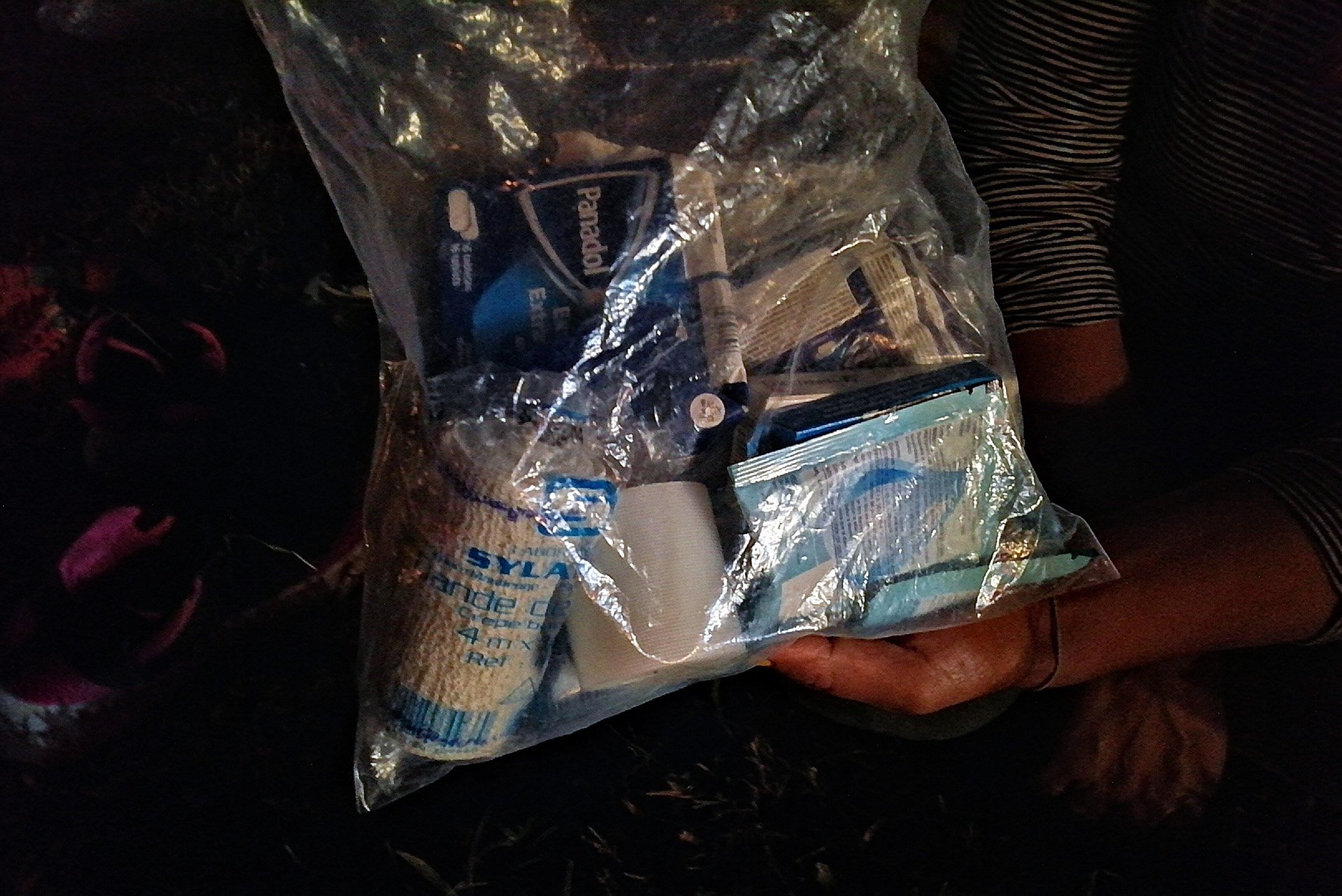 Uzevski's team was deployed to the badly hit Santa Bárbara department in anticipation of injuries and other immediate needs. Instead, they found rising gastro-intestinal issues, skin infections, and conditions ripe for a major dengue outbreak – problems all also noted by the Pan American Health Organization.
"All those health issues were related to water and sanitation," Uzevski told TNH. "Everywhere, you could see the destruction of the water systems." 
Of the $16.2 million requested for water, sanitation, and hygiene in Honduras in OCHA's appeal, only $3.5 million has been funded.
But two aspects of OCHA's flash appeal highlighted as priorities by aid groups on the ground have received no funding whatsoever: gender-based violence and child protection. 
Schools, community halls, homes, and all sorts of buildings were used as shelters. But as hundreds of thousands were displaced across the region, there was too much demand, so many people – like Cruz and her daughter – joined informal encampments under bridges or along the roadside. Few of even the formal shelters had separate sleeping areas for women and children, and school bathrooms were often unlit and far away from the main buildings.
Reports of men sexually assaulting and harassing women and girls in shelters generated alarm in Honduras, said Arteaga, adding that MSF had found a basic lack of protocols for helping survivors of sexual violence.
Guatemala has a secretariat against Sexual Violence, Exploitation, and Trafficking of Persons, known as SVET. Its personnel visit shelters to provide information and guidance on sexual violence prevention. But just because protocols are in place, SVET representative Jasmín Asturias told TNH, it doesn't mean the affected population or the local authorities have any idea what to do or who to contact, as these issues are often shrouded in silence.
At a checkpoint in La Ruidosa, a major highway intersection in eastern Guatemala, while security forces enforced entry requirements, Asturias and a colleague handed out leaflets to raise awareness of sexual violence and trafficking to help protect protect women and girls. "Our goal," she said, "is to break the taboo."
 sc/pdd/ag