In many countries, the lockdown measures imposed following the onset of COVID-19 triggered a sharp rise in gender-based violence. To make matters worse, resource squeezes due to the pandemic mean organisations serving GBV victims are often struggling to get by.
UN Women reported that nearly half of women globally said they or someone they knew had experienced violence during the pandemic, while the UN's emergency aid coordination body, OCHA, set that figure at more than 70 percent for women and girls in humanitarian settings.
The situation is particularly dire in Colombia. Five years after the signing of an historic peace agreement, mounting conflict from armed groups and mass migration had already put women living in many of the country's crisis-stuck regions in increasingly vulnerable situations. The health crisis has made the situation even worse.
This was the case for Sofía*, an Afro-Colombian woman who lives in Quibdó, the capital of Chocó, a conflict-prone Colombian region where violence has only worsened in recent years.
When the city went into lockdown, Sofía and her husband of 13 years were both left without work. He began to change.
"I'm trying to find a way to get out."
He started drinking and turned violent in a way Sofía had never seen, regularly hitting her and scaring their three kids. Like many women across the world, Sofía was closed in with her abuser for months on end.
"It was really hard to get food. He got rejected from lots of jobs, and we had no way to make ends meet. So he began to drink lots of alcohol and began to hurt me," she said. "I had no support."
More than a year and a half later, Sofía still feels trapped.
While international and local aid organisations have been sounding increasingly urgent alarms about GBV, victims like her see no end in sight for their situations.
"I'm trying to find a way to get out," Sofía said. "But I have three children and… I still don't have any sort of steady employment. I don't have anything."
Confined by economics, gangs
Pre-pandemic, Latin America already had the highest rates of gender-based violence in the world, according to OCHA. Machismo – a sort of extreme toxic masculinity found in Latin America that often manifests in violent ways – is ever-present in relationships and work environments.
As a result, women in Latin America went into the pandemic disadvantaged economically, facing higher rates of unemployment and more precarious work situations.
In January 2020, 10.4 percent of Colombian men were unemployed, compared to 16.5 percent of women, government data shows. A year later, that gap has only widened, jumping to 13.4 percent of men and 22.7 percent for women.
In urban areas, like Quibdó's densely populated city centre, that has contributed to women like Sofía – who lack professional skills or a full education – becoming trapped in cycles of violence. 
In addition to caring for their three children, she used to clean houses around the city – informal work that allowed their family to scrape by in a dangerous but low-rent neighbourhood.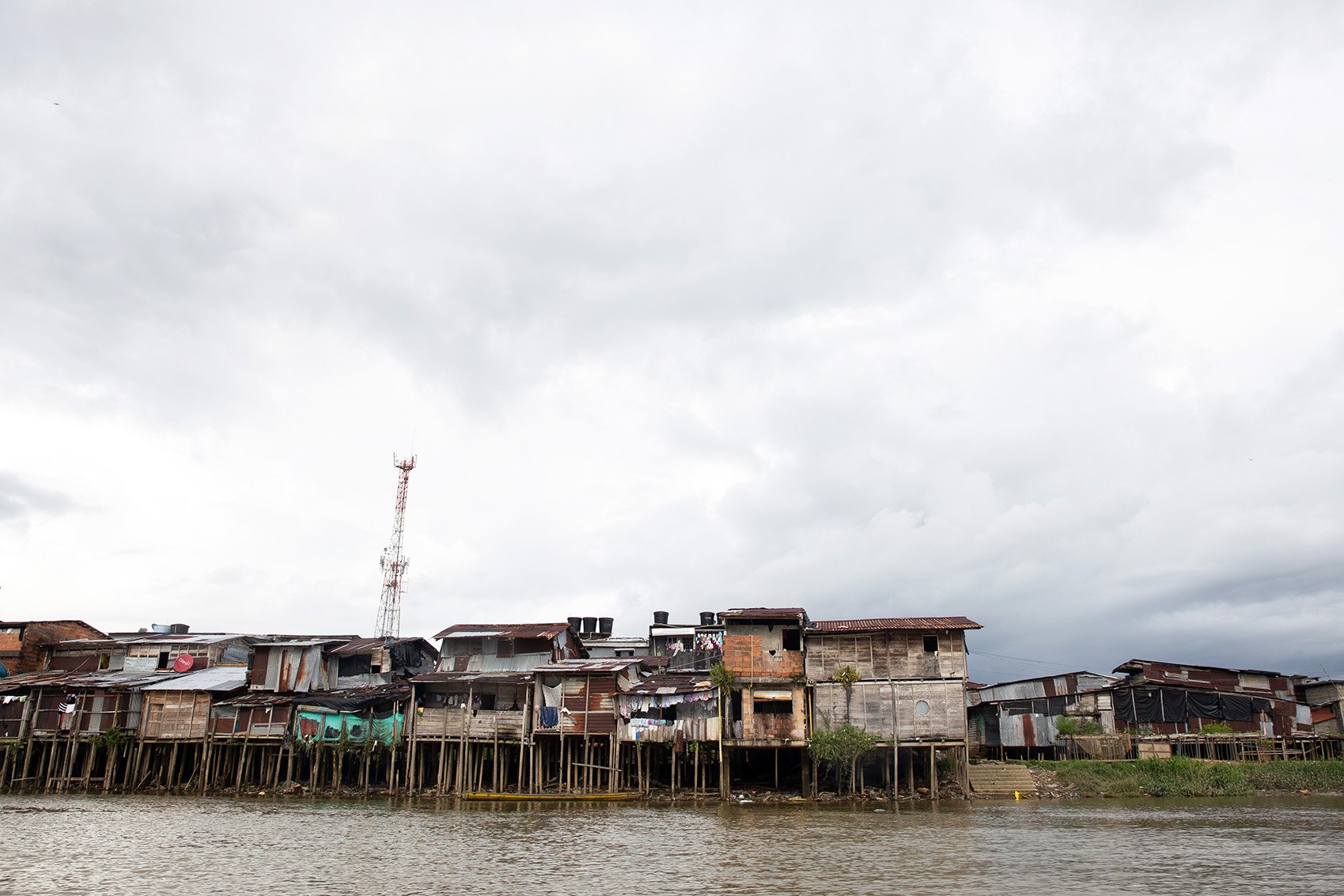 For the past 18 months, Sofía has tried to leave the relationship and search for work, but without having a higher level of education, she has run out of options.
Rosa Lozano, a women's leader running the victims' organisation Pétalos de Rosa, has been trying to help Sofía improve her situation but has struggled to get her proper assistance due to the chronic lack of funding. While Lozano has used the small reparations payments she receives from Colombia's Victims Unit to scrape by, she is largely self-funded. For years, she has been hoping to receive international support.
"Women need a source of income, so that they have their own independent earnings," Lozano said of Sofía. "She hasn't left this cycle of violence because where is she going to go with her children?"
Violent fights and child recruitment by gangs are common in the part of the city where Sofía lives. In order to leave the area, Sofía has to ask permission from gang leaders, creating a similar confinement dynamic that spurred on violence at the beginning of the pandemic.
Sofía said the energy she used to put into working now goes towards protecting her 4-, 10- and 13-year-old children from the gangs, and ensuring that her husband's violence doesn't extend to them.
"She hasn't left this cycle of violence because, where is she going to go with her children?"
"They tell me they're scared because the gangs are going to recruit them," she said. "The gangs have seized control and people are terrified. No one leaves their barrio because of the violence."
Comprehensive data on gender-based violence is tricky to find due to low reporting. For instance, Sofía has not reported her case – even though the abuse has been going on for longer than a year – because she feels there's even more risk if she leaves.
The Colombia Femicide Observatory tracks the killing of women due to their gender – the most visible form of gender-based violence and often an escalation of an abusive situation. In 2019, the Observatory documented 571 cases of femicide. In 2020, that number was 630. Between January and October this year, the organisation documented 525 cases, with 2021 on track to surpass both preceding years.
The regions left behind
Major Latin American cities have put in place initiatives to try to combat the violence – like an "anti-machismo" hotline for men – and have provided resources like other crisis hotlines, financial aid, and shelters. 
Women's groups like Fundación Frida Kahlo, which works with migrant women in Cúcuta, told The New Humanitarian they have been seeing more interest recently in GBV from aid organisations like the UN and the Red Cross – if there's one positive to come out of the crisis, they say it's that awareness and reporting by victims has gone up.
But many regions where violence is the worst have been left behind.
Women in rural areas are even more vulnerable, said Julia Susana Mena, who runs Cocomacia, a grassroots organisation in Chocó.
Like many remote parts of Colombia, such communities are hard to access and lack basic infrastructure, including paved roads and phone signals.
To connect with women, leaders like Mena ride wooden canoes along the Rio Atrato, the region's main waterway running from the Colombia-Panama border southward, past the city of Quibdó.
But the river is also coveted territory for armed groups, who illegally mine for gold and carry out illegal logging, using the waterway for trafficking operations.
Formerly a stronghold of the Revolutionary Armed Forces of Colombia (FARC), the Marxist rebel group that signed a peace pact with the Colombian government in 2016, the region is now disputed by two groups: the Gaitanista Self-Defense Forces of Colombia (AGC), a right-wing paramilitary gang more commonly known as the Clan del Golfo; and the leftist guerrilla group, the National Liberation Army (ELN).
In much of Colombia, such armed groups took advantage of the pandemic, using it as a distraction to seize power or to impose heavy-handed rules on the zones they control.
"Groups took advantage of that to gain more territory," said Gimena Sánchez-Garzoli, Andes director at the Washington Office on Latin America (WOLA). "It's gotten really out of control."
"The pandemic right now is about bullets."
In conflict zones in Colombia, gender-based violence has been an ever-present force for decades. Armed groups – leftist guerrillas, right-wing paramilitaries, and the Colombian military – have often used sexual violence as a tool of war, a way to assert their dominance and sow fear in communities. This is especially true when groups battle for control. A recent report by the Ombudsman's Office noted the prevalence of sexual violence during displacement and confinement events in Chocó this year.
Mena, and several other sources working in these conflict zones, told The New Humanitarian they have been seeing a sharp uptick in sexual violence used against civilian populations – armed groups' leaders are recruiting young girls to be their girlfriends, sometimes kidnapping and forcing them, other times coercing them with gifts and money.
Others have raped and killed women. "Right now, the pandemic isn't about COVID," Mena said. "The pandemic right now is about bullets."
Armed groups have also imposed forced containments on communities, setting curfews or not allowing civilians to leave at all. If you leave or enter without their permission, you risk being killed.
Read more → Five years after 'peace', the Colombian communities living in forced confinement
This has created a sort of blindspot for social workers like Mena trying to track and report cases of violence. It has also become more dangerous to report cases of violence in such areas to authorities. Organisations and social workers who do often face death threats and attacks. 
"You run all sorts of risks, but you also can't just stay silent," Mena said.
Shoestring operations
Access and response issues are compounded by the fact that the organisations created to help women are running with little to no funding.
Yazmin Zulrina Pinzón Ramírez runs a refuge for victims of gender-based violence out of her house in Cúcuta. A victim of sexual violence and armed conflict herself, she lives in a small three-room brick building on the fringes of the city with 10 other family members.
When the mass migration of millions of people from Venezuela began, around 2016, Pinzón Ramírez opened her doors to migrant women and began connecting victims of sexual violence to both the authorities – to report the abuse – and to shelters, to try to get them out of violent situations.
Like in Quibdó, the pandemic has also spurred an uptick of sexual violence in the border areas around Cúcuta as armed groups take advantage of increased vulnerabilities. In July, the Ombudsman's Office flagged a "noted increase" in sexual violence, femicides, and human trafficking in the region.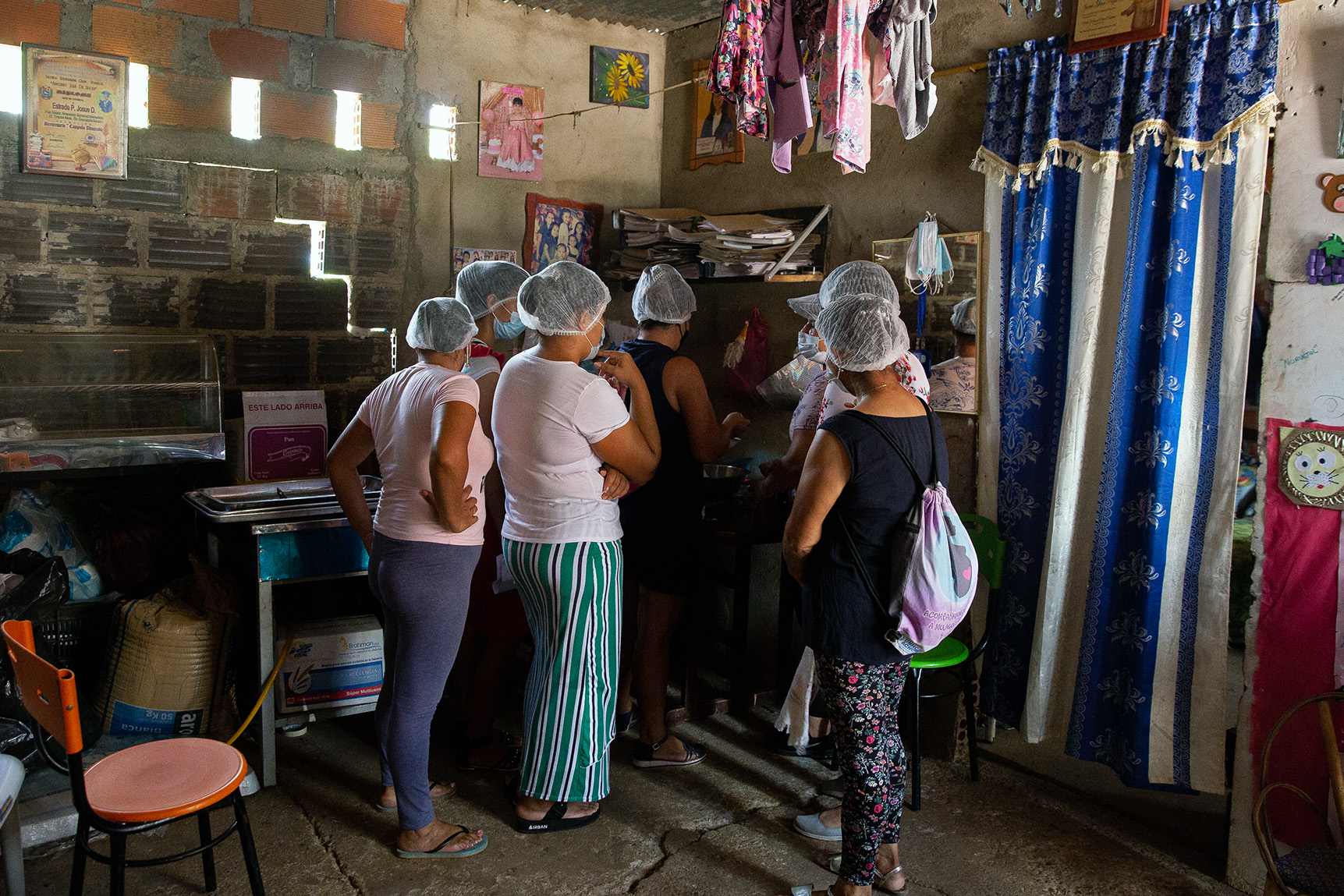 Pinzón Ramírez's organisation, Corporacion Dios Nos Brinda Una Segunda Oportunidad (Corporation God Gives us a Second Chance), offers work-training to victims, teaching them new skills such as bread-baking that can generate income. They help over 70 women weekly, she said. One day in September, a group of 15 women gathered in Pinzón Ramírez's dimly lit house. Light trickled in through cracks in the bricks, and women used the torches on their mobile phones to measure ingredients.
But Pinzón Ramírez, too, has struggled to make ends meet. Authorities have shut off her water and lighting multiple times over the past few years because she has been unable to pay her bills. Women leaders like Lozano and Mena in Quibdó say they've faced similar issues.
"We've struggled to cover our own basic needs – buy food every week, pay for education for our own children," Pinzón Ramírez said.
Women come to her door asking for money, work, or food for their children, and she often has to turn them away. "I feel impotent," Pinzón Ramírez said, noting that often the most she can do is connect them to the authorities or offer them rice or other small food parcels.
In November 2020, the UN announced emergency funding to fight the global spike in gender-based violence. A year later, it confirmed that eight of the 15 groups in Colombia selected to receive support – which include Corporación Dios Nos Brinda Una Segunda Oportunidad and Pétalos de Rosa – had "consolidated their work plans" and were "in the process of receiving the funds".
Read more → What happened to the emergency UN money promised for gender-based violence?
While local women leaders, and victims like Sofía, continue to wait for those funds, the existing aid is only a sticking plaster on a larger problem. 
A small food delivery may help ease the economic pressure for a while. But Sofía said what she really needs to break the cycle of violence is economic autonomy. Like many of Colombia's nine million conflict victims, she had to drop out of school at a young age when she was forcibly displaced by violence. Unable to attend government-run work training classes due to her inability to pay the entrance fee, she continues to search for low-paid work.
"I've looked for ways to get out," Sofía said. "You can if you study, but I wasn't able to study past high school… More than anything, I need financial support to get work, to see if I can earn something and make things a bit better."
*Sofía's real name was withheld for security reasons.
Edited by Paula Dupraz-Dobias.