As global leaders creatively recycle terms to underscore the importance of seizing the "last chance" for action at the COP26 climate summit, hundreds of thousands of poor families living on parched hills above Peru's capital are already on the dark side of the climate tipping point.
Andean glaciers are in sharp decline – Peru's glacial area shrank by nearly a third from 2000 to 2016, experts estimate – and it's expected that resulting water shortages will affect millions in the coming decades in and around Lima, the world's second most populous desert city.
"It's difficult to live on the hills where there is no water," Berta Sulcapoma, a community leader in Pamplona Alta, an arid collection of vertiginous slums above Lima, told The New Humanitarian. "They only send water trucks every 15 days. And when they come, you have to get a lot of water all at once." At 25 soles ($6.50) a go, the expense of filling up can be too much for residents, who are primarily employed in the informal sector and rely on work that has been in short supply during the pandemic.
For two weeks from 31 October, delegates from 197 countries meeting in Glasgow, Scotland will have a hefty agenda of unfinished work left over from the last climate conference in Madrid in December 2019, but they may not be thinking enough about people like Sulcapoma.
The headline items will be emission cuts, climate finance for poorer nations, and defining rules for carbon markets. But while the aid sector will certainly be looking out for stronger and more detailed commitments from the world's biggest polluters to cut their emissions by 2030 and stave off further global warming, it will also be looking for more urgent action right now to help with the growing humanitarian needs already being created by the climate crisis. 
---
---
As well as stepped-up finance to assist poor and developing countries as they try to transition away from climate disaster, aid groups want donor countries to realise the value of anticipatory action and risk management. There are also growing calls for vulnerable countries to be spearheading discussions on needs and mitigation, offering their experiences and insights in real time on the unfolding climate catastrophes they face. 
With a growing appreciation within the sector of the trigger role that climate change plays in humanitarian crises – from drought-fuelled migration to storms to health emergencies – some major aid groups are also keen to have a stronger voice in the discussions: Médecins Sans Frontières (MSF), for example, is making its premiere appearance at this year's COP.
Read more → The push to anticipate crises gains steam
For humanitarians like Gernot Laganda, climate and disaster risk reduction chief at the World Food Programme (WFP), the climate crisis is already frighteningly real, going well beyond what can often appear more like theoretical scenarios and discussions at such summits.
"It's no longer a glimpse into the future, or something that will wait for emissions reductions," Laganda said. "Families keep losing their crops and food reserves, regions are losing infrastructures through floods and storms, and the poorest families in the poorest countries are depending on food they cannot afford anymore because prices are increasing."
In 2019, according to the Global Network Against Food Crises, which includes WFP, climate extremes were the main driver of acute food insecurity in 25 countries, while more than 30 million people have been internally displaced due to climate change this year alone.
Too little, too late
With extreme weather events – such as drought, heat waves, and flooding – becoming ever more frequent, the recent release by the UN's Intergovernmental Panel on Climate Change (IPCC) of its Sixth Assessment Report is the latest clarion bell, placing a new emphasis on tipping points, or "abrupt changes", that will exacerbate existing humanitarian crises.
Forecasting global temperatures will reach 1.5 degrees Celsius above pre-industrial levels – heights not reached in more than 100,000 years – over the next two decades, it recommends much more aggressive action by major emitters to reduce greenhouse gas emissions.
Other recent studies further confirm the urgency of the moment. Deforestation in the Amazon – the world's largest ecosystem and a vital area of CO2 absorption – is reaching a point of no return. While a recent Lancet report said climate change was undermining decades of progress to control infectious diseases, including dengue, malaria, and cholera, and leading to higher mortality rates in both people above 65 years of age and those younger than one. 
"Net-zero targets are much too vague."
In spite of these dire warnings, commitments to reduce greenhouse gas emissions have lagged. Having skipped a year due to the pandemic, countries were due to announce their Nationally Determined Contributions, or NDCs, by a new deadline: 12 October 2021.
So far, 145 countries have submitted new or updated NDCs for the period till 2030. These, however, include countries such as Australia and Brazil, whose pledges don't improve on earlier carbon-reducing commitments, while other major emitters – notably China and India – are yet to file their pledges. Of all the new pledges, only 81 countries – representing about a third of all global emissions – increased their carbon-cutting ambitions.
Experts say the impact of pledges to date would still see global temperatures rise by 2.4 degrees Celsius by 2100, rendering large regions of the world uninhabitable.
How often these pledges are to be renewed remains to be finalised. While a number of major emitters have either opposed "common timeframes" or – like coal-reliant Poland – want NDCs to be renewed every 10 years, the EU recently put its weight behind five-year intervals.
In addition to submitting NDCs, required under the Paris Agreement, a number of countries have also pledged to achieve net-zero emissions by mid-century. If implemented, these would still see warming by 2.1 degrees Celsius. Saudi Arabia, the world's largest oil exporter and a longtime obstructionist in climate talks, was one of the latest to announce a net-zero emissions pledge – but only by 2060, 10 years later than other major economies.
Environmental groups are not buying these pitches. "Net-zero targets are much too vague," Jennifer Morgan, director of Greenpeace, told a recent press conference. "We are not getting enough detail. It's being used as a marketing tool." At the launch on 26 October of the UN Environment Programme's Emissions Gap Report, the agency's executive director, Inger Andersen, agreed, characterising the net-zero promises as "ambiguous, vague, and inconsistent with 2030 action".
Putting money where it's needed
Another major issue going into this year's talks is finance. At the 2015 Paris talks, it was agreed that all parties, rich and poor, would play their part in reducing emissions. But the target of deploying $100 billion per year by 2020 to help developing countries cope with climate change has already been missed.
Prompted by data in 2019 showing that financial support to poorer countries only amounted to some $80 billion, a new plan set out by the UK just days before the start of the Glasgow summit showed that the $100 billion target will only now be achieved in 2023.
Most funding till now has gone to mitigation activities, particularly in middle-income countries – in spite of climate justice proponents long saying it will be difficult for the poorer nations to transition to green and resilient economies without much greater assistance.
Under the presidency of the UK, the COP26 official website, meanwhile, is calling on "every company, every financial firm, every bank, insurer and investor" to pitch in to achieve climate goals.
---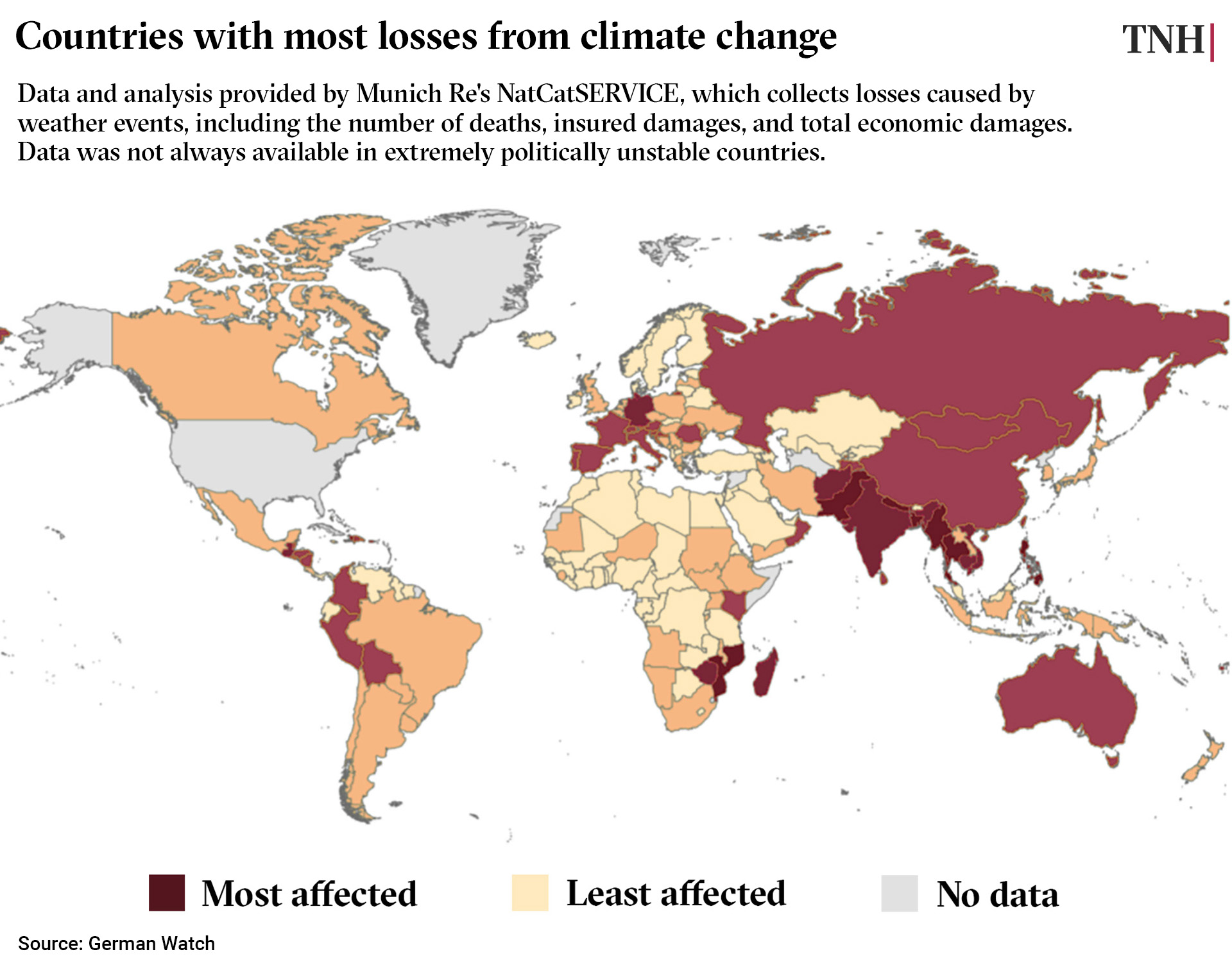 ---
Andersen, of UNEP, said carbon markets – increasingly employed in the private sector to offset emissions, but panned by some critics as ineffective or "greenwashing" – are also key to providing finance, but stressed, "they cannot be all of it".
As an investigation published this week by The New Humanitarian revealed, even the humanitarian sector is divided on the merits of offsetting to reduce its carbon footprint.
Where aid groups do agree, however, is that climate finance should be refocused to better respond to the many humanitarian crises around the world where needs are already soaring as a result of climate change.
Read more → What's the aid sector's carbon footprint?
"Scaled-up climate finance is not just about scaling up $100 billion per year," said Laganda. "It is also about a much stronger emphasis on adaptation, on climate risk management, and supporting countries experiencing losses and damages."
Building resilience is key. For the International Federation of Red Cross and Red Crescent Societies (IFRC), that has meant convincing their own donors to invest early and at the local level where communities are on the front line of climate change.
Florent Del Pinto, emergency operations manager at the IFRC, said climate change is putting so much pressure on disaster response among its national societies that, "instead of having to intervene on a high scale every five years, we have to do it every year or every two years." 
Del Pinto told The New Humanitarian it was important to act before disasters happen, and called for greater investment in forecast-based programming and building resilience.
"This is a way of alleviating human suffering without having to engage all the funding that people are afraid of spending," he said. "We know the cost of not taking action: It's a humanitarian impact that is incredible."
Including the voices of those affected
Especially with COVID-19 restrictions still in place in many countries, there's also concern that the communities suffering most from the impacts of climate change may lack representation at the summit.
Virtual discussions in the run-up to COP26 across disparate time zones have left many smaller countries and marginalised groups wondering if their interventions are being heard, while climate justice advocates are pushing parallel events and sessions.
"Clearly there is a question of equity when those suffering the most [and who] have done the least to contribute to the problem, and those who still wield power and finances to assist, are often divided by a line of access," said Stephen Cornish, general director of MSF Switzerland.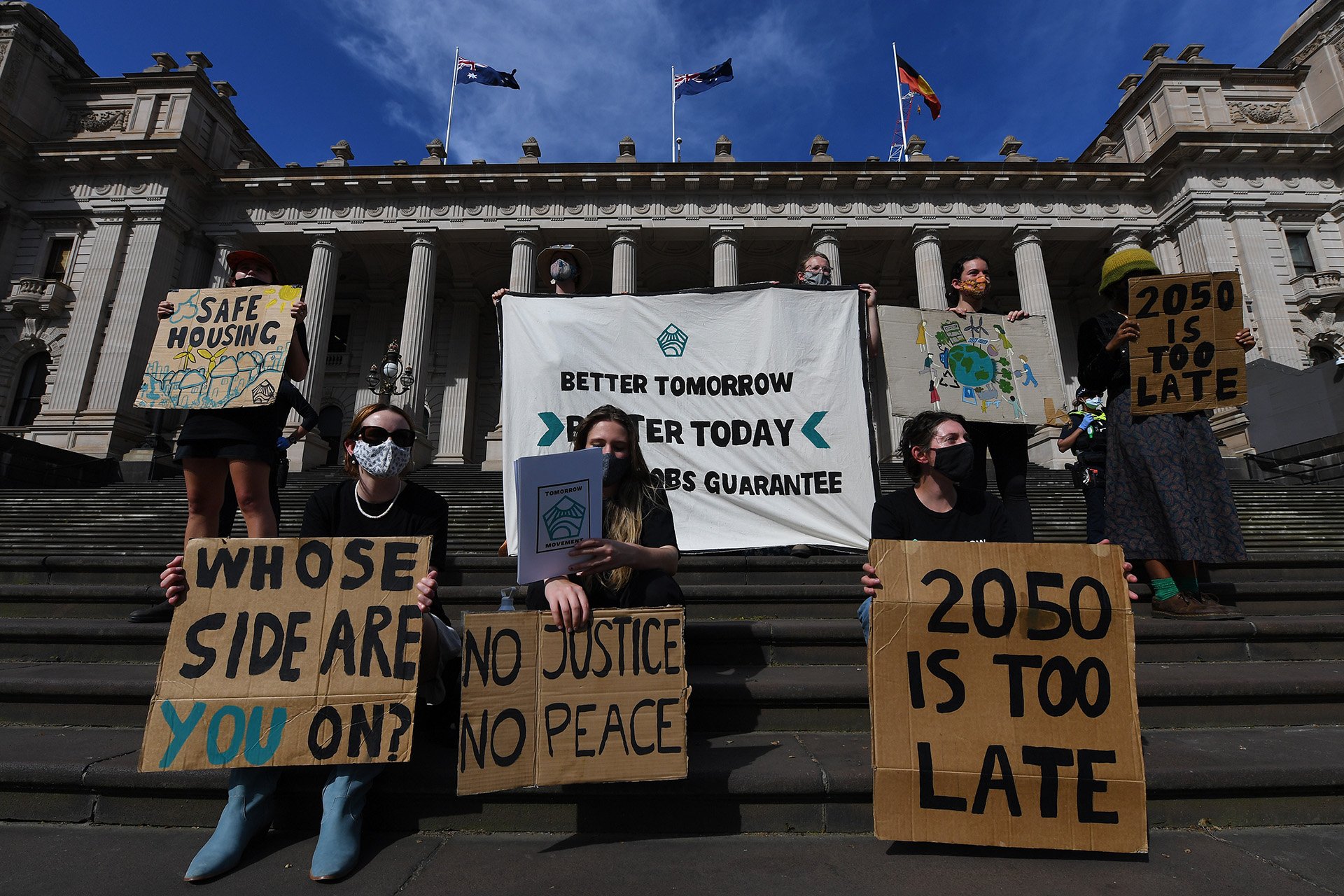 The cropping out of Ugandan climate justice activist Vanessa Nakate from a photo with four white activists, including Sweden's Greta Thunberg, at the World Economic Forum in Davos in 2020 offers a reminder of how representation from the Global South can be erased.
In Glasgow, representatives of those on the climate front lines are expected to try to strengthen their alliances to continue to push on issues such as "loss and damage" – the compensation wealthier countries pay to poorer ones for the impacts of climate change.
Some see the lack of solidarity during the pandemic and the rampant vaccine inequity as a worrying harbinger of problems and disunity to come as climate talks intensify. However, Laganda of WFP was hopeful that more positive lessons might be learned. "Concerted global action is possible with a short lead time in a very decisive manner," he said. "Some of that determination would be needed to deal with the climate crisis."
In the poor neighbourhoods above the Peruvian capital, any assistance to avoid a climate calamity, would certainly be welcome, but it is not expected. "They don't think of investing in poor people who lack water," said Sulcapoma. "The government forgets us. They never see the necessities of the poor."
Edited by Andrew Gully.