Four months after a deadly blast tore through Beirut's port, some residents of the Lebanese capital say the help they have received has been sporadic, late, and insufficient – despite hundreds of millions of dollars of pledged international aid and the fanfare surrounding it.
Shortly after the 4 August explosion – caused by a stockpile of unsafely stored ammonium nitrate – both aid and promises of aid began to flow: donations of goods; $155 million towards a UN-led appeal; and pledges of 253 million euros at a conference spearheaded by French President Emmanuel Macron, who also promised a "rescue plan" for Lebanon.
Since then, myriad local and international actors have set to work dealing with the aftermath of the blast, which killed more than 200 people and damaged more than 62,000 homes. This includes the Lebanese government, which has been giving payments to people who lost family members or need help rebuilding.
Read more → Local groups step up to lead Beirut blast response
But despite the vast sums of money and large numbers of groups trying to help, people like Mehieddine Lazkani, a 28-year-old student and hospital worker who lost his father in the explosion, told The New Humanitarian he and his family are still waiting for most of what they have been promised.
Lazkani said the Beirut home his family owns was so badly hit that "even the clothes in the closets were torn". And he isn't even sure where some of the minimal help they have received has come from. "Someone came in the following day and rented a home for us for three months," he explained. A handful of non-governmental organisations also came soon after the blast to survey the family and to assess the damage, but Lazkani said they never returned.
An aid group did help fix their doors and windows, but the family – which since Lazkani's father's death consists of his mother and younger brother – has mostly relied on the support of relatives. All other repairs, including replacing appliances, have come at the family's own expense, and Lazkani said they can't afford "all the necessities" for their household.
Due to the ongoing rebuild, Lazkani only moved back in last week. He said he still hasn't received any of the money the Lebanese government is giving out, neither for repairs nor for the families of those who perished in the blast. "Everyone got aid in the building except for us. We're not sure why," he said. "We called [the army] and they said perhaps you're in a different payment cycle."
Multiple actors
Part of the confusion may come from the disparate forms of fundraising and aid efforts at play.
Macron's 9 August conference drew $307 million in pledges, and his office said last week that the aid received had exceeded that number, bringing in a total of $340 million in cash and in-kind aid, such as food items.
However, France has not provided a breakdown of what each donor country has given, so the contributions are difficult to verify. The French embassy in Lebanon referred questions to OCHA, the UN's coordination body for emergency affairs. But since OCHA usually only tracks aid that comes in through the UN – just some of the aid pledged at the French conference – it couldn't confirm how much had been distributed.
The UN appeal, which asked for $355 million to help with emergency post-blast needs like food and shelter, has raised about $155 million to date. Much of this has gone through UN agencies like the World Food Programme, and through large NGOs.
"Everyone got aid in the building except for us. We're not sure why." 
Meanwhile, smaller NGOs and individual initiatives have brought in millions of dollars of additional aid. For example, Impact Lebanon, a platform run by a group of Lebanese expats, raised nearly 6.6 million euros on its own.
Donations that weren't coordinated through any organised effort have also made their way to Lebanon, and have generally been handled by the Lebanese Army – but there are questions over what happened to some of these in-kind contributions. For instance, tea sent by Sri Lanka ended up being distributed to the families of presidential guards rather than to blast victims, causing a controversy; President Michel Aoun asserted afterwards that the tea had been meant as a gift to him. And after the first major rains of the winter, last month, flour given by Iraq was found stored in a waterlogged basement under a stadium.
In total, UN officials told TNH they are aware of about $340 million in international aid that has come to Lebanon through various channels in response to the explosion, including the $155 million via the UN.
OCHA says donors choosing to direct most funding through UN agencies is not an uncommon practice, especially in the "humanitarian phase" after a disaster when the response is focused on needs like food and shelter. 
"I think the huge difference here has been the extraordinary engagement of the civil society and the private individuals in Lebanon," Séverine Rey, OCHA's Lebanon head of office, told TNH, adding that this had helped them work closer to the ground, speeding up the response.
"At the same time as it's a blessing… it's been very complicated to coordinate, because some of those are not structured platforms."
Overall, Rey saw the humanitarian response as having addressed the most urgent needs, although she admitted there was still work to be done. "The people who suffered from the explosion were not let down, neither by their own community… nor by the international community," she said.
State efforts late and spotty
While first responders and local groups were on the ground right away, the state's financial response to its citizens came later.
Deputy Prime Minister and Defence Minister Zeina Akar told TNH the government's role in the initial aid effort was limited: "The Lebanese government did not receive any cash aid, but rather physical (in-kind) aid." She added that a state of emergency, declared shortly after the blast, left the army primarily in charge of government assistance, with the Health Ministry helping to coordinate on its end.
It wasn't until nearly three months after the explosion that the Lebanese Army began distributing 100 billion lira (about $12.5 million at the current market exchange rate) to homeowners whose houses had been damaged. Renters who were displaced did not receive this compensation, but Beirut Governor Marwan Abboud and UN officials told an 8 December press conference that the UN was launching a new programme to help families displaced by the blast pay rent.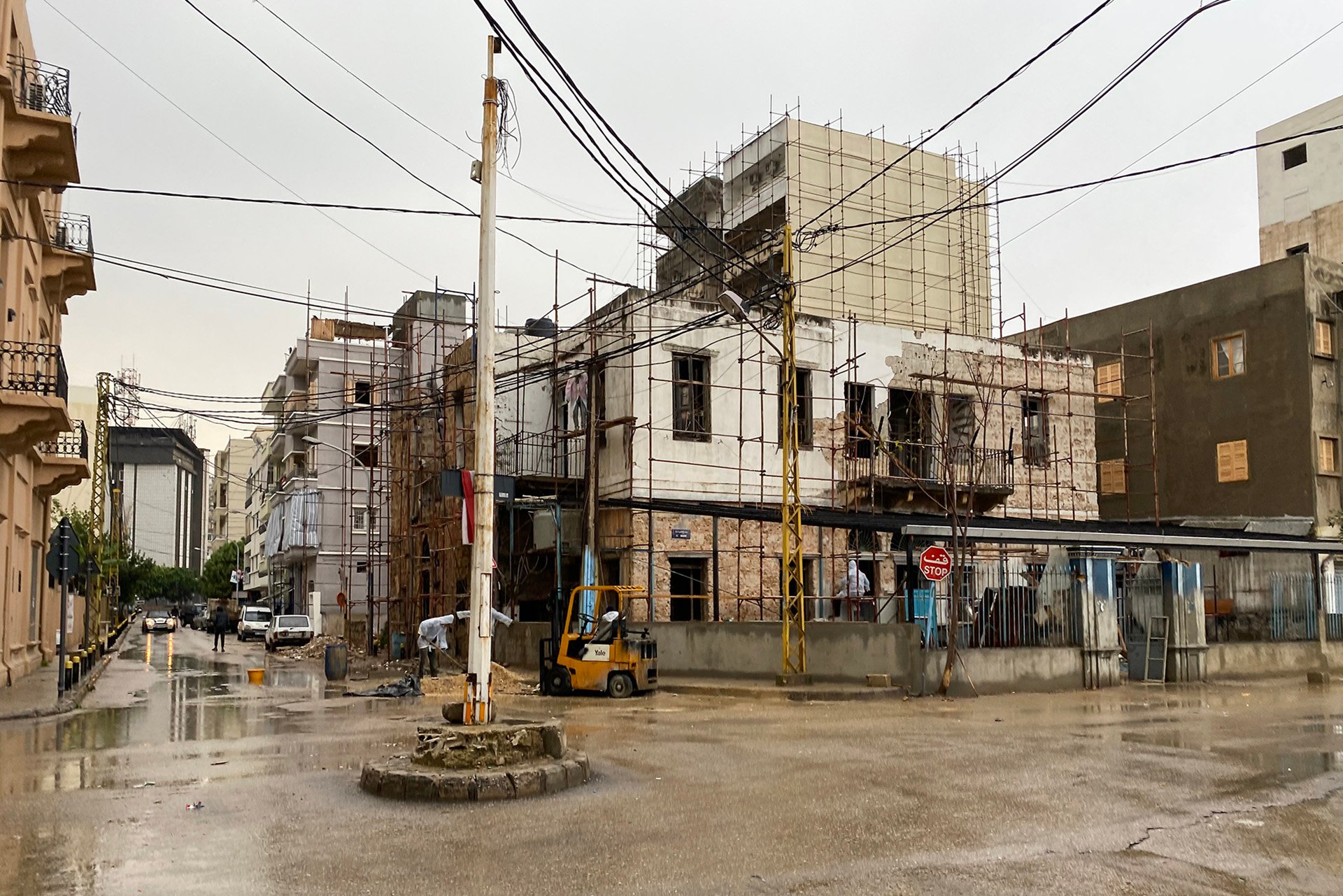 By the army's estimation, the compensation pot only covers some of the damages for 10,274 houses or apartments, out of a total of 62,087 that were impacted. According to a recent UN assessment, there are some 13,500 to 18,500 damaged apartments for which there is not currently funding to make the repairs; neither from the UN, civil society organisations, nor from the owners.
Army spokesman Col. Elias Aad told journalists the funding "of course will not be enough to cover everything; it's a beginning," adding that more would be handed out as more money became available. He later told TNH that the army had already, as of last week, given out all of the 100 billion lira. The cash-strapped government is seeking a line of credit for more.
Meanwhile, the Higher Relief Commission, a government agency set up during the Lebanese civil war to respond to emergencies, has been handing out aid cheques for 30 million lira (about $3,750) to each of the families of victims killed in the blast. But victims' families and attorneys assisting them told TNH that – due to Lebanon's currency crisis and related issues in the banking system – it has been weeks before many families are able to cash them.
The Lebanese government and local politicians are conscious of the criticism.
"We can't say that all the people in need have gotten their rights. There are still many people in need who have not gotten their rights," Abboud, the Beirut Governor, told journalists on 8 December. Despite the gaps, he said, "Hope has returned, you're seeing that shops are reopening and people have returned to their houses…This is proof that there were many NGOs that were serious and there were many international organisations that were serious that helped people to get back to normal life." 
Poor coordination?
Some have criticised the government's late response, saying its inability to coordinate various different efforts has led to discrepancies in how aid has been distributed. 
Carole Alsharabati, director of research at Siren Associates, which advises public sector clients on governance reform initiatives and recently helped to develop a platform intended to improve the targeting of needy Lebanese families for aid, was critical of the government's decision to put the army in charge of distributing assistance.
But she was also concerned about attempts to bypass the state entirely, calling it an "unhealthy solution" to resolving Lebanon's rampant problems with state mismanagement, corruption, and lack of transparency.
"We can't say that all the people in need have gotten their rights."
For instance, Alsharabati pointed to the privacy concerns that come with dozens of local initiatives going door to door collecting personal and household data without any clear information on how that data will be used and who it will be shared with.
"The problem is in the state – [but] it's not a reason to smash the state and look for NGOs to run the country," she explained. "No, we need to build the state."
Other bids to bypass or change the way Lebanon functions as a state, specifically Macron's post-blast attempt to push a political and economic stabilisation initiative, have so far gone nowhere. The cabinet and prime minister resigned in the wake of the explosion and attempts to form a new one have repeatedly stalled.
Macron convened a second donor conference on 2 December at which he took a scolding tone, telling Lebanese authorities there would be no further aid until they formed a government and carried out reforms. 
Lebanon's political dysfunction had already been a concern raised by donors looking at longer-term reconstruction projects, and also for a new funding facility announced this week by the World Bank Group, the EU, and the UN aimed at moving the country from the immediate humanitarian response to long-term recovery. The majority of the estimated $2.58 billion to be raised by the fund – including grants, concessional loans, and private financing – is contingent on the government carrying out long-awaited political and economic reforms.
"As we move from humanitarian assistance, which comes with no conditions and no strings attached and with the aim to help people in need, to recovery and reconstruction efforts, the issue of reforms comes to the forefront once again," EU Ambassador to Lebanon Ralph Tarraf told reporters as officials announced the new fund. "Lebanon cannot expect support and assistance from abroad if it doesn't do its basic homework."
A long wait
Long-term reconstruction and political change can seem a faraway concern for residents of Karantina, a working-class neighbourhood near the port that was hit hard by the explosion and where many residents say they have yet to receive any substantial aid.
Sixty-six-year-old retiree Mahmoud al-Khatib was born and lived his whole life in a building owned by his father, now rendered uninhabitable due to the blast. 
A small NGO finally replaced the broken doors and windows in his house a couple of weeks ago, but the plumbing and electrical systems were destroyed, and he can't afford to fix them. 
Al-Khatib's experience was similar to that of Lazkani. He said the Lebanese Army and a procession of NGOs have paid visits and collected data, with no result.
"I was born in the apartment below," he said, as he walked up the stairs. Now, he and his wife and their developmentally disabled adult son are living in a rented apartment outside Beirut. 
The building, which holds decades of memories for al-Khatib, has been left damaged and dilapidated for months. He fears the worst during the winter storms ahead. A few blocks away, another building damaged by the blast collapsed following a recent thunderstorm.
"We're waiting our turn; I don't know," al-Khatib said, showing TNH what used to be a kitchen and a bathroom. "If they would give me compensation, I would fix it… I would finish the electricity myself and do the plumbing." 
Meanwhile, Lazkani and others who have lost family members and loved ones expect little from a Lebanese government that was struggling to handle an economic crisis even before COVID-19 and the Beirut blast – with half the population living in poverty, coupled with skyrocketing prices and unemployment. "No, we're not waiting for the state," Lazkani said. "They won't do anything, nor can they."
kc-as/as/ag
Read more about...