Aamina Jan is not a trained healthcare worker. But earlier this year, the 45-year-old spent two weeks caring for coronavirus patients at an understaffed hospital in Indian-administered Kashmir.
When her husband fell sick with COVID-19 in August, she saw that other patients were unattended in a ward that was overburdened and ill-equipped. 
For 14 days, she took elderly patients to bathrooms, fought for oxygen cylinders and medication for patients, and even helped to clean several patients who had no attendants.
"Everyone here was in a race against death," Jan said.
Faced with military lockdowns, healthcare shortages, and minimal outside aid, Kashmir's community groups and volunteers like Jan are fighting COVID-19 by stepping in where official efforts fall short.
Cash-strapped local NGOs run ambulance services shuttling patients to hospitals. Mosque-based welfare associations and community treasuries provide financial support amid the region's crushing unemployment. Volunteers are even carrying out burials for coronavirus victims when family members can't or won't.
It's part of a long history of community support in heavily militarised Kashmir, where an armed insurgency against Indian rule has simmered for the last three decades, and international aid funding is strictly regulated. 
"Crisis is not new to Kashmir," said Dr. Arshad Hussain, a psychiatrist and associate professor at the Institute of Mental Health and Neurosciences in Srinagar, Kashmir's largest city. "But people here have evolved to help each other even in the worst times, instead of dwarfing into self-centred survival mode." 
When the coronavirus pandemic escalated in March, Kashmir had already seen months of lockdowns, curfews, and communications blockades. These were imposed in August 2019, when India stripped the former state of Jammu and Kashmir of its semi-autonomous statehood.
Unheralded community volunteers and NGOs played an active role in responding early on, as they have in previous emergencies, including an earthquake in 2005, widespread floods in 2014, or frequent protests and crackdowns.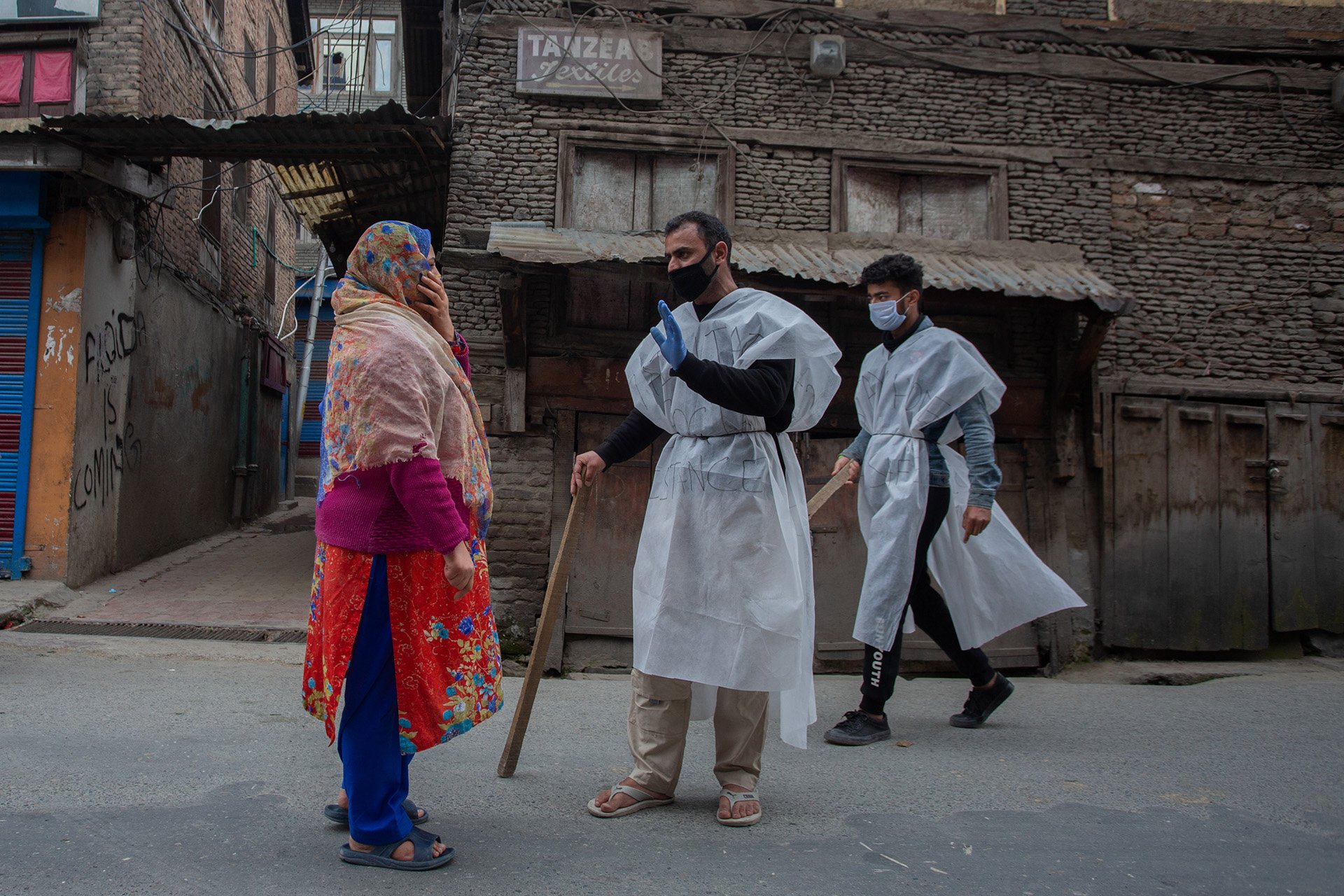 Frontline aid in conflict
The coronavirus pandemic has burdened Kashmir's already struggling health system. As of 18 October, there were more than 52,000 recorded COVID-19 cases and 900 deaths in the Kashmir valley. Community groups and volunteers say there aren't enough doctors and nurses, equipment like ventilators and oxygen, or ambulances to transport patients past security checkpoints.
Dawood Mir, an ambulance driver, has been on call 24/7 since the pandemic hit the valley. Trained to handle emergencies by ferrying the dead and wounded during years of protests, crackdowns, and military strikes, Mir now carries COVID-19 patients from homes to hospitals, and from hospitals to cemeteries.
"I believe resilient community support in tragic times sets us Kashmiris apart," said Mir, who works for an NGO called Help Poor Voluntary Trust. The group's ambulance drivers, healthcare workers, and volunteers help staff at overloaded hospitals.
He recalled a man whose father died of COVID-19 but still donated money, "so that we can help someone else in trouble".
Javaid Ahmad Dar, who heads the NGO Social Reform Organisation in Srinagar, said his group has raised the equivalent of about $100,000 for food and essentials for needy families. They've also sourced oxygen cylinders and equipment for patients, and arranged dozens of plasma donations.
"As oppressed people in a political conflict, we are a unit. We operate like one huge antibody in any chaos and crisis."
Other groups tap local fundraising to help daily wage-earners and vendors hit by the economic impacts of the pandemic and successive lockdowns. Community treasuries, known as a Bait-ul-Maal and often formed in local mosques, use donations gathered through monthly or yearly zakat, or tithes, to offer food kits, household essentials, or cash to needy families. 
The Kashmir Chamber of Commerce and Industry estimates lockdowns since August 2019 have cost local businesses the equivalent of at least $5.3 billion.
"As oppressed people in a political conflict, we are a unit," said Nazir Ahmad, who started a community treasury in his Srinagar neighbourhood. "We operate like one huge antibody in any chaos and crisis."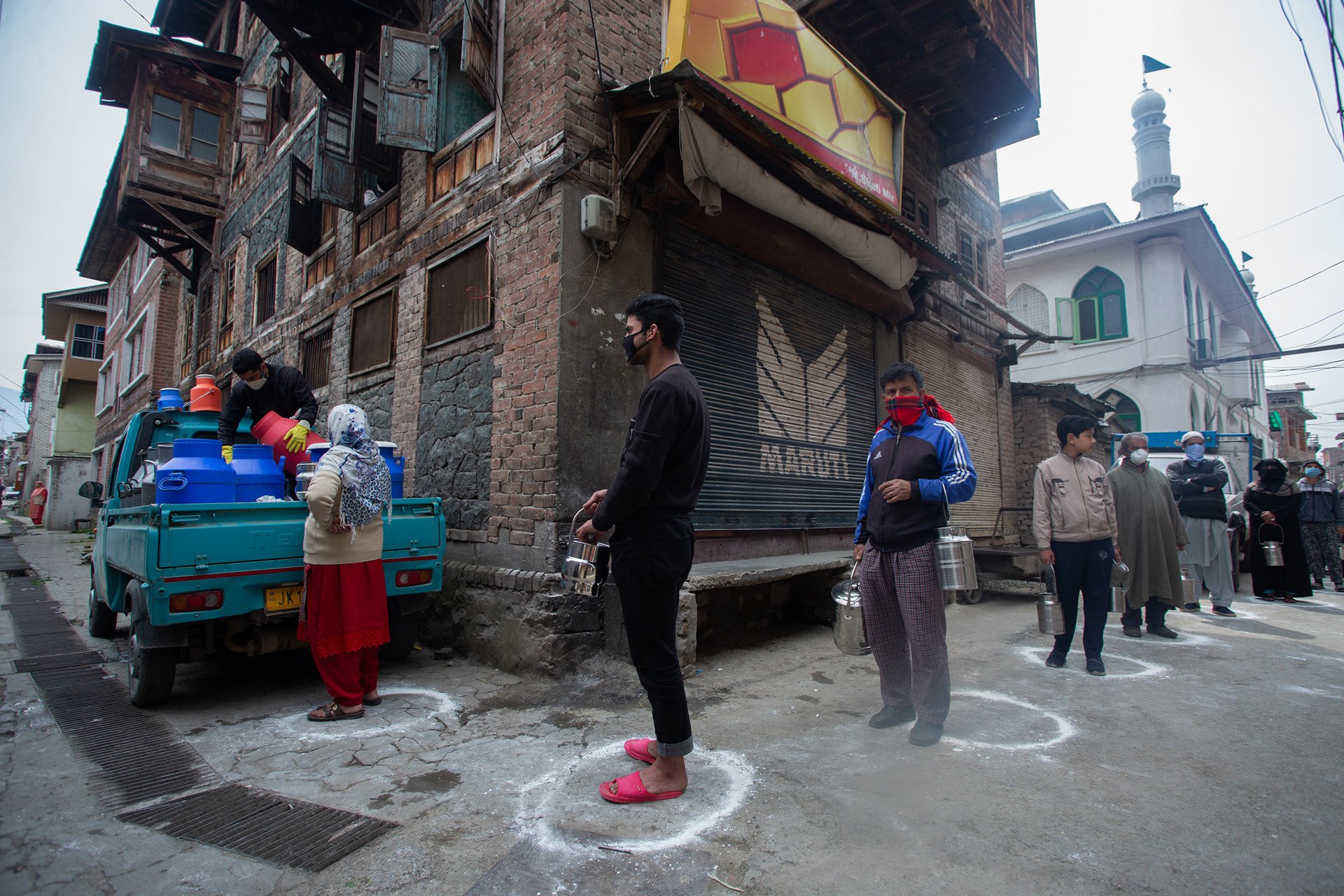 Volunteers and community groups say they're used to stepping in during emergencies over years of conflict, crackdowns, and unrest in Kashmir. 
When security forces killed popular militant commander Burhan Wani in 2016, igniting months of protests and shutdowns, small NGOs were often on the front lines, helping to transport and treat demonstrators blinded by pellet gunfire.
"Suddenly that summer, everything was shut," Dar recalled. "We had pitched tents outside the hospitals and would distribute relief and medicines to patients and their attendants."
Funding restrictions
These frontline efforts happen amid strict limits on foreign aid. Larger international aid groups often aren't allowed to work in Kashmir, and small local organisations struggle to access funding. 
The government "doesn't allow or even encourage the direct presence of international organisations in Kashmir," said a social worker who has worked for multiple local groups. He asked not to be named for fear of retribution. "They don't want these organisations to collect any baseline data from the ground."
Only 34 organisations in Kashmir are recognised under India's "Foreign Contribution (Regulation) Act", which controls international aid funding to local groups. In September, India tightened these already-stringent regulations by slashing the percentage of funds that can be spent on the administration costs that keep NGOs afloat, forcing funds to pass through a bank in the capital, New Delhi, and barring cash transfers between registered NGOs.
Farooq Ahmad, who co-founded Help Poor Voluntary Trust, the group running the busy ambulance service, said his organisation is registered but still can't raise enough money to meet the on-the-ground needs.
"COVID-19 may have killed humans, but it can't kill humanity, especially in Kashmir."
And local organisations with a wide reach often find it difficult to get official approval to receive foreign funds.
"NGOs face many hurdles to operate in this region," said Dar of Social Reform Organisation, which is registered. "They don't get clearances and FCRA registration easily." 
With hundreds of new COVID-19 cases still reported daily in Kashmir, volunteers and community groups continue to be the cornerstone of the pandemic response – even for people the virus has killed.
Sajad Khan, a 37-year-old tailor, performs last rites and burials for COVID-19 victims whose families are afraid of contracting the virus.
In silent graveyards empty of mourners, Khan and his 20-member team of volunteers help transport bodies, dig graves, and cover the wooden caskets in soil and gravel.
Khan and his colleagues have buried more than 50 people since the pandemic began.
"COVID-19 may have killed humans, but it can't kill humanity," he said, "especially in Kashmir."
sw/il/js