Fighting the latest Ebola outbreak in the Democratic Republic of Congo has proven deadly – not only to aid responders who have suffered nearly 400 attacks since the outbreak began in 2018, but also to those fighting the spread of misinformation about the disease.
Papy Mumbere Mahamba was one such casualty. In November 2019, the community radio broadcaster was stabbed to death in his home in Lwemba – a town in the heart of the Ebola outbreak zone.
Mahamba had been working with the Congolese Ministry of Health's Ebola response efforts to broadcast information on Radio Lwemba about the disease to the local community.
Joel Musavuli, the director of the radio station, told The New Humanitarian that prior to the attack he and his team had received threatening phone calls, and even visits to the station, from people who said they would kill anyone who talked about Ebola on air.
Shortly after Mahamba's death, Musavuli decided to close down Radio Lwemba.
With the station's final broadcast, the community lost not only a source of vital information at the height of an Ebola crisis that has killed 2,235 people and counting, but also a bulwark against the tidal wave of misinformation flooding eastern Congo since the outbreak began.
According to field surveys conducted by the International Federation of Red Cross and Red Crescent Societies (IFRC), many in the region are still sceptical about the disease and distrustful of the response.
Rumours persist – including claims Ebola vaccines are fake, that responders are stealing organs from the dead, that the disease is meant to eradicate those in the opposition stronghold, and that the outbreak is a money-making venture for a select few.
Margaret Harris, a spokesperson for the World Health Organisation (WHO) – the main UN agency supporting the Congolese government, which has led the response to the outbreak – described it as an "infodemic".
Read more → In Congo, a 'militarised response' has fuelled community resistance
While great strides have been made with new vaccines and treatments, containment efforts have repeatedly been suspended due to attacks – which can be fuelled by mistrust and misinformation. "A rumour can take on a life of its own very, very quickly," said Harris.
The WhatsApp effect
While health workers and humanitarian groups have been building strategies to counter misinformation, rumours often proliferate beyond their control on WhatsApp – the most popular messaging app in Congo.
A study from the Harvard Humanitarian Initiative analysed more than 80,000 WhatsApp messages sent across eight large group chats between 28 August, 2018 and 1 October, 2018.
In just the 34 days measured, co-authors Patrick Vinck and Phuong Pham found that 13 percent – some 10,400 messages – either referenced or spread rumours and misinformation about Ebola.
This is something Rhys O'Neill has also found in his work.
O'Neill is an analyst at Novetta, an analytics company on contract with the National Institutes of Health (NIH), a US government agency. As part of the NIH's efforts to trial drugs and treatments for Ebola, Novetta helps monitor public sentiment around the disease.
O'Neill has been monitoring 19 WhatsApp groups in Beni and Butembo – two of the biggest cities in the outbreak zone – for nearly a year. Each group has between 100 and 300 members.
To sift through the thousands of messages that come through the groups every month, Novetta built a proprietary platform to parse and code the messages for sentiments about Ebola and the response.
A small, Congo-based field team – assisted by local journalists – collects on-the-ground surveys, local media reports, and radio transcripts that are also fed into the system. This information is sent back to the NIH and others involved in the response.
O'Neill said the types of rumours cropping up on WhatsApp have been consistent and show no signs of abating.
"I'm still seeing a lot of the same rumours and misinformation on these groups that I was picking up in March and April," he told TNH.
According to Harris, misinformation and rumours are not uncommon at the outset of an outbreak like Ebola, but in Congo the same falsifications and distortions keep getting recirculated.
Efforts to build community trust in the hardest-hit provinces of North Kivu and Ituri have proven to be an ongoing challenge.
Read more → Ebola briefing: New violence thwarts efforts to end Congo's deadliest Ebola outbreak
Decades of armed conflict fanned by some 100 armed groups have left communities in the region wary.
Many people question why money has suddenly flowed in to treat people for Ebola but was not available earlier for their protection from violence or to treat other diseases such as measles or cholera. The area has also long been an opposition stronghold, distrustful of central government, far away in Kinshasa, and now in charge of the response.
"It's less about messaging back or debunking a particular rumour, and more about using that information to prepare health workers and community leaders to have the right information at the right moment."
Local institutions, including the media, tend to be weak, and corruption is common. Together, these factors have created a perfect storm for misinformation to flourish.
"When there isn't trust in institutions… then rumours proliferate," said Claire Wardle, co-founder of First Draft News, a nonprofit organisation that works with journalists, academics, and technologists to combat misinformation.
Proliferation through family and friends
Only an estimated 26 percent of people in North Kivu use any form of internet service to get information, according to the HHI study. But there are other ways for rumours to make their way in and out of WhatsApp. More than anything, researchers found that people relied on family and friends for information about Ebola.
Karen Greiner, senior adviser to UNICEF's community engagement and communications efforts in Congo, said it only takes a couple of people to communicate on social media or messaging platforms to help a rumour spread through a community.
Greiner explained that the best response strategy is often just to give the right information.
"For us," she said, "it's less about messaging back or debunking a particular rumour, and more about using that information to prepare health workers and community leaders to have the right information at the right moment."
A coordination unit established to deal with community engagement – involving the IFRC, the WHO, UNICEF, and other organisations – used nearly a year's worth of survey data collected by Red Cross field teams to address the 25 most commonly asked questions about Ebola.
The goal was to help response workers stop misinformation and rumours before they spread by making them better able to answer people's most common queries, according to Ombretta Baggio, senior advisor for community engagement at the IFRC.
Greiner said local stations like Radio Lwemba have played a crucial role in helping to combat misinformation. According to HHI, nearly three quarters of people surveyed in North Kivu got their information from radio. This can be a double-edged sword, as O'Neill and his team found that rumours plaguing the Ebola response can find their way onto the airwaves as well.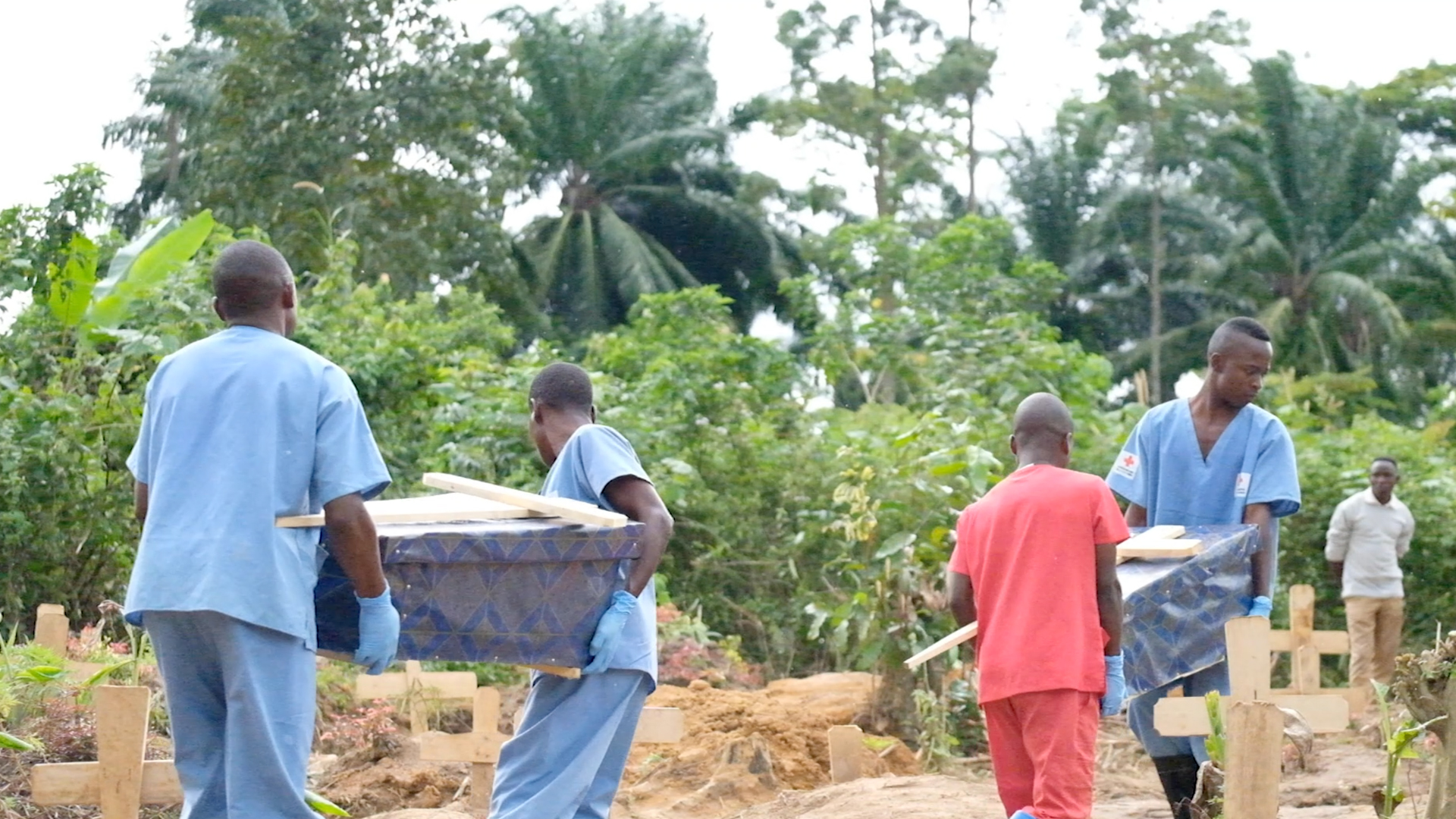 One rumour that has been talked about on social media as well as on air – strongly denied by the response – is that Ebola health workers sometimes remove organs of the dead, harvesting them for sale abroad.
O'Neill said that before a rumour appears on one of the 28 local radio stations he monitors, he will often see a flurry of activity around the topic on the WhatsApp groups he follows.
Who is responsible?
A representative from Facebook, which owns WhatsApp, told TNH over email that the company has taken steps to deal with misinformation on its primary social media platform, Facebook.com. These included training civil society organisations about using the platform and encouraging "responsible behaviour".
In October, more than a year into the epidemic, Facebook announced it would partner with the international news agency AFP and TV broadcaster France24 to fact-check misinformation in Congo that appeared on the platform.
But while information flagged as false by these fact-checkers is made to appear less frequently on users' news feeds, Facebook representatives did not confirm whether such posts were actually being removed.
Greiner said UNICEF had met with Facebook representatives to discuss advertising credit that would boost the reach of accurate health information shared by the response on Facebook, but no agreement had yet been reached.
"At some point, we need to move away from the platform being this neutral tool," said Patrick Vinck, one of the authors of the HHI study. "The platform itself plays a role."
But WhatsApp is hard even for its parent company to police because of its encryption, explained Wardle, of First Draft News. "It's not that [Facebook] can't, or that they're refusing to take [misinformation] down," she said. "They don't know what messages are being shared."
Removing the encryption, said Wardle, would undermine what can also make WhatsApp so important to many users – its emphasis on privacy.
Because they talked about Ebola on air, not even the shutdown of Radio Lwemba has removed Musavali or his team from danger. "Even until now, we receive death threats," he said. With the closing of the station, Musavali said he was even more worried, because now "the whole community does not have access to the information".
ve/pd/ag