Since the United States severely restricted immigration in March, Mexico has seen an uptick in asylum claims from people fleeing gang violence in Central America, but a far greater number of its own citizens have been forced from their homes by similar brutality and are flying under the humanitarian radar.
The UN's refugee agency, UNHCR, has registered nearly 50,000 refugees in Mexico, but this is only a fraction of the 345,000 Mexicans internally displaced by conflict, according to the Internal Displacement Monitoring Centre.
With no government support and authorities sometimes complicit in criminal activities, many Mexicans have decided to follow migrants and asylum seekers from El Salvador, Honduras, and Guatemala on their route north to the US border, with increasingly uncertain outcomes.
Fighting between myriad armed groups has intensified since March, with criminals taking advantage of a COVID-19 lockdown to force hundreds more people from their villages.
The day after the lockdown, "violence displaced around 800 people, increasing the risk to the community from COVID-19, in addition to the impacts in terms of access to food, adequate housing, drinking water, and health services," Brenda Pérez, advocate on internal displacement for Mexico's Commission for the Defense and Promotion of Human Rights, said in a message to the UN Human Rights Council in July. 
This occurred in the southwestern state of Guerrero, where, according to the International Crisis Group, the current violence can be traced back to federal forces killing drug kingpin Arturo Beltrán Leyva in 2009.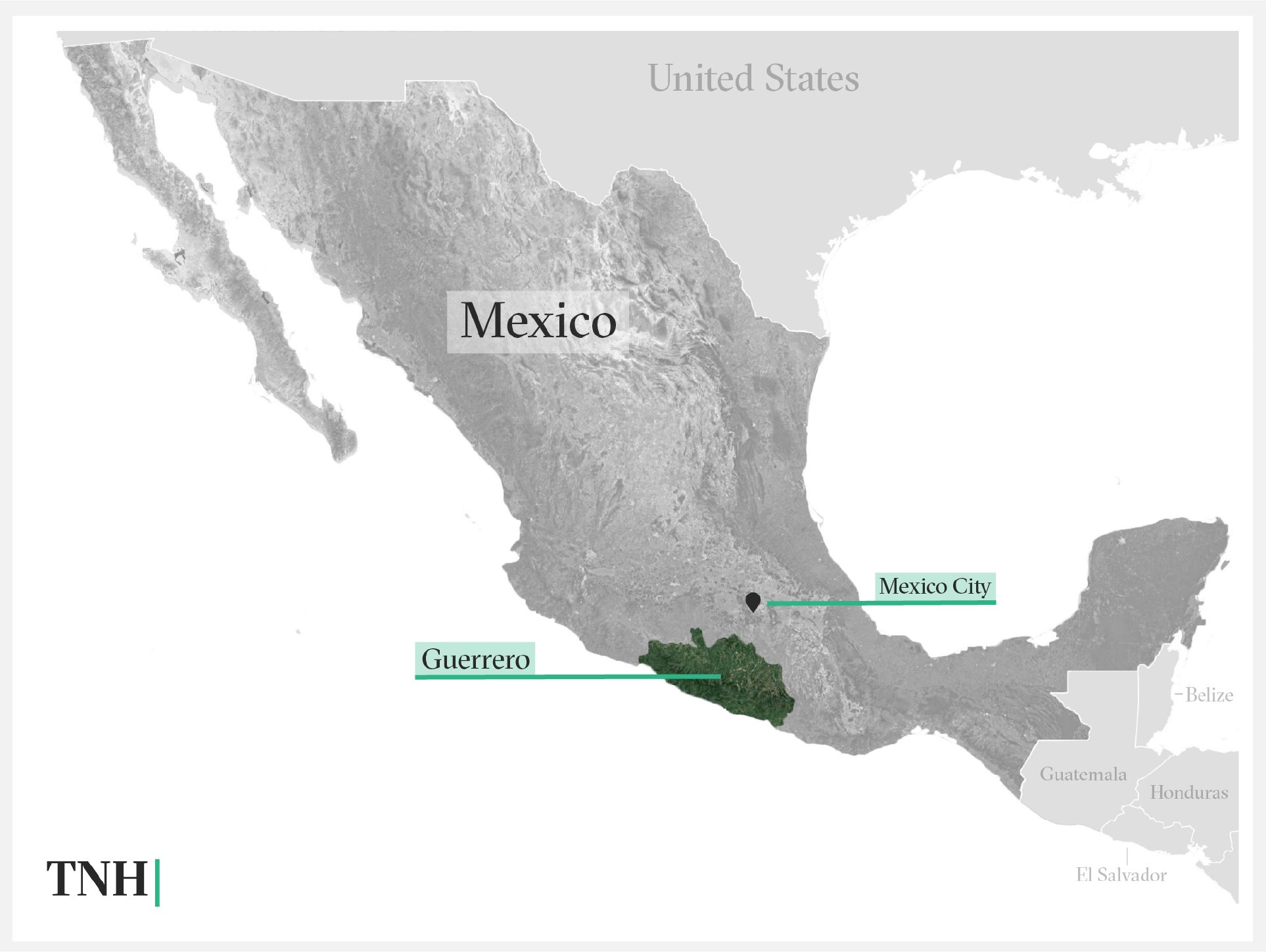 Last year, 8,864 people were forced from their homes in 28 incidents in eight of Mexico's 32 states, according to an annual report for 2019 published on 20 August by the country's independent Commission for the Defense and Promotion of Human Rights. Guerrero had the highest number of displaced, with 5,128 people.
A recent report by the International Crisis Group identifies Guerrero as "the epicentre of organised crime in Mexico", with at least 40 armed groups involved in the fighting.
The groups use military-grade weapons, most smuggled from the United States, to wage a low-intensity war fuelling what the ICG calls "a portfolio of criminal ventures": growing marijuana and opium poppy, cooking heroin for the US market, controlling the trade of avocados and limes, illegal logging, and people-trafficking and extortion on the transport routes used by foreign mining companies that extract gold, silver, zinc, and lead.
Ongoing warfare stokes "a continuing wave of assassinations, disappearances, enforced disappearances and internal displacements (that) shows how criminal violence has morphed into local armed conflicts of which civilians are the main victims", the report says.
Other resource-rich states such as Chiapas, Michoacan, Chihuahua, and Sinaloa also suffer conflict and mass displacements.
One of the biggest occurred in November 2018 when men firing assault rifles from atop armoured cars stormed into Guerrero's La Sierra and La Montaña regions, forcing 1,750 villagers to flee. They became internally displaced people – known as IDPs – in Chichihualco, a town at the base of the Sierra Madre del Sur mountain range. 
With news at that time dominated by thousands of migrants and asylum seekers from Central America marching through Mexico to the US border, some local media referred to the "desplazados" from Guerrero as "the other migrants".
From IDP to asylum seeker
Crescencio Pacheco was a farmer growing opium poppy in Guerrero's La Sierra region until his village was invaded in November 2018. He fled along with hundreds of neighbours, and became a spokesman for displaced people sheltering in Chichihualco.
A year to the day after the attack, Pacheco received a phone threat from someone claiming to be from Los Tlacos, the drug-trafficking cartel responsible for the invasion. He told Pacheco they would kill him and his family if they ever returned home. 
Knowing well the reality of such threats, Pacheco set off with his family on the exhausting and often-dangerous journey to the United States – one some 40 others from his community would also soon undertake. 
He joined the many IDPs from around the world who flee for their lives and are displaced in their home countries, only to be compelled to migrate further and cross borders in search of safety.
---
Conflict IDPs continue to rise in Mexico
# of conflict-related internal displacements, 2009-2019
Note: Data includes IDP stock, the total number of internally displaced people at any given time. Source: Internal Displacement Monitoring Centre.
---
"People are completely afraid for their lives," said Néstor Rubiano, a mental health expert at Médecins Sans Frontières who works with displaced people in Guerrero. "They often leave their homes already to flee violence, and they cross their national borders when they can't run any further within their home country."
According to the IDMC, there were 50.8 million internally displaced people across the world at the end of 2019 – 45.7 million as a result of conflict and violence.
"IDPs are the invisible majority of the world's displaced people," Alexandra Bilak, the IDMC's director, told The New Humanitarian. "There are nearly twice as many internally displaced people as there are refugees," she explained. "IDPs are forced to flee for the same reasons as refugees, but because they don't cross borders, they receive less attention, and less support."
Many people occupy both categories at different times in their search for safe haven. "Many refugees are internally displaced before leaving their country of origin, and returning refugees often go back not to a safe home, but rather to repeated internal displacement," Bilak said. 
Hard to help
The gangs that forced out Pacheco and his neighbours are non-state armed actors that are not recognised by the international community, making their victims' claims for support more difficult to address for an international humanitarian sector founded on the authority and responsibility of nation states. 
Those displaced in Chichihualco demanded that the Mexican government and the international community meet their humanitarian needs. In early 2019, 350 of them camped for 39 days outside the federal government headquarters in Mexico City until they got a signed agreement from Alejandro Encinas Rodríguez, the undersecretary for human rights, population, and migration. 
The government eventually committed to "guarantee the humanitarian conditions" of the displaced in Chichihualco – providing money for food and housing, and monitoring health and education needs. It also agreed to secure the conflicted regions: federal security forces would, they said, drive out the invaders and allow the displaced to return safely home. 
But while the government has paid for the food and housing as promised, it has failed to deliver on security: Conflict in the contested region has only intensified.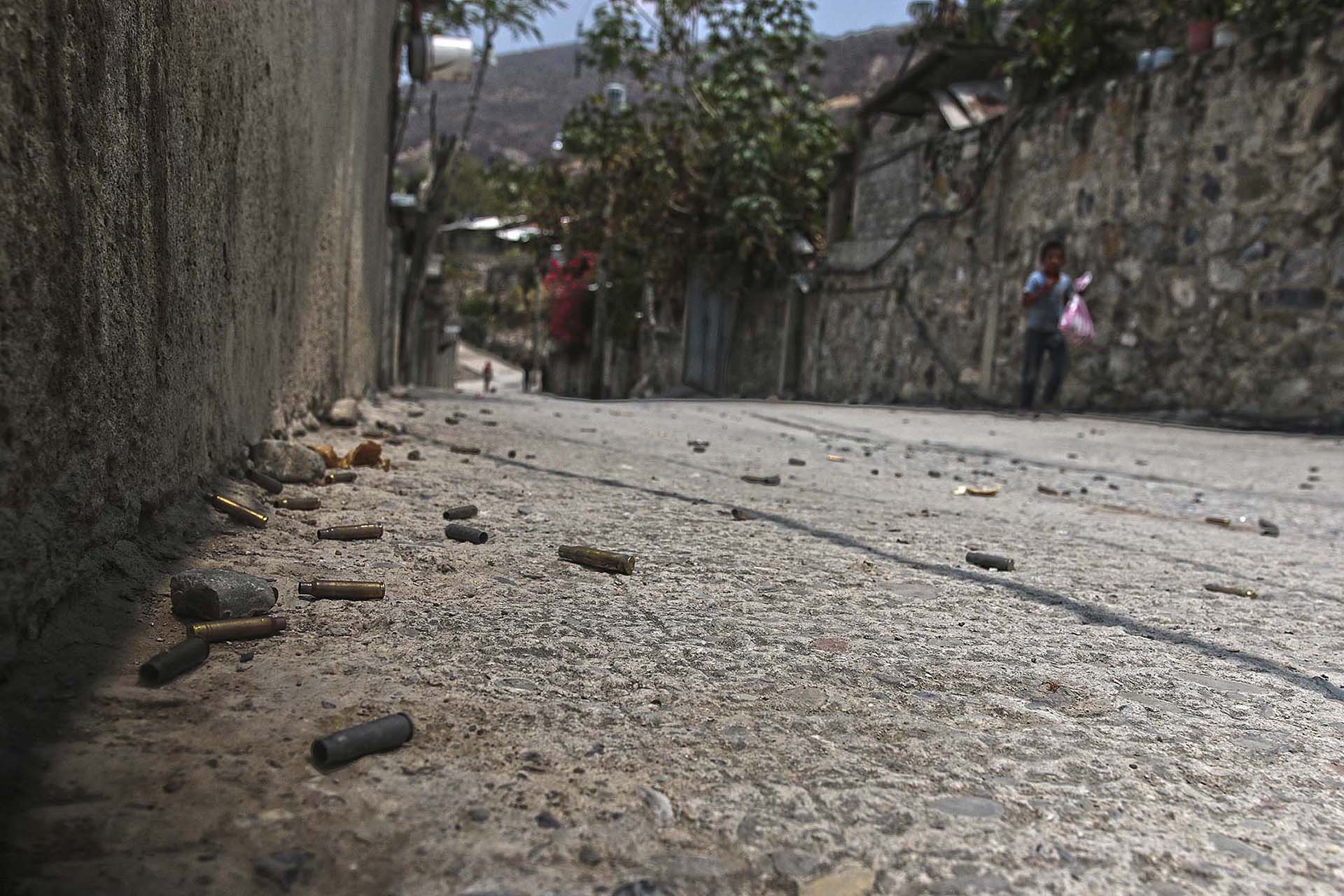 "The impotence of Mexican government security forces has been made particularly evident in the events of the last few months," said Falko Ernst, a Mexico analyst for the ICG.
Under the UN Guiding Principles on Internal Displacement, ratified in 2004, it is a government's responsibility to address, prevent, and remedy internal forced displacement, leaving international humanitarian actors in Mexico in a nebulous position. 
Only one international organisation, MSF, directly helps IDPs in Guerrero, through a mobile clinic providing health checks and mental health treatment since 2016, according to Rubiano, the mental health advisor. MSF also advocates for the needs of the displaced with state and local governments.
The responsibility to find IDPs safety
For Cecilia Jimenez-Damary, the UN special rapporteur on internal displacement, recognising violence perpetrated by non-state actors is critical to improving political recognition for IDPs.
"Physical safety forms an important crux of the humanitarian needs of the internally displaced," she said. "The government really has to come in… somehow provide some protection, which is their primary responsibility." Then, she said, civil society can provide emergency help.
Jimenez-Damary cited the establishment of safe houses by civil society organisations in El Salvador: "These houses had been set up in order to physically protect the IDPs who have been displaced, who have fled from violence where they would otherwise be dead, or raped, or injured."
Last month, Mexico began working on a legislative framework to protect IDPs, following Honduras and El Salvador, which passed legislation in January to aid and protect IDPs or people at risk of displacement by violence from organised crime and criminal gangs.
Such legislation to protect those displaced in their home countries is evolving as pathways to asylum in the United States are all but drying up.
In the first three months of the year, asylum applications in Mexico were up 33 percent on the same period last year, with nearly 17,800 claims, UNHCR spokeswoman Shabia Mantoo said in April. The majority of people claiming asylum are from Honduras, Haiti, Cuba, El Salvador and Venezuela. Mexico is also a recipient of asylum seekers from African nations including Cameroon, Angola, Uganda, and the Democratic Republic of Congo.
Pacheco has now made it to a safer place, but he has no thanks for the Mexican authorities. "The government abandoned us," he told TNH by text message from Salt Lake City, where he is living with relatives while he awaits the outcome of an asylum hearing in January, and still worries about those he left behind. 
"They're all so scared right now, and they don't have any resources."
ad/pdd/maf/ag