As warmer weather brings calmer seas, more and more migrants are setting off again from the Libyan coast in smugglers' boats bound for Italy. Eight vessels containing 1,361 people were rescued from this stretch of the Mediterranean on Wednesday alone, while dozens more are missing feared dead after their boat sank. Since the beginning of the year, more than 16,000 migrants have used this route. For most though, the journey begins on the other side of the Sahara and involves not only a treacherous desert crossing but also running the gauntlet of Libya's people-smuggling networks.
The outskirts of Libya's main southern town and Saharan smuggling hub look post-apocalyptic. Charred frames of burnt-out cars are lodged on top of smouldering rubbish heaped by the roadside, and tracks snake off through the dirty scrubland towards half-finished houses.
This is where people smugglers, who cram up to 31 people at a time into Toyota pick-up trucks for the three-day journey from Niger through the Sahara Desert, drop their customers. 
Some are met by friends, relatives or smugglers, while others walk towards the town. But, although initially thankful to have survived the harsh desert crossing, migrants told IRIN the arrival in Sabha heralded the worst part of their journey to the eastern Mediterranean.
"When we arrived, we were immediately taken to a kind of prison, a house where there were about 200 other migrants," said 19-year-old Bouba from Senegal. "They made us call our families back home and demanded that they sent 2,000 Libyan dinar ($1,458) for each person."
Jens, 24, from Guinea Bissau showed scars on his arms and back, which he said were from brutal beatings inflicted by his captors. "They beat me and kept saying: 'What's wrong with you? Why don't your parents send the money? Don't they love you?' It was horrible, but my family has so little money that it took them two months to borrow enough to pay for my release." 
Both men now live in a rough shack on a rubbish dump in Sabha, with 24 others. They are all trying to find work to pay the 500 dinar ($365) it takes to reach the Libyan capital, Tripoli, closer to the sea and a boat to Europe.
Tribal complications
Passage through Libya has long been the main route from Africa to Europe. Today, the main path for sub-Saharan Africans to reach the Mediterranean coast is organised between several regional tribes and runs from the city of Agadez in central Niger to Sabha.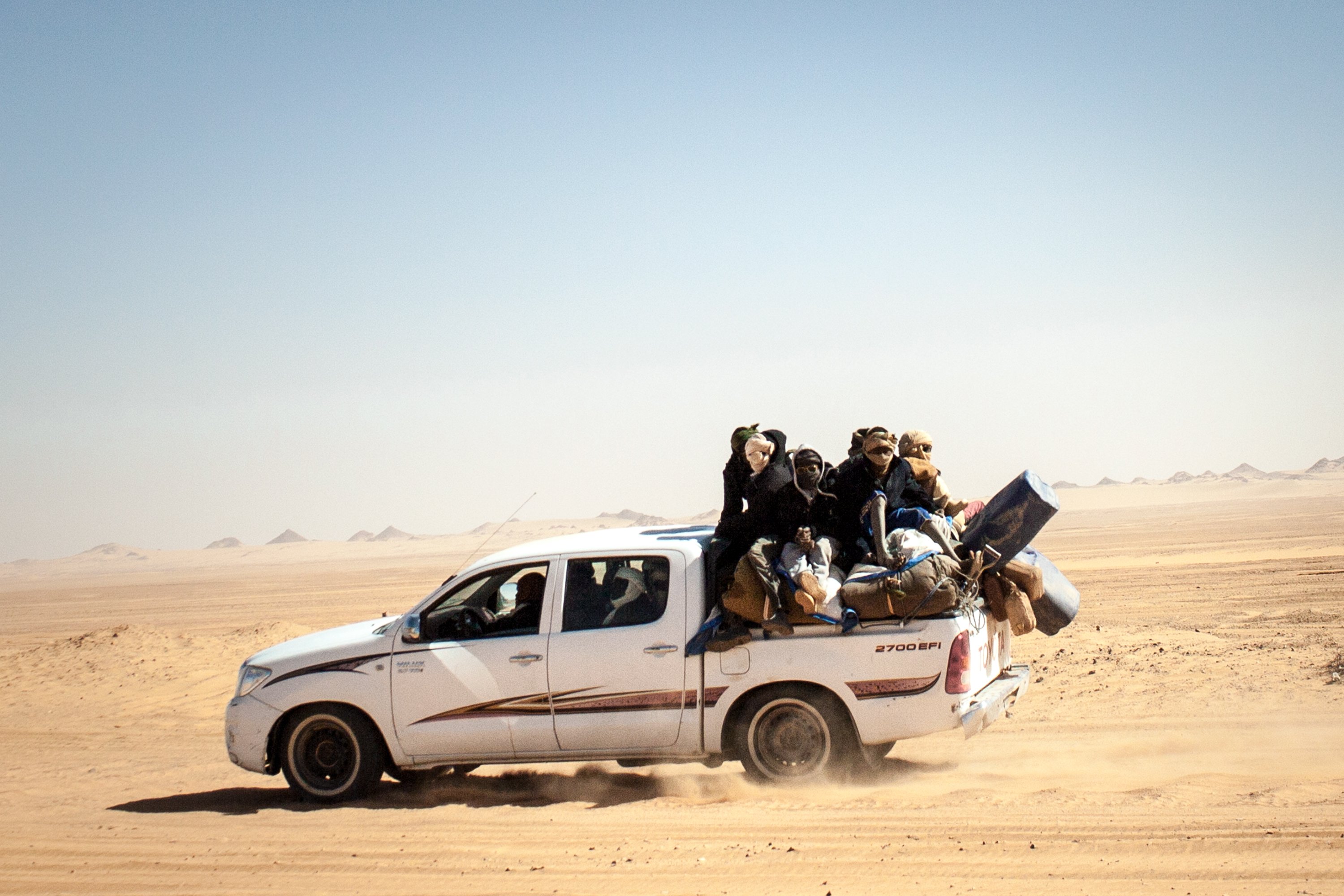 The desert route is worked almost exclusively by the Tabu, a semi-nomadic Saharan tribe populating harsh and inhospitable terrain with few opportunities in Libya, Chad and Niger.
With other powerful Arab tribes dominating the smuggling of goods, people smuggling is one of few lucrative job prospects. But after a series of fierce tribal conflicts in the town, much of Sabha is now off-limits to the Tabu.
"Often the migrants have a contact number of someone in Sabha and I just drop them there, on the outskirts. If they don't know anyone, I leave them with some Arab guy but that is not my business," 29-year-old people smuggler Adem told IRIN. "My job is to get these people from Agadez to Sabha. That's it. After that, I don't care."
For their onward journey, migrants are forced to rely on members of several Arab tribes, some of whom work with middlemen. 
Miserable way station
"Sabha is just a terrible place," said Nigerian electrician Sammy, 35, now working in Tripoli. "When I arrived there, the Nigerian middleman said I owed him money for the journey he helped organise. I had my passport taken and was imprisoned. They demanded $2,000 and I had to phone my mother and ask her to sell all my possessions, including the family's generator. But that only made the equivalent of 300 dinar ($219)."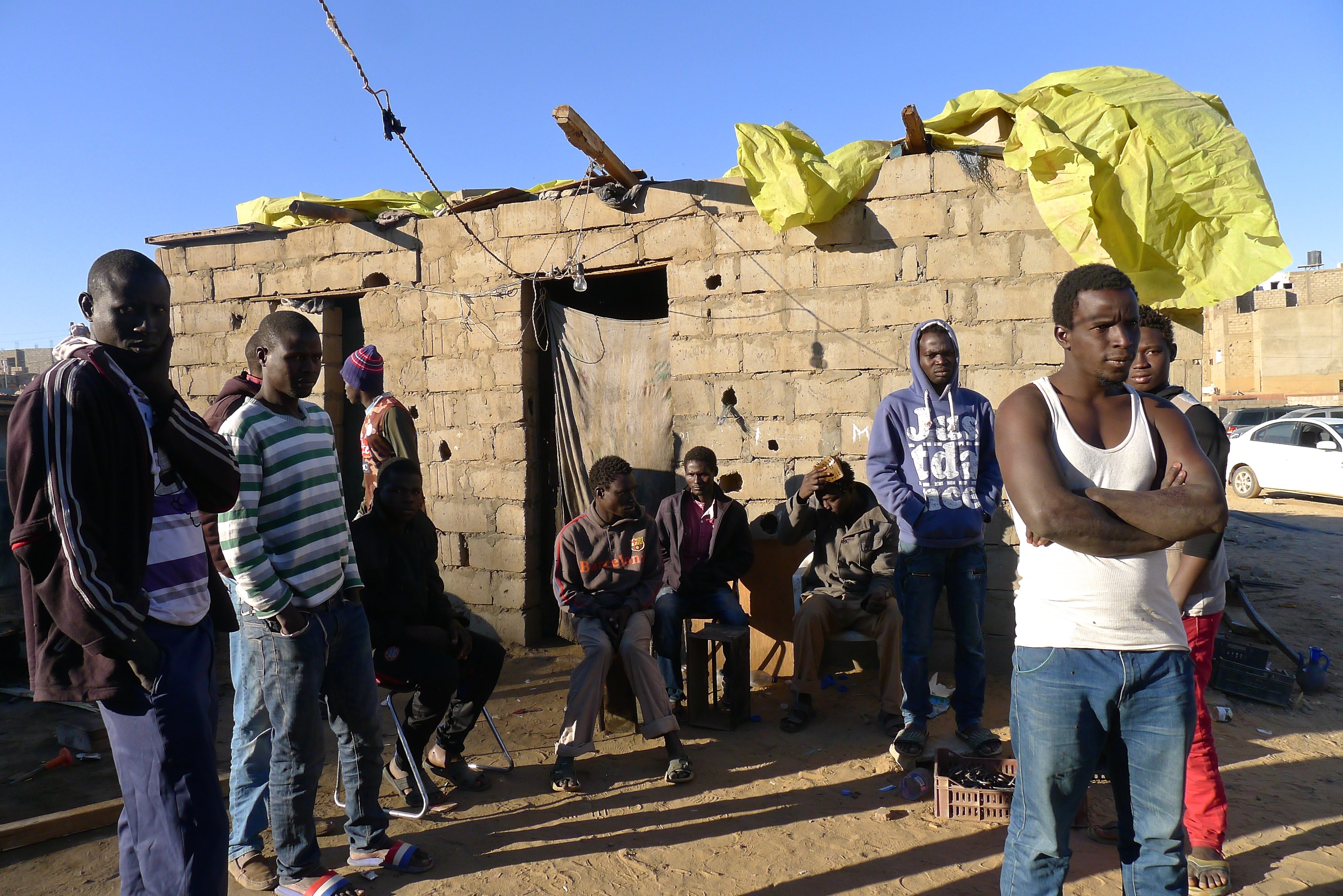 He described how he was forced to work for eight months in Sabha to make enough money to pay the outstanding balance. "I worked like a slave in a house for African prostitutes, where I cleaned, cooked for the women and washed their clothes," he said. "They were prisoners too, but captured migrant women are forced to be prostitutes in Sabha. Some of them were from Nigeria, like me. Imagine: I had to watch my sisters being used in this way. They were paid $10 to have sex with disgusting old men. It made me feel sick, but I could do nothing to help them."
A young Nigerian woman, Marie, 23, said she narrowly escaped this fate after the woman who arranged her journey to Libya, with the false promise of a retail job in Europe, turned on her in Sabha. "Her Libyan boyfriend came to meet us and they told me I had to pay 2,000 dinar ($1,458) if I wanted to continue my journey. When I said I couldn't pay, he said: 'you will use your body to get the money'. But I refused," she said. 
"They made me call my mum and put the phone on speaker and beat me so my mum could hear me screaming." Her captors eventually accepted a smaller sum, which a distant relative brought, in person, from Tripoli.
Sabha resident Ahmed showed IRIN the location of several huge warehouses where he claimed migrants, especially women, were kept. At night, he said, the warehouses became 'dens of inequity,' where alcohol and prostitutes were available, and music blasted out across the town. "One tribe runs that area and no one from any other tribe can enter," Ahmed said. "Even the army cannot go there."
Lawless and powerless
Sabha is one of Libya's most lawless towns, where deep-running tribal divisions mean large parts of the city are inaccessible to residents, depending on their tribal background. "Nobody controls Sabha and no one feels safe here," said Ahmed. "The Third Force [a 'peacekeeping' force from Libya's third city of Misrata] say they are in control, but they actually only control one neighbourhood." 
Frustrated security officials admit that undocumented migrants are the least of their problems. "The crime rate here is not 100 percent, it is 150 percent," said a senior police officer in Sabha, who spoke to IRIN on condition of anonymity. 
"Even to leave the house wearing a police or military uniform puts you in immediate danger," he explained, adding that for the last two years he has slept in a different place every night, to avoid being killed. 
Underfunded, ill-equipped and with staff too afraid to work, the local Department for Combatting Illegal Immigration has not functioned properly for several years. Sabha's migrant detention centre, eight kilometres outside the town, stands empty, only reachable with a heavily-armed escort. 
The police officer said controlling the people-smuggling operations in Sabha was impossible. "Even the migrants know we are powerless," he said. "Before, when they saw us, they ran away. But now they just stand there and stare at us."