He could die from his country's shortage of the antiretroviral drugs that keep HIV-positive people alive. Or he could be killed by paramilitaries for denouncing his government for failing to provide the life-saving medication.
Instead, Marco fled his home in Venezuela two years ago, eventually landing up in New York City.
He is among more than 8,000 people with the human immunodeficiency virus (HIV) forced to migrate from the crisis-ridden Latin American country in order to survive, according to a March 2019 report by UNAIDS, the UN agency fighting HIV/AIDS. A local NGO, La Red Venezolana de Gente Positiva (The Venezuelan Network of Positive People), puts the number at 10,000.
For decades now, cocktails of ARV drugs have kept HIV-positive people alive and productive. Living without the drugs is a death sentence: patients develop the acquired immune deficiency syndrome (AIDS) and die of opportunistic infections caused by the disease, according to the medical charity Médecins Sans Frontières.
"I was forced to leave," Marco, a 39-year-old paralegal, said in a telephone interview, asking that he not be identified by his full name for fear of repercussions. "I'd rather be in my country, my home, but I was deeply afraid."
Marco was diagnosed with HIV in 2003, after a routine blood test. Back then, he was enrolled in Venezuela's National AIDS Program and quickly started receiving free treatment.
But in 2007 he was prescribed with an incorrect antiretroviral regimen. He spent 21 days in the emergency room of the Andes University Hospital Autonomous Institute in the northwestern city of Merida. There, he said he saw 20 people die because of improperly prescribed ARVs. That's when he became an activist, volunteering with the NGO Asovida, whose report on the deaths led the health ministry to make changes at the hospital.
In 2016, Asovida reported a 90 percent shortage of antiretrovirals in Venezuela.
"After we publicly denounced the situation, paramilitaries started threatening us systematically," Marco said. "They followed me home, threatened me with guns. I had to move three times, I couldn't take it anymore."
24 HIV-positive Venezuelans die daily in 2018
In the decade and a half that he has lived with his HIV diagnosis, Marco has seen the collapse of his country's public health system and the explosion of a humanitarian emergency that has forced the migration of more than four million Venezuelans – one tenth of the population – mainly to countries in Latin America and the Caribbean.
"The debacle started in 2009, but it reached its worst peaks during 2017 and 2018," said lawyer and human rights defender Natasha Saturno of Acción Solidaria, a local NGO that offers legal, psychological, and medical assistance for people living with HIV.
In 2017, the health system reached an all-time low when no national hospital had any ARV drugs and 85 percent of pharmacies ran out of medication for opportunistic infections. Acción Ciudadana contra el SIDA (Citizens' Action Against AIDS) reported that at least 58,000 Venezuelans were left without treatment.
That year, Acción Solidaria estimated that 3,200 people died from HIV-related illnesses – that's eight or nine people a day. In 2018, it went up to 24 to 25 deaths a day, the organisation reported. There are no published figures yet for 2019.
"I am going to die because of the Venezuelan state!" read a poster carried by one man at a 2018 rally where protesters pasted the names of thousands of HIV-positive people whose deaths they blame on the government onto the walls of the Pan American Health Organization (PAHO) office in the Venezuelan capital, Caracas.
"People with HIV can't miss their treatment even once," explained Saturno. "It's a virus that easily develops resistance. Intermittent treatment could result in the mutation of the virus, and could quickly worsen patients' health."
"Some people don't want to get treatment because they are afraid to be mistreated or to be seen picking up the antiretrovirals."
Venezuela's public health system began offering free ARV treatment in 1999, but it has long failed to work in practice. Describing the system since 2016, Darwin, an unemployed 22-year-old nurse, said it was hostile, with acute shortages, poor medical attention, discrimination, and exposure.
"Some people don't want to get treatment because they are afraid to be mistreated or to be seen picking up the antiretrovirals," he said. Men fear being ostracised as gay, and women that they will be mistaken for sex workers.
In 2018, a new response plan was drafted by the health ministry, UNAIDS, PAHO, La Red Venezolana de Gente Positiva, and the Venezuelan Society of Infectious Diseases. The Global Fund to Fight AIDS, Tuberculosis and Malaria gave $5 million for antiretrovirals during 2019, which helped to reduce the shortage of treatment to 65 percent for the past 10 months.
But the Venezuelan government has not kept to its commitment to contribute $28 million to fund the rest of the programme. Raul Leonett Cubillán, coordinator of the Ministry of Health's AIDS programme, declined to comment on the delay when asked by The New Humanitarian.
Today, HIV patients in Venezuela have three options: go untreated, buy the medication abroad or on the black market for large sums, or leave the country.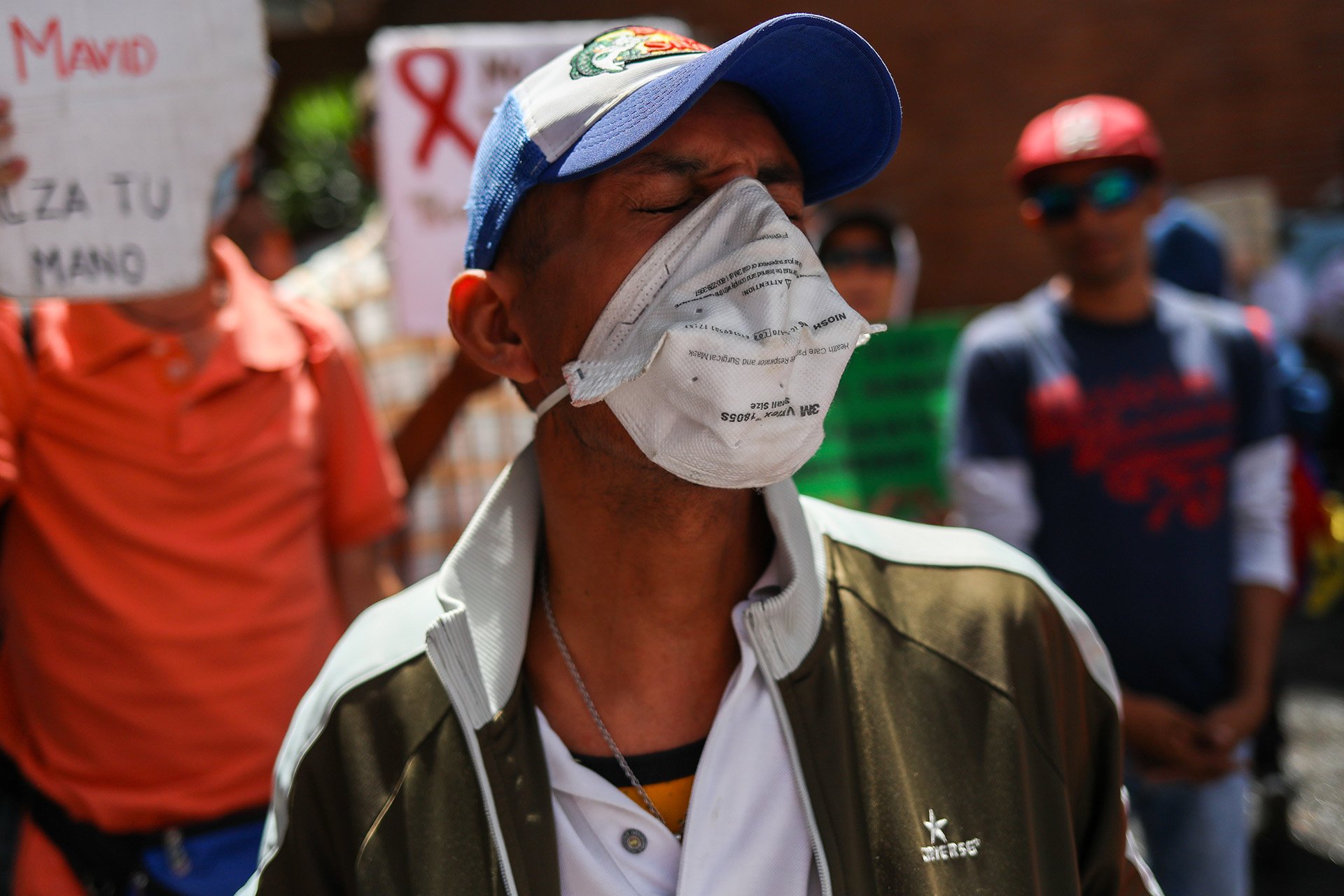 Death threats, killings, suicide
Treatment is not the only issue. There are other obstacles: public health policies – from prevention to diagnostic campaigns – have been paralysed since 2015, and antidiscrimination laws in medical and work environments are hardly ever enforced.
"This year we've seen a considerable rise in the reports of labour discrimination," said Juan Manuel Rodrigues, a human rights defender from Acción Solidaria. "HIV tests for workers have been illegal for more than 20 years. Still, many workers are tested against their will and fired when the results are positive."
Rodrigues described the case of a 62-year-old office cleaner who was recently illegally tested, fired without compensation, and humiliated by his superiors in front of his colleagues.
Condoms, a powerful tool to prevent the transmission of AIDS, disappeared from the market in 2014. Pharmacies began restocking in 2016, but a box of three condoms now costs more than the monthly minimum wage.
Unsurprisingly, HIV-positive Venezuelans often feel desperate and depressed. While there are no available blood tests and medications, there is plenty of stigma, discrimination, family neglect, and rejection in work environments. "They have little choices to survive here, so many choose to leave the country," said Saturno.
A photojournalist who spoke to TNH on condition of anonymity decided to leave Venezuela when he was forced to sell his camera to buy ARVs. "Our office was raided by police forces. We got death threats," he said of regular police harassment of journalists.
"My brother was murdered and my partner killed himself after he was diagnosed [with HIV]. But I chose to leave the day I had to pay $100 for [a month's worth of] antiretrovirals. It was just too stressful and too painful to live that way," he told TNH in a telephone interview from his refuge in Mexico City.
PAHO estimates that there are about 120,000 Venezuelans with a positive diagnosis for HIV, and 75,000 who depend on the state's free supply of ARVs to survive. But UNAIDS put the number of HIV-positive Venezuelans at 300.000, including possible undiagnosed people.
"My brother was murdered and my partner killed himself after he was diagnosed. But I chose to leave the day I had to pay $100 for antiretrovirals."
The shortage of HIV tests forces doctors to interpret general symptoms to enrol new patients in the National AIDS Program. The only way to get an HIV test is through private laboratories that – based on the minimum wage of $7.50 a month – charge a year's salary.
Forced migration 'a fight for life'
The photojournalist was diagnosed in 2015 and fled two years later to Mexico, where he was given asylum and gets free ARVs under Plan Santuario, a Mexican government medical service for migrants and repatriated people with HIV.
Colombia and Peru are also favoured destinations for HIV-positive Venezuelans because they offer free ARV treatment. Colombia's health system reports treating 1,800 Venezuelans with HIV since 2016, and Peru's 1,554 – half of whom did not know they were HIV-positive until they crossed the border and were tested.
The UNAIDS report says the forced migration of HIV-positive Venezuelans "could be defined as a fight for life". And it warns that the migration may "affect the course of the epidemic in the region" because of the high numbers of migrants, including those who are untreated or not diagnosed.
The agency reported 16 avoidable deaths of migrant Venezuelans with HIV in Peru, and said that 30 percent of new HIV infections in Chile have been transmitted by untreated migrants. Its report said some national health systems are being overwhelmed, with the Dominican Republic spending $1.5 million on foreign HIV patients since 2016, most from Venezuela and Haiti.
This prevents a timely response to the most urgent cases – those people who have been going the longest without treatment and have been exposed to malnutrition and sickness during their migration.
Such is the case in Valledupar in Colombia, where 80 Venezuelans with HIV arrived in 2019, according to local health official Alba Ustariz. She said the municipality does not have the capacity to provide ARVs to the migrants, who must then go to other cities in Colombia in search of treatment.
"A displaced person with HIV has to face huge obstacles," said Luis Sáenz of the Colombian League Against AIDS. "If they have an ID, they have access to humanitarian attention for 24 hours in urgent cases. But there are many who cross borders illegally and can't access treatment or information. So many Venezuelan migrants with HIV may be dying without our knowledge."
gmr/mf/ag