More than two years after the Syrian government won a long and deadly battle for Aleppo, sounds of demolition and construction have replaced the explosions and gunfire that used to echo through the city's centre.
In the Old City's labyrinthine markets, where government troops and rebel groups fought it out, shuttered shops are riddled with bullet-holes.
The words "мин нет" [no mines] spray-painted on buildings signal where Russian de-miners have cleared up explosives. Rubble is piled up along the main roads, where it has been swept aside by clearers working for the United Nations Development Programme (UNDP).
Those with enough money to self-fund rebuilding and get in new stocks are starting to reopen businesses: a few shisha cafes have sprung up, an expensive restaurant, a historic hotel takes in occasional guests.
And in the central parts of the city that IRIN visited, some people are starting to rebuild their homes. Most civilians said they were grateful the violence had ended, regardless of who they supported in the fight for Aleppo or the broader war.
But it's a slow and limited process. Before the war, Aleppo was a thriving city with a population of at least 2.3 million. Accurate figures are hard to come by, but the UN estimates there are now 1.6 million people in the city, with 600,000 people returning to the wider province since forces loyal to al-Assad recaptured the last opposition holdout in east Aleppo in December 2016.
By some counts, there are only 200,000 people living in east Aleppo, which was damaged on a scale far greater than the west, in part due to Russia-Syria coalition airstrikes in September and October 2016 that represented some of the war's heaviest and most sustained bombing.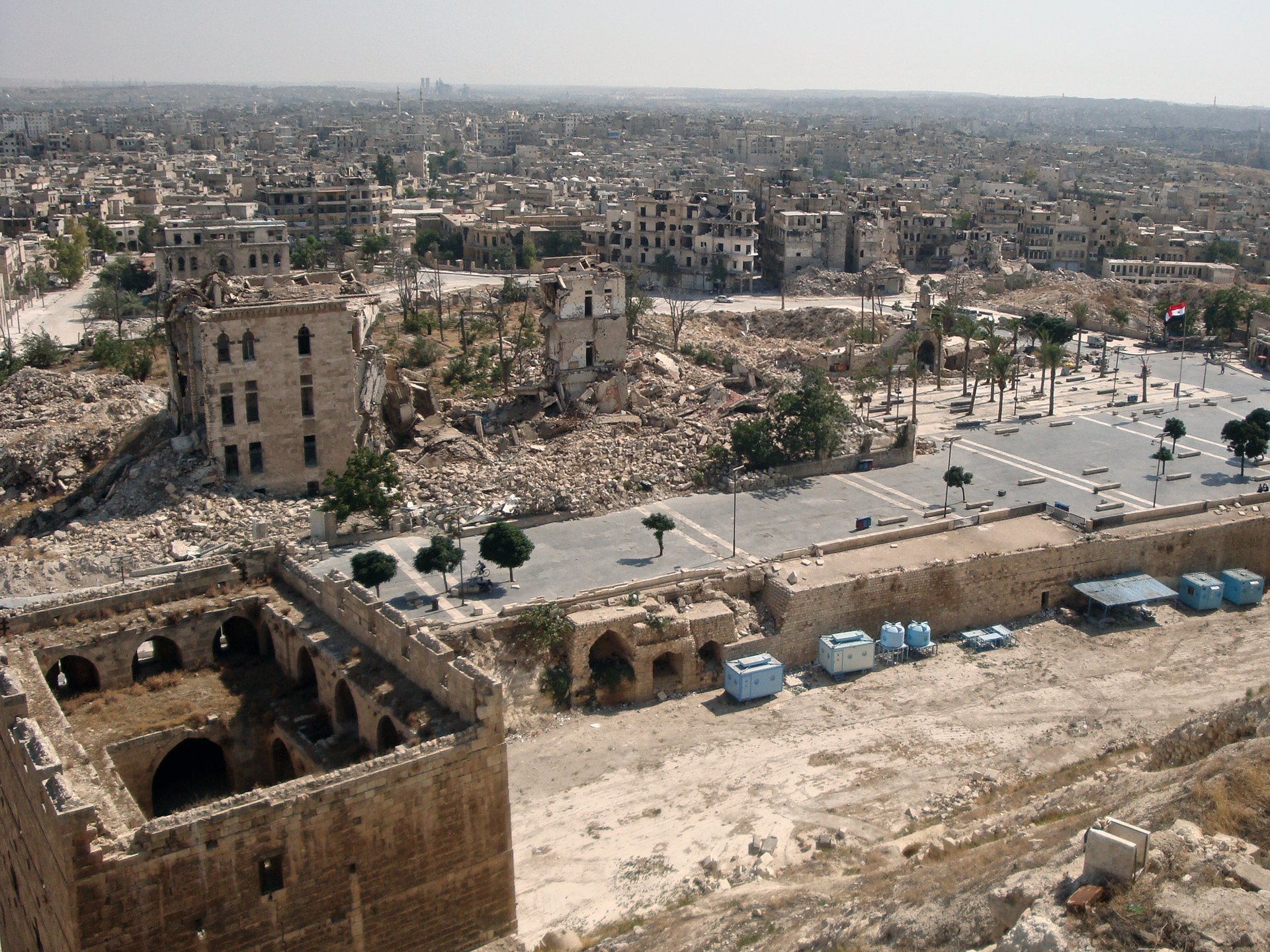 Wrecked homes, local support
Reconstruction in the midst of Syria's near-eight-year war is controversial. Most American and European governments refuse to fund rebuilding on a large scale as long as al-Assad remains in power.
On the UN's part, Damascus-based spokeswoman Fadwa Baroud said it "does not, nor is it in any position to fund reconstruction [in Aleppo], which is estimated at hundreds of millions of dollars, although it remains committed to delivering lifesaving, needs-based assistance and protection services across Syria."
She said the UN does do "light rehabilitation" work, including repairing water and sanitation infrastructure, and funding other NGOs who are helping with installing new doors and windows. It does not fund the complete reconstruction of private homes.
"A huge bomb fell right outside my house, killing all the Syrian army soldiers there, so I just took my children and ran, taking nothing, not even my money or jewellery because there was no time."
This impacts people like Dalida Hindoyan, who stood on her recently rebuilt balcony, looking out at crumpled homes, where once-horizontal floors are now folded towards the street at acute angles.
Living opposite a large military base in central Aleppo's mixed-faith Midan district had once given her third-floor apartment an aura of security but, in 2012, the area became a front line between government and rebel forces, thrusting its residents into danger.
Hindoyan became accustomed to living in fear of snipers, mortars, and explosives-filled gas canisters that locals called "hell cannons" and say were deployed by rebel fighters.
In 2014, the fighting escalated dramatically. "A huge bomb fell right outside my house, killing all the Syrian army soldiers there, so I just took my children and ran, taking nothing, not even my money or jewellery because there was no time," Hindoyan, 53, recalled.
She found temporary accommodation elsewhere in the city and did not return until most of Aleppo had been retaken by government forces in late 2016. She found the front of her apartment shattered and the rest looted and blackened by fire.
Although Hindoyan started clearing rubble and scrubbing charred walls herself, she had no funds to cover the extensive repairs needed to make the premises habitable. Like many in this part of the city with a large Christian population, she turned to her local church for support.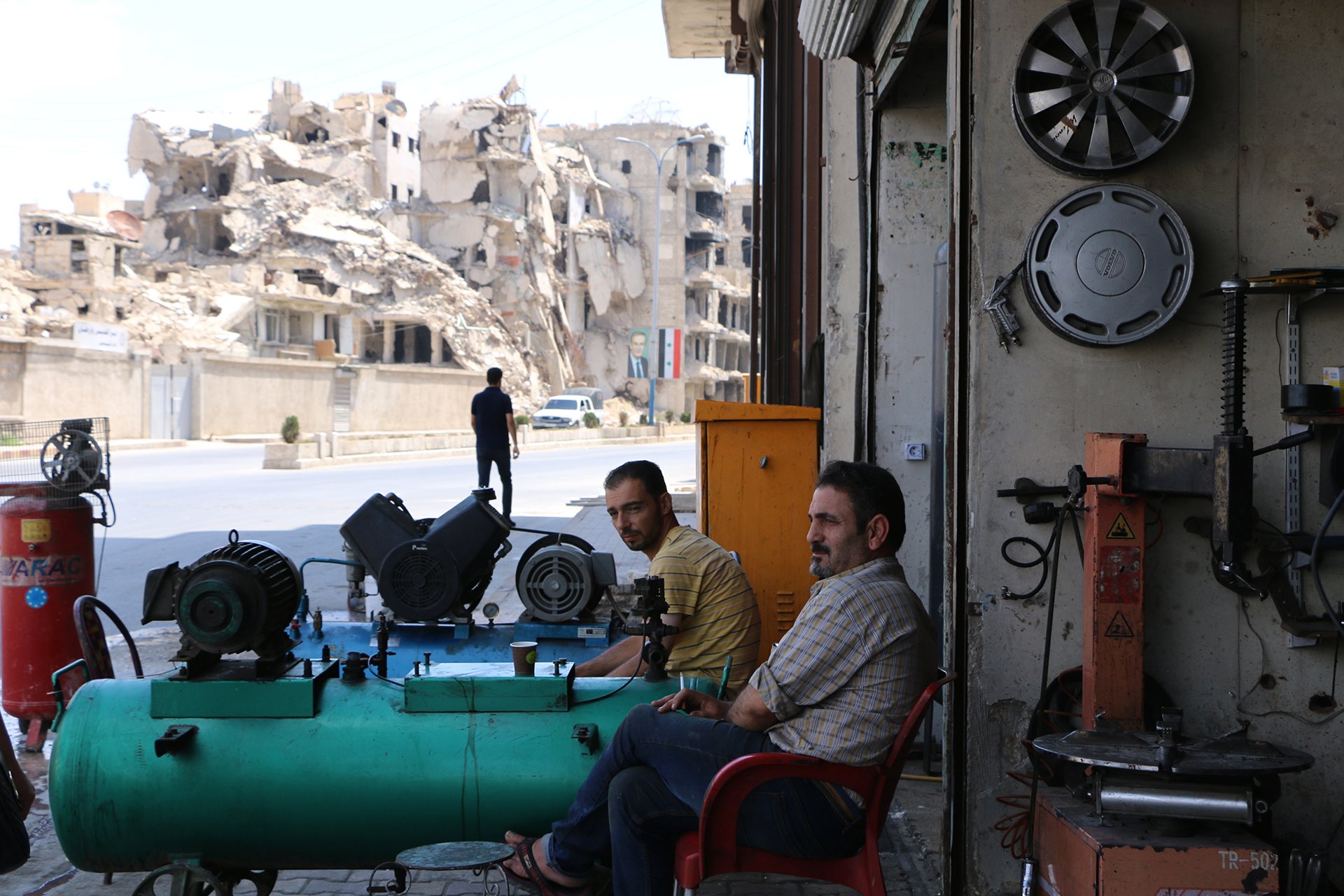 The Armenian Church Relief Committee had recently signed an agreement with a French NGO, SOS Chrétiens d'Orient, to help rebuild Christian homes in Aleppo, and Hindoyan's home was one of the first to be completed.
"The Armenian Church does some basic repairs, but the damage to Christian homes in Aleppo is so extensive they really need the support of international NGOs to complete projects," explained the NGO's Aleppo project manager Matthieu Siossian, who has a total budget of $100,000 for restoring homes in the city.
It costs around $2,000-$3,000 to fix up an apartment that has considerable damage like Hindoyan's, a sum beyond the reach of most ordinary Syrians.
There are some other options, including government compensation. However, one Aleppo resident, who preferred not to give his name, told IRIN he expected it would only cover around 10 percent of the total costs of rebuilding a home.
Although a few of his acquaintances had received similar compensation, he said most residents he knew hadn't and that with government funds still tied up in the war most didn't expect to receive anything imminently, if at all.
This makes rebuilding out of reach for many, especially given that funds are scarce and job opportunities limited. "Needs are extremely high, and the situation is extremely dire for many in Aleppo," said the UN's Baroud.
Returning from abroad
Despite the challenges, some people are coming back from abroad. The UN expects some 250,000 of the 5.6 million registered Syrian refugees to return this year, spurred on by growing pressure to leave host countries. Some of those people are headed for Aleppo.
"After three years in Turkey, I came back within days of Aleppo being liberated," said Mohamed, who 10 months ago reopened his shop in the city centre that sells roasted nuts and seeds. "All that time, I was just waiting to come back because this shop has been in my family for three generations," he said. "The roof was caved in, but luckily the equipment had survived."
Armenian Church Relief Committee head Pierre Musali said there are many reasons why people want to return. "Some simply want [to] live in their home country, but others have found it very difficult to settle in Europe, because of money problems, a lack of job opportunities, and even the weather," he explained.
"Two years since the city witnessed some of the worst violence in this conflict, tens of thousands of Syrian families are still unable to return home and recover their lives."
Musali said 5,000 families are currently registered with the church committee for aid distributions, mainly basic foodstuffs.
For others, including those who fled during the war in east Aleppo, return to the country and the city is still a distant prospect.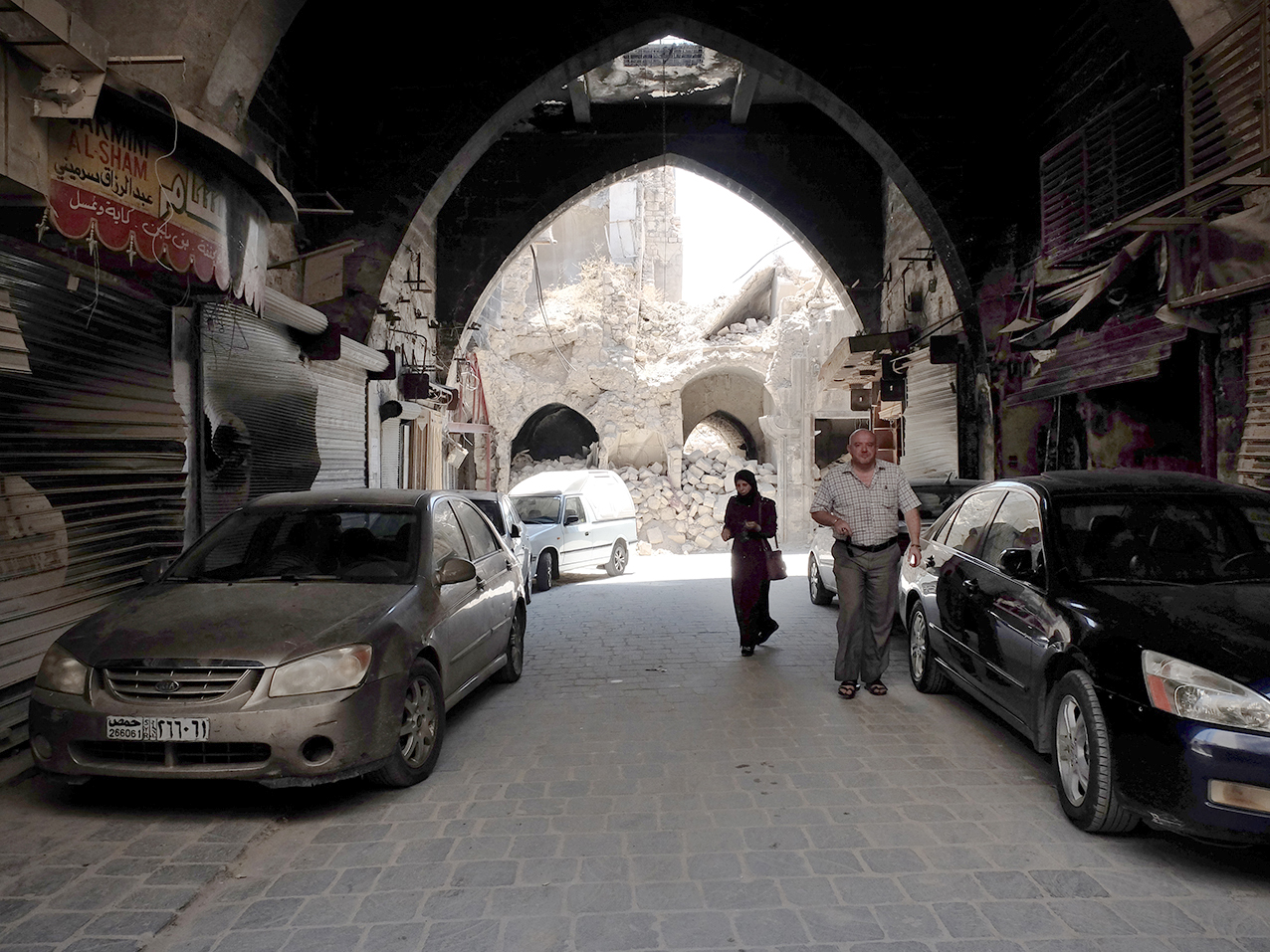 "Two years since the city witnessed some of the worst violence in this conflict, tens of thousands of Syrian families are still unable to return home and recover their lives," said Rachel Sider, advocacy advisor for the Norwegian Refugee Council.
Poverty, destruction, and a lack of basic services are among the barriers to return, along with political and military affiliations. Although the Syrian government has promised amnesty for those who fled Syria to avoid compulsory military service, not everyone trusts this pledge, and it isn't clear to what extent this applies to all of those who joined rebel groups.
Last year Syria's government introduced Law 10, a provision that allows the government to redevelop areas it sees fit, giving property owners only 30 days to prove ownership if they wish to receive compensation.
The 30-day limit has since been extended to one year, but rights groups argue it will still be difficult, sometimes impossible, for displaced people – more than six million within Syria and millions more refugees abroad – to get paid for their ruined homes.
Carpenter Abdul Gader has re-established his business in a friend's Old City premises. He keeps his pet pigeons in an abandoned adjacent premises where he says the owners once stored weapons for the rebels.
"Five property owners from this small area can't come back because they were with the [rebel] Free Syrian Army," he said. "One is now in [rebel-controlled] Idlib and the others are in Turkey."
Father Fabien Alanziz Gonzalez ministers to 80 Catholic families, of the 150 that formerly lived in the Midan district. He said memories of the fighting, of extortion by rebels, as well as the subsequent destruction, had made some reluctant to return.
"It's not easy. Look around you," he said, gesturing across the ruined expanse of the city from the rooftop of a new apartment block built by his church to house local families who have lost their homes. "But honestly, after [more than] seven years of war, everyone just says: 'Thank God there are no more bombs'."
tw/as/ag