The movement of thousands of Central American asylum seekers and migrants north from Honduras towards the southern border of the United States has precipitated threats from US President Donald Trump – ahead of next week's midterm elections – to block the group's entry by deploying troops to the US-Mexican border.
Under international law the United States is obligated to allow asylum seekers to enter and file claims. However, immigration officials at the country's southern border have for months been shifting toward legally dubious practices that restrict people's ability to file asylum claims.
"Make no mistake, the administration is building a wall – one made of restrictionist policy rather than brick and mortar," said Jason Boyd, policy counsel at the American Immigration Lawyers Association (AILA).
As a result, hundreds, possibly thousands, of asylum seekers have been left waiting for extended periods of time on the Mexican side of the border in need of shelter and basic services. Firm numbers for those affected are difficult to come by because no one is counting.
Some of those turned away explore potentially dangerous alternatives. Aid and advocacy groups as well as the Department of Homeland Security say the wait has likely pushed some to attempt to enter the United States illegally, either with smugglers or on their own via perilous desert routes.
While some of those in the so-called "migrant caravan" are searching for economic opportunity, others are fleeing gang violence, gender-based violence, political repression or unrest – all increasingly common factors in Central America and Mexico that push people to leave their homes.
Menacing phone calls
When people from the migrant caravan reach the southern border of the United States, they may find themselves in a similar position to Dolores Alzuri, 47, from Michoacan, a state in central Mexico.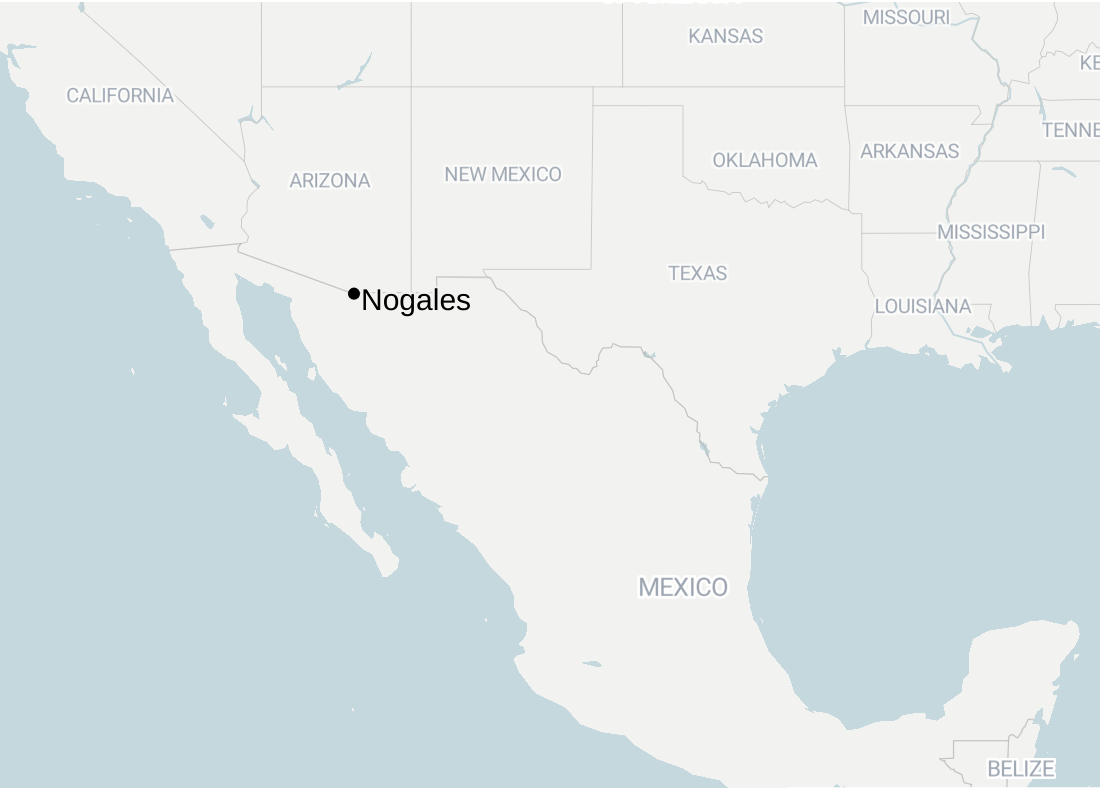 In late September, she was camped out with her husband, daughter, granddaughter, and aunt on the Mexican side of the DeConcini port of entry separating the twin cities of Nogales – one in the Mexican state of Sonora, the other in the US state of Arizona.
Alzuri and her family were waiting for their turn to claim asylum in the United States, with only a police report in hand as proof of the threats they faced back home. Camping beside them on the pedestrian walkway just outside the grated metal door leading to the United States, nine other families waited to do the same.
Over the preceding month Alzuri had received several menacing phone calls from strangers demanding money. In Michoacan, and many other parts of Mexico where criminal gangs have a strong presence, almost anybody can receive calls like these. You don't know who's on the other end of the line, Alzuri explained, but you do know the consequences of not following their orders.
"If you do not give [money] to them, they kidnap you or they kidnap your family," Alzuri said. "They destroy you. They kill you. That is why it is so scary to be in this country."
Other people she knew had received similar calls. She also knew that those who didn't pay ended up dead – pictures of their bodies posted on Facebook as a macabre warning of what happens to those who resist.
Fearing a similar fate, Alzuri packed her bags and her family and travelled north to ask for asylum in the United States. A friend had been granted asylum about nine months ago, and she had seen on television that other people were going, too. It seemed like the only way out.
"I had a problem," she said, referring to the phone calls. "They asked us for money, and since we did not give them money, they threatened us."
Before leaving her home, Alzuri said she filed a police report. But the authorities didn't care enough to act on it, she said. "They are not going to risk their life for mine."
No way out
Despite the danger at home, Alzuri and others in similar situations face an increasingly difficult time applying for asylum in the United States. At the Nogales crossing, asylum seekers must now wait up to a month simply to be allowed to set foot inside a border office where they can register their claims, aid workers there say.
Those waiting are stuck in territory on the Mexican side that is controlled by gangs similar to the ones many are fleeing, though local aid groups have scrambled to find space in shelters, especially for women and children, so people will be safer while they wait.
The situation hasn't always been like this.
In the past, asylum seekers were almost always admitted to register their claims the same day they arrived at the border. Since May, however, there has been a marked slowdown in registration.
US Custom and Border Protection (CBP), the federal law enforcement agency responsible for screening people as they enter the country, says delays are due to a lack of capacity and space. But asylum advocates say similar numbers have arrived in previous years without causing a delay and the real reason for the slowdown is that CBP has shifted resources away from processing asylum seekers – not just in Nogales but across the southern US border – resulting in people being forced to wait for long periods or turned away altogether.
This is happening despite the insistence of high-ranking Trump administration officials that asylum seekers present themselves at ports of entry or face criminal prosecution for crossing the border irregularly. Such contradictory policies, asylum advocates argue, are part of a broad-based effort by the Trump administration to dramatically reduce the number of people able to seek protection in the United States.
"Our legal understanding is that they have the legal obligation to process asylum seekers as they arrive," said Joanna Williams, director of education and advocacy at the Kino Border Initiative (KBI), a Nogales-based NGO. "There's no room in the law for what they are doing right now."
A system in crisis
In the past decade, migration across the southern border of the United States has undergone a dramatic change. Every year since the late 1970s US Border Patrol agents apprehended close to a million or more undocumented migrants entering the country. In 2007, that number began to fall, and last year there were just over 310,000 apprehensions – the lowest number since 1971.
At the same time, the proportion of people entering the United States from the southern border to claim asylum has increased. Ten years ago, one out of every 100 people crossing the border was seeking humanitarian protection, according to a recent report published by the Migration Policy Institute (MPI), a non-partisan think tank in Washington DC. Today that number is about one in three.
According to Boyd of AILA, the increase is being driven by ongoing humanitarian emergencies in El Salvador, Honduras, and Guatemala, an area of Central America known as the Northern Triangle. These countries have some of the highest homicide rates in the world and are wracked by gang violence, gender-based violence, extortion, and extra-judicial killings. "Many of the individuals and families arriving at the US southern border are literally fleeing for their lives," said Boyd.
But the system that is supposed to provide them protection is in crisis. Beginning in 2010 the number of asylum requests lodged in the United States started to balloon, mirroring an upward trend in global displacement. Last year, 79,000 people approached the US border saying they had a credible fear of returning to their home country, compared to 9,000 at the beginning of the decade.
The increase in credible-fear claims, as well as asylum requests made by people already in the United States, has strained the system to a "crisis point", according to the MPI report. This has led to a backlog of around 320,000 cases in US immigration courts and people having to wait many months, if not years, to receive a hearing and a decision.
Crackdown
Senior officials in the Trump administration, including the president, have consistently lumped asylum seekers and economic migrants together, positing that the United States is being "invaded" by a "massive influx of illegal aliens" across the southern border, and that the asylum system is subject to "systematic abuse" by people looking to gain easy entry to the country.
"They have said they cannot go back to their countries. If they are sent back they are going to be killed."
People working on the ground with asylum seekers refute this. Eduardo Garcia is a communication coordinator at SOA Watch, an organisation that monitors the humanitarian impact of US policy in Latin America. He has spent time in Nogales speaking with people waiting to claim asylum.
"The stories of many of the people we have talked to… are stories of people fleeing gang violence, are stories of people fleeing because one of their sons was killed, because one of their sons was threatened, because one of their family members [was] raped," he said. "They have said they cannot go back to their countries. If they are sent back they are going to be killed."
Still, the Trump administration's zero-tolerance policy on immigration – responsible for the recent child-separation crisis – has also included measures that have restricted access to asylum in the United States.
In May, Attorney General Jeff Sessions announced that the Justice Department would begin criminally prosecuting everyone who irregularly crossed the US southern border, including asylum seekers. In June, that policy was followed by a decision that the United States would no longer consider gang and sexual violence – precisely the reasons so many people flee the Northern Triangle – as legitimate grounds for asylum. Around the same time, CBP appears to have deprioritised the processing of asylum seekers at ports of entry in favour of other responsibilities, leading to the long waits and people being turned away, according to humanitarian workers and a recent report by the DHS's Office of Inspector General.
And even as these restrictive policies were being put in place, Trump administration officials have been encouraging asylum seekers to try. "If you're seeking asylum, go to a port of entry," Secretary of Homeland Security Kirstjen Nielsen said in an 18 June press conference. "You do not need to break the law of the United States to seek asylum."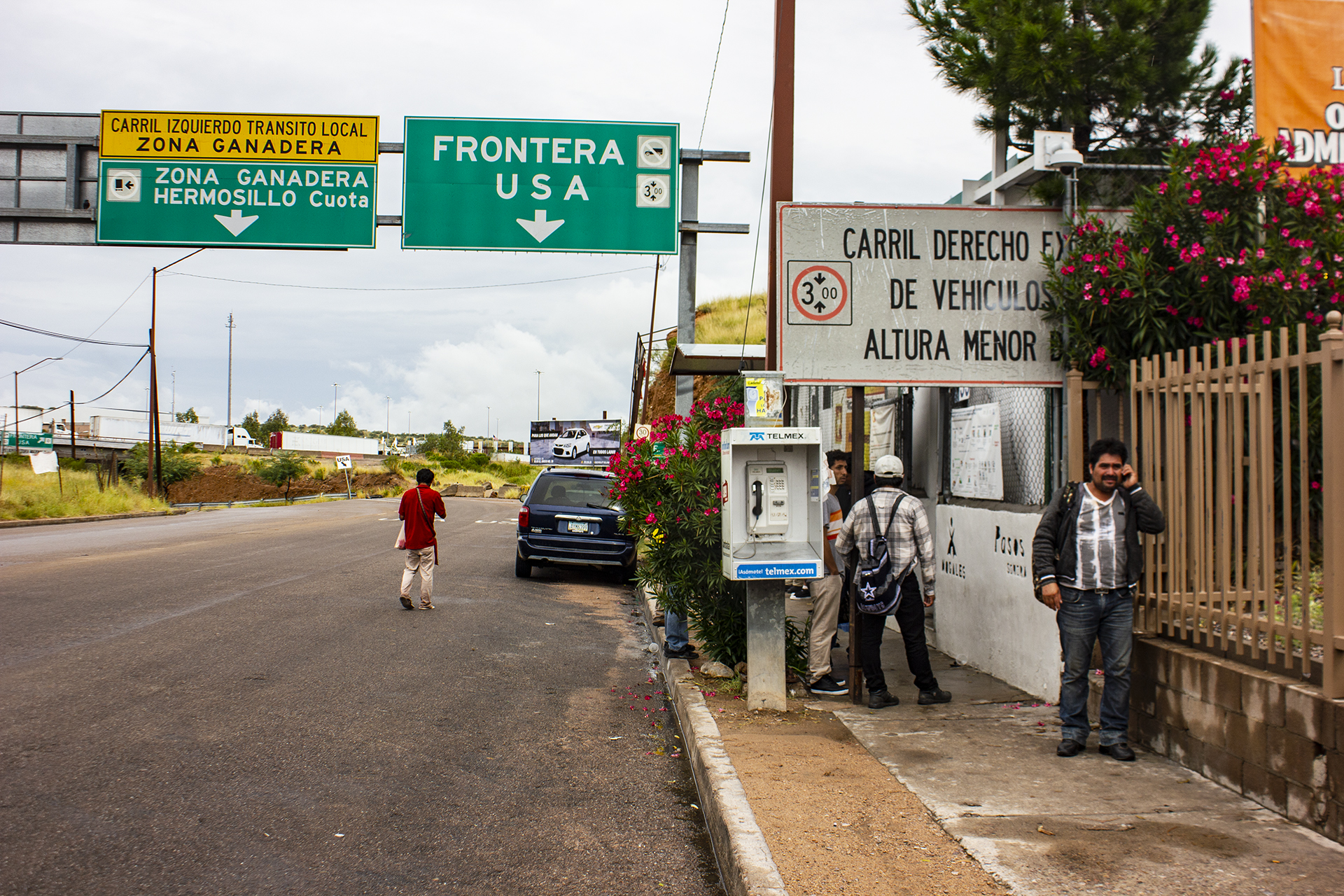 Nogales, Mexico
"I came here with the hope that if I asked for asylum I could be in the United States," said Modesto, a 54-year-old from Chimaltenango, Guatemala. In mid-September he was sitting in a mess hall run a couple hundred meters from the US border run by KBI, which provides humanitarian assistance to migrants and asylum seekers.
Modesto had already been in Nogales, Sonora for several months. Like Dolores Alzuri, he fled his home because criminal gangs had tried to extort money from him. "I worked a lot and was making a living in my country," Modesto explained. "The problem in particular with the gangs is that they don't let you work… If you have money they extort you. If you don't have money they want to recruit you." And people who don't cooperate: "They're dead," he added.
The situation Modesto found when he arrived in Nogales, Sonora was far from what he expected. For starters, there was the long wait at the border. But he also discovered that – as an adult travelling with his 18-year-old son – even once he entered the United States he would likely end up in a detention centre while his case slowly made its way through the overburdened immigration courts – a practice that has also increased under the Trump administration. "I don't want to cross… and spend a year in prison when my family needs my help," he said.
Modesto is in some ways an exception, according to Williams of KBI. Many of the people arriving in Nogales, Sonora are families with children. Once in the United States they will likely be released from immigration detention with ankle monitoring bracelets to track their movements. These people often choose to wait and to claim asylum at the port of entry when there is space.
After more than 100 people piled up to wait at the border in May, local humanitarian groups set up a system to organise and keep track of whose turn it was to submit an asylum claim to US immigration officials. They also scrambled to find spaces in shelters so people were not sleeping on the walkway over the weeks they needed to wait.
"I don't want to cross… and spend a year in prison when my family needs my help,"
Now, only people who are likely to enter soon are camped on the walkway. When IRIN visited, about 40 asylum seekers – mostly women and children – sat on one side of the walkway as a steady stream of people heading to the United States filtered by on the other. Some of the asylum seekers were new arrivals waiting to be taken to a shelter, while others had been sleeping there for days on thin mats waiting for their turn. Volunteers handed out clean clothing and served pasta, as a CBP agent opened and closed the metal gate leading to the United States, just a few tantalisingly short feet away.
The slowdown of processing "leaves people stranded – in really dangerous situations sometimes – on the other side of the border, and completely violates our obligations under both domestic and international law," said Katharina Obser, a senior policy adviser at the Women's Refugee Commission, an NGO that advocates for women, children, and youth displaced by conflict and crisis.
As a result, some people arrive, find out about the wait, and leave. "We're fairly certain that those are individuals who then end up crossing the border through other means," Williams said.
The DHS Office of the Inspector General came to a similar conclusion, finding that the contradiction between Trump administration rhetoric and policy "may have led asylum seekers at ports of entry to attempt illegal border crossings."
Border-wide
The situation in Nogales, Sonora is far from isolated, according to Boyd of the AILA. "Recent turnbacks of vulnerable asylum seekers have been documented throughout the US southern border," he said, including at many ports of entry in Texas and California. In those states, asylum seekers have reported being stopped as they approach the border and told they cannot enter because immigration officials don't have the capacity to process their claims.
"Turnbacks form part of a comprehensive set of practices and policies advanced under this administration that appears aimed at shutting out asylum seekers from the United States," Boyd continued.
Meanwhile, people like Dolores Alzuri – and most likely some of the thousands of Central Americans who are travelling north from Honduras in the hope of claiming asylum – are left with little choice but to wait. Moving somewhere else in Mexico or returning home is not an option, said Alzuri. "The violence is the same in every state," she said. And crossing the desert, "that's a big danger."
She and her family don't have a back-up plan. "Let's hope that I do get [asylum], because I really do need it," she said. "You don't live comfortably in your own country anymore. You live in fear that something will happen to you. You can't walk around on the streets because you feel that you're being followed."
(Additional reporting by Genesis Lara)
er-gl/js/ag