The Democratic Republic of Congo has begun to administer an experimental vaccine to halt the spread of the Ebola virus in Mbandaka, a major transport hub that is home to more than one million people and connected by river to several other large cities.
The illness, a particularly deadly form of haemorrhagic fever, killed more than 11,000 people in an epidemic that swept through West Africa in 2014-16. Here's our briefing:
When did the new outbreak begin?
This isn't entirely clear. Cases of haemorrhagic fever had been reported in the same region as early as December 2017, with some deaths reported in January. But this possible first wave of cases was never confirmed as Ebola. Local health authorities reportedly did not immediately share news of the cases, which they received on 1 March, with the national health ministry. Ebola can't be ruled out as no lab tests were ever done.
What we do know for sure is that on 8 May, DRC's Ministry of Health notified the World Health Organization, or WHO, of 32 possible cases (which had led to 18 deaths) recorded since early April in northwestern Equateur Province. It said two of these had been confirmed by laboratory tests to be Ebola, 18 were categorised as "probable", and the remaining 12 as "suspected". Three of the 32 cases were detected in healthcare workers. On the same day, the government of DRC declared a "public health emergency with international impact".
How many people are now infected?
As of 20 May, the Ministry of Health had recorded 46 cases of haemorrhagic fever, including 26 deaths. Of these, 21 are confirmed to be Ebola, 21 are "probable", and four are "suspected."
Four of the 21 confirmed cases were recorded in Mbandaka, which has heightened concern about the spread of the disease. The Ebola virus spreads quickly in urban areas, and Mbandaka is a key transit link to three capitals: Kinshasa, Brazzaville, and Bangui. The city is 280 kilometres from the area where the first cases were confirmed.
Has Congo had other recent outbreaks?
This is DRC's ninth Ebola outbreak since 1976. The others were centred in rural areas and contained before they reached an urban environment like Mbandaka. The current outbreak is the fourth in Equateur Province – following others in 1976, 1977, and 2014.
Read more → Our in-depth coverage of the West Africa epidemic
Will the virus spread to other densely populated areas?
No one knows for sure, but that's the fear. Four confirmed cases in Mbandaka lend some weight to it.
On 21 May, WHO Director-General Tedros Adhanom Ghebreyesus tweeted: "It's concerning that we now have cases of #Ebola in an urban centre in #DRC, but we are much better placed to deal with this outbreak than we were in 2014. I'm pleased to say that vaccination is starting as we speak."
Last week, Tedros refrained from declaring the outbreak a "public health emergency of international concern".
What's being done to monitor its spread?
DRC Health Minister Oly Ilunga said last week that monitoring travellers for signs of the illness would be stepped up along all air, sea, and overland routes in and out of Mbandaka. In addition, wider Equateur Province (including villages up and downstream from Mbandaka on the Congo River) was to be put under close watch by healthcare workers and officials.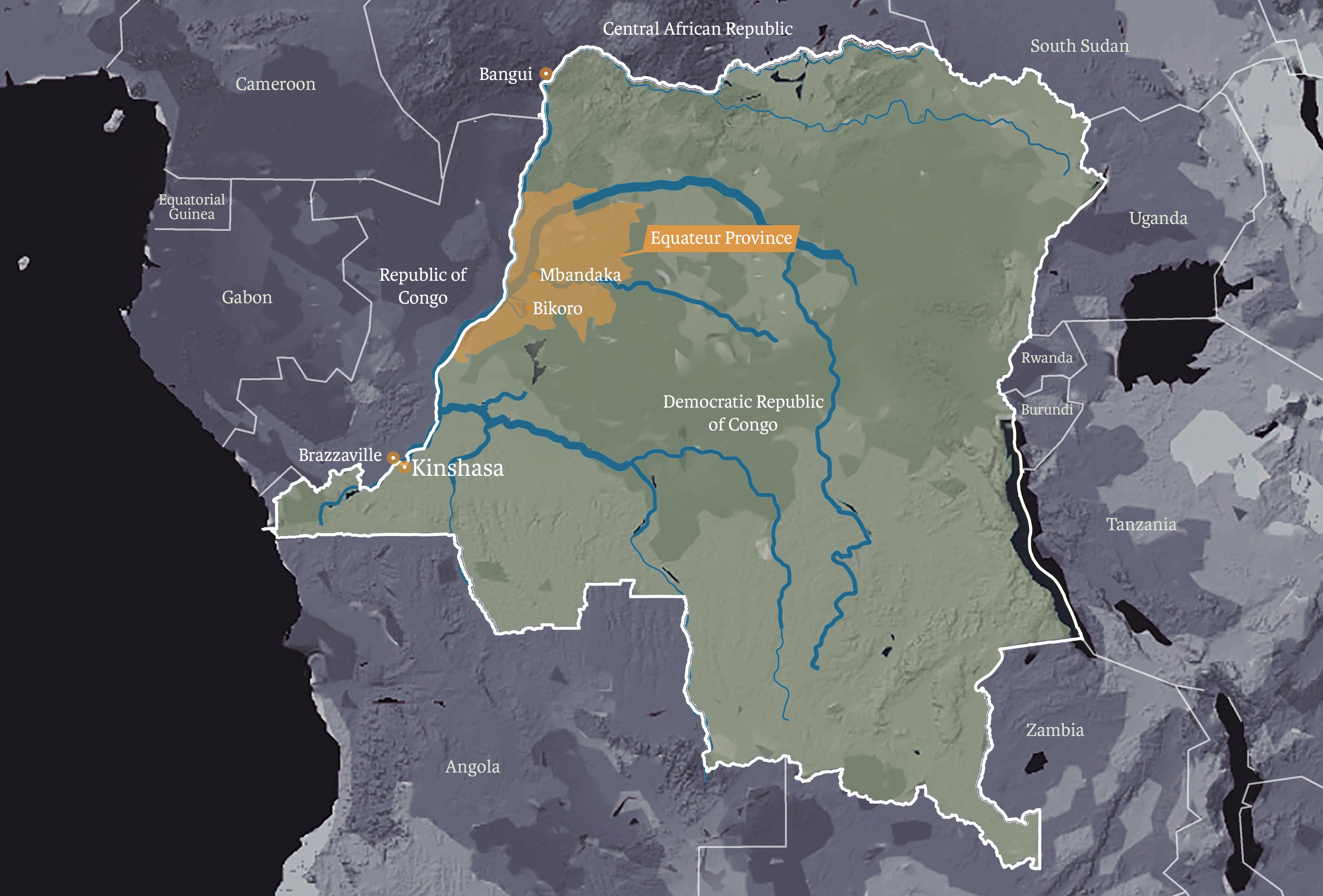 River routes are popular in DRC because only two percent of the country's 152,000-kilometre road network is paved. Mbandaka port on the Congo river bustles with vessels ranging from small pirogues to larger ships that travel with passengers to Kinshasa. DRC's capital is about 600 kilometres to the south and home to some 12 million people. Several other port towns with sizeable populations dot the route. Brazzaville, the capital of the Republic of Congo, is across the river from Kinshasa. Mbandaka is also connected, via the Oubangui River, to Bangui, the capital of the Central African Republic.
Effectively monitoring all of DRC's waterways is impossible. Kinshasa alone has 20 different makeshift ports. Vessels plying the Congo River and its many tributaries are often overloaded or in poor repair, and their captains don't welcome enquiries from officials. Many, also, dock at night.
Additionally, the government workers who carry out such monitoring often receive their salaries late and are poorly trained and/or part of understaffed teams. Morale is often low, which means the zeal with which they do their job may be, too.
Who's doing what to tackle the outbreak?
Both the Congolese government and international organisations are on it.
The Ministry of Health launched a ring vaccination campaign – the first time, outside of a clinical trial, that a vaccine has been deployed to stem an Ebola outbreak – on 21 May. It has also sent rapid response teams to Equateur Province to investigate reports of cases and deaths.
The WHO has released $1 million from its contingency fund for emergencies and provided technical and operations support, activating a multi-partner, multi-agency Emergency Operations Centre to coordinate the response. It has also shared risk communication materials in French and Lingala (the Bantu language spoken in the region) with local DRC offices.
Médecins Sans Frontières is setting up an Ebola treatment centre in Bikoro health zone where the first cases were discovered.
UNICEF is working with government officials on strategies for communication and ensuring safe water and sanitation practices as well as health and psychosocial care. It has also distributed supplies to the affected areas, including 4,585 kg of soap, tarpaulins, buckets, and chlorine to support sanitation and hygiene. A total of 80 tonnes of UNICEF aid is also being transported from Sierra Leone to the DRC.
A Red Cross team of experts in Equateur Province is providing training and support to local volunteers. It has brought supplies such as stretchers, chlorine disinfectant,  burial kits, informational posters, and other items to support local communities and health centres. More than 110 Red Cross volunteers in Bikoro and Mbandaka are alerting residents of the outbreak and disinfecting houses where people with suspected cases reside. They also provide safe burials if needed. The effective management of victims' bodies is crucial to an effective Ebola response.
Local teams from the Ikoko-Impenge health centre and Bikoro General Reference Hospital are monitoring patients for signs of the illness.
Wellcome Trust, a biomedical research charity based in London, is providing two million pounds (2.68 million dollars) for research to support the operational response.
How does ring vaccination work?
Ring vaccination differs from mass vaccination in that it targets concentric circles, or rings, of people vulnerable to infection. The process starts with health workers and those who may have had contact with infected people, as well as contacts of contacts. First in line are 600 people, including medical staff.
Four thousand doses are already in Congo and more are coming.
The vaccine being used in Congo, rVSVΔG-ZEBOV-GP, is termed experimental because it hasn't been licensed for general distribution. It is being deployed on a voluntary basis under a protocol called the Expanded Access Framework. Informed consent is required from those receiving the vaccine, which means translators and discussions that last about 45 minutes.
A network of "social mobilisers" has begun meeting with leaders of local communities to explain the vaccination process and other issues related to the outbreak.
According to the WHO, "the vaccine works by replacing a gene from a harmless virus known as vesicular stomatitis virus (VSV) with a gene encoding an Ebola virus surface protein. The vaccine does not contain any live Ebola virus."
The vaccine, which has been judged safe for human use, is delivered via an injection into the arm. People are checked three days after they receive it, and again after 14 days. The vaccine only provides protection before infection has occurred – anyone infected with the Ebola virus before being vaccinated will not be protected.
Possible side effects of the vaccine include mild fever or cold like symptoms and, in very rare cases, allergic reactions to the injection.
Experts from Guinea, one of the West African countries badly affected by the 2014-16 epidemic that killed more than 11,000 people, are in Mbandaka helping with the vaccinations. Some 7,500 adults in Guinea received the vaccine in 2015, when it was shown to be "highly protective", according to WHO spokesman Tarik Jašarević.
Logistical challenges in delivering the vaccine include DRC's poor infrastructure and the requirement that it be stored at between -60 and -80 degrees Celsius.
How do humans become infected with the Ebola virus?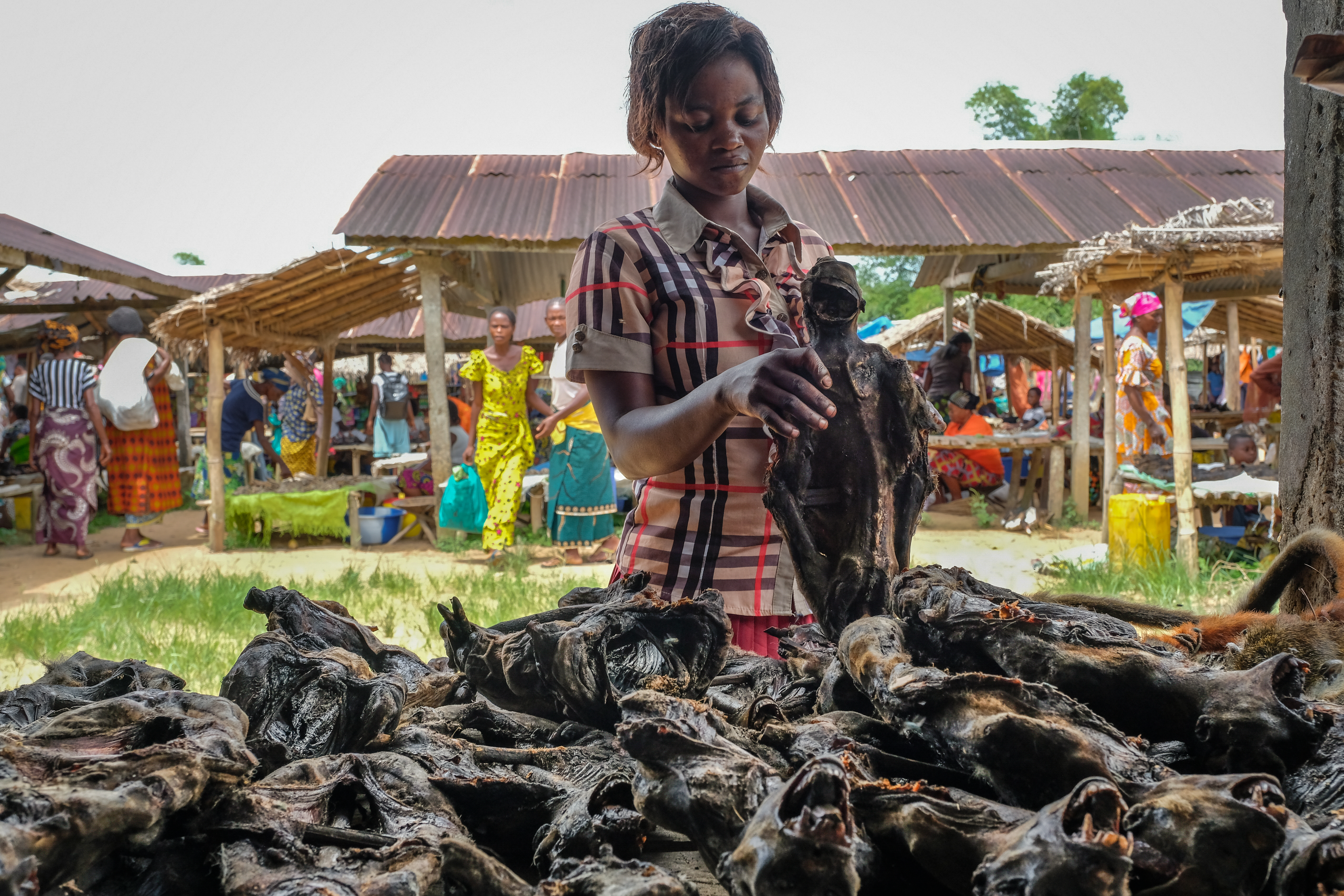 Fruit bats are thought to be the natural host of the virus. Bats can infect other animals common in the forests of Congo, such as monkeys, antelopes, shrews, porcupines, and chimpanzees. Humans become infected when they come into contact with the organs or bodily fluids of these animals, which are widely eaten as bushmeat in northwest DRC.
"Bat and monkey meats are delicious meals, as prescribed by our forefathers,'' Justin Efongo, a Kinshasa resident who was born in Bikoro, said. "It will be difficult to convince these people to give up on what is their favourite meal. The forest is huge, and God gave us all the food that is in there. Ebola is a curse, not a real disease."
Iss/am/js/ag