It's lunchtime, and customers are streaming into Gilbert Munyeneza's small café off one of the busy main streets of the Kakuma refugee camp in northwestern Kenya.
It's a simple corrugated iron structure with wooden benches, but there's a flat-screen TV blaring Swahili music videos and it offers a decent menu of chapati, ugali (maize meal), or rice, served with a choice of beans, beef, chicken, or vegetables.
The café, just three months old, is an example of how refugees' lives can be changed dramatically just by having access to more flexible financing.
Refugee camps like Kakuma are effectively large towns with their own mini-economies. Although remote, Kakuma has a population of more than 185,000 people. Refugees here come from many backgrounds, and money circulates as they take on casual odd jobs – from construction to washing clothes – or start small businesses.
Gilbert exemplifies the entrepreneurial drive of so many refugees, despite their circumstances. He was only 12 when he escaped the 1994 Rwandan genocide that killed nearly one million people. Separated from his father in Burundi, he went to a refugee camp in neighbouring Tanzania, before finally arriving in Kakuma in 2000.
The 36-year-old has tried his hand at several small businesses since being here. The first, after saving enough money to buy his own bike, was as a bicycle taxi rider. Then he opened a second-hand shoe business. But at each turn, he was frustrated by a lack of capital to expand.
Gilbert had opened a bank account in town and had been saving money there in the hope that a good credit record would make it easier to get a loan. But when he finally applied in 2017 he was turned down because he didn't have an identity card – just one of the bureaucratic hurdles that frustrate refugees, reinforcing their dependency and locking them out of contributing to the broader Kenyan economy.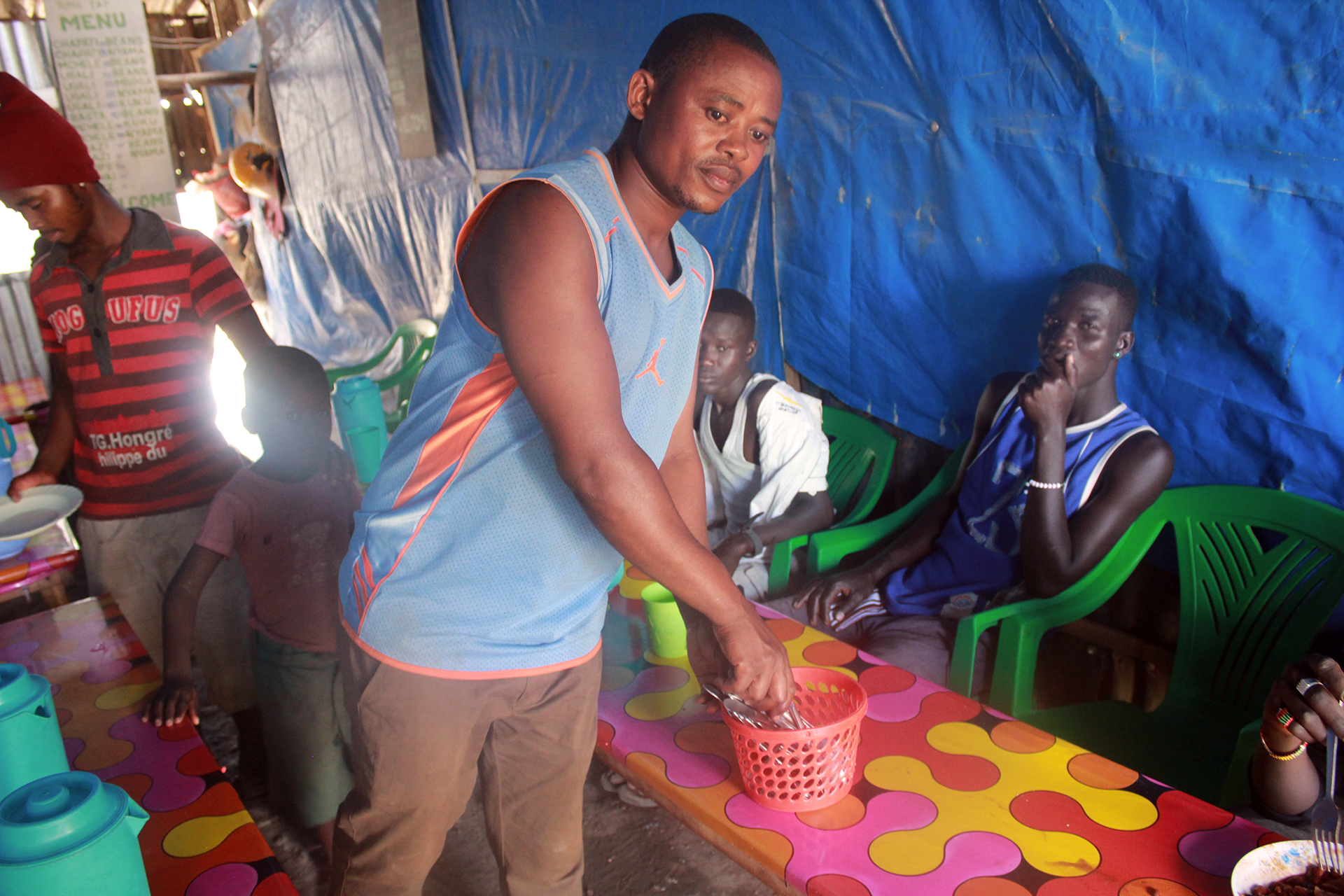 Then Gilbert learnt of a "financial inclusion" programme run by Action Africa Help International, or AAHI. He applied for a loan and after a few weeks his café was up and running. "Music is one of the ways in which I attract customers," he said. "That is why I used part of the first loan on entertainment to attract customers. I bought solar panels, a battery and a television set."
Opportunity denied
Commercial financial services tend to ignore the refugee market – despite its potential profitability. That limits refugees' ability to safely bank the small savings they make, remittances from friends and family abroad, or to tap into business opportunities.
"Lack of identity documentation is often mentioned as an issue," noted Micol Pistelli, a financial inclusion expert at the UN's refugee agency, UNHCR. "However this is not specific to refugees and can be solved by adding some flexibility to the financial service providers' policy requirements."
AAHI, a regional African-led initiative, gets around this problem. But as the only NGO currently providing credit to refugees in Kakuma, it can't cope with the number of loan applications it receives – another indicator of refugees' enormous drive to get on.
"The key challenge we are facing is the inadequate capital to satisfy the demand for credit," said Bruno Owiti, project officer at AAHI. Since the NGO launched its programme four years ago, it has disbursed the equivalent of $226,505 to a total of 869 businesses.
When it's short of funds, AAHI sometimes refers applicants to a commercial bank in town – the same one that turned down Gilbert – but they rarely approve the loans. Apart from the ID issue, there's also work permit and tax registration requirements, which are further barriers to securing credit facilities.
Mobile money
This leaves refugees with the semi-alternative of mobile money. This enables individuals to store and manage money in an account linked to a mobile phone, an innovation very familiar in Kenya, whose Mpesa service has been a world leader.
With mobile money, customers can access credit services through digital credit/mobile lending. A report on digital credit, which has greatly expanded Kenya's market for credit, notes that "loan-eligibility decisions are automated based on a set of rules applied to available data, and not on human judgment".
But refugees still need IDs to register their SIM cards – and UNHCR documentation is insufficient. That has led to creative fixes, with some refugees paying local Kenyans to use their IDs instead.
"With the SIM cards, they can then register for mobile banking and loan applications. They then apply for loans from the many digital credit service providers," Bruno told The New Humanitarian. But should they default, the person whose ID was used is liable.
Better examples
Kenya hosts 475,412 refugees and asylum seekers – the vast majority camp-based and aid dependent. Greater flexibility over accepting refugee identification would represent a new untapped market for financial service providers.
In Rwanda, a study by Financial Sector Deepening (FSD) Africa, a UK-funded non-profit, found that refugees represented the same level of profitability for financial service providers as a typical low-income Rwandan account holder.
While recommending that the National Bank of Rwanda adds refugee registration documents as valid "Know Your Customer" paperwork, it noted that some financial service providers have already proactively sought and obtained approval from the NBR.
The World Bank has also recommended reforms that should enable alternative means of registration for refugees so they can access digital credit and mobile money services.
And as aid agencies move from food assistance to cash-based transfers for refugees, the demand for financial services is now even more apparent. Simply put: "Refugees have a strong need for comprehensive financial services to support their livelihoods," the FSD report concluded.
(TOP PHOTO: A refugee from South Sudan learning tailoring in Kakuma Refugee Camp, Kenya)
al/oa/ag