Speed, endurance, dexterity and an eye for colour: just some of the skills needed when weaving on a loom. Eveline Ouédraogo masters them all. Without visible effort, this Burkinabé woman rapidly moves her feet over the pedals, her hands manoeuvring 40 brightly coloured coils of thread.
With each thread going back and forth, Ouédraogo, 37, earns a little bit more. Every fling on the loom brings her children a step closer to a better future: one the EU hopes – as the funder of the micro-enterprise where she works – will keep them at home rather than migrating north.
Ouédraogo is employed by the Association Zoodo pour la Promotion de la Femme, and the fabric they produce has featured in international fashion magazines. "Did you know there's even a picture of Beyoncé wearing our fabrics?" said Ouédraogo, well within her rights to boast.
The association's small workshop on the outskirts of the capital, Ouagadougou, is supported by the Ethical Fashion Initiative (EFI), a programme run by the International Trade Centre, a joint agency of the UN and the World Trade Organisation.
Major fashion brands such as Vivienne Westwood and Stella McCartney are linked by EFI with artisans in poor countries, supporting the idea of "fashion as a vehicle for development".
Ouédraogo earns two to five euros per metre depending on the complexity of the fabric. On a good day, she can weave up to one and a half metres – making just a little over the average wage in Burkina Faso.
Investing in people
Last year, the EFI received €5 million from the multi-billion-dollar EU Emergency Trust Fund for Africa (EUTF) to expand its programmes in Burkina Faso.
The fund, launched in 2015, aims to tackle the root causes of outward migration through development aid, security and peacebuilding support, as well as financing for migration management.
But in a country like Burkina Faso where remittances from migration represent real financial benefits for families, are projects like EFI – or more traditional EU rural development assistance – enough to dissuade young people from taking the risk of travelling to Europe?
Some €3.3 billion has been pledged to the EUTF, according to the European Commission. Burkina Faso is one of 21 sub-Saharan African countries contributing to migration flows to Europe that is benefitting from the fund, to the tune of €84 million.
Simone Cipriani, founder and head of EFI, believes the EUTF's job creation strategy makes sense. "With this project, I think we will stabilise some jobs here, and tens, if not some hundreds, of people will decide to stay," he told IRIN.
By investing in new technology and expanding the customer order book, he believes the "hundreds of jobs" EFI supports could be transformed into "almost 2,800 jobs".
However, the evidence suggests that while increasing prosperity at home may encourage some people to stay, it also enables many more to leave. Cipriani acknowledged this. "People in Europe sometimes forget that people here in Africa have the freedom to go and migrate," he added.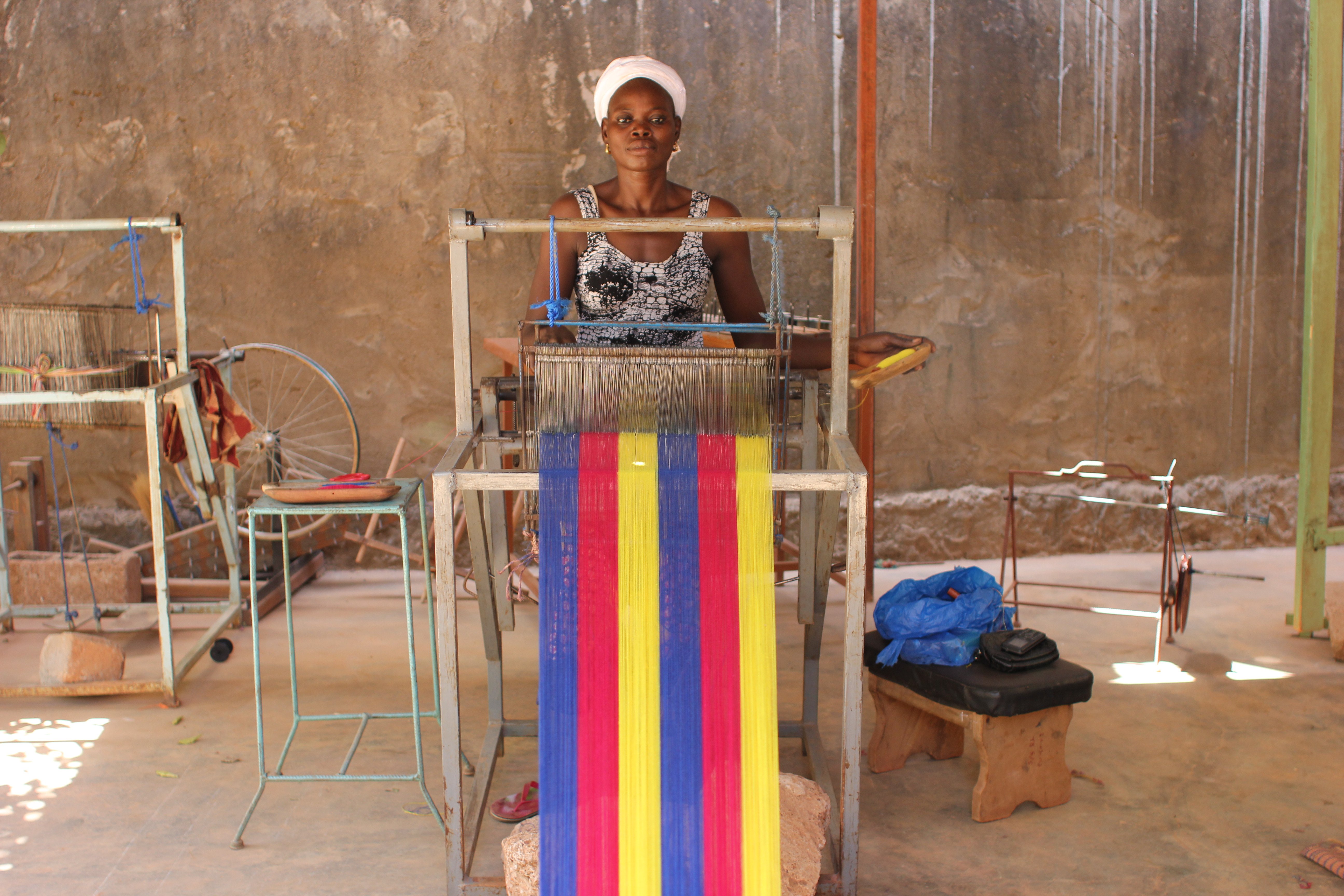 Take Christiane Zoungrana. Five days a week the 42-year-old wheelchair-bound weaver pushes herself to work to help provide for her family. She has no plans to migrate, but her eldest son has recently been talking a lot about leaving.
Zoungrana would prefer to keep him as far away as possible from the dangers of the desert and Mediterranean, but he can't seem to find a job. "If he really wants to go, I'll help him," she said, seeing the potential positive of having the means to employ someone to take care of her in the future if he made a success of himself elsewhere.
Migration hotspot
Burkina Faso is a poor, agriculture-based country. It historically provided workers to neighbouring economic powerhouse Cote d'Ivoire, until the country's civil war in the early 2000s. Now destinations are far more diverse, from Europe to Libya, South Africa, oil-rich Gabon, even Morocco.
The growing insecurity in Burkina Faso as a result of jihadist attacks in recent years – an outflow of the crisis in next-door Mali – is another incentive for young Burkinabé to leave their struggling country.
"This country is very fragile. We are convinced that eventually the population density, the demographic growth, will force Burkinabé to migrate even more," Thierry Barbé, head of EU Cooperation in Burkina Faso, told IRIN. "So, it is very important that we can fully pursue stability with the Trust Fund."
Western Union
Approaching the southeastern province of Boulgou, small thatched houses make way for the occasional three-storey building. But this relative wealth is not as a result of the EUTF – it's the fruit of migration.
Boulgou is home to the Bissa people. They have a history of travel, since the 1980s to Italy in particular, typically to work on tomato farms in the south of the country.
In the town of Béguédo, 230 kilometres southeast of Ougadougou, an unmissable bright yellow Western Union building greets visitors – testimony to the importance of remittances to this community. The World Bank estimates that as much as $454 million flowed home to families in Burkina Faso last year.
Adama Bara, 32, returned to Béguédo from Libya a year ago when he failed to reach Europe. After a gruelling desert crossing, he was arrested and held in a detention centre where he says he was tortured.  
"While they hit me, they called my parents and demanded ransom," Bara said. With help from relatives and neighbours in Béguédo, his family was able to set him free. To repay his debts, he took a job at a Libyan construction site. When he realised he wasn't going to get paid, he hitched a ride on the back of a lorry home to Béguédo.
Bara is now pondering whether he should leave again, to try and join his brother and sister who are working in Italy. His four children, wife, and parents are all counting on him. He can't support them with the few euros he earns each day from his small phone shop.
His fear of failing his family is stronger than the dread of doing it all again. "I don't care how difficult it is," he told IRIN. "I know what to expect now."
Give youth a chance
According to Béatrice Bara [no relation], the mayor of Béguédo, there's only one option that can make a difference: "We must offer the youth a chance here," she said. "Make sure they get work here."
She is full of ideas, such as setting up a garbage pickup service for unemployed young men. But, according to Bara, the means to implement the projects is what's holding her back.
"I hear stories about money and projects set up here in Burkina Faso by the EU," the mayor said. "But I haven't seen anything so far. Nobody has come to talk to me about the future of our youth."
The EUTF is providing the UN's International Organisation for Migration with €8.3 million to implement a voluntary return programme for Burkinabé stuck in Libya. The agency says that at least 80 percent of all Burkinabé migrants there are from this rural commune.
As part of the return programme, the IOM intends to help young people like Adama Bara reintegrate and set up small businesses – which the mayor welcomes.
But last year, the IOM also dug two new boreholes, financed by the governments of Belgium and Italy. That sort of traditional aid left people in Béguédo wondering what the shiny new pumps have to do with migration. "Water doesn't keep these young people from leaving," said the mayor.
She is also sceptical of the efficacy of return flights and awareness campaigns. "The reality on the ground is that people leave and will continue to leave," she noted.
The mayor believes that anyone who thinks you should, or even can, stop migration ignores the fact that in departure countries like Burkina Faso, people think very differently about it.  
Freedom of movement
"It's not our ambition to fight migration," said Gustave Bambara, an official with the Ministry of Economy, Finance and Planning. "On the contrary, it's an opportunity. We want to make the most out of it."
Like other African governments, Burkina Faso wants to increase legal migration routes. That runs counter to the EU's priorities, as underlined by its spending. According to Oxfam, the EUTF devotes just three percent of funding to developing safe and legal pathways.
"We live in a globalised world; free movement of people is important. It can't just be goods; it's also human beings," said Bambara.
If Brussels is intent simply on holding back migration, "that's too bad," he said. "This fund will serve them little purpose."
sh/sh/oa/ag