Friday prayers have just wrapped up. Four-by-fours with tinted windows and an array of expensive vehicles pull out of a Baghdad mosque, through black, wrought-iron gates, past heavily armed guards.
Beyond another round of soldiers in camouflage fatigues, the mosque gleams in the sunlight in its well-manicured surrounds. But on the edge of the neatly trimmed grass, laundry lines and dingy latrines betray the fact that this isn't simply a house of prayer.
Children's faces peer out curiously from behind makeshift fabric doorways. Here, hidden away from the capital's busy traffic, and from the world's attention, a few of Iraq's 3.2 million displaced hustle out an existence on the margins, without help from much of anyone.
Sanctuary, but little help
Umm al-Taboul Mosque began taking in those fleeing the violence of so-called Islamic State in the first days of January 2014, when the group first began its sweep through Iraq.
Hundreds, if not thousands, of Iraqi civilians have been through here since. Mosque officials say some 120 families have been moved to buildings nearby, while others have left to try to go home. Plenty remain, crowded into a row of shelters crafted from fencing, trees, blankets, corrugated metal, and in one case what appears to be a billboard for a pricey Calvin Klein watch.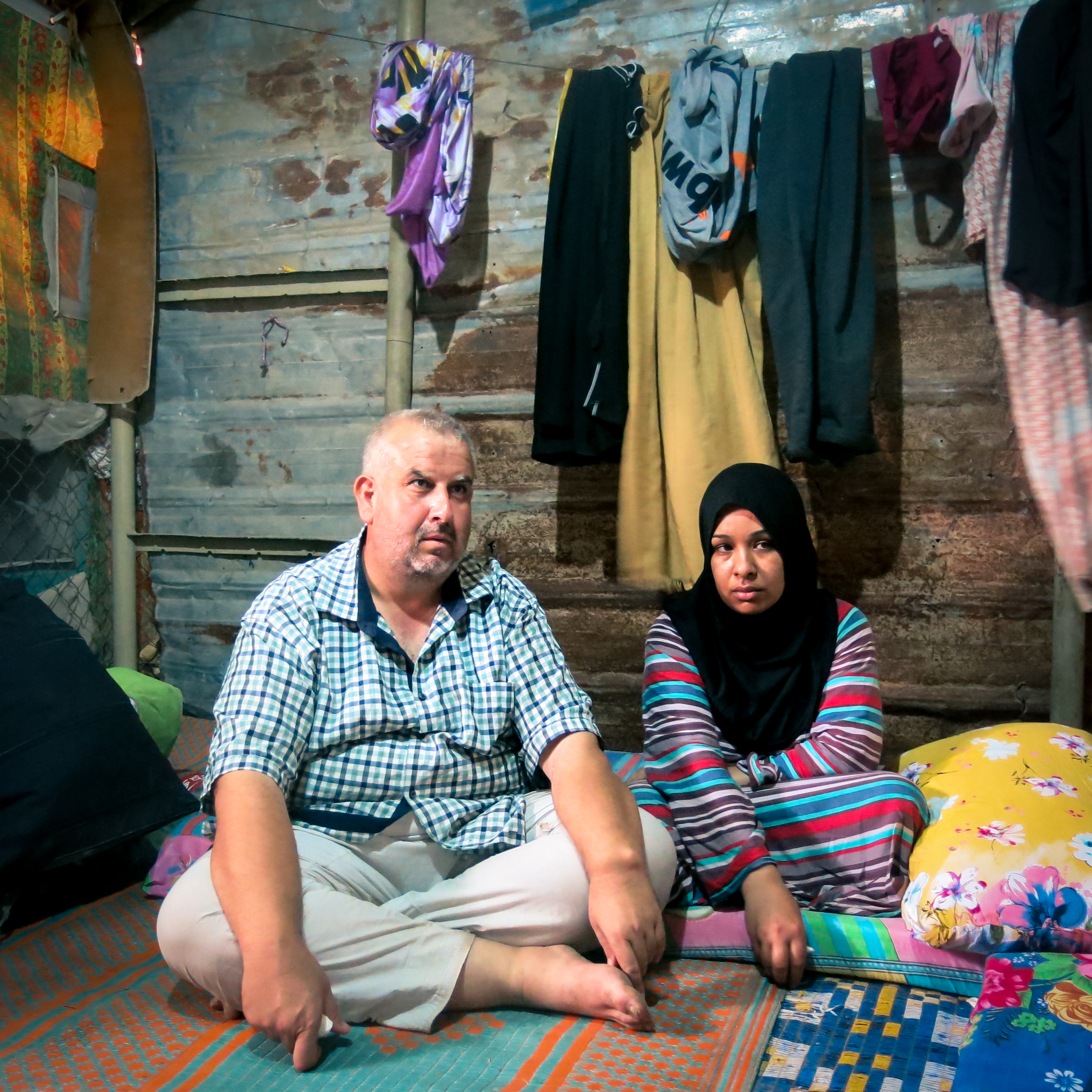 *Omar and Asmaa are the newest arrivals. They fled their IS-occupied hometown of al-Qaim near the Syrian border only a few weeks ago. As is tradition in parts of western Iraq, he touches shoulders instead of shaking hands.
Omar's mother was too frail to make the journey, so the couple waited for her to pass away before making a run for it. For $1,800, a smuggler took them out and arranged their entry into Baghdad.
Asmaa is too perturbed to speak as Omar describes how they had been "living under siege". Shortly before their exit, IS killed a local smuggler. "They cut off his head and roamed the street with it," Omar says, as Asmaa wipes her eyes.
They arrived with no possessions: only the clothes they left in. Thanks to their new neighbours at Umm al-Taboul, themselves in dire straits, they now have a few changes of second-hand clothes and some rudimentary furniture.
Omar is an engineer, but he hasn't worked in years. His chance of finding any employment now is slim. Without a special permit, his movement, like that of many IDPs, is restricted. When his wife recently needed medicine, they had to ask around the mosque for donations. They hope a charity, or really anyone with money, will "help us stand on our feet again," says Omar. "There is nothing we can do."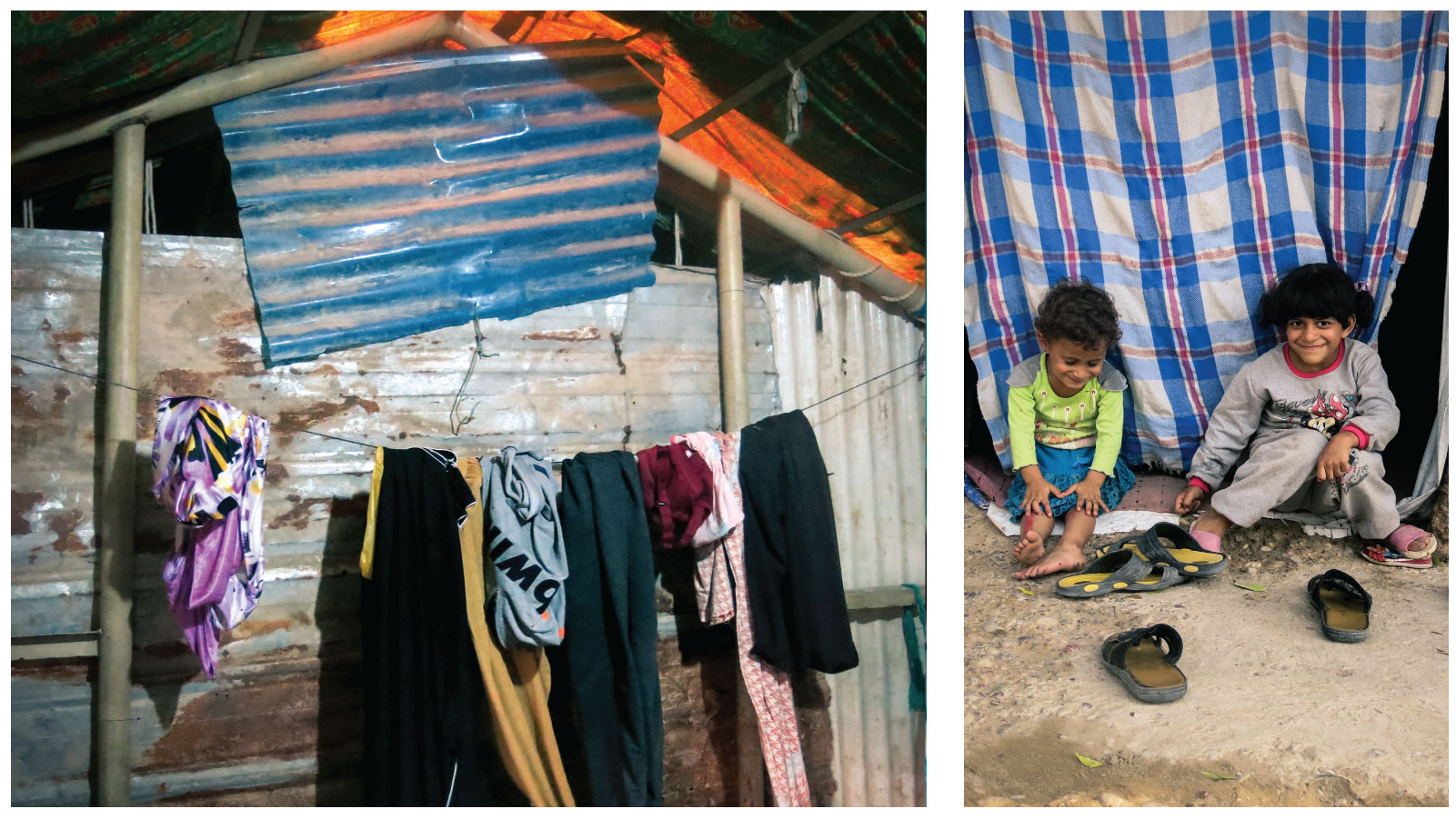 Making do
While all the families here have almost nothing, those who have been here longer have done their best to try and brighten things up.
Abu Ahmed, his wife, and their eight children have been living, all 10, in a few square meters for the past two years. The walls of their tiny enclosure are decorated with some stuffed animals and a mirror shard. They've carved out a small kitchen area, but the floor is dirt and they can't do much to keep the flies off a basket of unwashed carrots.
Some of the kids are in school, but others were told they'd missed too much time and couldn't register.
Abu Ahmed does some work at the mosque, but it's not nearly enough to pay for his family.
"We've decreased the amount of food we eat… we stopped having chocolate," he says, looking at his daughters sitting in the corner of their shelter. "We did have a sweet on Valentine's Day."
"I don't have clothes for us for the winter. When the rain comes, it will probably fill this tent," he says, looking up at a ceiling held together with wooden beams and fabric remnants.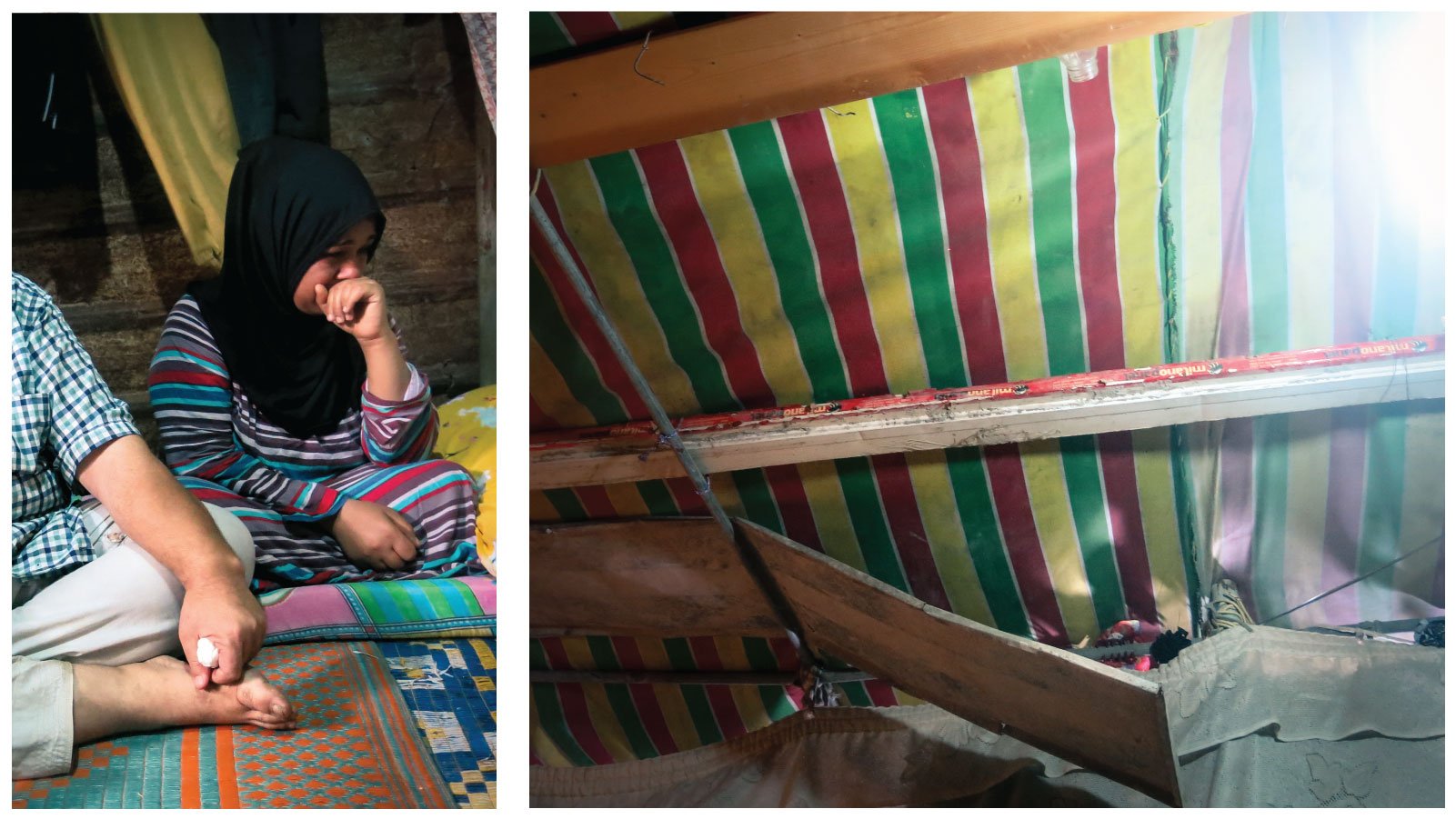 "Beautiful memories"
At the end of the row is Milad, a shy blacksmith from near Mosul who hid his family of 11 in a deserted building outside the city for seven months, sneaking back in to buy food with his savings.
He too now does some odd jobs for the mosque, and spends the rest of his time following the Mosul offensive on a small generator-powered television. He mentions the latest, rumoured advance.
"I look older than I am," he says, declining to give his age but admitting that the past two years have taken their toll.
Milad has lost track of his brother and his friends, but says he has "beautiful memories" of life before IS. He spent five years building his house, but never got to finish it. Now one of his walls is made of cardboard boxes.
He misses the simple pleasures of his past existence: sitting around at the local police checkpoint, drinking coffee and gossiping.
Milad keeps one eye on one of his young daughters, and the other on the TV headlines. "We're a peaceful people," he says, softly.
*Names have been changed to protect their safety
(TOP PHOTO: Baghdad's Umm al-Taboul Mosque. Annie Slemrod/IRIN)
as/ag