114.5: that's the magic number. With a score above it, a Syrian family in Lebanon has largely to fend for themselves. Below it, the household's vulnerability score makes them eligible for cash payouts, which they can spend on anything.
Over the next few weeks, a range of refugee benefits will be merged onto a single bank card, as this data-intensive aid operation bets big on cash and consolidation.
"It's a hi-tech operation," agrees Tatiana Audi of the UN's refugee agency, which this week pledged to double its cash assistance worldwide by 2020.
UNHCR is hoping that unified cash-based systems like this pilot project in Lebanon might revolutionise the piecemeal way in which aid is currently delivered, consolidating operations while pumping tens of millions of dollars a month directly into Syrian families' pockets.
But as the system is rolled out, the limitations of such schemes also become clearer. They can't, for example, take care of needs that defy market solutions; build local institutions; catch every problem case, or empower local NGOs to play a greater role. Donors also can't afford to pay the amounts calculated to keep the most vulnerable from destitution.
How it works
Jamal Abubaker (not his real name) is 80. He doesn't have a score yet, but his new temporary village has a number. He has only just thrown in the towel after five years of civil war. He and his wife and his daughter left home in rural Aleppo a couple of weeks ago, as the war's latest chapter started to threaten his area. They've now joined others in his extended family in Lebanon, in informal settlement number 51267-01-019.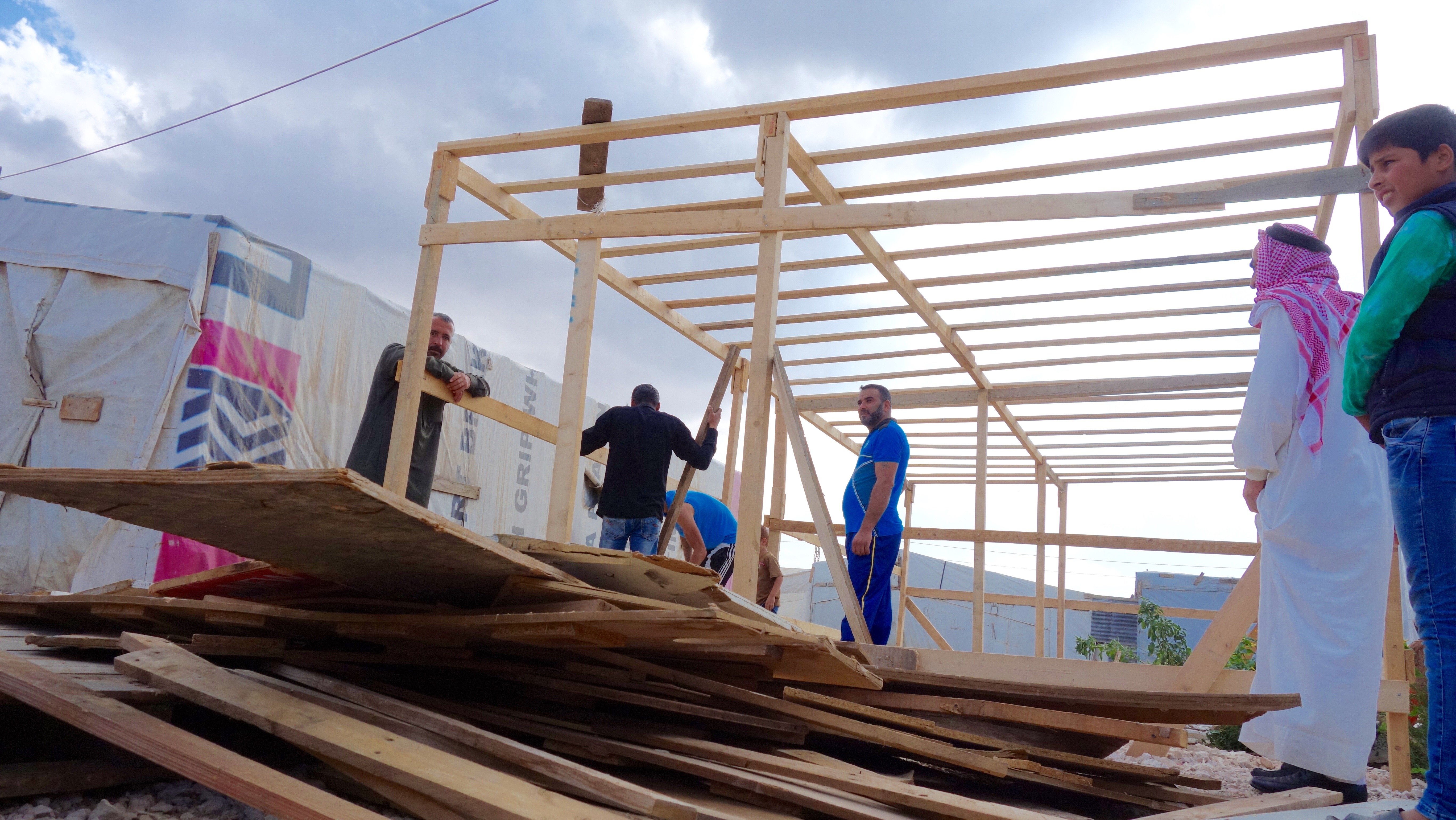 51267-01-019 is a cluster of rectangular plastic-clad shelters housing Syrian refugees in the Bar Elias area of the agricultural Bekaa Valley. It has a few shared latrines, a shop run by the community leader (yoghurt, Super Glue, lollipops), communal water tanks spray-painted with the names of aid agencies, municipal garbage bins, and a sketchy-looking electricity supply. A few chicken and sheep wander around. Young Mahmoud has adopted a stray kitten (more pictures here). Washing is drying on the line in the autumn sunshine.
But the weather forecast is for rain: these few dozen families, mainly from the same area in Syria, will soon be tackling mud and cold as winter sets in. Casual work in the farms in the area will be harder to come by, as the news from home is likely to stay bad.
Faisal's new home is taking shape: a timber frame is already up, and scraps of scavenged wood are ready to be nailed on, before tarpaulin and plastic sheets make up the internal partitions and outside walls. In due course, this rudimentary structure will be numbered and added to the tally of 40,000 others in one of the numerous databases and spreadsheets that power the relief operation.
There are several thousand of these informal settlements but they house only a fraction – some 225,000 – of the more than a million registered Syrian refugees in Lebanon. Most pay more to rent space in houses, flats, garages, and half-finished buildings across the country.
Lebanon has made it harder for Syrians to come and stay legally. However, like Jamal, people continue to arrive through clandestine routes or stay on lapsed papers. Not officially refugees (Lebanon anyway uses the term "displaced Syrians"), new arrivals remain in a legal limbo. Nevertheless, they are fed through a system of interviews, registration, and vetting managed by UNHCR.
Jamal's photo and the unique patterns of his iris will be scanned and stored. He will have a case number assigned and his details will be uploaded into UNHCR's massive ProGres database. He'll also be recorded in another database, the Refugee Assistance Information System, and a mobile app carried by UNHCR staffers can scan his barcode and call up his eligibility details. (His real name won't appear on the app screen – it's one of several privacy measures intended to safeguard this wholesale personal data collection system). Jamal, meanwhile, will get a sheet of paper with a holographic sticker: a flimsy connection to his not-quite-legal status.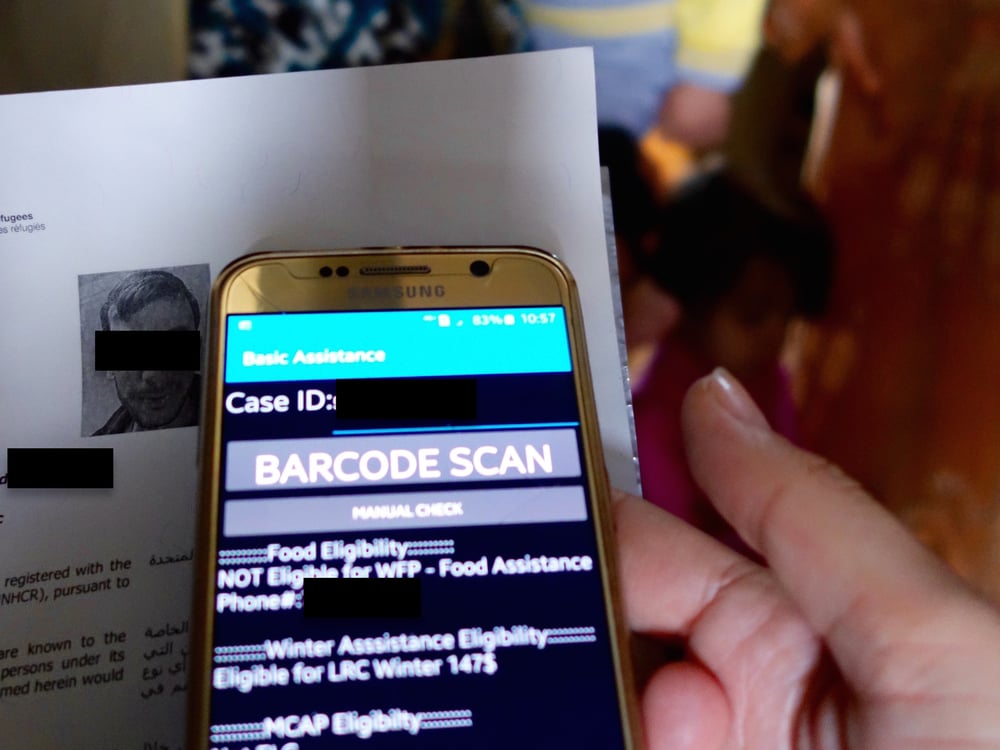 Jamal, due to his age and infirmity, and the fact that he barely has a change of clothes to call his own, will probably pass the critical 114.5 threshold of vulnerability. He and his immediate family group will then be entitled to a range of aid services, funded by international donors.
He will get a text message calling him to the nearest UNHCR centre, where he'll be issued with a bank card with a UN logo and a PIN number. His photo will then be taken again, so face-matching software can compare it to the previous one. Once verified, he'll then be given a quick talk on what to expect, how to use an ATM, how to buy food from approved shops and supermarkets, and what to do if he loses his PIN number.
Hard cash
Lebanon, despite its fragile politics (this week its parliament agreed on a president after two years of deadlock), has an entrepreneurial economy, decent roads and telecommunications, and no shortage of banks and ATMs. This allows more and more aid to reach refugees through money transfers and electronic payment cards. "It's the most dignifying way" to help, says Yara Chehayed, who works for the Lebanon Cash Consortium, a grouping of six NGOs that handles about half the cash programme, alongside UNHCR.
Of the million Syrians registered, about two thirds receive credit for buying food, but only about one quarter get year-round cash payments. During the winter months, some families get a cash supplement to deal with extra heating and clothing needs. Some families also qualify for other cash allowances for children. In total, more than $26 million per month is funnelled to Syrians in Lebanon as year-round cash or food vouchers, and an additional $22 million is distributed in winter.  
"People know what they need" - Lebanon Cash Consortium
Where markets are healthy enough to keep prices down and goods are available, studies have consistently found few drawbacks to cash aid. Chehayed says it's fast, efficient, cheap, and evidence-based. After all, she adds, "people know what they need".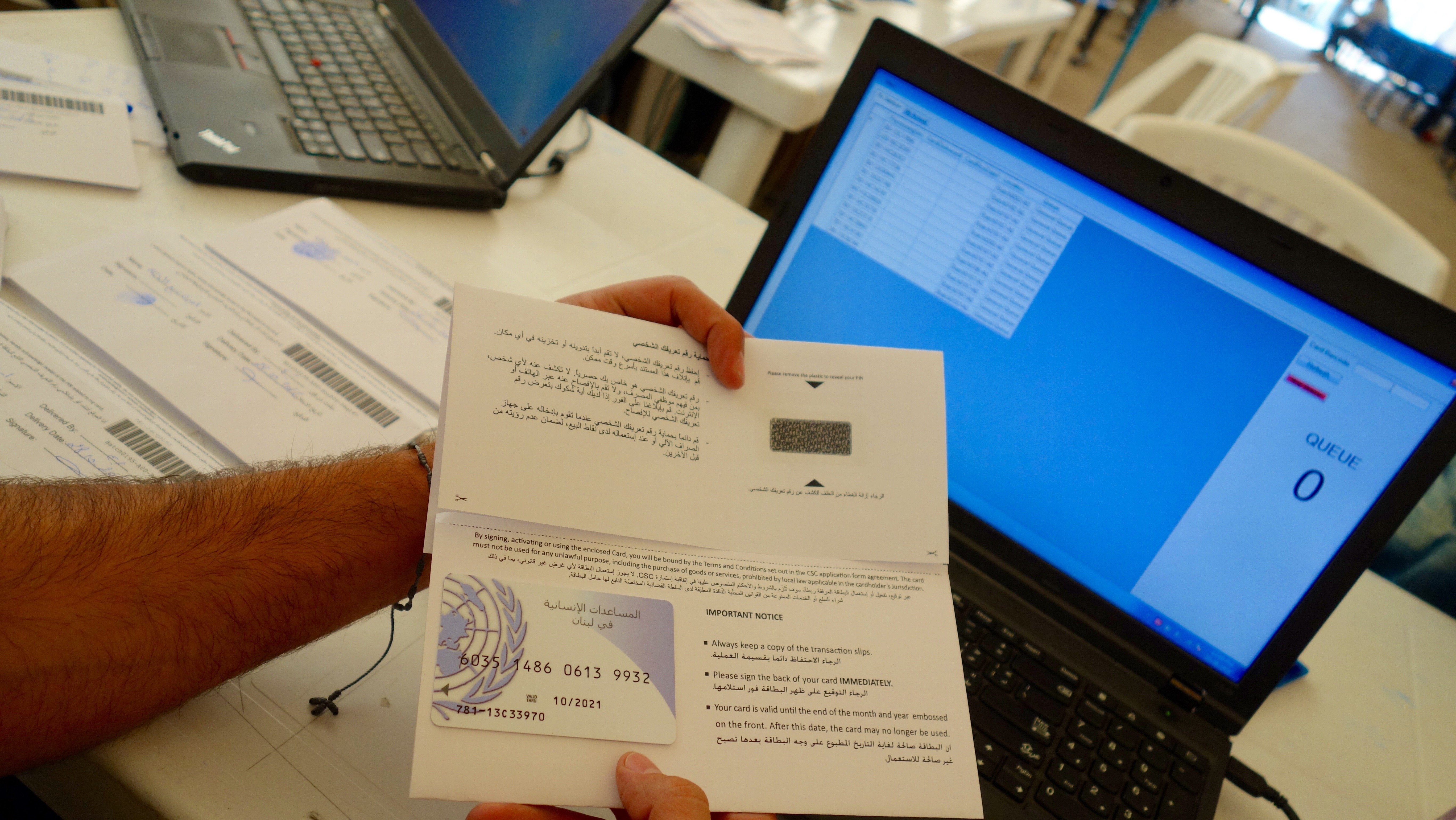 In Lebanon, one study commissioned by the EU and the UK reported that across a range of indicators, families receiving the cash aid were, unsurprisingly, happier and better off than those unlucky enough to be just on the other side of the cut-off point. Few challenge the principle that allowing needy refugees to collect payments from a nearby ATM and plan their own priorities in a family budget offers a dignified and efficient way to route donor monies.
Who needs cash?
According to the UN's lengthy documentation, the 114.5 number – the dividing line between those who get the unrestricted cash benefits and those who don't – is the outcome of "multisectoral household profiling using a welfare forecast econometric model based on Proxy Means Testing".
A range of criteria is used to weigh a family's vulnerability: whether there are young children or elderly people, how much paid work they are able to get, whether there are health needs, or if a woman is running a family alone, for example. Data for each family is collected when they first register with UNHCR, and can be updated in periodic renewals.
There are four categories of vulnerability: severe, moderate, mild, and "least". These rankings rely on statistical methods to crunch all the variables to provide a single score. The UN agencies worked with the American University of Beirut, and, in August, according to UNHCR officials, adopted a calculated weighting that captured vulnerability just from the data. The previous method of house-to-house surveys and questionnaires was just too slow and cumbersome.
According to this "desk formula", 50 percent of Syrian refugees are severely vulnerable – some half a million people. How to calculate what they need, is then based on a poverty line benchmarked slightly below that of the Lebanese government for its own people: $435 a month for a family of five is judged to be just enough for a family to get by. Casual labour and food vouchers from WFP provide an estimated $260. That leaves a gap of $175 a month to avoid falling into debt, declining standards of living, ill health and risky coping strategies. Therefore, $175 is the amount given under the multipurpose cash assistance programme run by UNHCR and NGOs.
Having agreed upon a single formula, the fragmented assistance system in Lebanon is now trying to rationalise delivery by providing a single bank card to eligible refugee families, which can be topped up from different sources and contain virtual "wallets" for the different entitlements.
Before, for the Syrian refugees, there was a blue card from WFP and a white card from UNHCR. By early 2017, all Syrian refugee families will have been moved onto the new system, known as the red card. It will be managed by a single bank, Banque Libano-Française, which won a tender to manage the process.
Jamal Awad, an IT specialist at UNHCR, told IRIN the roll-out was on track, but he said he expected "a lot of families to be calling" with questions as they are switched to the new card.
Beyond cash
The entitlements, IT, and banking infrastructure may be unified, but the last mile of delivery depends on multiple NGOs in the field who do casework, follow up individual cases, and provide supplementary services that cannot be replaced by cash, such as health clinics, education, water and sanitation, and improvements to housing [PIC].
There are dozens of international NGOs in Lebanon, but the distinction between the various agencies is lost on many refugees. Yara of the Lebanon Cash Consortium admits, "they call everyone UN".
Refugees can fall through the cracks: if they choose not to be registered for security concerns, for example, they won't benefit. Another gap is the fact that the market can't efficiently supply some of the refugees' needs. Healthcare and legal advice require trained staff, personal attention, and can't easily be bought and sold.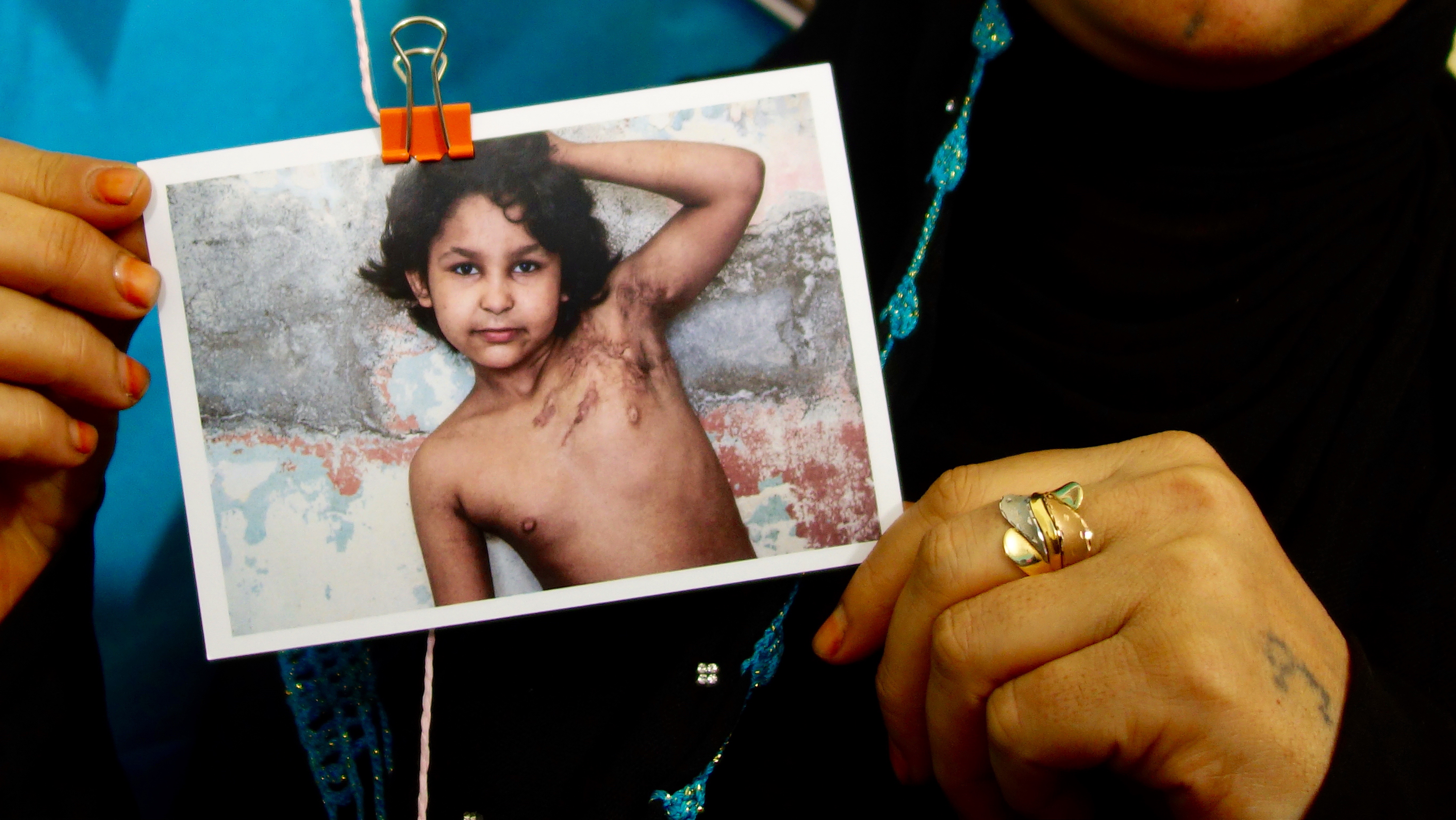 There are thousands of smaller NGOs in Lebanon, many filling the gaps that the data-driven UN operation is not well equipped to handle. The wholesale rush to a cash-based model is leaving some of these smaller players, who prefer a more personal touch, uncomfortable. Virginie Lefèvre of the Amel Association said local NGOs like hers are "not strong promoters of cash".
At the World Humanitarian Summit this May, local NGOs were told a greater share of influence and funding was coming their way. But this trend for large-scale cash programming may be pulling in the opposite direction. Kamel Mohanna, founder of the Amel Association, is unimpressed with the outcomes of the World Humanitarian Summit. "The speeches are very good," he said. "But the reality is different."
Is there enough cash?
The precisely calibrated method to calculate who needs help, and how much, hits a less finely calculated wall when it comes to how much funding is really available.
International funding is only enough to provide the $175 per month to about half those classified as "severely vulnerable" - leaving some 250,000 out of the multipurpose cash programme. Many of the calls to hotlines for refugees are complaints about being left out of the scheme, NGO and UNHCR workers said.
"Donors may be fatigued, but refugees are exhausted"
Despite healthy funding levels in 2016, a UNHCR official told IRIN that the outlook remained uncertain. Given Lebanon's restrictive policies towards Syrians getting jobs, donors face a huge open-ended welfare bill: the UN-led appeal for 2016 was $2.4 billion. There is little prospect of refugees "graduating" into self-reliance when their main work opportunities lie in the black market and they cannot move around the country without a residence document they cannot afford, according to aid workers.
Donors may be fatigued, but refugees are exhausted. Even if the cash scheme can be expanded, it's barely enough to stay afloat, and refugees continue to slide into debt. "They are becoming more and more dependent on aid", said Audi of UNHCR. "There is a sense of frustration. They're tired… they're losing hope."
bp/ag