A military court in Cameroon last month sentenced to death 89 men on terrorism charges related to Boko Haram violence. A reporting blackout made it unclear if the sentences had been carried out or, if not, where those convicted were being held.
I was determined to find out more.
At the Ministry of Defence, the communications division said it wasn't allowed to discuss the verdict, delivered on 16 March under a controversial December 2014 anti-terrorism law.
"Even here, we don't talk about it," explained Tar Tar, presenter of 'Honour and Loyalty', a weekly programme on state radio for the armed forces.
The information was still "classified", so he pushed me up the chain of command. "Go on, the colonel is in his office."
Colonel Didier Badjeck's office was just down the corridor. The soldier-secretaries in reception were friendly – an encouraging start. Unfortunately, the words "journalist" and "Boko Haram" had an adverse effect. It was downhill fast after that.
"The colonel is not in his office," a now stern-looking gatekeeper said. All other questions went unanswered.
But I had Badjeck's cell number.
When he finally answered, he advised going directly to the military tribunal, "or call me next week".
I tried the tribunal.
The military authority charged with hearing terrorism cases is housed in the headquarters of the Marine Corps. The first obstacle was the soldier manning the gate, holding an automatic weapon and wearing a bulletproof vest. He had been instructed not to allow any journalists into the court.
After a bit of arguing – during which I made the most of having been "sent" by the Ministry of Defence, while dodging his insistence that I show a special pass – his superior intervened. After giving up my press card and ID, I was allowed past the barrier.
In front of the court was a prison van. Its back door was open. Inside were Boko Haram suspects chained hand and foot, waiting to be called in for trial. Aside from the 89 already convicted, close to 1,000 people in Cameroon are believed to be facing charges linked to Boko Haram.
The men in the van looked non-descript, in jeans and trousers not prison clothes. Nobody seemed injured, just helpless and a bit desperate.
There have been no executions in Cameroon for more than a decade. But the scale of Boko Haram violence – more than 1,200 people killed in three years – means the government can get away with an unusually draconian response.
The senior soldier suddenly seemed to have second thoughts about having a journalist hanging around. "Those guys in the truck are Boko Haram fighters captured in the Far North Region and brought here," he said. "You cannot go there. You know this is sensitive".
On my way out, one of the soldiers at the gate said: "Just come back on Monday with a note from the colonel. Tomorrow is Good Friday; a public holiday."
Monday – back in Badjeck's office. Ordinary soldiers in the communication division were keen to talk about the Boko Haram trials and eager to hear what was happening at the military tribunal.
The colonel: less so. After agreeing, at least, to hear what I wanted, he shut up like a clam. "You know, this is a sensitive issue and I don't want to get myself mixed up in it," he said. Reluctantly, he took my written questions and promised to call back.
The rest of Monday went by. So did Tuesday, then Wednesday: still no call.
On Thursday 31 March, I was back at the defence ministry. Security had been stepped up following threats by Boko Haram to attack a major city in Cameroon. The ministry building is just a few kilometres from the National Assembly, the French embassy and the military headquarters.
Over the phone, the colonel told me he was in a meeting with Defence Minister Joseph Beti Assomo but would soon be back in his office. "Before we sit down to talk," he added, "let me inform you that the minister of defence has decided no one should talk about the trial and sentencing of Boko Haram suspects."
Not promising.
When Badjeck finally walked into his office, he sat stiffly behind his desk. "Like I said, no one is to be talking about Boko Haram trials. If you need further information, go to the presidency."
He added that Assomo, the minister, had banned an event by a movement attempting to publish the names of the 1,200 people killed by Boko Haram since the insurgency spilled into Cameroon from neighbouring Nigeria in 2013.
"When you see what is happening on the ground and read what the papers say, you wonder whether journalists are working for terrorists," he said.
He went to the picture folder on his computer and began pulling up images of dead bodies, limbs and body parts littered around the site of suicide explosions, and of children burnt to death in Boko Haram raids on villages.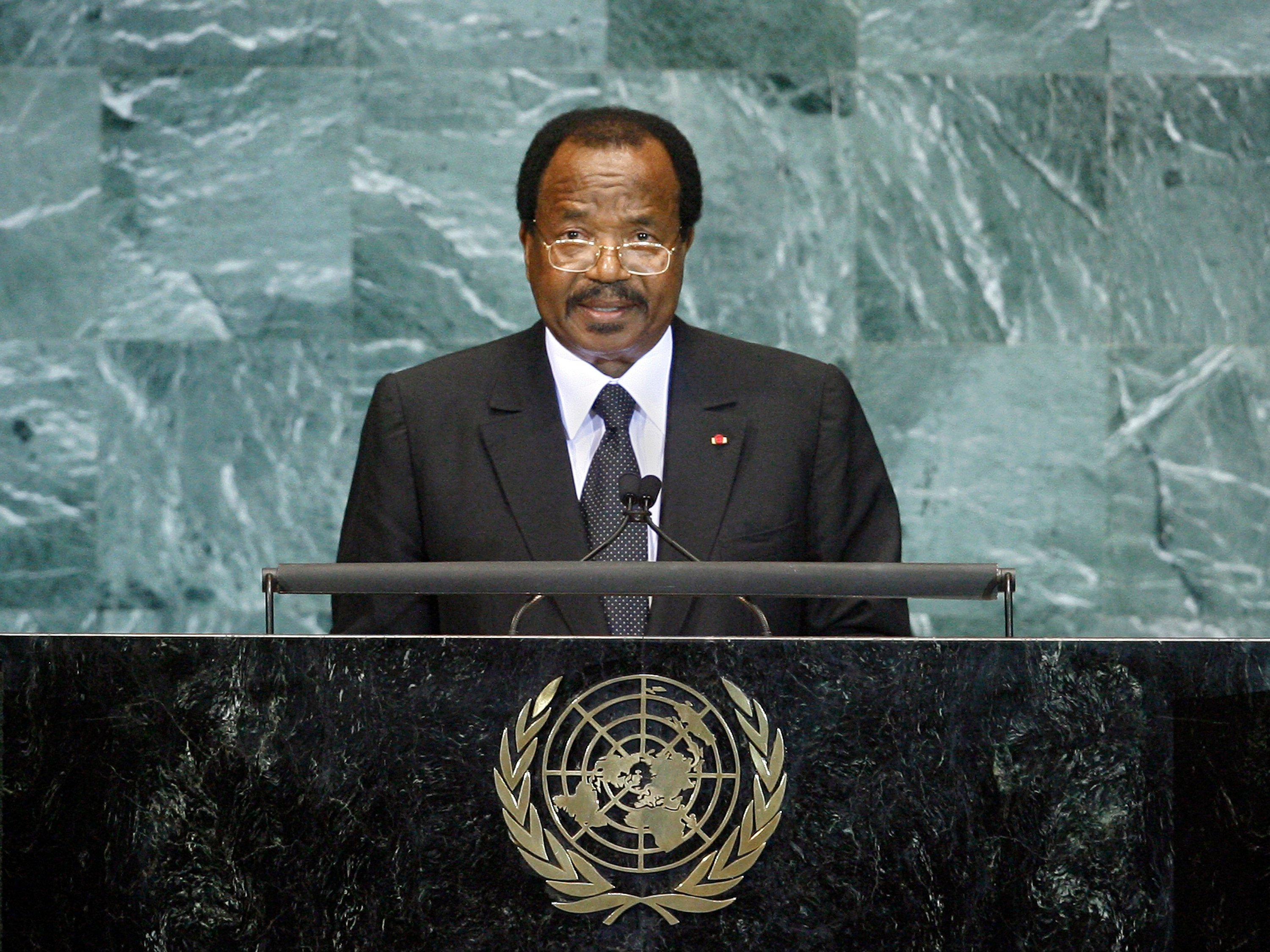 "These people have not done anything to deserve this. If you want to know what Colonel Badjeck thinks, I think those insurgents should be killed."
But he wouldn't say whether the 89 convicted men had had lawyers to defend them. Neither would he say when and how they were to be executed, or if they had been already.
"I cannot answer those questions," said Badjeck.
Guibai Gatama is the publisher of French bi-weekly L'Oeil du Sahel, which provides the most comprehensive coverage of Boko Haram.
He was behind the idea of publishing the names of the victims, and has been accused by the police chief of having links to the insurgents. He was my best last chance at finding anything out.
Boko Haram suspects are defended in court by lawyers hired by the state, he explained. "What the state gives the lawyers per case is not even enough to cover their transport fare to the courts. Can you imagine? They are paid 5,000 CFA (around $10) per case file.
"They are tried in classified groups. For example, 'Kolofata Attack': all insurgents captured during that particular attack are tried together and the defending lawyer is paid 5,000 CFA for the entire trial."
Under the anti-terrorism law, the decision of the military magistrates is final. There is no right of appeal.
The law prescribes the death sentence for anyone found guilty of activities that could lead to general rebellion or acts that disturb the normal functioning of the state; anyone who supplies arms, war equipment, or viruses with an intention of killing; anyone guilty of kidnapping with terrorist intent; anyone found guilty of financing terrorism indirectly or directly.
The death penalty also applies to "anyone who directly or indirectly finances acts of terrorism" and to "anyone who recruits citizens with the aim of carrying out acts of terrorism."
So did Gatama know what had happened to the convicted Boko Haram "terrorists"? Whether they were alive or dead? Unfortunately, he did not. The quest continues.
ms/oa/ag