One week after a tsunami alert was issued along the western coast of Indonesia, leading disaster experts and agencies warn there is little room for complacency.
"We must never let our guard down - there is always room for improvement," Ignacio Leon-Garcia, head of the United Nations Office for the Coordination of Humanitarian Affairs (OCHA) in Indonesia, told IRIN.
"The fact that most people in the affected areas were promptly alerted to the situation and moved to higher ground is testament to the effectiveness of the preparedness actions and early warning system."
On 11 April at 3:38 pm local time, an 8.6 magnitude earthquake struck 437km off the coast of Sumatra, one of Indonesia's westernmost islands, triggering a tsunami alert for Aceh, North Sumatra, West Sumatra, Lampung and Bengkulu provinces.
A second tsunami warning was raised two hours later in the wake of an 8.2 aftershock.
New early warning system
According to government officials, Indonesia now has a fully operational tsunami warning systemin place.
"Within about five minutes we can establish the details of an earthquake and what areas it will effect. All the data is then sent to a central decision support system so that our government can make an informed decision of what level of response is needed," said Surharjono, the director of the Earthquake and Tsunami Centre in the government's Meteorology, Climatology and Geophysics Agency, who, like many Indonesians, goes by only one name.
Indonesia now shares 70 seismographs (instruments that record the motion of the ground during an earthquake) with other countries in the region, and also has 250 seismic accelerators (instruments that measure the speed at which the ground is moving) of its own in place, he explained.
Sutopo Purwo Nugroho, the head of data and public relations at the government's National Agency for Disaster Management (BNPB), added that 180 tidal stations, 34 early warning sirens and 25 tsunami buoys had also been set up across the country.
History of vulnerability
Indonesia is located on the Pacific Ring of Fire, where 90 percent of the world's earthquakes occur, according to the US Geological Survey. The country is vulnerable to earthquakes and tsunamis, but the western coast of Sumatra has endured the greatest loss and damage.
In 2004, a massive 9.1 magnitude earthquake off the coast of Aceh, the most northerly province, triggered a devastating tsunami that took the lives of more than 130,000 people. Hamza Latief, an academic in the oceanography department at the Bandung Institute of technology (ITB), told IRIN that attitudes to tsunamis had changed since then.
"Three weeks before the 2004 tsunami, I was part of a meeting with district and provincial government representatives from all over the country," he said. "I was trying to raise awareness about the threat Indonesia faced from tsunamis, but no one was interested because they'd seen nothing on the scale of what we were all about to experience."
The country did not have a tsunami warning system in place in 2004, which meant that people on Sumatra had very little idea that waves up to 30 metres high were heading towards the island until they were almost washing over the land.
Today's vulnerabilities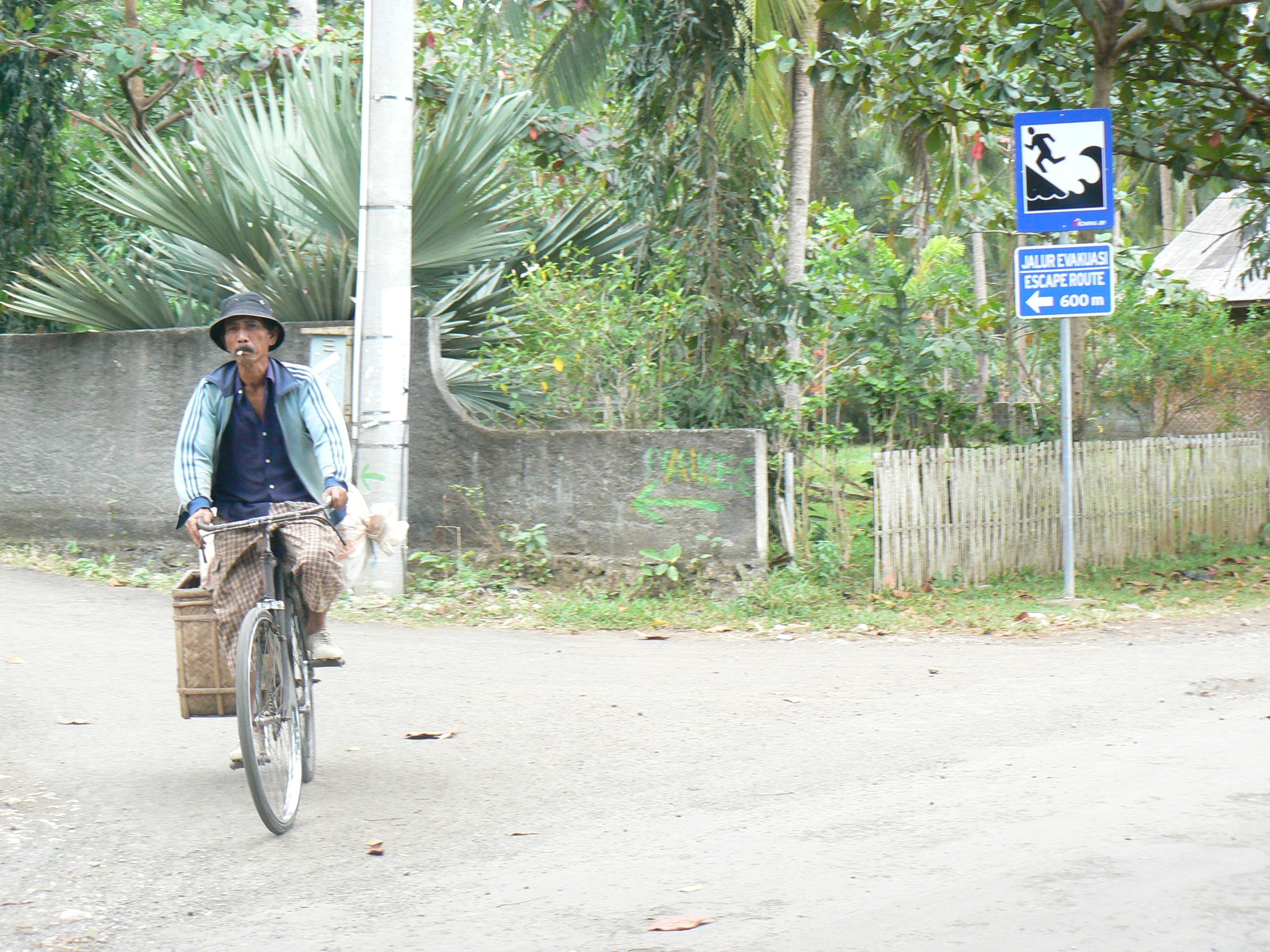 Despite improvements in how Indonesia is addressing this threat, the BNPB's Nugroho said that the national system needed to be strengthened. "In Aceh there were a total of six sirens in operation at the time of last week's earthquake, but only three worked," he said. "Two units did not ring at all, and one was delayed for 30 minutes."
Local media reported that Indonesian Vice President Boediono, who visited Aceh two days after the quake to evaluate response efforts, said that traffic had been paralyzed in Banda Aceh, the provincial capital, because people were fleeing coastal areas.
"We need to build many more shelters and additional sirens, so that it… [is] easier for people to reach higher ground," Nugroho noted.
Phillip Charlesworth, head of the Indonesian Red Cross Society's country office, pointed out that "The sirens are dependent on mains power, so when the power was knocked out due to the earthquake, some sirens couldn't function."
Although there were still sufficient units to get the message out, his concern is that sirens and buoys are often placed in remote areas. "One buoy located next to the epicentre of the earthquake didn't function," he noted.
The ITB's Latief said the use of early-warning buoys needed rethinking. "Buoys are vulnerable to vandalism… Perhaps we should look at using tsunami meters on the seabed. Below the surface, these detection units are less vulnerable."
When sirens are faulty, communicating the threat to remote rural areas is problematic. "People there have no internet or television access, so if a siren doesn't work, they have no way of knowing."
"The ground shook for three minutes"
Experts cited the traumatic impact that last week's events may have had on the local population, and Latief said this was an issue in Aceh that needed to be addressed. "Perhaps we need to look at better sign-posting to evacuation points, so that there is less panic on the streets like we saw last week."
Charlesworth of the Indonesian Red Cross said, "The panic related to people's concerns about the aftermath of a potential tsunami, rather than the earthquake itself, when the ground shook for three minutes."
Given their 2004 experiences, many residents in Aceh suffered relapses but Charlesworth said it was too early to say whether communities in Aceh were experiencing any large-scale psychosocial problems as a result of the recent alert, and Indonesian Red Cross teams were in Aceh assessing these needs.
mw/ds/he
---
This article was produced by IRIN News while it was part of the United Nations Office for the Coordination of Humanitarian Affairs. Please send queries on copyright or liability to the UN. For more information: https://shop.un.org/rights-permissions