Up to half a million people in the Pacific will lose their homes and their countries to rising sea levels because small island nations cannot persuade the rest of the world to reduce greenhouse gas emissions sufficiently, campaigners say.
The Alliance of Small Island States (
AOSIS
) is calling for a significant reduction in global emissions so the world's temperature does not rise more than 1.5 degrees centigrade above pre-industrial levels.
But after a week of negotiations in Bangkok before the UN Climate Change Conference in Copenhagen in December, developed and developing world countries have been unable to agree anything at all on emissions cuts, AOSIS said.
"We are not working through the options as negotiations, we are simply restating our positions. So we may arrive in Copenhagen with the parties still very far apart. It's really setting up Copenhagen for failure or an inadequate result," Leon Charles, chairman of the AOSIS negotiating team, who is from the Caribbean island of Grenada, told IRIN.
AOSIS, whose members are among the most vulnerable to climate change, "can't live with" global temperature rises of two degrees, a possible target mentioned in the Bangkok talks, Charles said.
"We want 1.5 degrees centigrade in terms of mitigation and significant scaled-up and easily accessible finance. It's about our survival," he said.
An
AOSIS statement
 issued after a preliminary meeting in New York in September said members were "profoundly disappointed" by the lack of will in the negotiations to protect small island developing states from climate change impacts.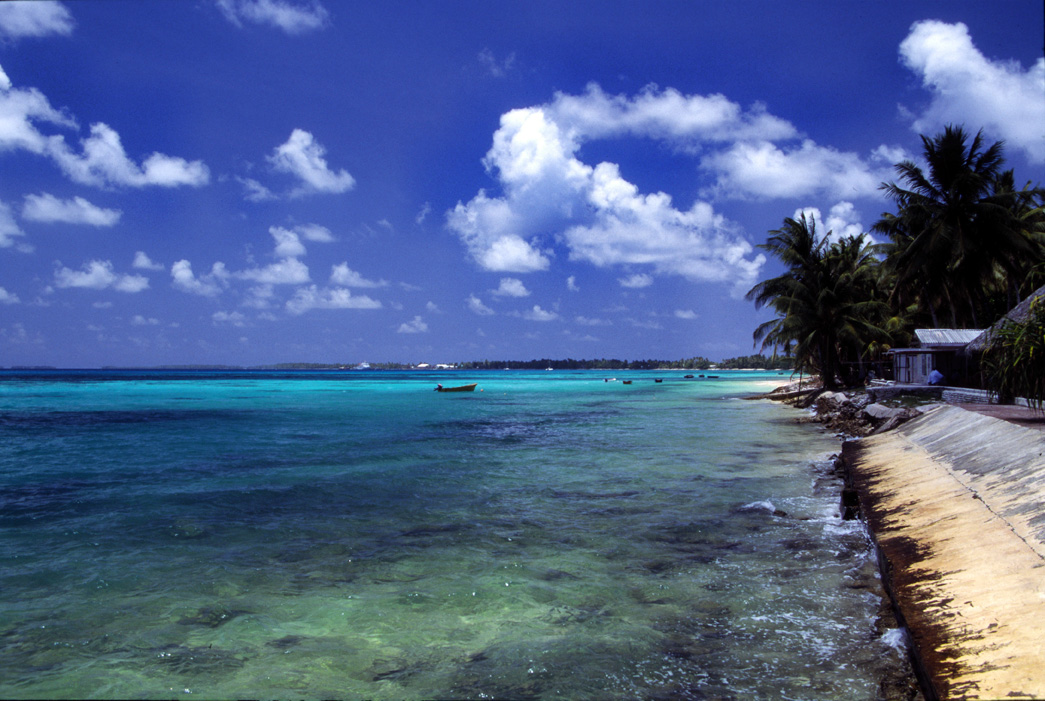 200910050910590906
Photo: Wikimedia Commons
A beach at Funafuti atoll, capital of Tuvalu, a Polynesian island nation located in the Pacific Ocean, midway between Hawaii and Australia. With a population of less than 12,000, Tuvalu is likely to disappear in the future because of rising sea levels

Relocation issues
Campaigners said AOSIS's prospects were dim, calling instead for more attention on how and where people from submerged countries would be relocated.
"Copenhagen won't be enough. The islands will sink. In the Pacific region, we are looking at about 500,000 people who will need to move. But the islands aren't talking about the migration issue," said Marstella Jack, a Micronesian former attorney-general, who was in Bangkok with observers from the Climate Action Network.
Jack said leaders were "too chicken" to address the issue. "They don't have the leverage to fight the issue with the developed world. Migration will hit us in the face before we realise it. But what happens to the sovereign country of Tuvalu, for example, if the land is gone?"
Tuvalu, with a population of less than 12,000, is heavily flooded every spring by ever more destructive tides. The total land surface of Tuvalu, which comprises nine small coral atolls, is 26 sqkm and on average, it is less than 2m above sea level.
"We are just waiting, and when the time comes, we won't be Tuvalans any more, just climate change refugees," said Taukiei Kitara, of the Tuvalu Association of NGOs.
So far, only Mohamed Nasheed, president of the Maldives, has spoken openly about moving all 370,000 residents to another country if, as looks likely, rising waters cover the islands, most of which are less than 1.5m above sea level.
"There are tons of legal and sovereignty issues and we are negotiating aggressively. There are huge complications down the line and if we can avoid these through a strong climate change agreement, let's do so," said AOSIS's Charles.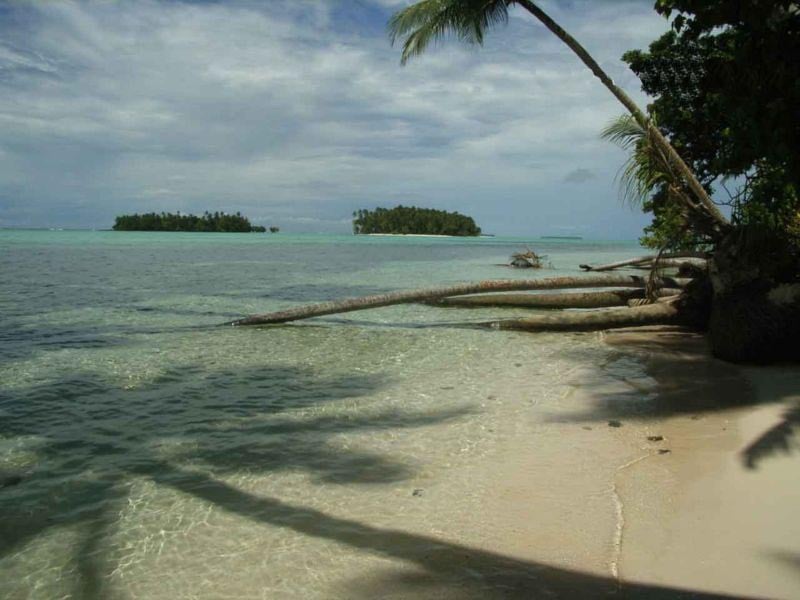 200806084
Photo: Pip Starr
The view of Han island from Yolasa island, both part of the Carteret Islands of Papua New Guinea. Han used to be one island but has now been bisected by rising sea levels

Losing identity
Any kind of displacement is a big issue in Pacific island culture, which links identity to land, Jack said. It is estimated that Micronesia's low-lying islands, where most of the population lives, will be submerged by 2030.
"Our identity is tied to the tiny island we are from … So losing the land is losing our survival, because the very sense of survival is that piece of land," she said.
"And once the island is gone, it's gone for ever and there's no identity left. That's the biggest problem that we have, and we would have it even if the Australian government were to carve out a chunk of Queensland and say we could have sovereignty over it, which they aren't likely to do."
Some AOSIS members face different problems. The Caribbean island of Antigua and Barbuda has become so storm-wracked that 10 years from now, banks will cease insuring new projects, spelling an end to economic development, said Diann Black Layne, an ambassador in the islands' Ministry of Foreign Affairs.
But for the Pacific Islanders watching the water slowly rise around their homes, climate change is no longer about economics.
"The world is thinking about trade. But that's not what climate change is about – it's about us living, not drowning," said Jack.
ts/ey/mw
---
This article was produced by IRIN News while it was part of the United Nations Office for the Coordination of Humanitarian Affairs. Please send queries on copyright or liability to the UN. For more information: https://shop.un.org/rights-permissions