Sindani Fuketi, a 66-year-old father of four, was woken up by the wetness of his mattress to find his house submerged in flood water.
The Ramisi River in the Kenyan coastal district of Kwale had breached its banks and Nikaphu village was under water. Fuketi and members of his family waded through the raging waist-high water, which kept rising.
"We decided to climb trees, but the water continued to follow us up the trees," he said. Marooned with his fellow villagers, Fuketi was eventually rescued by soldiers from the Kenya Navy, but a five-year-old girl drowned during the rescue effort.
"We have lost our homes and everything we had. I came here in my underwear," Fuketi told IRIN. He and his fellow inhabitants of Nikaphu are now housed in a crumbling building in the compound of the disused Ramisi Sugar Factory.
"The roof [of the factory building] has fallen apart and leaks heavily whenever it rains," said Simon Matsungu. "It is just like living in the open," he said, adding that food supplies donated by the Kenya Red Cross Society and other well-wishers often got rained on. Wet maize meal and rice easily go bad, but the flood-displaced people of Kwale can hardly afford to discard it. They would have nothing else to eat.
Damaged bridges
Other villages in Kwale District, such as Vanga, where residents have also been left homeless due to flooding, are still inaccessible after a bridge was damaged by flood water.
The floods have also damaged bridges along the main road linking Mombasa with neighbouring Tanzania. Repair crews are working round the clock to repair the road.
The Tana River, which runs through the area, has been rising rapidly after heavy rainfall and there are fears that some of the water in the reservoirs will have to be released, submerging large areas of Northeastern and Coast Provinces.
In northeastern Kenya, the situation is even more grim. According to the United Nations refugee agency (UNHCR), more than 78,000 refugees have been left without shelter, food or drinking water after torrential rains in the semi-arid region surrounding Dadaab, 100 km from the Somali border.
Small groups of men could be seen walking along the washed-out road between Daadab and Ifo, the worst affected sub-camps, on Monday, wading through knee-deep water in places. Kenya Red Cross trucks ferried the sick and elderly.
Most refugees in the camp live in flimsy shacks made of twisted sticks and plastic sheeting, which offered little resistance to the rising water.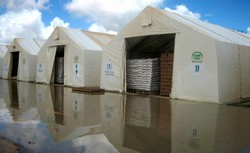 UNHCR has launched a massive operation to move tens of thousands of Somali refugees living in the camps to higher ground, after rising flood waters inundated their shelters.
Some refugees had not moved, however, saying they wanted to make sure everything was in place at the new site. Abdullahai Abdi, 24, said: "I have a job here translating for the United Nations. If I move I may lose this work and my entire family is dependent on me," he said, pointing to where the floods had washed away the mud walls of his house.
"This is an emergency that surpasses the resources we have," said the UNHCR's senior emergency officer, Geoff Wordley, adding that the challenge facing the aid organisations in Dadaab was "of a magnitude rarely seen in refugee operations".
According to UNHCR, emergency funding of US$3.2 million has been approved to deal with the crisis, but a senior official in Dadaab said he suspected the figure needed was closer to $8 million.
"We have nowhere to run, nowhere to hide," said 16-year-old Osman, laughing nervously as news of the evacuation spread.
Aid agencies have ear-marked a site adjacent to the Hagadera sub-camp for the evacuees. The land is flat, sandy and strewn with thorn bushes. Crucially, however, it is a few metres higher than at Ifo. But they will be starting from scratch and will have to build boreholes, medical facilities and food-distribution centres.
Over the weekend a UN-chartered cargo plane made shuttle runs between the Kenyan capital, Nairobi, and Dadaab, delivering 25,000 tarpaulins, emergency health kits and fuel supplies. More flights are expected this week as the roads remain impassable, officials said.
Race against the clock
The unseasonably heavy rainfall has left Dadaab cut off from the rest of Kenya. The only road to the provincial capital, Garissa, has been washed away, making the logistical challenge for humanitarian organisations even harder.
Aid agencies struggled to deliver emergency food and medical supplies to Ifo, as their vehicles became bogged down in waist-deep water and thick mud.
Forecasts suggest up to 75mm of rain could fall over the next few days, making waterborne diseases the greatest threat facing those still in the camps.
With no access to tap water, women have been collecting floodwater contaminated with human and animal faeces for drinking while children oblivious to the dangers have been playing in pools of stagnant green water.
Despite the floodwaters receding over the weekend, aid workers are reporting deteriorating conditions in Ifo and Dagahaley camps. Health facilities have been severely damaged and Médecins Sans Frontières (MSF) says it is calling in an emergency team from Geneva.
"At the moment we have mainly diarrhoea, breathing problems and scabies," said Giza Kohler, MSF medical coordinator in Dadaab. "What we are expecting are more waterborne diseases like cholera, but these will come up in the next week or so."
rl/jn/mw/eo
---
This article was produced by IRIN News while it was part of the United Nations Office for the Coordination of Humanitarian Affairs. Please send queries on copyright or liability to the UN. For more information: https://shop.un.org/rights-permissions