On a rubbish dump behind the back of a recently built government hotel in Malakal, a conflict-hit town in the northeast of South Sudan, a group of youth discussed their dim prospects of employment.
One said that after finishing school he had worked as a teacher, not for a wage – he hadn't been paid in months – but just to have something to do. Others, he said, labour for a pittance on sesame farms, or open small shops selling phone credit and basic goods.
But the group agreed that these forms of work didn't enable them to build flourishing lives. They saw them as merely ways to try to make ends meet while waiting for the true prize in Malakal: a job with a UN agency or an international NGO. 
As South Sudan's private sector has collapsed and the government has almost totally withdrawn from being a provider of wages, aid agency employment has become the locus for young people's dreams. Jobs in the humanitarian sector offer the promise of a regular salary, often paid in dollars.
But the centrality of aid agency wages to South Sudanese lives has created friction too. Competition for positions in the sector is fierce, and local communities often feel like jobs are given to citizens from far away regions.
The issue has come to a head in recent months as youth groups have protested – often violently – against aid agency hiring practices and employment conditions, leading in some cases to the evacuation of aid workers and the suspension of humanitarian services.
The hostility against aid agencies comes as South Sudan faces multiple humanitarian crises. A third year of mass flooding has affected nearly 800,000 people, while conflict persists despite a peace agreement and a unity government formed last year.
Youth protests have taken place across the country – in Aweil, Bentiu, Pibor, and Yambio, among other locations – but what participants are demanding is relatively uniform: that humanitarian agencies recruit staff from the local communities they work in.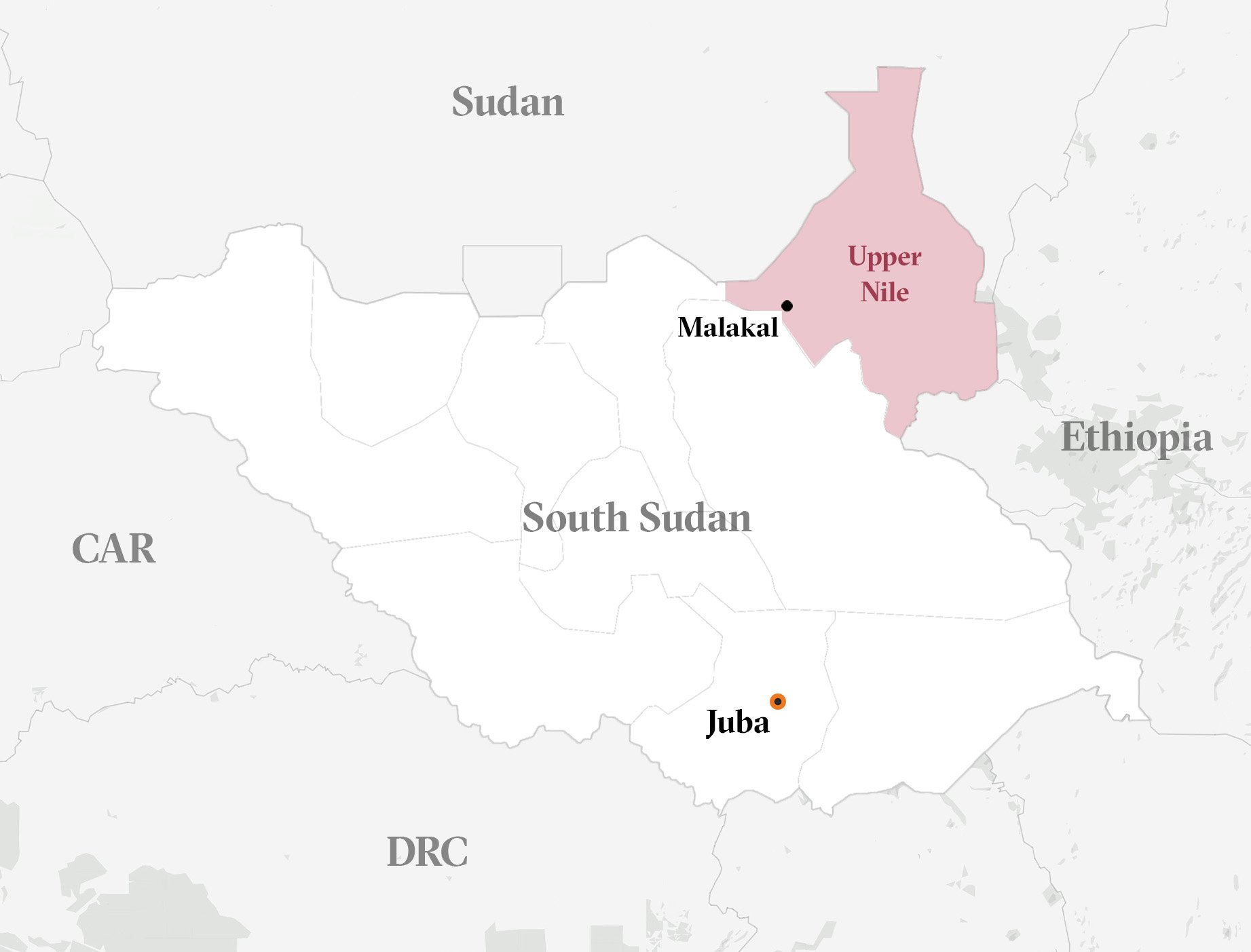 "We can do these jobs," said Akol Nyok, a representative of the Renk Youth Union, which is in Upper Nile state, where Malakal is also located. "But the NGOs recruit from outside Renk. That does not benefit the local community."
Aid agencies initially reacted to the protests defensively, arguing that 80 percent of their staff are South Sudanese nationals, as is stipulated by national labour law. In some cases, they appealed to the government to help protect humanitarian assets and staff, further antagonising the youth unions.
But there now seems to be growing recognition that the youth's complaints have merit. Many aid agencies have tried to become more transparent in their hiring policies, with some humanitarian workers now describing localisation as "the order of the day".
Localising jobs has clear benefits. Wages paid to staff go straight to communities, rather than flowing elsewhere and, as one analyst told The New Humanitarian, localisation cements links between residents and aid workers, improving project planning and security.
But there are drawbacks too. In a country that has seen widespread displacement and contention over land since the beginning of the civil war, deciding on who is 'local' means intervening in tough political issues – issues aid agencies often neglect.
Language barriers and nepotism
The demands youth are making reflect a growing governance crisis in South Sudan. Many officials who have taken office in the unity government are perceived as lacking in legitimacy. With no responsive representatives, youth turn to aid agencies to articulate claims about their socio-economic rights.
Their grievances have grown as South Sudan's economy has struggled under the economic impact of COVID-19, years of war, and rampant inflation. Recent flooding has also destroyed arable land and pushed many into cities – part of a long-term trend that has seen people become increasingly urbanised and reliant on wage labour for survival.
Things used to be different. In the boom period that followed the signing of the 2005 Comprehensive Peace Agreement – which ended a civil war in Sudan – oil revenues and donor funds paid for an expansion of the government, particularly in the security sector. 
But since 2020, South Sudan has entered a fiscal crisis, exacerbated by a global collapse in oil prices. International Monetary Fund loans and a resurgent oil market have staved off total disaster, but the government has still had to suspend payments of wages to civil servants and members of the security sector.
More than half of the country's youth are, meanwhile, without work, and only 12 percent have formal jobs. Given that 72 percent of South Sudan's population is under 36, that means the vast majority of the country has no formal employment.
"I've seen hiring practices in aid organisations which are definitely insensitive to local dynamics."
In a moribund economy, aid agencies provide some of the best opportunities going, with salaries often acting as a social security net for the extended families of those employed.
At the rubbish dump in Malakal, another young man said a job he previously had with an NGO helped feed and pay the medical bills for 20 members of his family. Others said they saw securing jobs as the main benefit of having aid groups operate locally.
But aid agencies – which see themselves primarily as providers of humanitarian services rather than jobs – struggle to match the expectations local communities have. Employment in the sector is mainly short term: often three-month contracts, or in some cases, day labour.
Though NGO recruitment guidelines set by South Sudan's Ministry of Labour state that organisations should give priority to locals, no precise numbers are given and various access barriers exist for communities.
Language is a key one. The lingua franca of humanitarian organisations is English, which means staff who have received an English-language education – from the Equatorias, or in the refugee camps of Kenya and Uganda – tend to get jobs more easily than the Arabophone north of South Sudan
One humanitarian official, who asked not to be named in order to speak freely on a sensitive issue, said that certain families or groups often come to dominate the HR departments of aid agencies, leading to nepotism, if not outright corruption, in recruitment.
"I've seen hiring practices in aid organisations which are definitely insensitive to local dynamics," said Mark Millar, a conflict analyst in South Sudan for the Norwegian Refugee Council. "When you have local communities that have been historically marginalised, outsiders taking precious employment is hard to take."
Competition for humanitarian work has also grown more intense over the last year as shifting donor priorities and pandemic-induced cuts have forced aid agencies in South Sudan to slash budgets and services.
Candidates for humanitarian jobs in the administrative area of Ruweng described competing against hundreds of others, many of whom were overqualified for the positions for which they were applying. 
The livelihoods of entire families ride on who gets a job.  
Compounds attacked, protesters arrested
It is not surprising, then, that recent tensions have turned violent. In October, a youth union in the eastern town of Pibor sent a letter to humanitarian agencies working in the area demanding that almost all non-local national staff leave.
The youth then attacked humanitarian compounds and attempted to remove employees. In response to these threats, aid agencies evacuated their relocatable staff and suspended operations in the Greater Pibor Administrative Area.
Trouble has also broken out in Jamjang county – in Ruweng Administrative Area – at the site of the refugee camps of Ajuong Thok and Pamir, which host people displaced from neighbouring Sudan.
Aid agencies working in the two camps provide much of the available employment for local youth. But after a project was transferred from one NGO to another in early 2021, the latter organisation elected not to renew some contracts, leading to local discontent.
"He is only there to stop us protesting."
Complaints focused on the NGO's hiring of personnel from elsewhere in the country, rather than – the protesters claimed – equally qualified local youth. On 25 April, young men led an assault on the NGO's compound, demanding non-local staff leave. The attack forced peacekeepers to intervene.
A protester involved in the compound attack said it had caused heads to turn. "We wrote letters for two years," they said, requesting anonymity. "But [the NGOs] did nothing. Now, they are paying attention to us."
South Sudan's government, for its part, has either tried to co-opt the protests or stamp them out, conscious that its near-total withdrawal from the provision of services and wages is only tenable if aid agencies fill the void.
Repeated demonstrations in Renk this year, for example, were met with a violent response from the county commissioner and the arrest of many of the protesters. In Ruweng, the government intervened in a July youth union election to push through its preferred candidate against more restive contenders. 
"We call him the defunct chairperson," said one youth in Ruweng, who asked not to be named, "because he is only there to stop us protesting."
The politics of localisation
In response to the protests, aid agencies have instituted new policies including the local advertisement of jobs and widespread adoption of localisation as a human resources policy.
These policies have been commended but they could play into dangerous dynamics. Hostility towards non-local employees mirrors the increasing ethnicisation of politics throughout South Sudan, and reflects the acute absence of a national compact.
The question of who counts as local is nettlesome. At a UN-protected displacement camp in Malakal, for example, one young ethnic Lou Nuer man told The New Humanitarian he was unable to find an aid agency job, partly because locals tell him he is not from Upper Nile and should return to Jonglei, from where he fled clan violence.
Meanwhile in Renk, the local population is the Abialang Dinka, and it is they who have demanded the localisation of job hires. However, much of Upper Nile – where Renk is located – is contested between different ethnic groups.
Ensuring locals are given jobs will only be the beginning of the youth unions' struggles. Aid agencies remain hesitant to see themselves as employers and don't provide working environments predicated on the long-term contracts, health benefits, and strong union protection that their foreign employees might expect in their countries of origin.
Ultimately, despite recent measures put in place by aid agencies, youth protests are unlikely to end. In a situation of economic collapse, the unions are asking humanitarians to provide jobs that will enable South Sudan's youth to imagine a better future. In a situation of funding shortfalls, it's not a demand that humanitarian agencies can answer.
Edited by Philip Kleinfeld.