On the outskirts of Nigeria's northern city of Kano is bustling Dawanau, West Africa's largest grain market. Fortunes change hands here daily, with sacks of millet, sorghum, and cowpeas loaded onto trucks for delivery to countries as far afield as Chad, Mali, and Senegal.
But away from the hubbub of Dawanau, the smallholder farmers who produce more than 90 percent of Nigeria's food face an uphill battle to maintain that supply.
Northern Nigeria's vast plains are ideal for agriculture – and rice is an especially lucrative crop. The staple is a must-have at any social event and a cornerstone of some of the country's most popular dishes, including the ubiquitous spicy favourite, "Jollof".
Nigeria is both the largest rice producer in Africa and the continent's biggest importer. The supply shortfall is made up with imports – mainly from Thailand and India – valued at more than $8 million per day.
As with rice, so with wheat, maize, and other grains: Nigeria, with a population of 190 million, is a significant producer, but also a net importer.
So given its abundant arable land, why can't Nigeria support its farmers to grow more food and plug the foreign exchange drain?
The answer lies in the dominance of oil. Until the country's oil boom in the 1970s, agriculture was Nigeria's economic mainstay, able to meet both local demand as well as generate export earnings.
Crude oil changed that. With staggering amounts of easy money sloshing through the political system, agriculture languished.
Today, Nigeria's annual food import bill is around $20 billion.
But a combination of dwindling oil revenues and dollar shortages has persuaded the government of President Muhammadu Buhari to make agriculture a priority again.
Grow-your-own
Under the slogan of "We must produce what we eat", the government is encouraging agribusiness as a way to drive economic growth, and as the path out of poverty and food insecurity for millions of smallholder farmers.
The government has set ambitious targets of becoming self-sufficient in rice production by 2018, and turning a net exporter by 2020.
To create incentives for domestic production, the Central Bank of Nigeria (CBN) has restricted the allocation of dollars for the importation of a series of food items, and hiked import duties – from 10 to 60 percent in the case of rice. It has also restricted imports across land borders to crack down on smuggling.
When Africa's richest man, Aliko Dangote, announced earlier this year that he was making a $1 billion investment in Nigeria's rice production, it seemed to vindicate the government's approach.
The Dangote Group plans to produce one million tonnes of parboiled milled rice over the next five years, equivalent to 16 percent of domestic demand.
Other big players have also jumped in, including the Lagos-based conglomerate TGI, which opened a rice mill in August with a capacity of 120,000 tonnes, and Olam Nigeria, part of Singapore-based Olam International, which plans to boost its existing rice output.
A number of government initiatives are in place to promote small-scale agriculture. They include the CBN's $300 million Anchor Borrowers' Programme, introduced in 2015 to provide cheap loans and input subsidies for hundreds of thousands of smallholder farmers.
The World Bank is also supporting the government's agricultural transformation strategy with a $200 million loan to support small- to mid-scale rice production.
The government's grow-your-own push seems to be working. Cereal production has increased, despite the impact on farming of the Boko Haram insurgency in northeastern Nigeria, and rice yields are also up, helped along by higher rice prices.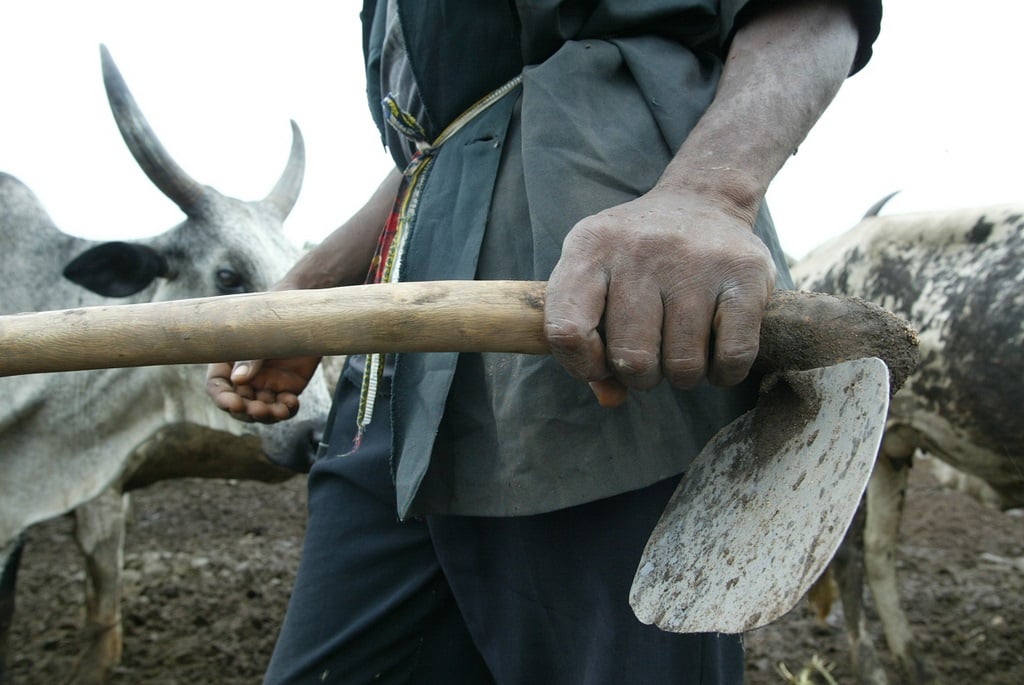 Hard work with little help
But most Nigerian farmers still struggle, noted Mahmoud Daneji, managing director of the Kano State Agricultural and Rural Development Authority.
He is critical of the government's top-down approach. "You may have a very laudable programme, but in as much as there is no input from the potential beneficiaries, it will definitely fail," he told IRIN.
Daneji ticked off a list of problems farmers face that includes the lack of access to quality seeds, fertiliser, effective agricultural extension systems, and access to credit for those who need it.
Despite the raft of initiatives aimed at boosting output, farmers still typically work with their bare hands in fields lacking irrigation, live in areas with poor roads that limit their access to markets, and are facing a growing threat of climate change without advice on how to adapt.
In a survey last year, farmers cited the lack of fertiliser as their biggest problem by far, despite a long-running government input programme. Nearly three quarters of respondents said they were unaware of any government interventions aimed at helping them.
Abdulrashid Magaji, Kano State chair of the All Farmers Association of Nigeria, told IRIN that's because the bulk of government programmes rarely reach their intended target. They go instead to "political favourites and close associates of politicians," he alleged.
For example, the CBN launched the Nigeria Incentive-Based Risk Sharing System for Agricultural Lending in 2013 to increase access to bank credit.
But this year only 3,700 farmers out of 523,000 in Kano are on track to receive the loans. The vast majority are unaware of how to access the much-needed financing through NIRSAL, said Magaji.
Nigeria's disconnected farmers have to rely on middlemen, reducing their profits, because of a broken value chain, inadequate storage facilities, and a lack of organised market information systems.
"Here, our farmers are left on their own," said Jibrin Jibrin, director of the Centre for Dryland Agriculture at Kano's Bayero University. "Economists from the World Bank will tell you not to protect the market, but the system doesn't work for our farmers."
Dangote's rice and tomatoes
Dangote's rice initiative is taking on some of these issues. Its "outgrower scheme" plans to provide inputs such as seeds and fertiliser, as well as training for nearly 50,000 medium and smallholder farmers who then provide their land and labour.
The company says it will pay the farmers the average market price for their rice at harvest, after recouping the cost of the inputs it provided.
But the majority of the smallholders who spoke to IRIN in Kano were unconvinced by the scheme. They doubted they would really get a fair price, and that they could meet the company's quality control standards.
Some pointed to the failure of an earlier Dangote project, a $13 million tomato paste factory set up in Kano last year, as reason to be concerned.
The plant is currently lying idle even though it signed deals with some 5,000 farmers to supply the tomatoes that would be turned into an annual production of over 400,000 tonnes of paste. 
On paper it made perfect sense. Nigeria produces some 1.5 million tonnes of tomatoes each year, tomato paste is an ingredient in most Nigerian meals, and, with the government threatening to ban imported paste, a local factory seemed an investment winner.
But farmers were unable to produce the quality and quantity of tomatoes the state-of-the-art plant needed.
Firstly, a pest, the Tuta absoluta moth, wiped out much of the harvest. But then it was the same old underlying problems – a lack of fertiliser, poor irrigation, low quality seed, difficult roads and no cold storage – that really undermined progress.
The poverty of rural infrastructure means Nigeria's post-harvest losses could be as high as $9 billion annually – much of that burden falling on small-scale producers.
Since the 1970s there have been a raft of high-profile government campaigns to fix agriculture. Incrementally, Nigeria seems to be slotting the pieces into place, but getting to the final stage – a country able to feed itself – still eludes policy-makers.
"I pity myself, I pity farmers, I pity the association, because we have a lot of problems," said Magaji, Kano chair of the farmers' union. "Sincerely speaking, we have a long way to go."
lu/oa/ag