The humanitarian crisis unleashed by drought in Somalia has again highlighted the close links between extreme weather and food security. But how exactly are the two connected? And what can farmers in developing countries do to lessen the negative effects of climate change? This Q&A provides an overview of the key issues, with a focus on smallholders in Africa.
What is food security?
The term may sound like jargon for simply having enough to eat or knowing where one's next meal is coming from, but food security is a multifaceted concept that has evolved significantly over time. According to the current UN World Food Programme definition, people are said to be food secure when "they have availability and adequate access at all times to sufficient, safe, nutritious food to maintain a healthy and active life." In other words, it's not just about now, but the foreseeable future; and it's not just about food, but the right kind of food, and the ability to prepare it safely. "Access" is a key component of this definition: even when there is plenty of food in markets or granaries, people will be food insecure if they cannot afford to buy it, or have nothing to barter for it. Even famines sometimes occur when food is available but not accessible.
To help aid agencies respond effectively to a food crisis in Somalia, a system was established in 2004 to precisely define and analyse local food insecurity, using a scale consisting of five categories: None/Minimal, Stressed, Crisis, Emergency, and Humanitarian Catastrophe/Famine. The evidence-based Integrated Food Security Phase Classification system, run by a range of UN agencies and NGOs, and which was thoroughly updated in 2017, has now been adopted in 25 countries across the world.
How does climate change affect food security?
One of the key effects of climate change is that extreme weather events such as floods, droughts, heatwaves, and rainfall variations become more frequent and more severe. Rising sea levels linked to climate change cause coastal erosion and loss of arable land. Rising temperatures encourage the proliferation of weeds and pests and threaten the viability of fisheries.
All this has a direct impact on agricultural production, on which the food security of most people in developing nations primarily depends. This is because agriculture in these countries is almost entirely rain-fed, and so when rains fail, or fall at the wrong time, or major storms strike, entire crops can be ruined, key infrastructure damaged or destroyed, and community assets lost. Consequently, climate change is widely seen as the greatest threat facing the estimated 500 million smallholder farmers around the world.
According to the WFP, "Changes in climatic conditions have already affected the production of some staple crops, and future climate change threatens to exacerbate this. Higher temperatures will have an impact on yields while changes in rainfall could affect both crop quality and quantity."
Rising grain prices and falling yields hit the world's poorest people hardest, as they spend most of their income on food. In the long term, climate change could "create a vicious cycle of disease and hunger", WFP warns.
By 2050, child malnutrition is expected to increase by 20 percent relative to a world with no climate change.
Meanwhile, the world's population is set to reach nine billion by 2050. With more people eating meat and dairy products, and more farmland given over to biofuel crops, the UN's Food and Agriculture Organization believes that (to satisfy demand in 2050) global food production will have to increase by 70 percent over 2005 levels.
This report from the International Food Policy Research Institute analyses in great detail the effects of climate change on agriculture, with an emphasis on developing countries.
Why is agriculture in Africa especially vulnerable?
Smallholder farmers account for some 80 percent of food production in sub-Saharan Africa. With only a tiny proportion of farmland under irrigation, and reliable water sources becoming scarcer, most crops depend on rainfall, which climate change is making increasingly erratic and unpredictable.
Farming in Africa is often done in marginal areas – such as flood plains, deserts, and hillsides – where ever more frequent weather shocks cause severe damage to soil and crops. While there have always been variations in climate, the current pace and intensity of these changes mean that traditional methods of adapting to changes in weather patterns are no longer sufficient.
The millions who raise livestock in more arid areas of Africa are particularly vulnerable to extreme weather, as the current drought affecting Somalia and Kenya demonstrates.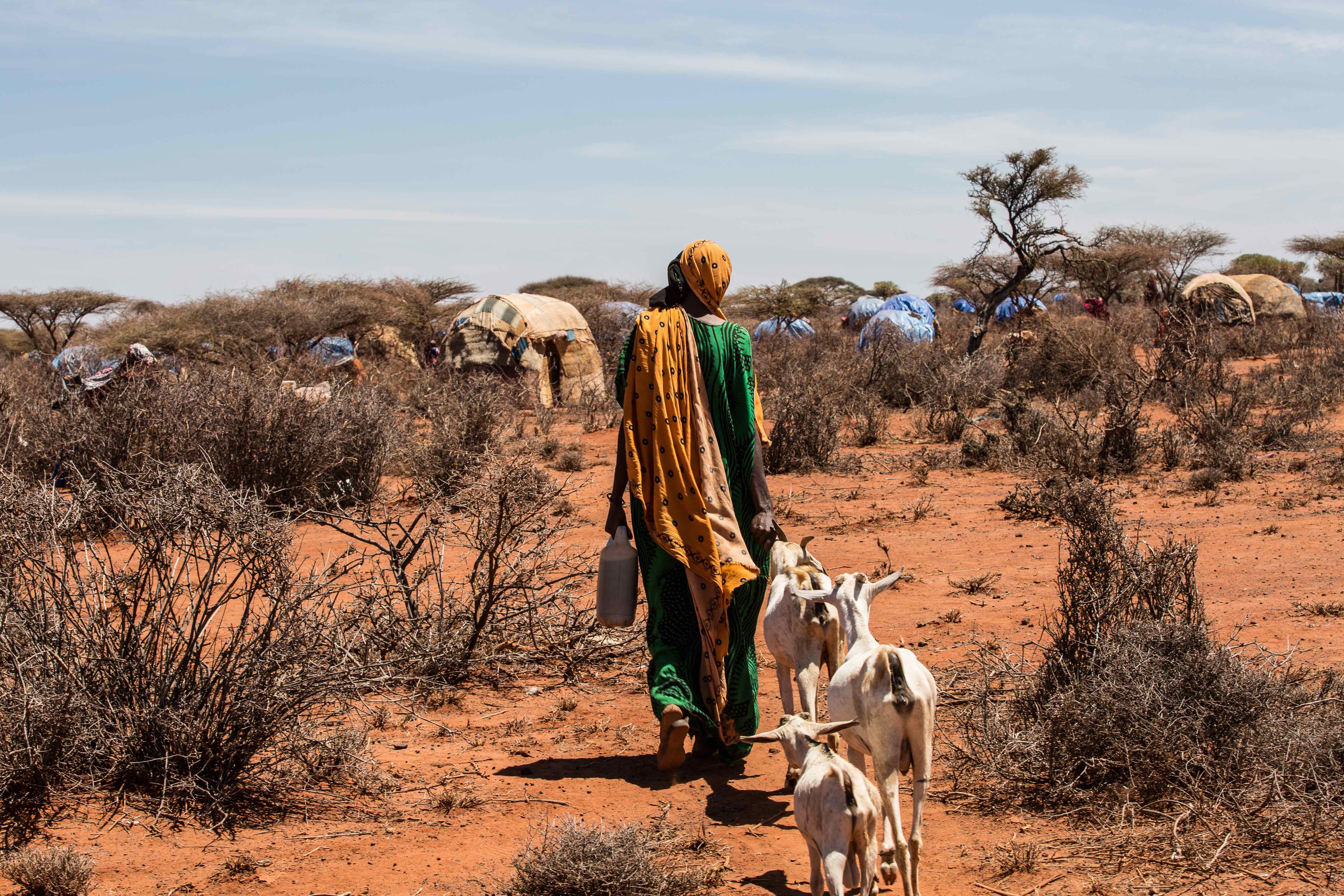 When shocks do occur, and crops are ruined or livestock dies, the endemic poverty of most rural farmers means they have little to cushion them in terms of savings and stockpiles.
Few African smallholders own the land they cultivate, so they have difficulty in obtaining credit for inputs, such as fertilisers and pesticides, or machinery. Many also lack the ability to store their crops, while poor infrastructure often limits their access to markets. Modern yield-boosting technologies, as well as insurance policies, are beyond the reach of many smallholder farmers. Even when farmers do have extra cash, there is little incentive to invest in the land they farm if they lack the title deeds.
According to the fourth assessment report of the UN Framework Convention on Climate Change, "Africa is likely to be the continent most vulnerable to climate change. Among the risks the continent faces are reductions in food security and agricultural productivity, particularly regarding subsistence agriculture, increased water stress and, as a result of these and the potential for increased exposure to disease and other health risks, increased risks to human health."
For further information about climate change and Africa, read this factsheet from Africa Check.
What can African farmers do about it?
Changes made to mitigate the effects and risks of climate change, whether at the regional, national, or very local level, are known as "adaptation". Smallholder farmers facing weather shocks and other climate-change related events are already using a variety of adaptation measures. These include diversifying and rotating the crops they grow, engaging in non-agricultural income generating activities, adjusting the times they sow their lots, conserving soil and water, building irrigation systems and flood defences, using more inputs such as fertilisers, sowing improved seeds, planting trees, and integrating crops with livestock.
Farmers need support from their governments to make the right adaptation choices. This support can take the form of more reliable and localised weather forecasts, subsidies for inputs, well-trained extension workers, better facilities for livestock health, well-funded agricultural research, and improved rural infrastructure such as road networks.
This academic paper uses Ethiopia as a case study detailing how farmers are adapting to climate change. This one focuses on Uganda.
Our own special project on climate change and food security includes field-level reportage on local adaption initiatives in Kenya, Nigeria, Senegal, and Zimbabwe.
This document explores in detail how countries intend to address agricultural adaptation within the context of the UNFCCC. 
What about the money?
Although it directly affects the livelihoods of billions of people, agriculture has long received only a fraction of overall climate finance. According to this World Bank report, agriculture, forestry and other types of land use combined received just $6-8 billion of the $391 billion spent on climate finance globally in 2014. Mitigation – reducing emissions and transiting to low carbon economies – has traditionally received three times as much as adaptation.
But the importance of investing in climate-resilient agriculture is gaining recognition, notably in the Sustainable Development Goals and in the Paris Agreement of the UN Framework Convention on Climate Change (UNFCCC), both adopted in 2015.
Most countries party to the UNFCC have included at least some estimates of the costs of agricultural adaption in their individual climate change action plans, known as Intended Nationally Determined Contributions. Details of many INDCs can be found here and further analysis can be found here.
The newest and largest source of climate finance, the $10-billion Green Climate Fund, aims to balance its resources equally between mitigation and adaptation. Precisely what effect US President Donald Trump's withdrawal from both the Paris Agreement and the GCF will have on agricultural adaptation finance remains to be seen, but experts are pessimistic.
Globally, there are more than 50 different funds supporting adaptation projects. Some of the most important ones are outlined in our factsheet on adaptation finance.
See also: our Briefing on climate financing.
am/ag