If the fighting in Juba between the forces of President Salva Kiir and Vice President Riek Machar marks South Sudan's return to civil war, it won't be for a lack of warnings over the shakiness of the peace.
The power-sharing agreement that saw Machar return to Juba in late April was always going to be difficult to implement. There were already concerns about the demilitarisation of the opposing armies, issues over drafting a new constitution, and, thorniest of all, Kiir's determination to create additional states – opposed by Machar and the international community.
Machar's return marked the end of a two-and-a-half-year civil war in which government and opposition forces alike committed mass atrocities against civilians. Much of the brutality took place along ethnic lines, with Kiir's largely Dinka soldiers targeting civilians of Machar's mainly Nuer people, and vice versa.
Read more

South Sudan - five charts at age five

Can South Sudan's peace deal stick?
After five days of fighting in Juba, the situation remains confused. Hundreds of people have been killed in the violence, in which heavy artillery and helicopter gunships have been used. Thousands more have been displaced, fleeing the city or looking for refuge in churches, schools, and NGO compounds. The humanitarian community is in lockdown.
"Some neighbourhoods have been badly hit and you can imagine that after five days of fighting people's food stocks are low," Feargal O'Connell, country director of the aid agency Concern, told IRIN.
"Both parties signed up to this peace agreement and are aware of their obligations," said O'Connell. "Regardless of what's going on, it's clear what everybody needs is peace."
But there had been a sense of inevitability about this latest round of violence. Both leaders were seemingly shoehorned into the peace deal – Kiir even questioned it as "not made to be implemented" – and in the last few weeks there were reports of senior members of Machar's SPLA-IO being assassinated in Juba by hitmen from Kiir's SPLA.
Not-so phoney war
Juba was also not the first incidence of violence this year. In February more than 18 people died when SPLA soldiers broke into the UN-administered Protection of Civilians compound in Malakal, Upper Nile, following growing ethnic tensions between the Dinka and the Nuer and Shilluk communities in the camp.
Philippe Carr, regional communications advisor for Médecins Sans Frontières, described Malakal today as "stable so far", but it's just one of several ethnically mixed areas that could be enflamed by the violence in Juba.
What was a political division between Kiir and dissenters within the ruling SPLA has degenerated into an ethnic conflict.
Kiir's determination to increase the number of states from 10 to 28 is regarded by his opponents as deliberate gerrymandering to expand Dinka political and economic power.
The purging by the government army two weeks ago of parts of Wau, South Sudan's second largest city, is seen by some as just the latest example.
The government claimed the city was attacked by the "Islamic Militia Movement", an unlikely alliance of Uganda's Lord's Resistance Army, Sudan's notorious Janjaweed militia that terrorised the Darfur region, and dissident local game rangers – all backed by Khartoum.
A longstanding plan
But eyewitnesses insist the attack was mounted by the army and aimed at the Fertit, a community that some within the government believe are allied to Machar's SPLA-IO. There are reports of mass graves and bodies dumped into the nearby Jur River, with some accounts putting the death toll at around 400.
Much of Wau remains abandoned. Homes were torched and looted by the SPLA and local Dinka youth in the southern and western sections of the city, beginning in Nazareth Quarter and stretching down Lokoloko Road, which is known to be predominately Fertit.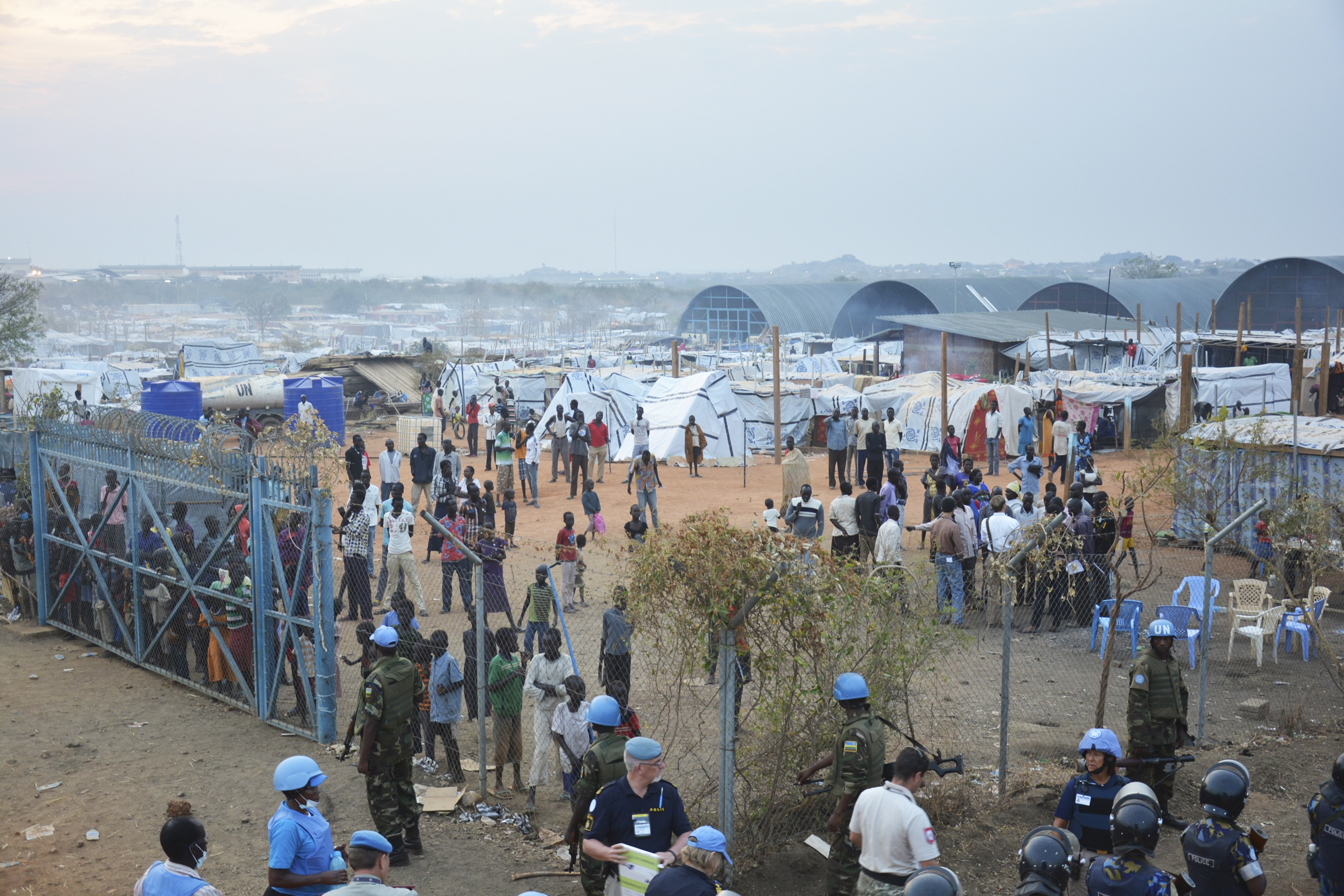 This weekend, shooting could still be heard around Lokoloko Road, with reports of burning and theft continuing in the Jebel Kher area. 
Juma Marial, a resident of Nazareth Quarter, showed IRIN what remained of his home. The thatching on his roof was burnt away and his brick walls are scorched black. The rooms inside have been ransacked, old family photos and clothes strewn across the yard.
"We ran to the church on Friday," he explained. "We came back the next day and found this. There's nothing left."
Marial continues to sleep in the church compound, too fearful of SPLA patrols to return home. 
Huge suffering
Some 120,000 people fled their homes in Wau. Approximately 25,000 displaced have taken refuge at the UN's camp; tens of thousands others are scattered across the city seeking shelter wherever they can, and countless more have taken to the bush. According to the International Committee of the Red Cross, they have reached 70,000 with food aid in the past two weeks.
"The last time I remember something of this scale was in the 1980s [during the civil war before independence]," Father Moses Peter, humanitarian coordinator with the Catholic Diocese of Wau, told IRIN.
The surge in violence began in December, when the army deployed additional troops in a heavy-handed counter-insurgency operation against Fertit rebels to the west of Wau. According to Human Rights Watch, soldiers "killed, tortured, raped, and detained civilians and looted and burned down homes".
The troops were under the command of Chief of General Staff Paul Malong, the former governor of Northern Bahr El Ghazal, who is seen by some as the architect of the current violence in Juba.
Many IDPs IRIN spoke to believe the attack on Wau is part of a longstanding policy aimed at extending Dinka domination in what is an ethnically divided region.
The existence of a Fertit militia dates back to 2012, when a demonstration against what was perceived as government encroachment on Fertit land was fired on by the SPLA. Twenty-four protesters were killed.
Fertit youth took to the bush. In 2014, their militia allied with the better-armed SPLA-IO, cementing the animosity and mistrust brewing between Dinka and Fertit groups. 
There is a proliferation of militia in South Sudan, which has complicated demobilisation. Before last week, both sides accused each other of continuing attacks.
But Kiir's SPLA has seemed the more aggressive party, attacking cantonment sites in Western Equatoria and Western Bahr el Ghazal, where SPLA-IO troops were supposed to assemble. The government's response has been to deny there are legitimate SPLA-IO forces in those regions.
And so South Sudan has slipped and slid to this current point. On 9 July, it celebrated its fifth anniversary of independence. Kiir and Machar might call for peace, but there is growing unease that what we are actually witnessing might be a fight to the death.
rg/oa/ag