A Palestinian refugee camp near Damascus is at risk of being further cut off from aid following weeks of bombing by Syrian pro-government forces and Russian warplanes.
While there has been unprecedented interest in Syria's besieged areas in recent weeks – aid has finally reached civilians in all 18 of the areas classified by the UN as besieged – the war on more than 9,000 civilians in Khan Eshieh has been intensifying.
The road civilians use to access aid and basic goods risks becoming ever more treacherous, feeding concern that the area may become another Yarmouk – the notorious Palestinian camp where 18,000 refugees were trapped for some two years.
"There is [a] lack of basic materials and goods [in the camp]…but people also don't have the money to buy things," a resident, Abu Musalam, told IRIN from inside Khan Eshieh. "There are no hospitals or health facilities. Recently, the pharmacies have emptied of medicines, even basic medicines like antibiotics or painkillers."
Bombardment 
Daily life for at least 9,000 Palestinian refugees and an estimated 3,000 more internally displaced Syrians inside Khan Eshieh, some 30 kilometres southwest of Damascus, has become ever more treacherous: at least nine civilians have been killed in a month of shelling and airstrikes, according to the UN, local aid workers, and residents.
On Monday, airstrikes hit civilian homes as well as a so-called child friendly space run by the Jafra Foundation, killing three people and wounding another five.
The centre provided psychosocial support and recreational space as well as health and hygiene services to more than 1,000 children and was the only one of its kind in the camp.
Chris Gunness, spokesman for the UN's agency for Palestine refugees, UNRWA, said in a statement that the centre was a "point of respite… where children could go to momentarily overcome the horrors of the violence and the conflict that have defined their lives".
In mid-May, a car carrying six civilians through the camp was directly hit in another airstrike. The six people inside — including a child and his mother – were all killed.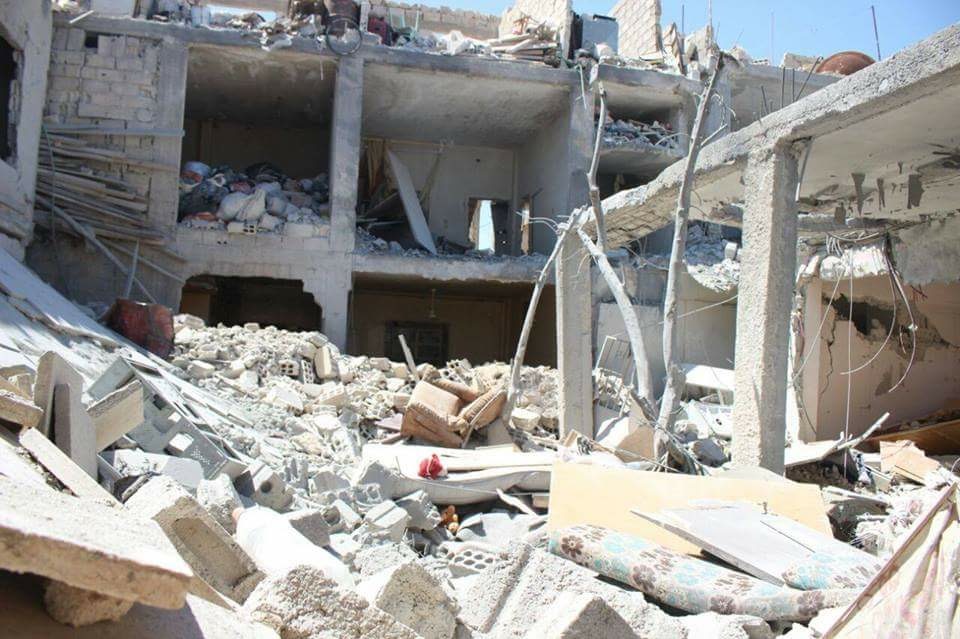 UNRWA has confirmed the death of nine civilians in recent weeks, but local sources cite a higher number.
"At the beginning of Ramadan, the escalation against the camp started with artillery shelling… when a tank targeted three persons who were going out from the mosque," Abu Musalam said. "After that, the Russian raids started…. There have been 14 martyrs during the month of Ramadan."
Locals report that civilian homes, infrastructure, and transport have all been hit.
According to the Jafra Foundation, shelling trapped one young man under the rubble of his home on 28 June. He later died.
Edging closer to siege
But Khan Eshieh is not in a state of siege by the UN's definition.
In late May, government forces advanced on the only remaining route in and out of the camp, making access to surrounding areas difficult and extremely dangerous.
While UNRWA has staff based in the camp, it can only deliver aid to its distribution centres in the nearby towns of Sahnaya and Khan Dunoun, where civilians pick it up along with other basic goods.  Civilians taking the only thoroughfare to the towns – known locally as the "death road" – are at risk of sniper fire. On 8 May, three Syrian IDPs living in Khan Eshieh were reportedly killed by heavy machine gun fire along the road.
The UN's designation of what counts as a siege in Syria has drawn controversy, with accusations that the body had allowed the government of President Bashar al-Assad to water down its description of the situation in the country.
Related
In a May report, the monitoring group Siege Watch pointed out that siege conditions are not always clear cut; it counts Khan Eshieh as on a "watch list," as opposed to completely besieged.
Also on the watchlist is opposition-held eastern Aleppo, where ongoing fighting (despite a temporary ceasefire) threatens to cut off a key supply road.
Because Khan Eshieh is surrounded by pro-government forces and only has one passable road in and out of the camp, the report says, "humanitarian aid cannot be delivered directly to the community".
"Instead, residents must make a dangerous trip to a nearby town to collect [UNRWA] assistance," the report adds. "Men between the ages of 16 and 45 generally do not attempt this journey for fear of being arrested by Syrian government forces, and the women, children, and elderly civilians who travel on the road are sometimes killed by snipers."
Siege Watch said its classification of Khan Eshieh had not changed since the latest up-tick in violence.
Save the Children has said it is concerned about depleting supplies of medicine, fuel and flour in the camp accompanied by skyrocketing food prices, and UNRWA's Gunness said that humanitarian access to Khan Eshieh has been "restricted" since 2013, with civilians forced to travel outside "at great personal risk" just to receive aid. 
Atlhough the UN may not forsee a major change on the ground, this is in contrast to warnings from residents, who are also worried about displacement from the camp should bombing and fighting continue.
A Palestinian problem
The recent violence in Khan Eshieh is the latest demonstration of the endemic vulnerabilities Palestinian refugees in Syria face.
UNRWA estimates that from the 560,000 Palestinian refugees registered in Syria before 2011, some 450,000 remain. Some 95 percent of Palestinian refugees in the country are reliant on aid and assistance to meet their minimum needs.
Various counts suggest that between 100,000 and 150,000 Palestinian refugees from Syria have fled to neighbouring countries or made the journey to Europe: often through more protracted and dangerous routes because of the difficult legal status of Palestinian-Syrians.
When Syrians were still being granted entry to nearby countries (an option that is now shrinking), many Palestinians attempting to flee Syria were turned away at the borders of Jordan, Lebanon, and Turkey, or arbitrarily detained and deported – in some cases, back to Syria.
Many have drowned in the Mediterranean in an attempt to reach a life more stable; where one's freedom of movement, access to basic supplies or hopes for sustainable refuge are not dictated by the watheeqa safaret al-falastineeya (Palestinian travel document).
Those who have made it to Europe report finding it difficult to obtain asylum, as Palestinian-Syrians don't hold Syrian passports.
Of course, remaining in Syria is fraught with risks. The UK-based Action Group for Palestinians, which monitors Syria's Palestinian camps, estimates that more than 3,200 Palestinians have died during Syria's five-year conflict, either as a result of military operations, torture and abuse inside mostly government-controlled detention facilities, or starvation and health problems caused by sieges on camps and other areas.
The group says that more than 1,000 Palestinians in Syria are also detained in Syrian government prisons. Another 286 are missing.
The future for Syria's Palestinians has never looked bleaker. Several camps across the country have either been vacated, like Ein el-Tal north of Aleppo, or partially or mostly destroyed, such as Deraa camp in the south, which has reportedly been 70 percent demolished.
Those remaining inside Syria often live in bombed-out, heavily isolated or besieged areas like Yarmouk (which the UN again classified as besieged in January after quietly removing it from the list last July), a growing concern is that Palestinian refugees who fled Syria may never be allowed to return.
Displaced twice, and possibly denied return a second time as well, they remain one of the most vulnerable groups in the Syrian conflict.
"Palestinians lose the last thing they have: the place where they are living," said Jafra's operations manager, Osama Moussa. "Their lives will be open to a lot of questions without any answers, a lot of risks without any kind of protection."
tr/as/ag