Abu Firas and his family left the Syrian capital Damascus in March after their neighbour's house was hit by a bomb.
After arriving in Jordan with just the clothes on their back, their first stop was
Za'atari refugee camp
, but after a few months there in difficult conditions, they left for Irbid, a Jordanian town around 15km south of the Syrian border.
Syrians are leaving Za'atari camp every day, taking their chances in urban and peri-urban communities, where over two thirds of the 550,000 refugees in the country now live.
And as they do, they are placing an increasing burden on the local communities hosting them.
Jordan, Lebanon, Turkey, Iraq and Egypt have spent
billions of dollars
hosting more than 2.2 million Syrian refugees in camps, towns and cities across the region. And as the crisis drags on, aid agencies and donors are looking to shift away from strictly humanitarian aid for refugees to a longer-term development approach.
"There is a request to do more for the host communities because many refugees are leaving the camps and settling down in urban areas where they are sharing services like health and education with Jordanians," said David Verboom, head of the regional support office of the European Commission's humanitarian arm, ECHO, in the capital Amman.
"The challenges are changing… People are realizing this is not going to be a short-term humanitarian crisis. We have to be more strategic, more sustainable, more long term in our approach."
This week, high-level UN humanitarian and development officials gathered in Amman to discuss the way forward in responding to the Syrian crisis, where a myriad of armed rebel groups have been trying to oust President Bashar al-Assad for more than two years.
Much discussion at the meeting focused on bridging the gap between humanitarian assistance, recovery programmes and development work, as well as expanding the targets of aid beyond just refugees to include affected national populations and the governments themselves.
"While we continue to provide essential humanitarian support, we must as well attend to development needs in a manner that is complementary, simultaneous and urgent," Sima Bahous, director of the Regional Bureau for Arab States at the UN Development Programme (UNDP), said on 4 November, at the close of the two-day meeting.
"Jordanians are suffering"
More than 40 percent of the population of Irbid Governorate is now Syrian refugees, according to Jordan's Ministry of Planning, putting significant strain on schools, health services and available accommodation.
"The government should be careful not to start sounding like the refugees are the cause of all its problems, because its problems, according to the numbers, started long before the refugees started coming"
"Jordanians are suffering," Andrew Harper, representative of the UN Refugee Agency (UNHCR) in Jordan, told IRIN. "Their infrastructure was already in quite a bad shape and since the arrivals of the Syrians it is increasingly stressed."
"We are largely addressing the immediate needs of the refugees. Now we just need to ensure that the programmes we put in place are sustainable; that they take into account that
the amount of funding may be reduced over time
; and also that the Jordanians are not forgotten."
In parts of Irbid city, previously a sleepy university town, rents have tripled in the past year. Aid workers told IRIN a single room without a bathroom now fetches as much as 350 Jordanian dinars per month (US$500).
In some cases greedy landlords are exploiting Syrians, evicting Jordanian tenants to offer the same property to one, two or even three refugee families at once, and aid workers say old university dormitories are filling up with Syrians turning whole blocks in the city into refugee neighbourhoods.

Addressing the root of the problem
In a bid to respond to the high demand and relieve growing pressure on host communities in Irbid, the Norwegian Refugee Council (NRC) has launched a new scheme which pays Jordanian homeowners to help complete renovations and extensions of their homes in order to be able to take in Syrian tenants who then live rent free.
Abu Firas's family is among the first to have benefited from the scheme. Two months ago, they signed an 18-month contract to live on the newly-completed second floor of a house belonging to retired military man Abdullah Omari.
"We are very comfortable here," Abu Firas explained. "We have four rooms, a kitchen and a bathroom and the landlord is very kind and hospitable. He has been like a brother to us."
"Instead of just giving refugees cash for rent, we wanted to get to the heart of the problem," said Jonathan Brigham, coordinator of NRC's shelter project, referring to rent increases due to a lack of housing.
He said the scheme was well suited to the villages around Irbid, where many Jordanians owned family plots but struggled with cash-flow to finish building works.
Omari, 63, had been working on the top floor of his home for about five years.
"I suppose it may have taken me another three," he told IRIN, "but now it is done."
"A very welcome project"
Brigham said the concept was to create jobs through construction work and stimulate the economy. "But more importantly, it's not just providing shelter for refugees, but it's also benefiting the local community, some of whom were starting to feel the impacts from so many Syrians coming here… A house is someone's asset, so if you invest in that for them it increases its value. This is much more sustainable than rent support."
Omari was one of the first to sign up to the programme.
"A lot of people in the area were very suspicious of how it was going to go, but now they have seen my place is finished and they all want to join in," he said.
The project, funded by ECHO, the Norwegian Ministry of Foreign Affairs and the US State Department, aims to complete 1,000 housing units by the end of December and 4,000 more in 2014, if it can attract additional funding.
The Urban Host Community Integrated Shelter Programme, as it is called, also ticks boxes with the government, which is pushing donors to spend at least 30 percent of their funding for Syrian refugee aid projects on host communities.
"This was a very welcome project," Feda Gharaibeh, director of the Humanitarian Relief Coordination Unit at Jordan's Ministry of Planning & International Cooperation, told IRIN. "Jordanians can feel that there is some sort of support for them hosting Syrian refugees and it improved their living conditions as well."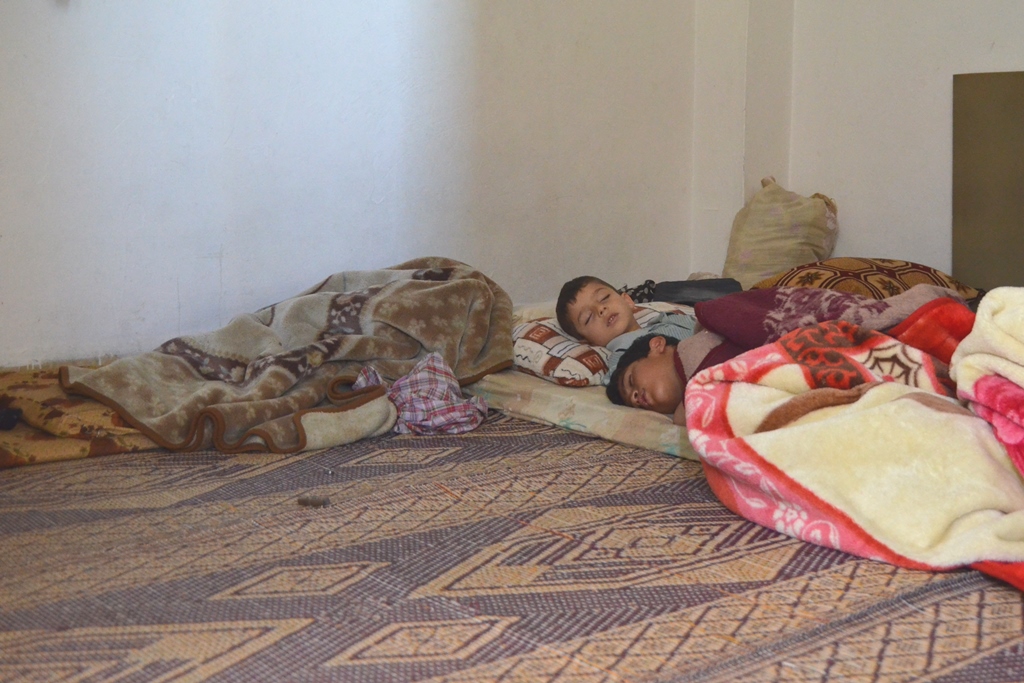 201311071004470363
Without such solutions, analysts say, the pressures of the refugee presence could provoke a backlash by Jordanians against the government and even the monarchy. The authorities, who have fresh memories of last year's street protests over subsidy cuts, are doing all they can to avoid that.
The Jordanian economy has been performing poorly for years: it has high rates of unemployment, low levels of investment and its most important forms of revenue are foreign assistance and remittances.
"The government should… be careful not to start sounding like the refugees are the cause of all its problems, because its problems, according to the numbers, started long before the refugees started coming," said independent Jordanian economist Yusuf Mansur.
Future planning
The sixth Regional Refugee Response Plan (RRP6), a regional appeal for funding outlining aid projects that will help refugees and others affected by the Syrian crisis in 2014, is currently being finalized.
For countries like Jordan and Lebanon (with the largest number of Syrian refugees), supporting host communities is expected to feature strongly in suggested approaches.
In Jordan, UNHCR has already allocated over $9 million to 169 community projects which support both refugees and host communities. With an estimated reach of more than 2.3 million people, the initiatives include investments in medical equipment at health centres, municipal water trucks, garbage collection vehicles, street lights, new water wells and water systems and general donations of relief items.
But the shift to a more comprehensive approach will also require greater fiscal support from international financial institutions like the World Bank, which do not usually prioritize support to middle-income countries in the Middle East such as Jordan and Lebanon, said Pete Manfield, of the UN Office for Coordination of Humanitarian Affairs (OCHA)'s regional office for the Syrian crisis in Amman.
Given the scale and increasingly protracted nature of the crisis, t
he trajectory that aid operations usually follow - starting with relief and gradually moving towards development - does not apply in this case, he said. Rather, they are both being rolled out simultaneously.
"We need a strategy that links humanitarian, developmental and structural support to countries across the region. From the perspective of regional governments and in terms of efficiency, this crisis cannot be treated in silos."
lr/ha/cb
---
This article was produced by IRIN News while it was part of the United Nations Office for the Coordination of Humanitarian Affairs. Please send queries on copyright or liability to the UN. For more information: https://shop.un.org/rights-permissions