After more than seven years of war and a peace process that never managed to end the violence, whoever takes over for Staffan de Mistura as the UN's special envoy for Syria has a tough job ahead – perhaps an impossible one.
After four years on the job, the Swedish-Italian diplomat announced on 17 October that he will step down for "purely personal reasons" in late November. A day later, his advisor for humanitarian affairs, Jan Egeland, also announced he was leaving.
Egeland's Humanitarian Task Force, although often deadlocked, sometimes seemed more fruitful than the political process headed by de Mistura, as it achieved small successes in widening humanitarian access and civilian protection on the ground.
On the political track, de Mistura had no more luck than his predecessors, Algerian diplomat Lakhdar Brahimi and former UN secretary-general Kofi Annan.
Who will succeed de Mistura?
Potential candidates to succeed de Mistura reportedly include no less than three Eastern Europeans: former Bosnian president Haris Silajdžić; UN special coordinator for the Middle East peace process Nikolay Mladenov of Bulgaria; and Slovak diplomat Ján Kubiš, who heads the United Nations Assistance Mission in Iraq (UNAMI).
Another top candidate is former Algerian foreign minister Ramtane Lamamra. In what seemed like a nod to Lamamra, an anonymous Western diplomat told the Saudi-backed newspaper al-Sharq al-Awsat that the UN secretary-general is "waiting for the right time to announce the name of an Arab diplomat."
Geir Pedersen, Norway's ambassador to Beijing, is also said by some to be on the short list. With Western and perhaps also Chinese support, Pedersen would be a strong candidate if he can win Russia's acquiescence.
Egeland's role as adviser for humanitarian affairs could have hobbled a Pedersen candidacy, since a UN team typically seeks to include many different nationalities. But Egeland's resignation – a coincidence, according to UN diplomats – removes that obstacle.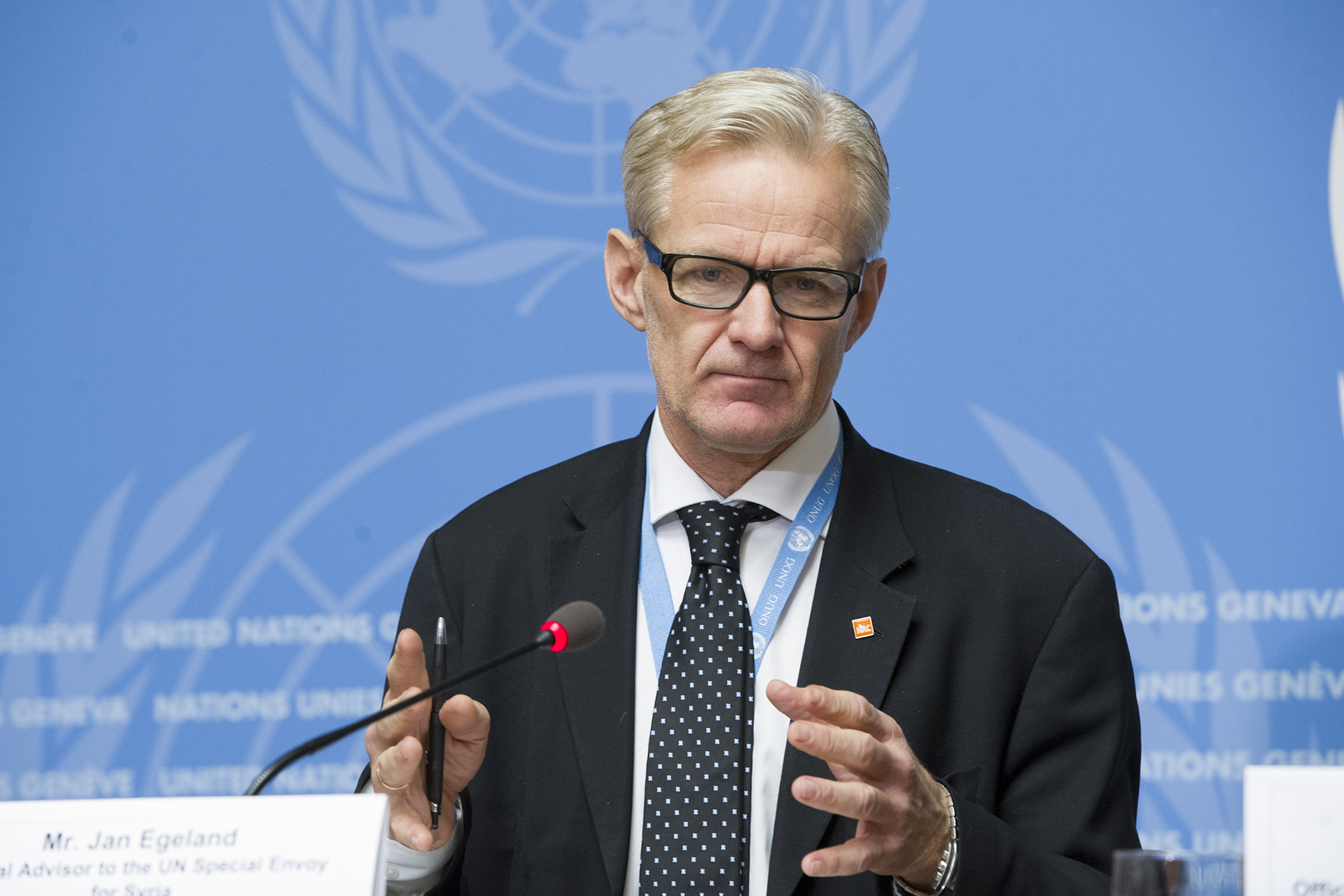 Securing humanitarian access
As head of de Mistura's 23-nation task force, Egeland has led the push to reach besieged and vulnerable civilians in Syria, often running into a wall of bureaucratic obstacles thrown up by Damascus.
Whoever takes de Mistura's role will have a large say in picking his or her next humanitarian adviser, but aid access will likely continue to be a problem in Syria.
"Looking ahead, the Humanitarian Task Force must remain a venue for dedicated discussion and diplomacy on humanitarian access and protection of civilians across Syria," said Rachel Sider, policy adviser for Egeland's Norwegian Refugee Council, noting that many Syrians still risk being exposed to renewed fighting in rebel-controlled regions like Idlib.
"The new team will hopefully build on Egeland and de Mistura's work and bring renewed focus to protecting Idlib's three million civilians," Sider told IRIN. "This crisis is far from over."
The Geneva process
Getting aid to civilians will be difficult enough, but the main task for the next envoy will be to revive the UN peace talks in Geneva, which have staggered on for years without much in the way of actual negotiating.
The most recent round of UN-led indirect negotiations, known as Geneva IX, was held in spring 2017 and produced no visible result.
In part, that's a design flaw of the Security Council's own making. As UN envoy, de Mistura's work has been strictly guided by resolution 2254 of 2015, which calls for a political transition in Syria. In practical terms, the resolution requires him to create a mechanism to draft a new constitution that will permit UN-supervised elections.
But the idea of a transfer of power remains anathema to President Bashar al-Assad's government – and since al-Assad is winning the war and Russia has his back in the Security Council, he has no reason to make concessions.
Most real negotiations have instead taken place outside the UN framework and avoided the transition issue altogether. In the Astana process, a series of talks overseen by Russia, Turkey, and Iran have hammered out pragmatic understandings over front lines and ceasefires, mostly to al-Assad's benefit.
In the hope of finding new leverage, de Mistura has tried to inject the Geneva talks with some of the momentum created in Astana, by working with Russia, Iran, and Turkey to set up a committee that would draft a new Syrian constitution. So far he has not seen much success.
READ MORE: Syria's constitutional committee
In January 2018, de Mistura participated in a Russian-directed Astana spinoff conference in Sochi, in which it was agreed to create a committee tasked with the "drafting of a constitutional reform as a contribution to the political settlement under the UN auspices in accordance with Security Council Resolution 2254."
By inserting a Damascus-friendly structure into the UN process, Moscow wants to steer the transition process in such a way that it ticks all the boxes of Resolution 2254 and also unlocks Western post-transition reconstruction funding, without actually threatening al-Assad's power.
Well aware of Moscow's ambitions, de Mistura agreed to treat Sochi's constitutional committee as an element of the Geneva process on one condition: he would pick one third of the delegates including "civil society representatives, independents and other Syrians of standing," allowing him to control the balance between government and opposition members. At least 30 percent of the committee's total members would have to be women.
Eager to get one foot in the Geneva door, Russia approved.
But since then, things have moved slowly. The Syrian opposition and al-Assad's government eventually nominated candidates to the committee, but when de Mistura presented his handpicked team of civil society delegates, both Ankara and Damascus rejected it.
Turkey eventually withdrew its protestations, but Damascus refused to budge, and even refused to meet with de Mistura to discuss the matter. Russian diplomats insisted they would try to persuade al-Assad to change his mind, but he never did. To de Mistura's frustration, Moscow is still asking for more time 10 months after the Sochi congress.
Critics of al-Assad – including the United States, France, the United Kingdom, Germany, and Saudi Arabia – have been pressuring the UN to move ahead and set a date for the committee's launch. But Russia continues to reject what it calls an "artificial deadline", and al-Assad's government increasingly rejects the idea of UN influence over Syria's constitution altogether.
Performance reviews
Despite the lack of movement on the constitutional committee, the powers that appointed de Mistura to the job gave his performance friendly reviews.
US State Department spokesperson Heather Nauert said de Mistura had "worked tirelessly to find a solution to the Syrian crisis, saved lives by working to de-escalate the violence that has engulfed the country, and eased suffering by constantly pressing for unhindered delivery of vital medical and humanitarian aid to Syrians in need."
Nauert's Russian counterpart Maria Zakharova said "we definitely appreciate his contribution as a professional, a specialist, and a diplomat to the Syrian settlement", although she noted that it's "impossible to win everyone's approval in such a complicated matter".
The reactions from inside Syria underscored that point.
"Sadly, it seems Mr. de Mistura wanted to end his term by stabbing the body of the Syrian people one more time," Mustafa Sejari, a senior official in the Turkish-backed Moutassem Brigade rebel group, told IRIN. Accusing the UN envoy of being biased toward Russia, Sejari said de Mistura's resignation "amounts to a clear shirking of duty, offering the Syrian regime an opportunity to escape any potential benefits of the peace process".
Supporters of al-Assad were just as hostile – but for the opposite reason.
"I can only remember how he tried so hard to obstruct the liberation of Aleppo from al-Qaeda terrorists by legitimising their illegal occupation of the city through giving them what he called autonomy," Aleppo parliamentarian Fares al-Shehabi told IRIN, referring to a proposal made by de Mistura during the siege of eastern Aleppo that would have left the area under opposition control if rebel fighters withdrew. The government eventually re-took the entire city at the end of 2016.
"I am personally happy he is gone," al-Shehabi said.
Supporters of the Kurdish-dominated and US-backed Syrian Democratic Forces (SDF), who have fought the so-called Islamic State while pragmatically holding a cold peace with al-Assad, voiced no displeasure with de Mistura personally. They did disparage the UN negotiations, which they have been shut out of by Turkey, which considers the group to be terrorists.
"If the negotiations are to enter a serious phase, it will be necessary to change and to include us in the political process," Ilham Ahmed, who leads an SDF-linked political council, told IRIN. "If not, the crisis will continue and the war will drag on even longer."
Much ado about nothing?
On 24 October, de Mistura made one last trip to the Syrian capital, on the heels of a Russian delegation that had reportedly tried to get al-Assad to engage more flexibly with de Mistura's proposal for a constitutional committee.
But at a joint press conference with de Mistura in Damascus, Syrian Foreign Minister Walid al-Moallem demonstratively poured scorn on the UN plan, redefining it as a "committee to discuss the current constitution" and reiterating that any amendments would be a "sovereign matter".
De Mistura tersely noted that discussions had been "very frank and very intense".
On 26 October, de Mistura told the Security Council that past agreements with Damascus and Moscow over the constitutional committee no longer seemed to apply. Nevertheless, he said he would continue to consult with Russia and other nations before reporting back on 19 November, in what will likely be his last move as UN envoy.
Reactions among Security Council members were split along familiar lines: the US said the delay in forming the committee was "unacceptable", while Russia's delegate rejected the idea of setting a deadline.
Given the glaring disconnect between the UN envoy's mandate and Syria's political reality, de Mistura's mission was probably always impossible.
The stalled constitutional committee plan now seems likely to fall into the lap of de Mistura's successor, but the real question is how much it really matters.
Even if a constitution-drafting process is eventually allowed to begin, there's no reason to believe al-Assad or his allies will ever accept any diplomatic mechanism that could result in a genuine political transition, a point underscored by de Mistura's reception in Damascus.
Who rules Syria was always ultimately going to be settled by force of arms, and the military challenge to al-Assad has now subsided. The diplomatic haggling may go on, but Russia can continue to use its UN Security Council veto to block any unfavourable development in the UN.
So as Staffan de Mistura leaves office, the sad truth about the past years of UN peacemaking in Syria is probably that given the glaring disconnect between the UN envoy's mandate and Syria's political reality, his mission was always impossible. Unless one or the other changes, his successor will do no better.
This work was supported in part by a research grant from The Harry Frank Guggenheim Foundation.
al/as-js