Saving the entire planet is a serious matter. So thank goodness the Paris climate talks are also generating some things to smile about, even if not always for the intended reasons.
Here's a selection that left us smirking, speechless, or simply shaking our heads:
EYES ON THE PRIZE?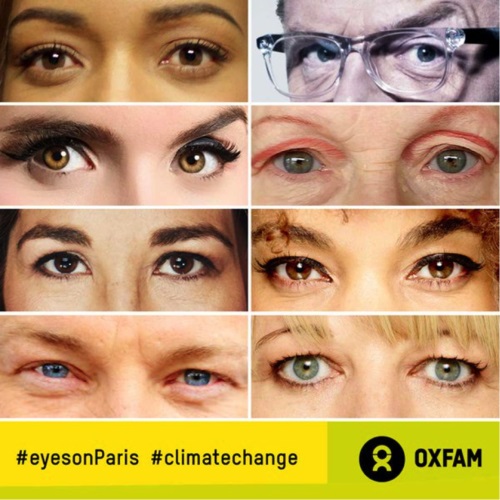 Apparently, if you take a photo of your eyes, post it on Twitter, and add the hashtag #eyesonParis, you've done your bit to stop climate change.
And if your ocular selfie features pink-penciled brows, a sinister stare, or a pair of 70s-throwback glasses, you're even closer to persuading world leaders to end global warming. 
Featuring snaps of celebrities and members of the public, Oxfam's bizarre advocacy campaign aims to show politicians at COP21 that the world is watching them. But with visuals as myopic as this poster, this initiative to secure a fair climate deal could sink in a blink.
I'D LIKE TO BLAME MY MOM …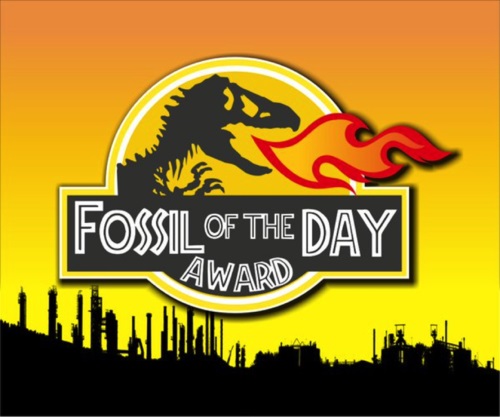 In the fine tradition of the Razzies and the Ig Noble awards, Paris has its own parody honours – the
Fossils
. So far, named and shamed for their wayward climate records, are Turkey, Belgium, New Zealand… and the International Maritime Organization.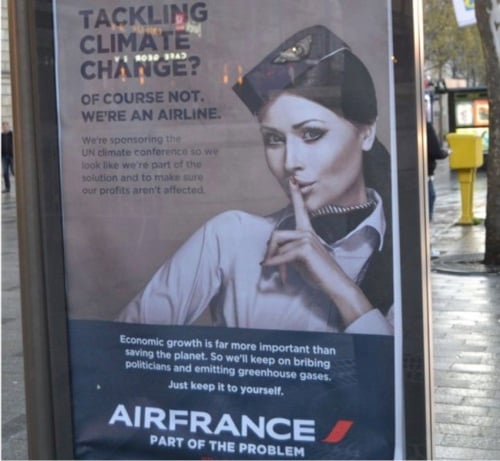 WE'RE SORRY WE GOT CAUGHT
If you are a company with an enormous carbon footprint, then the climate summit is the perfect opportunity to do a bit of "greenwashing" to spruce up your climate credentials. Or it could have been, if it wasn't for the street activists Brandalism, who are determined to poke a hole in your PR conceit.
The guerrilla artists have put up around 600 alternative public ads in Paris mocking the corporate sponsors of the climate talks – like Air France – and the "links between advertising, consumerism, fossil fuel dependency and climate change".
The referenced media source is missing and needs to be re-embedded.
PRO-LIFERS AND COP21
Full-bore, pedal to the metal, US climate change denialism can be a bit of a culture shock. But pro-life website LifeSiteNews.com walks you through the logic in its take on COP21. The "culture of death" (i.e. contraception) is linked to climate activism because "saving the planet is foremost an anti-human enterprise". Absolutely.
But if you're a bit confused, there's a handy video that explains it all. It's produced by the Heartland Institute, which before becoming involved with climate change, the Tea Party movement and opposing Obamacare, was hired by cigarette company Philip Morris to dispute the evidence of links between cancer and secondary smoking.
ERM…
If you think the claims by LifeSiteNews.com are a head scratch, there's also this. No one quite knows what it means.