The EU-funded crackdown on migration through Niger has been effective at dramatically reducing the number of people heading northwards to the North African coast, and then Europe. But what has it left behind?
Until a few months ago, smugglers' pick-up trucks packed with West African migrants departed routinely from the town of Agadez in broad daylight and used well-known routes to deliver their human cargo across Niger's northern borders with Libya and Algeria.
These days, the main roads to those borders, which lie on the southern edge of the Sahara, are patrolled by soldiers. Meanwhile, police criss-cross the back alleys of Agadez arresting any migrants and smugglers they find, confiscating vehicles, and closing down the houses where smugglers warehouse migrants before moving them on. These are known locally as "ghettos".
"Nothing's working now," Mahamed Alhousseini, a local councillor in Agadez, told IRIN. "The whole economy of the town is ruined because of this migration crackdown dictated to our country by Europe."
The importance of Agadez as a major smuggling hub for West African migrants trying to reach Europe via Algeria and Libya has not been lost on EU policymakers. The EU-Turkey deal and the closure of borders in the Balkans may have stemmed arrivals to Greece from Turkey, at least for now. But the Central Mediterranean route delivered 181,000 migrants and asylum seekers to Italy in 2016, a record figure. Most of them would have travelled through Agadez at some point.
The carrot and stick approach
At the peak of migrant and asylum seeker arrivals to Europe in late 2015, the EU launched the Emergency Trust Fund for Africa – a two-billion-euro aid programme aimed at securing African countries' cooperation in tackling irregular migration. The Partnership Framework with Third Countries, adopted in June 2016, went a step further: promising not only aid and trade deals for key origin and transit countries that cooperated with the EU's goals of curbing migration, but also "negative incentives" for those that did not.
Niger was identified as one of five "priority partnership countries". It received high-level delegations from Germany, Italy, and the Netherlands in 2016 as well as the promise of 610 million euros in development aid, partly in return for taking action to put a stop to the migrant smuggling trade.
The Nigerien government had already passed an anti-human smuggling law in May 2015 that meant convicted smugglers could receive prison sentences of between five and 10 years, but now an action plan against illegal migration was drawn up, and an EU Common Security and Defence Policy (CSDP) field office in Agadez began providing local security forces with equipment and training on "migration, intelligence and arrest techniques".
"Obviously, it's the flow of migrants leaving Agadez that makes cooperation between our country and the EU centred on various sectors like the training of our security forces," commented Agadez Mayor Rhissa Feltou.
The EU also funded the International Organization for Migration to open three transit centres, including one in Agadez, to help migrants make "better informed migration decisions" and to help those who are intercepted and returned to Agadez to return home.
Dodgy data and new routes
With EU funding, IOM also started monitoring the movements of migrants through Niger. Between February and the end of November 2016, the agency recorded more than 417,000 migrants passing through Séguédine (the main route into Libya) and Arlit (the main route into Algeria). But in November, IOM reported a dramatic drop: just 1,525 migrants recorded transiting northwards through those borders, compared to 12,600 the month before.
EU officials seized on the figure as evidence of "concrete progress" on the Partnership Framework and cited it in several press releases and statements to European bodies, looking to sell their success in Niger as a model for future deals with Ethiopia, Mali, Nigeria, and Senegal. This proved premature. IOM later realised there had been an error and revised the November figure to 11,457. Another 13,000 migrants were recorded heading northwards from Agadez in December.
Figures of between 11,000 and 13,000 still represent a significant drop from the peak of almost 72,000 migrants transiting through Agadez in May 2016. IOM has attributed the decrease to the government's policy of "stronger repressive measures for smugglers", but it has also noted that migrants and smugglers are responding to the measures by increasingly relying on alternative routes that bypass the controls at Séguédine and Arlit (and IOM's data collection points).
More circuitous routes mean more dangers for migrants, and reports of deaths in the desert have become more frequent since the new restrictions have been in place. In an effort to avoid detection and arrest, migrants and smugglers are also avoiding main roads and travelling at night, making what was already a dangerous journey through the Sahara, even riskier. In recent weeks, local media reported that at least 38 bodies have been discovered in the desert.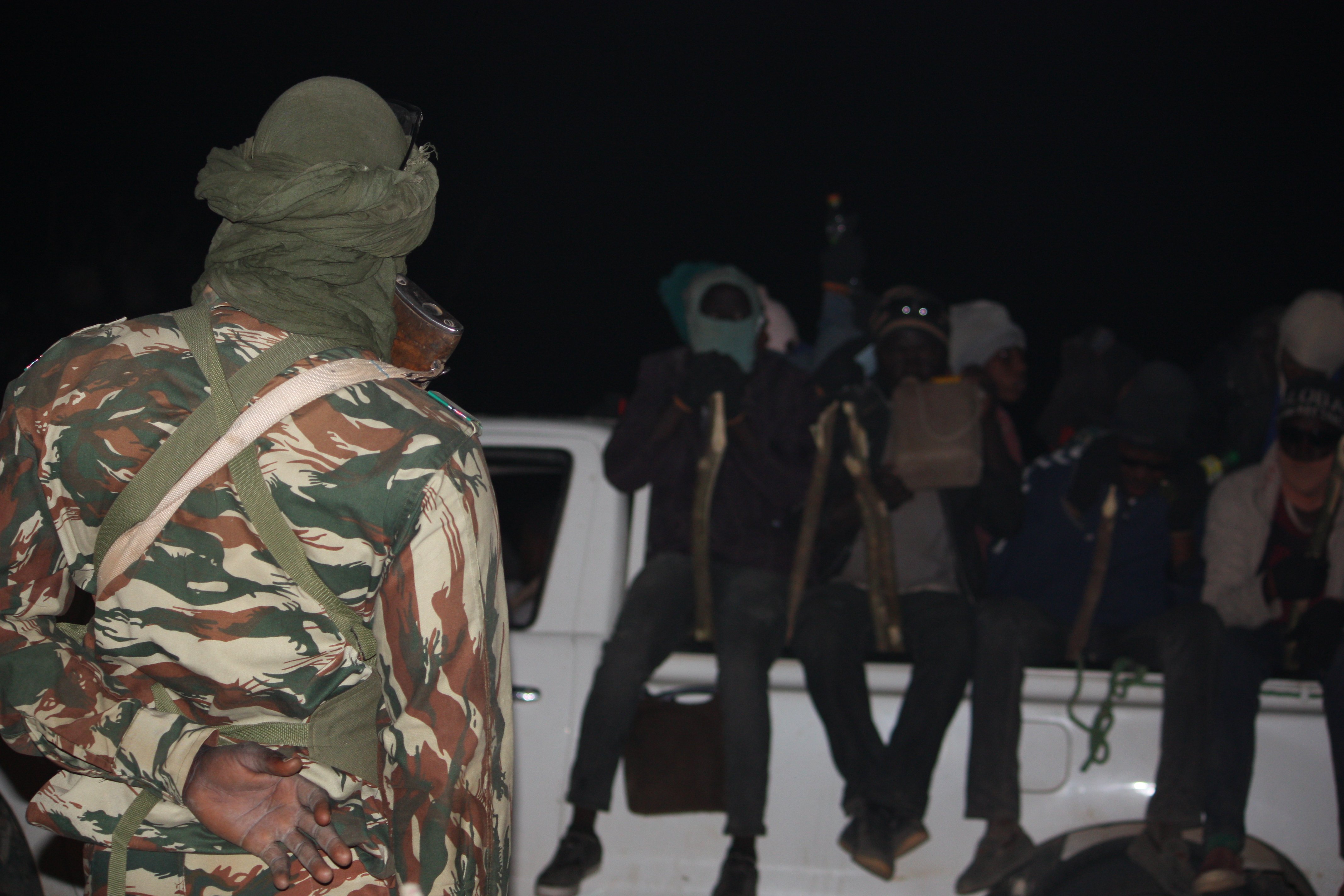 In Agadez, what was previously an open trade has gone underground. In an email to IRIN, Giuseppe Loprete, chief of mission for IOM in Niger, said that many ghettos had been closed and others that had previously hosted 200 to 300 people now only house between 20 and 30.
Zaki Moussa, a public prosecutor with the Agadez high court, confirmed that 100 people had been arrested and 300 vehicles confiscated under the anti-smuggling law. "The arrested smugglers are of different West African nationalities, but especially Nigerians," he told IRIN. "With this new offence, we are in the process of starving the perpetrators [of opportunity] and shutting down their back rooms."
"Witch hunt"
Resentful locals point out that Agadez has always been a transit centre for travellers wanting to reach the Arab countries of Libya and Algeria. A freedom of movement protocol long ago agreed upon by the Economic Community of West African States (ECOWAS) meant that the transport of West African migrants was not considered a crime, until the May 2015 anti-smuggling law was passed.
"Before this witch hunt for migrant smugglers began, the young people of Agadez had work," Abdourahamane Koutata, president of the Agadez region's youth council, told IRIN. "Each Monday, they would transport migrants into Libya or into Algeria and earn a lot of money. But now, most of them are in prison."
Peter Tinti, a senior research fellow with the Global Initiative against Transnational Organized Crime and co-author of a recent study on the Niger-Libya smuggling corridor, argues that EU policymakers have failed to understand the extent that migrant smuggling in the Agadez region is part of a "broader political economy".
"The revenues generated by this industry touch way more than just the smugglers. It branches out to the drivers; the ghetto owners," he told IRIN. "The Nigerien government has admitted that even local police and military there are reliant on the smuggling industry to collect rent or taxes."
In a region already experiencing political uncertainty and instability, "any major policy intervention like this is going to have repercussions we might not be prepared for", he added.
Traders aren't farmers
According to a December progress report on the Partnership Framework, the EU is using the Emergency Trust Fund for Africa to respond to a request from the Niger government "for visible and rapid creation of alternative income to replace the 'smuggling industry'".
It gave no detail about what this "alternative income" might be, but Sophia Wolpers of the University of Amsterdam has researched the impacts of EU securitisation policies in the Agadez region and says their past development projects in the area have tended to focus on farming. "But the effects of desertification mean farming doesn't make sense there," she told IRIN. "Agadez has always been a trading hub, so trying to turn these people from traders into farmers isn't going to work."
Wolpers added that being a driver was a lot more profitable than the alternatives, and that smugglers would simply pass additional costs and risks onto the migrants. Loprete of IOM confirmed that smugglers had tripled their prices since the crackdown.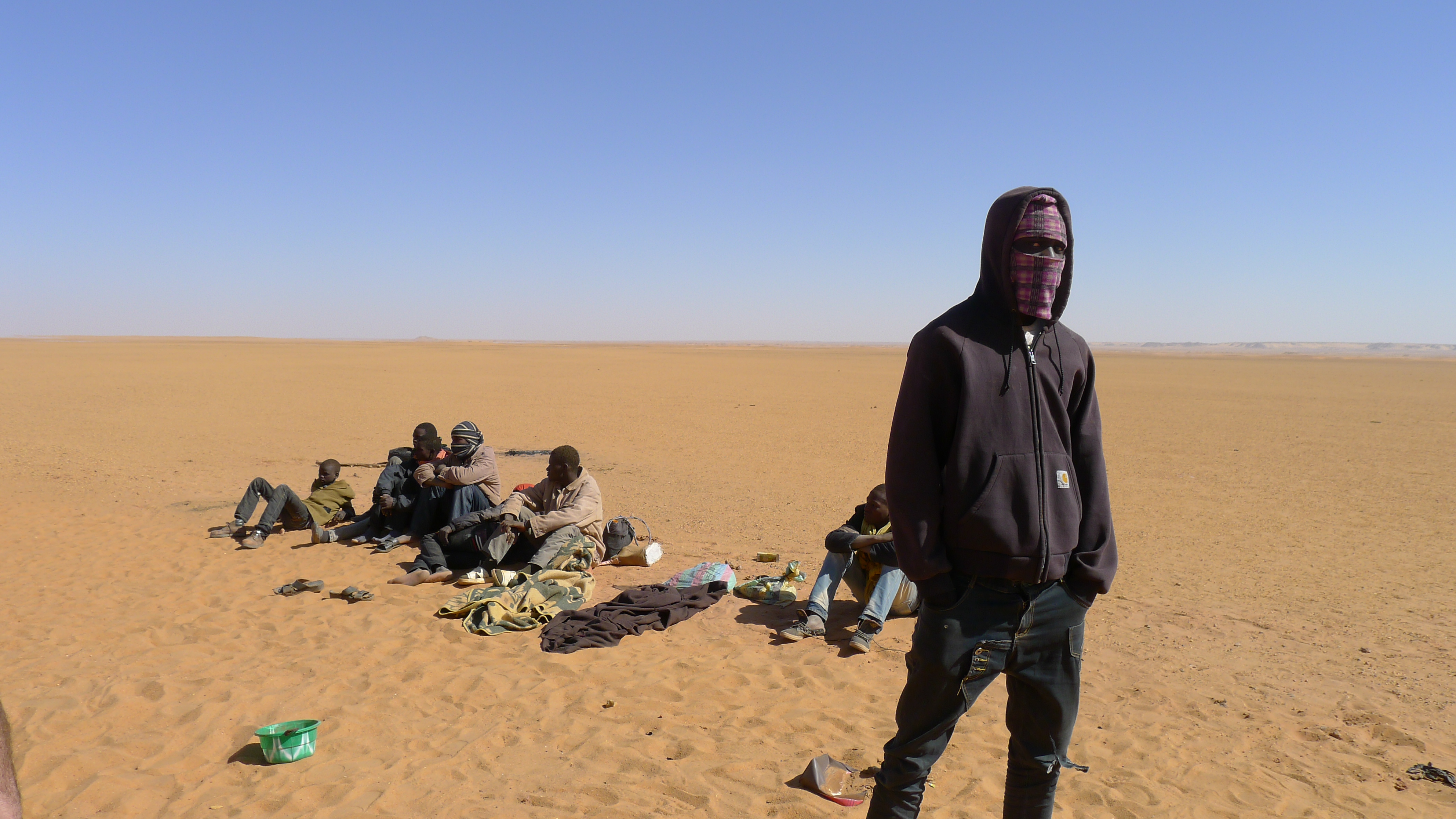 Hamadou Tchierno of the Alternative Association Citizen Space, a local human rights NGO, expressed deep concerns about the crackdown.
"This law, which authorises the restriction of the migratory flow in Agadez, is born out of European policies against illegal migration," he told IRIN. "It's because of the barriers placed in their way that the irregular migrants take enormous risks and regularly end up dead." 
Winnie, a young, pregnant Liberian woman, is one of those who risked everything for the chance of a better life. She was recently deported to Niger by authorities in Algeria who have been engaged in their own crackdown on irregular migration. She is now staying at IOM's transit centre in Agadez, waiting for assistance to return home. She made it as far as Libya but said she "saw everything" along the way.
"I lost companions along the route. Several. Some in the desert, others in the sea," she told IRIN. "The father of the daughter I am carrying, I have had no news of him since he took his place in a makeshift boat to try to reach Italy. I am returning to my home [in Liberia] so that my daughter has at least the chance to grow up in a family. I have nothing to offer her but my love and affection."
(Additional reporting by Kristy Siegfried in Oxford)
(TOP PHOTO: A panoramic view across Agadez, northern Niger. Tugela Ridley/IRIN​)
id/ks/ag