Many Egyptians have lauded the authorities' ongoing "counter-terrorism" campaign in the remote Sinai peninsula, seeing it is a necessary fight against militants who have increased attacks against security services in recent months, following the ouster of Islamist President Mohamed Morsi.
But on a trip to the region in mid-October, IRIN heard testimonies from civilians about homes wrongfully destroyed, accidental killings and daily economic life being completely disrupted. Many civilians say they feel caught between the security forces on the one hand and armed militant groups on the other.
Sheikh Abdallah Ghali 'Ateeq, a customary law judge from the Sawaraka tribe, in northeastern Sinai's Shabana Village, says the people of Sinai are "stuck between the army, who doesn't want to be criticized, and the militants, who might kill you if you give information to the army."
According to an IRIN count based on interviews with residents and family members, at least 20 civilians were accidentally killed between July, when the counter-terrorism operation began, and October. This in a roughly 1,000sqkm triangle of land between the towns of al-Arish, Rafah and al-Sheikh Zuwaid, in the northeastern corner of North Sinai Governorate, along the border with Israel and the Gaza Strip. They were killed in military operations, militant attacks or shootings at checkpoints after curfew.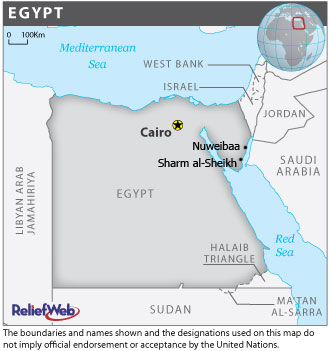 Marginalized
The Sinai Peninsula, a 60,000sqkm strip of mostly barren desert east of mainland Egypt, has long been marginalized by authorities in the capital, Cairo. Various development plans for the region have been delayed or put off since Egypt regained control of the region in 1982, after 15 years of Israeli occupation. Its northern Bedouin inhabitants depend mostly on smuggling and have often clashed with the security forces.
Over the years, jihadist influence - playing upon local grievances - has spread in the region, and the power of tribal elders has decreased.
Militancy in Sinai increased in 2011, with armed criminal and jihadist groups proliferating in the security vacuum that followed the overthrow of strongman Hosni Mubarak in a popular revolution.
It intensified with the ousting of Morsi, Egypt's first democratically elected president, in a coup on 3 July that had the support of millions of Egyptians. The authorities have blamed a rise in attacks aimed at policemen and soldiers on jihadists they say are linked to Morsi's Muslim Brotherhood.
The government expanded its crackdown after a failed assassination attempt on the interior minister in Cairo in September by one of Sinai's new militant groups, Ansar Bayt al-Maqdis.
Shaken by regional instability
Sinai has also been affected by regional developments: weapons flowing in from Libya following its civil war and continued instability, and the rule of Hamas in neighbouring Gaza, whose survival has depended on the illegal arms trade and smuggling tunnels leading to Egypt.
Some Sinai residents profess their absolute faith in the government's counter-terrorism operations, while others raise a sceptical eyebrow at the mention of jihadist groups being a threat in the first place, believing in the conspiracy theory that the attacks are cooked up by Cairo to justify the crackdown on a historically restless region.
Regardless, many civilians in the area now live in a state of fear.
IRIN spoke to 14 families, most of whom were too afraid to share their names. This four-part series draws largely on their testimonies, and those of Bedouin leaders, Sinai activists and security officials willing to go on the record.
---
In the series:
---
Links and leads
For more on the insurgency in Sinai and its history of marginalization, check out this 2012 report by Chatham House, which provides an excellent overview of recent developments in the region.
This 2012 policy note by the Washington Institute for Near East Policy looks more closely at emerging armed groups in the region.
This 2007 report by the International Crisis Group, while dated, examines longstanding problems around Sinai's integration in Egypt.
This piece, by the editor-in-chief of government-linked Egyptian publishing house al-Ahram's French newspaper al-Ahram Hebdo, offers a good synopsis of who the militants in Sinai are and what motivates them.
Few journalists can operate in Sinai. These articles in al-Akhbar, Slate, the New York Times, Foreign Policy  and McClatchy are among the few examining recent developments in Sinai from the ground.
For regular updates on Sinai, follow activist Ismail Alexandrani on Facebook or on his blog. Readers can also check out the activist Rassd News Network. Blogger Reham Abdelaziz publishes a Sinai brief daily,  and Muhamed Sabry, a journalist based in al-Arish, tweets from@muhamedsabry.
This interactive map by the multinational peacekeeping force in Sinai is also a useful resource.
sa/ha/rz/oa
---
This article was produced by IRIN News while it was part of the United Nations Office for the Coordination of Humanitarian Affairs. Please send queries on copyright or liability to the UN. For more information: https://shop.un.org/rights-permissions