If the Indus delta in southern Pakistan were protected by mangroves, a few hundred villages would have been saved from the floods, say Pakistani environmentalists.
Thriving mangroves are a sign of healthy ecosystems, which require fresh water and a bit of investment. "Unfortunately we have not had both," said Ghulam Hussain Khwaja, president of Sindh Radiant, an environmental NGO based in the delta region in Pakistan's southern Sindh province.
Pakistan, like many other developing countries, has lacked the resources and policy direction to invest in "biodiverse" initiatives such as mangroves, which fall within the ambit of the environment ministry, also neglected, says Hannah Reid, a researcher at the climate change group at the UK-based International Institute for Environment and Development (IIED).
Shift
However, the UN's push for the inclusion of national biodiversity strategies in countries' plans to cope with climate change - their National Adaptation Plan of Action (NAPA) -could change that.
The shift was one of the
outcomes
of a recent meeting of the secretaries of the three Rio Conventions - Luc Gnacadja of the UN Convention to Combat Desertification, Christiana Figueres from the UN Framework Convention on Climate Change (UNFCCC), and Ahmed Djoghlaf of the Convention on Biological Diversity.
"This is good news for poor communities as most investment in adaptation to climate change has revolved around infrastructure, such as building concrete embankments," said Reid, who has long championed the value of healthy ecosystems as climate insurance. "I am glad that policy-makers have finally begun to join the dots," she said.
Various studies
have shown that climate change is set to erode ecosystems, which play a critical role in building poor communities' resilience to climate-related risks.
Most poor communities are "more reliant on ecosystem services and natural resources such as wood, fish, grazing and wild medicinal plants for their subsistence and livelihoods than wealthy people – particularly in times of hardship", writes Reid,
in a paper
co-authored with Joanna Phillips of Royal Society for the Protection of Birds and Melanie Heath of BirdLife International.
A healthy ecosystem has various benefits, including slowing down the impact of climate change. Mangroves are not only well-known coastal buffers that reduce the strength of waves before they reach the shore and protect against cyclone damage, they also sequester carbon and provide a resource base for local livelihoods and income generation.
Funding gaps
The International Union for the Conservation of Nature (IUCN) in Pakistan has designed a project to plant a mangrove forest in a 100,000ha area in the Delta. "It will cost us about US$19.7 million - we don't have that kind of money," said Tahir Qureshi, senior adviser on coastal ecosystems with IUCN.
But the investment could go a long way towards fortifying the country and its poor communities, which will be threatened by more and intense flooding as the impact of climate change unfolds, said Khwaja. This will also mean mounting costs in future. The UN has already launched an appeal for more than $2 billion to help Pakistan's flood-affected. 
Almost 90 percent of the water in the upper reaches of the Indus comes from glaciers located in the Himalayan, Karakoram and Hindu Kush mountain ranges. As global temperatures rise, glaciers are expected to melt at a faster rate, leading to more flooding.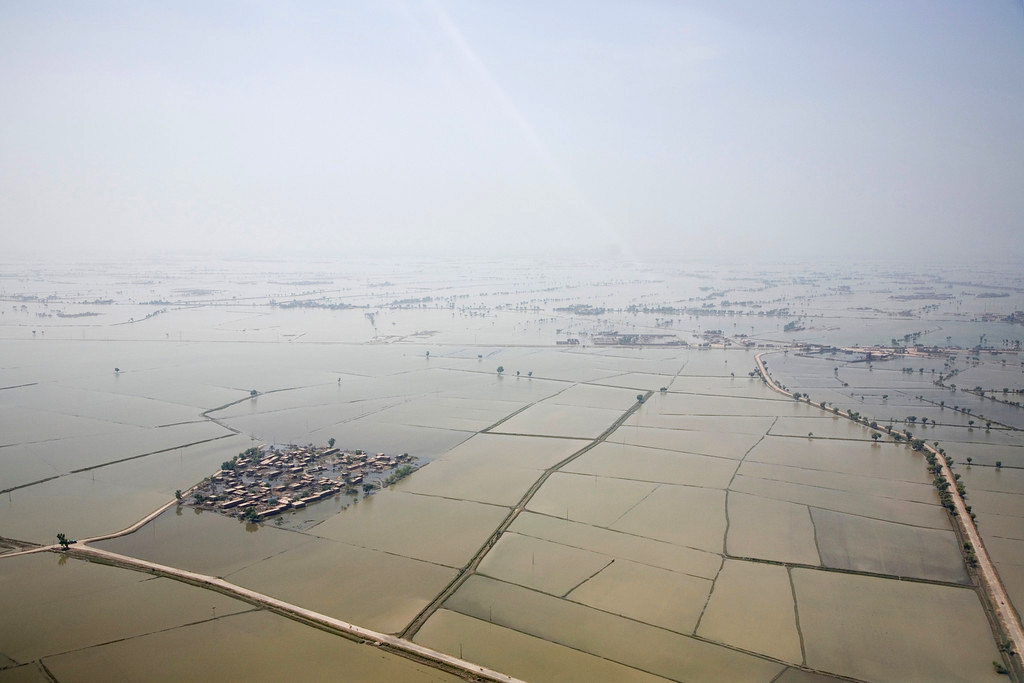 201010071029250171
Photo: Truls Brekke/FAO
Flooding has continued in the Sindh province
The
floods in Pakistan
began 11 weeks ago, mainly along the Indus River system, affecting more than 20 million people. Flooding has continued in Sindh, where it has affected more than seven million and destroyed at least a million homes.
It stopped raining more than a month ago, but there is hardly any forest cover or mangroves to check the water as it breaks embankments.
Pressure on water
As Pakistan's population has grown, more people have settled along the Indus - the main river system - clearing forests along the upper stream to grow food. A network of canals and dams set up by the British during the colonial era has been expanded to divert the river and its tributaries to meet land needs.
It is estimated that 60 percent of the Indus water is used to feed Pakistan's irrigation networks - one of the largest in the world, says the IUCN. The country, predominantly dependent on agriculture, will become the third most populous country by 2050, according to the UN.
"We used to have vast stretches of 'dariyai belas' [riverine forests] but now we have vast stretches of bare land," said Qureshi. So when the Indus makes its way downstream to the delta in Sindh, it is silted, with very little fresh water, said Qureshi and Khwaja.
The intrusion of saltwater from the Arabian Sea has "had devastating effects on the ecology and human economy of the Indus Delta", states an IUCN
brief
. Mangroves have been affected by the salinity over the years.
Land has become unsuitable for agriculture for the almost 900,000 people who live within the delta, and affected the 135,000 who depend on mangrove resources, such as shrimp catches valued at about $20 million annually in the delta.
Take the plunge

Khwaja pointed out that conditions to invest in mangroves were perfect. "The huge amount of fresh water that has been pumped into the river system downstream thanks to the floods has ironically proven to be a boom for mangroves and the ecosystem in general," he said.
Faced with extreme water shortages in the past, his NGO has struggled to devise various initiatives to revive the ecosystem. "All we need is a bit of money and some [mangrove plant] seeds to distribute to the communities."
IIED's Reid said the challenge now was for Figueres to persuade countries to include ecosystems in their adaptation plans.
But some countries, such as Sierra Leone, Lesotho, Sudan and Bangladesh, have already incorporated development of their natural resources into their NAPAs. "They are still waiting for funds," said Reid.
jk/mw
---
This article was produced by IRIN News while it was part of the United Nations Office for the Coordination of Humanitarian Affairs. Please send queries on copyright or liability to the UN. For more information: https://shop.un.org/rights-permissions