Thousands of people living in a fertile wetland on the edge of Vientiane may lose their livelihoods and be relocated as part of the capital's urbanization plans, the Food and Agriculture Organization (FAO) says.
Beung That Luang is a 20 sqkm marsh on the eastern edge of Vientiane Municipality. More than 35,000 people live there - 5 percent of the municipal population.
According to FAO, a new urban centre is slated for construction in the wetland area, while many other large-scale development projects have been proposed.
"Many of these projects would result in the relocation of hundreds of families and the destruction of livelihoods for thousands more. It is therefore crucial that Beung That Luang be developed consistent with the needs of the poor households living in and around the wetland," the FAO's Representative to Laos, Serge Verniau, told IRIN.
The 670ha urban centre is to be built by foreign companies under a 49-year land concession in the wetland area, according to the FAO. Local media reports say the centre is being developed at a cost of US$1.1 billion, while compensation for those relocated is estimated at more than $100 million.
Resistance mounting
However, residents in the wetland say they do not want to move. Nine village chiefs have started bringing in relatives and friends to boost the population.
Many of these projects would result in the relocation of hundreds of families and the destruction of livelihoods for thousands more
"Villagers are unaware of the development projects. We fear that our villages will be relocated one by one. We hope that if the population rises, the relocation and development process will slow down," Peung Sungala, chief of Konkhornneua Village, said.
To preserve the wetland's economic activities and its ecology, the FAO has proposed an ecological park for the area that advocates sustainable agricultural activities, ecological tourism, reforestation, and a visitor education centre.
Endangered livelihoods
The wetland is considered the most fertile farming land in Vientiane Municipality. The Ministry of Public Works and Transport, FAO and environmental NGO WWF estimate the marsh generates nearly $5 million a year for the local economy, which would be lost to urbanization.
Forty-five percent of the total population on the marsh engages in agriculture and fish farming as their primary source of income.
"We have all been asked to sell and move off our farm land, but we are uncertain of when they will force us to leave," said Bountieng Keomanyvong, a farmer from Nonwai Village Xaysettha District, in the wetland.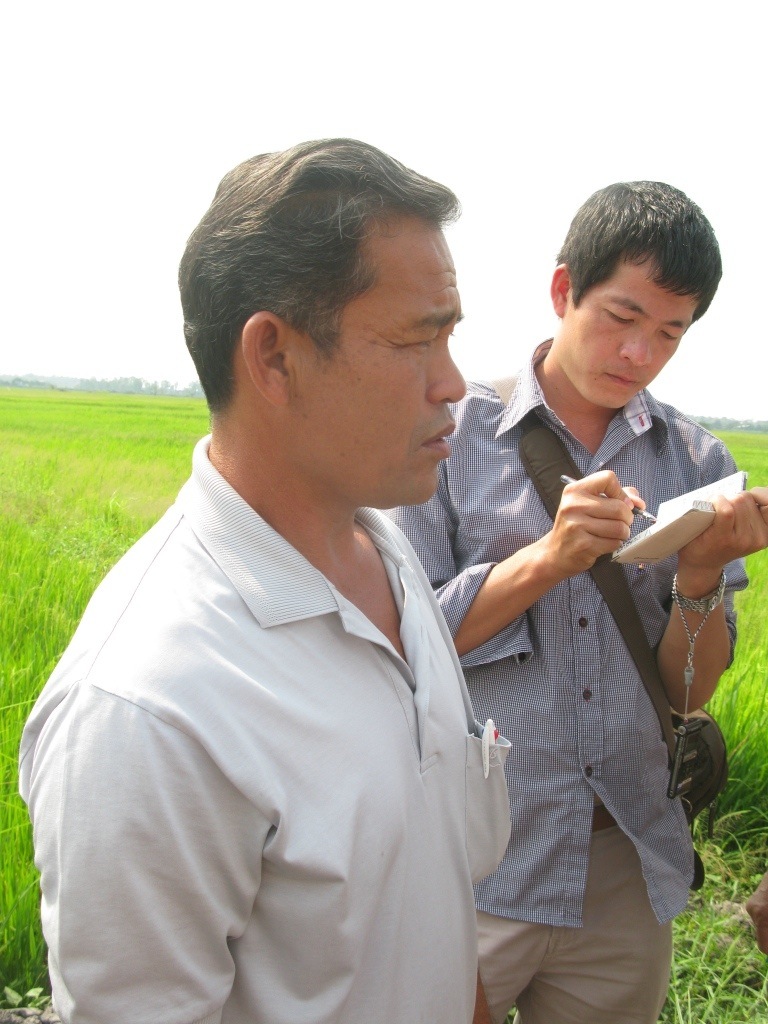 201003021242130988
Photo: contributor/IRIN
Farmer Bountieng Keomanyvong (foreground) is concerned about being relocated
"It is rumoured that we will be moved to apartment blocks and will no longer be able to farm. We are all uncertain of what we will do if this happens, because at the moment we farm rice for a living," he said.
The marsh also works as a natural water purification and waste treatment system. Besides jeopardizing livelihoods, the FAO says urbanization plans may cause severe flooding, since the marsh acts as a floodwater retention system for Vientiane Municipality.
"Our marsh will soon become a concrete urbanization project," Vieng Keow, director of the Culture and Heritage Department at the Ministry of Information and Culture, told IRIN. "The farmers will lose a primary source of income and their cultural heritage [which is] attached to the marsh's history."
Uncertain future
Villagers say many questions regarding their resettlement are still unanswered, including the location of their new homes, what the houses will be like, and how they will be compensated.
Land titling is one of the most sensitive areas of debate in Laos, where many people can be moved off their land because they do not hold titles.
"Most villagers have no land owner certificate and some new buildings will occupy the protected areas," said Keow.
Those with land titles will be compensated by the government, but there is little guarantee that their livelihoods are protected.
"We are afraid that farmers will not be able to recover their livelihoods. There is no guarantee that farmers' resettlement compensations will secure a better life," said chief Sungala.
contributor/ey/mw
---
This article was produced by IRIN News while it was part of the United Nations Office for the Coordination of Humanitarian Affairs. Please send queries on copyright or liability to the UN. For more information: https://shop.un.org/rights-permissions