Four years after contracting rheumatic fever, Mee Naing, 28, finally beat the disease with the help of traditional medicine.
Rheumatic fever can recur if not treated with long-term antibiotics, but because Mee Naing could not afford the medicine, she suffered from a bad bout of the disease for many months.
She finally went to a traditional medicine clinic and underwent a course of pills and balms and her health gradually improved.
"Whatever ailments I have, nowadays I take traditional drugs, which I can afford," said Mee Naing, whose monthly income as a marketing assistant is less than US$40.
More than 85 percent of country's population of about 57.5 million uses traditional medicines, according to government figures, partly to supplement western medicine and partly as an alternative.
"Traditional medicine is quite affordable and accessible for people from all walks of life, which are the fundamental reasons why most people use it," Maung Nyan, president of the Myanmar Traditional Medicine Practitioners' Association, told IRIN.
Practitioners say people in rural areas - about 70 percent of Myanmar's population - rely more on traditional medicine than in urban areas, since it is more widely available and affordable than western medicine.
Traditional medicine is also 10-20 times cheaper than western medicine - a huge factor when 32.7 percent of people live below the poverty line, according to specialists.
Government promotion
Traditional medicine, in the form of pills, powders and balms, has been used in Myanmar since 600 BC, but only recently has the government moved to formalize its role in the healthcare system.
A Traditional Medicine Drug Law introduced in 1996 controls the quality, production and sale of the drugs. The government has also introduced good manufacturing practices, while the production, packaging and storage of medicines have been modernized.
These standards mean that "public trust and confidence in indigenous drugs has greatly been enhanced", notes the World Health Organization in Myanmar in its
2009 health report
for the country.
"There is a progressive increase in demand for traditional medicine not only in rural areas but also in urban areas," it states.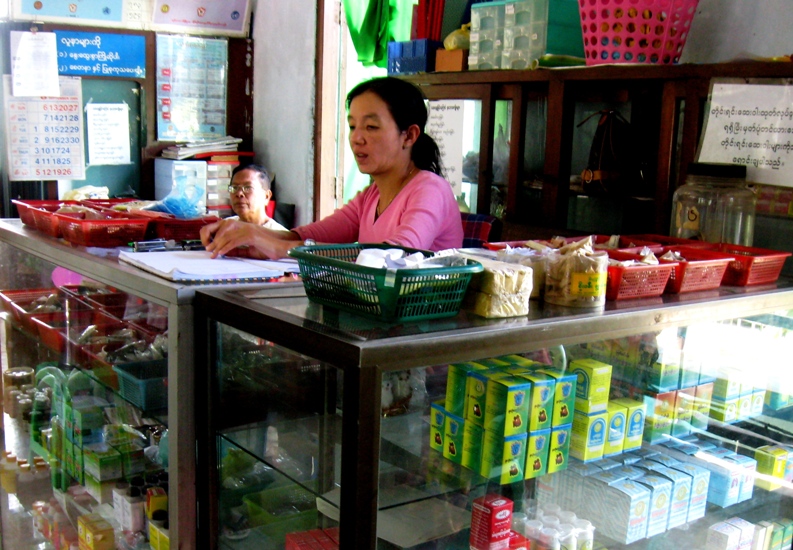 200910121327490604
Photo: Contributor/IRIN
Inside a Burmese traditional medicine clinic
There are 14 traditional medicine hospitals, and 237 district and township clinics and sub-centres across the country, while there are more than 10,000 practitioners, according to the Myanmar Traditional Medicine Practitioners' Association.
In 2007, the government established the first national herbal park on 81 hectares of land in the new capital, Naypyidaw, to grow plants to treat diseases such as diarrhoea, dysentery, cholera, diabetes, hypertension, malaria and tuberculosis.
A long tradition
"Traditional medicine has regained its golden age," said Aung Naing, who practises both traditional and western medicine, choosing one or the other depending on a patient's illness.
Most traditional practitioners combine traditional medicines with western equipment, such as blood pressure monitors.
"Traditional medicine is very effective in curing chronic diseases such as diabetes, rheumatic fever, rheumatoid arthritis, hypertension, stroke, paralysis, motor paralysis, malaria, and menstrual disorders," said Mya Win, 66, who has practised traditional medicine for 49 years.
While it cannot cure diseases such as cancer or HIV/AIDS, it has fewer side-effects than western medicine, said Mya Win.
Knowledge of Burmese traditional medicine has been handed down from generation to generation for centuries, and is influenced by traditions from neighbouring countries such as India and China.
Most of the medicines are of plant origin, although animal, mineral or aquatic material is also used.
In 1976, the government established the Institute of Myanmar Traditional Medicine to train traditional medicine practitioners, while the University of Myanmar Traditional Medicine was established in Mandalay in 2001. The curriculum covers traditional medicine, science and basic concepts of western medicine.
"Today, more and more young people are interested in learning traditional medicine as the role of the medicine becomes larger and larger in the country," Aung Myint, the university's rector, told IRIN.
contributor/ey/mw
---
This article was produced by IRIN News while it was part of the United Nations Office for the Coordination of Humanitarian Affairs. Please send queries on copyright or liability to the UN. For more information: https://shop.un.org/rights-permissions