Myanmar is one of the least-funded countries in the world but faces a number of hurdles if it wants to receive more overseas development assistance (ODA).
Donors cite the continued detention of opposition leader Aung San Suu Kyi as a key obstacle, along with issues of access and other restrictions on the delivery of aid.
However, the relief effort that followed Cyclone Nargis in May 2008, which left some 140,000 people dead, proved that aid can be delivered directly to those in need, agencies say.
In 2007, the country received just US$4 per person in ODA, less than any of the poorest 50 countries, according to the Organization for Economic Cooperation and Development (OECD).
Cambodia and Laos – countries with similar poverty levels – received $47 and $68 respectively for the same time period.
"I can't speak for other donors – but I would imagine most donors do want to give more to Myanmar," Paul Whittingham, head of the UK's Department for International Development in Myanmar, told IRIN.
"But there are challenges to effective delivery," he said, citing issues of restricted access, lack of reliable data, and a poor policy environment.
However, it is the issue of Aung San Suu Kyi that appears to remain centre stage.
"Clearly it is not always possible to keep politics separate from the humanitarian priorities," Whittingham conceded.
| | |
| --- | --- |
| Top 10 Donors of Net ODA to Myanmar 2007 | USD Million |
| JAPAN | 30.5 |
| EC | 19.7 |
| UK | 18.0 |
| USA | 15.4 |
| UNICEF | 14.3 |
| UNDP | 13.0 |
| AUSTRALIA | 12.9 |
| SWEDEN | 11.4 |
| NORWAY | 11.0 |
| DENMARK | 7.9 |
| TOTAL | $154.1m |
Aung San Suu Kyi has been in detention for 14 of the past 20 years. In May she was charged with violating the terms of her house arrest and her trial has drawn international condemnation. In response, western nations, including the United States, have renewed sanctions against the country. The trial verdict is expected this month.
Aid workers in Myanmar argue that aid for the general public should not be withheld on political grounds, noting that other countries with repressive governments receive much more.
"It's a mystery to me that Myanmar gets so little in aid, considering the needs are so great," said an NGO worker who has worked in Myanmar for 15 years.
"[Donors] are so blinded by their opposition to the form of government that they forget the needs of the people."
Medical workers estimate there are between five and 10 million malaria patients per year in Myanmar, but only a small proportion receive effective treatment.
The country also has the highest rate of HIV in Southeast Asia, but anti-retroviral drugs are only available to one-fifth of those who need them. The remainder, about 60,000 people, goes untreated.
And more than 30 percent of Myanmar's children are chronically malnourished, according to the UN.
"We know we can reduce the number of people who die each year from preventable diseases," said Dan Collison, director of emergency programmes for Save the Children in Myanmar. "But without donor support, we can't do the work we need to do," he said.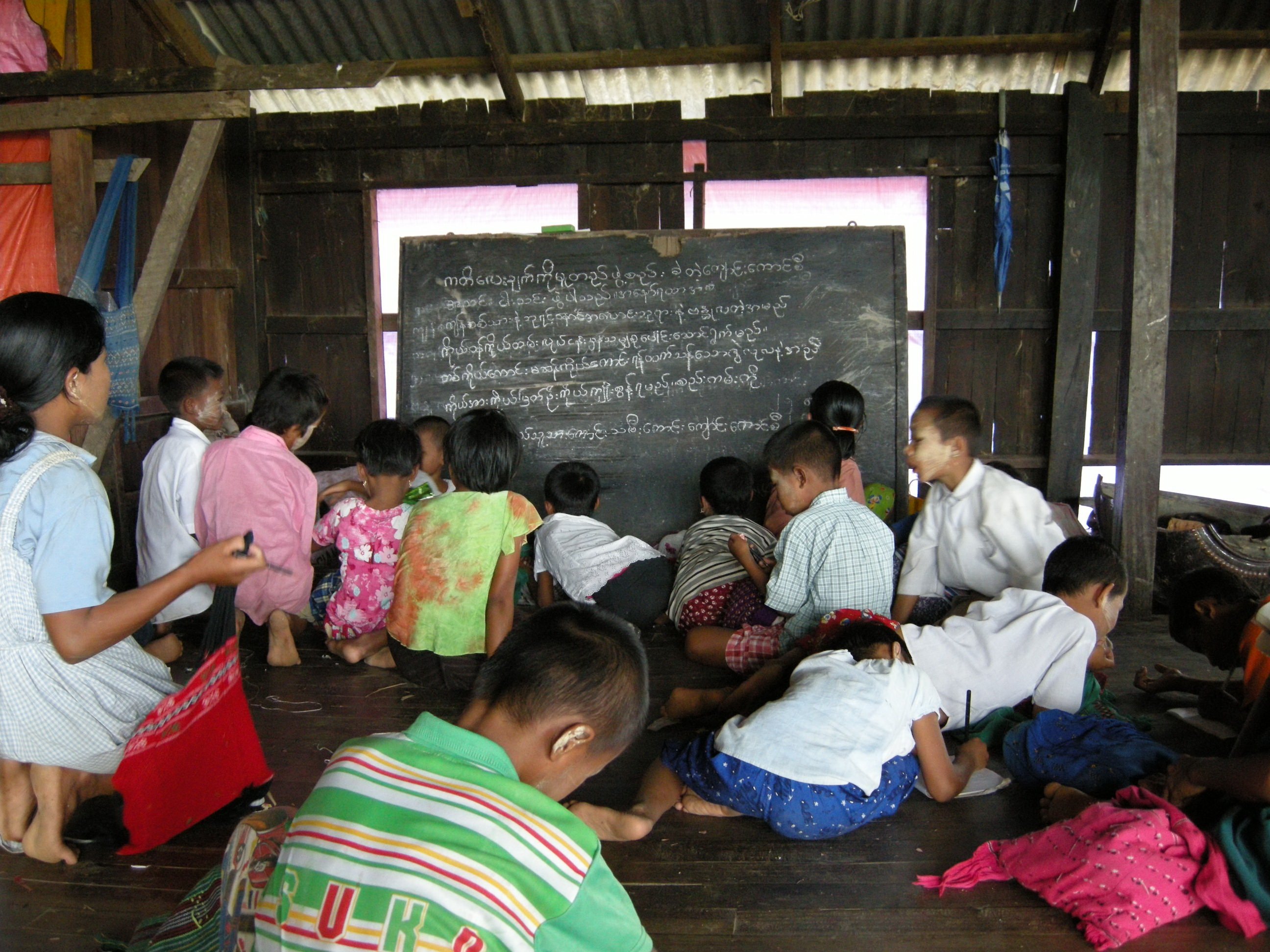 200908040712090843
Photo: Contributor/IRIN
Primary school students learning on the floor of a cyclone-damaged monastery in Gwe Gon village, Dedaye Township

Cyclone recovery under-funded
More than a year after Cyclone Nargis, a multi-million dollar recovery effort remains critically under-funded, Bishow Parajuli, the UN humanitarian coordinator in Yangon, told IRIN.
Of the $691 million needed for the
Post-Nargis Recovery and Preparedness Plan
, only $100 million has been raised to address health, shelter, water and sanitation, and agriculture needs.
"There is also a misconception among donors that aid cannot be delivered effectively, but this is not the case and that has been proven with Nargis. This is the message that needs to get out, to be communicated to donors," said Parajuli.
"The response to Cyclone Nargis in the delta has shown that it is possible for the international community, local organizations and the government to cooperate to save and rebuild lives," said Whittingham of DFID, which was one of the biggest donors to the Nargis response and has just pledged an extra $32 million in assistance across Myanmar over the next two years.
"The needs are immense - so we urge others to follow us and commit more."
Donors and humanitarian workers agree that the government itself must do more to address the root causes of poverty. State investment in basic services is among the lowest in the world: for example, Myanmar spends just $0.70 per person on healthcare each year.
"Only a joint effort of government, the UN, NGOs and donors can really address the massive needs of the people of this country," said Andrew Kirkwood, head of Save the Children in Myanmar.
contributor/ds/mw
---
This article was produced by IRIN News while it was part of the United Nations Office for the Coordination of Humanitarian Affairs. Please send queries on copyright or liability to the UN. For more information: https://shop.un.org/rights-permissions