Amid the usual piles of fetid rubbish on the streets of Kibera, Kenya's largest slum, there was clear evidence of the recent political violence in the blackened buildings and boarded-up shops. A row of kiosks was reduced to a pile of rubble and cinders; several larger buildings were now mere charred shells.
The tension was palpable, even more than a fortnight after incumbent Mwai Kibaki was declared the winner of a presidential election the opposition insists was rigged.  A truck-full of riot police cruised the area, passing a donkey cart laden with household possessions. People were on the move, fearing another week of violence. The opposition Orange Democratic Movement (ODM) had called for three days of mass action, starting on 16 January.
Thousands of Kibera residents have sought refuge in neighbouring Jamhuri Park, a showground normally used for trade fairs now transformed into a makeshift camp for the displaced.
Even here, the atmosphere was tense, with police trying to stop people stealing and fighting. Seraphin Okoth Okuta, 40, argued with a teenage girl over a pair of donated shoes. Both had grabbed one shoe from a pair and neither was prepared to give way, until a policeman persuaded Okuta to concede.
Okuta came to Jamhuri Park to get clothes because her landlord in Kibera's Kisumu Ndogo area had locked her out of the room she had rented for 17 years.
"My landlord is a Kikuyu. He chased me away from the house. He said he doesn't want a Luo living in the house. He refused to let me take my possessions," she explained. Now she and her three teenage children were sleeping on a neighbour's floor with one blanket between them.
She was also trying to raise funds to bury her eldest son, who she said was killed in the riots that followed the election.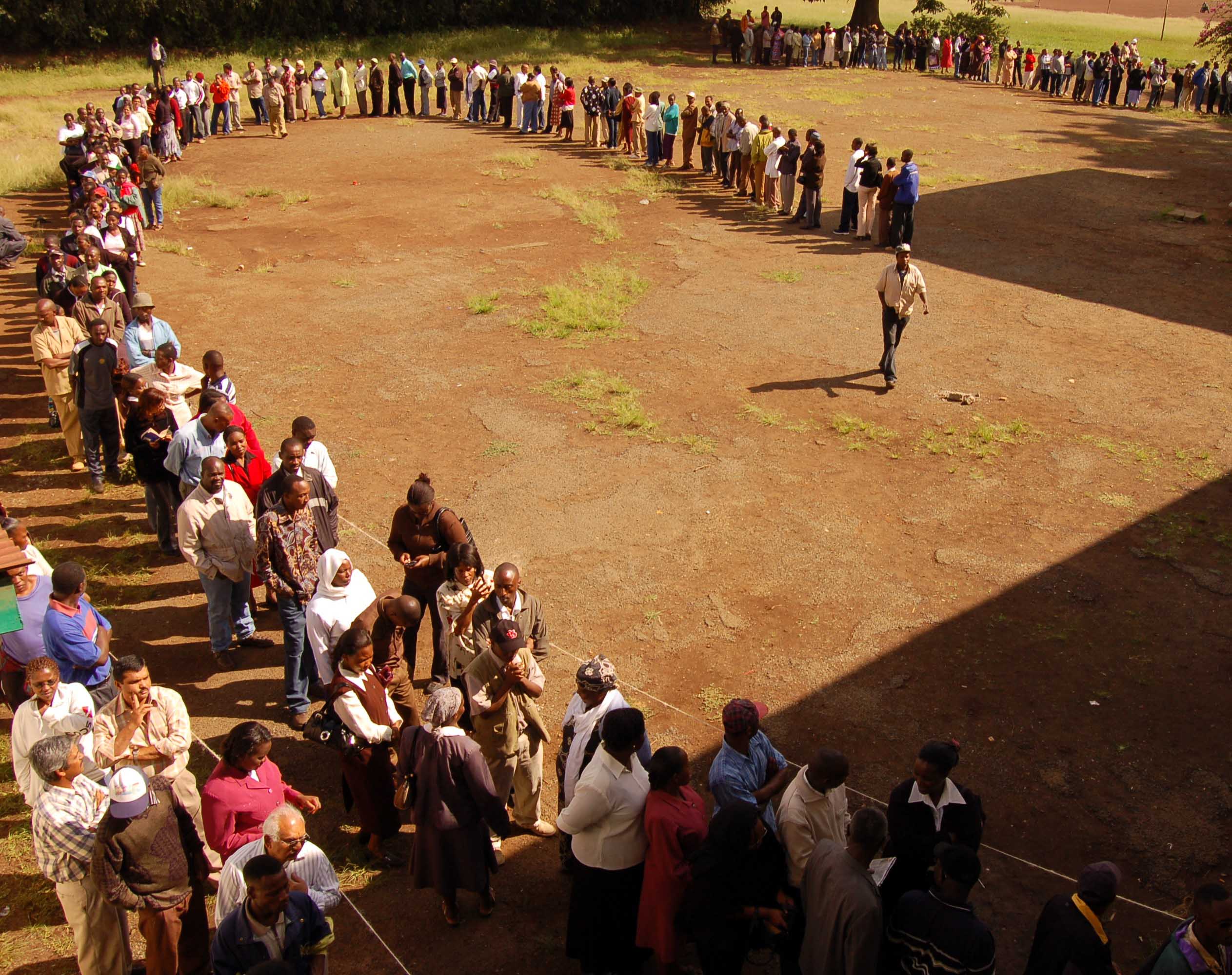 Political rivalry
Analysts point out that the problem of ethnicity in Kenya emerged during the colonial period and has worsened since independence as it has become a key factor in national politics.
"Ethnicity per se, in the absence of its politicisation, does not cause conflict. There is evidence to suggest that where ethnic conflict has emerged in Africa, there have always been political machinations behind it," wrote Kenyan academic Walter Oyugi in Politicised Ethnic Conflict in Kenya: A Periodic Phenomenon.
Politics in Kenya has long been a battleground for communities' tussles over land and power. Parties tend to be formed along ethnic lines. Before every election, campaign rhetoric reinforces divisions between ethnic groups, with politicians pledging to protect the interests of "their" people against the threat of dispossession or impoverishment at the hands of "others". Thus whole communities are polarised, a "them-and-us" mentality entrenched between former friends and neighbours.
Old grudges help to fuel such antipathy. In 1969, three years after independence, Kenya's founding president Jomo Kenyatta, a Kikuyu, jailed the leading Luo politician, Oginga Odinga, after he resigned as vice-president to form an opposition party. In December's election, Kibaki was declared the victor against Odinga's son, Raila, in a poll that has been widely criticised for irregularities.
The poll was the most hotly contested in the country's history and its polarising effect is apparently greater than previous, foregone-conclusion, elections. Judging by IRIN interviews with affected citizens, the rifts will take a long time to heal.
"I am a Kenyan"
Jane Njoki, a 42-year-old mother of two, campaigned for Kibaki's Party of National Unity (PNU) in the Kianda area of Kibera. "Before the elections, there were rumours that if Raila won, Kikuyus will have to go," said Njoki. "When the election results were announced, they started burning our things and beating people because we are Kikuyus.
"My neighbour told me, 'You are going to be beaten by the ODM people'. I told her, 'They can't beat me. They don't know I am in my house'. She told me, 'We are the ODM'. So I ran away [to Jamhuri Park] because she could call those men to come and kill me," she said.
A few days later, Njoki's son was stopped by a group of young men who asked him to which ethnic group he belonged. "He said, 'I am a Kenyan'. The following day our house went up in flames," said Njoki.
"I will never trust a Luo again in my life. I can't express what has gone on in my heart. I can't live with you for more than 10 years and instead of hiding me you are the first person to threaten me," she said.
"If I could be president of this country, the first thing I'd do would be assess those people who don't want to live with others and keep them in their own province and make it a country of its own. And those who want to live together, let them live together," she said.
Up-country unrest
In another showground 150km to the northwest, in Nakuru, local volunteers and international aid workers have helped about 37,000 people displaced by post-election violence.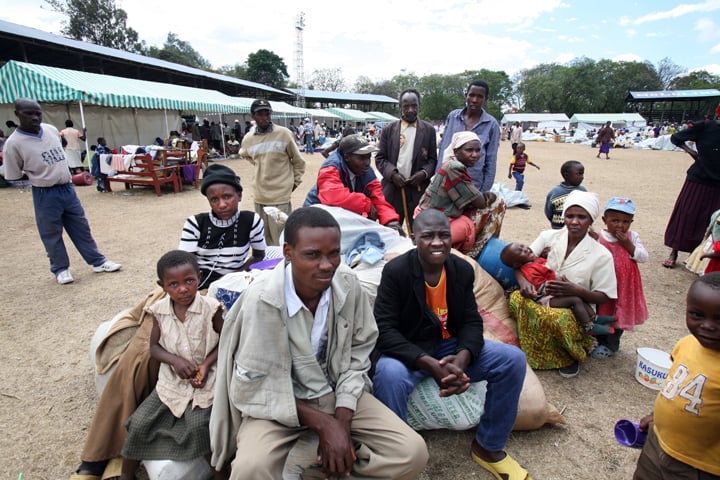 Most have moved on to stay with friends and relatives but there is a static population of about 3,400, almost exclusively Kikuyu, who have nowhere else to go. Among this core group when IRIN visited the camp was the Maina family, who before the election had farmed land in Burnt Forest, in Rift Valley Province, which has long been a powder keg of land disputes between the Kikuyu and Kalenjin, who largely supported Odinga.
Sitting in the middle of the showground's sports field, on sacks containing all the possessions they could salvage, the Mainas, Kikuyus, recounted how the election had changed their lives for ever.
Rumours of impending violence abounded in Burnt Forest in the run-up to the polls, but it was only when Kibaki's controversial victory was announced that the Mainas and others took them seriously.
"These people were our friends," said Susan, the fifty-something mother of the family, of the Kalenjin neighbours, who, she said, organised themselves into groups armed with "arrows, machetes and clubs".
"When they realised their side was losing, they started preparing, hatching plans to attack," she said.
Just as in Kibera, Kikuyu homes in Burnt Forest were targeted, their occupants chased into nearby fields before just-harvested crops were stolen and buildings set on fire.
The scattered Maina family regrouped early the next day and ended up in the grounds of the local police station, with several thousand other people.
Their sense of sanctuary, said Susan, was fragile, because the police station was surrounded by the "others", their weapons pointed at the displaced families, and because some of the police officers were also Kalenjin, who when off-duty, mingled with the attackers, she said.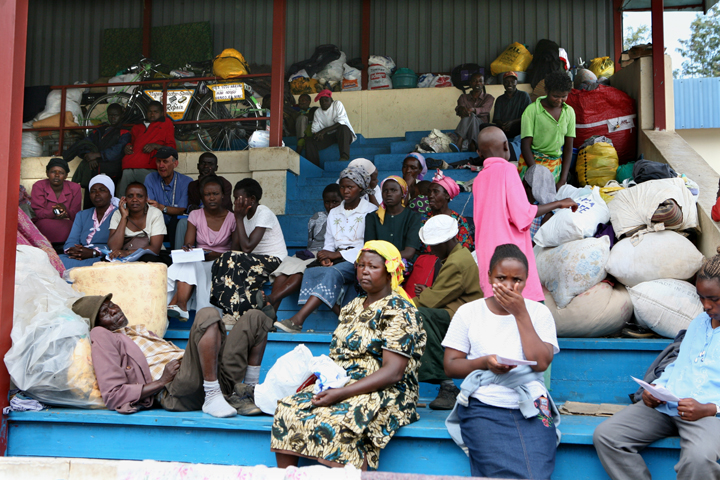 "At one point we were made to kneel, raise our arms and beg for mercy," said Susan.
Eventually, after about two weeks, security reinforcements arrived and many of the families managed to make their way to Nakuru. Susan did not return home first, but her son Benson, 22, did.
"Everything was burnt down. They took the crops we had just harvested and our dairy cows," he said, estimating the loss at about 150,000 shillings (about US$2,300).
Susan said she would only consider returning if Kibaki remained in power and if the government could guarantee their safety. "Otherwise we will remain displaced indefinitely. We have no roots anywhere else."
Asked if they could ever reconcile with their attackers, the reaction from the Mainas was a mix of yes and no.
"It depends on the other side," said Simon.
km/am/bp/mw
---
This article was produced by IRIN News while it was part of the United Nations Office for the Coordination of Humanitarian Affairs. Please send queries on copyright or liability to the UN. For more information: https://shop.un.org/rights-permissions