Fifty-three months in, the famine warnings that became a hallmark of Yemen's brutal conflict have somewhat subsided. But that doesn't mean people aren't going hungry, particularly in parts of the country where fighting is ongoing, aid access limited, and poverty widespread.
Such is the case in Hajjah province, which journalists Francesca Mannocchi and Alessio Romenzi visited in July. They spent three days documenting the work of Makiah al-Aslami, a nurse who runs a malnutrition clinic in Aslam, a largely rural district of around 100,000 people.
Al-Aslami, who everyone calls "doctor", has her work cut out: US-funded famine monitor FEWS NET says 1.2 million people are "severely food insecure" in the parts of the country it was able to visit. It classifies 11 districts and 406,000 people in Yemen as in "emergency", the second most severe of the five classifications it uses to measure food insecurity. 
Five of those districts are in Hajjah province, and one of them is Aslam. 
The 50-year-old nurse grew up in Aslam, and has seen it change with the war, which has pitted Houthi rebels against the Yemeni government of President Abd Rabbu Mansour Hadi, and the fractured Saudi Arabia-led coalition that backs it.
Tens of thousands of people have fled to the area from an active front line in Abs district, just to the west, putting a strain on already limited resources. "Thousands of displaced people are coming in search of a shelter in an area already among the poorest in the country," she explained. "Hungry people added on top of more hungry people."
Over the week Mannocchi and Romenzi spent with al-Aslami, she and her colleagues treated 19 people – mostly women and children – with acute malnutrition. Before the war, the nurse said she saw two, maybe three cases a week.
There are so many patients at the clinic that children often have to double up on beds, and mothers lie on the floor.
During their time in Hajjah, Mannocchi and Romenzi were accompanied at all times by a representative from the Houthi Ministry of Information. While they were not allowed to access hospitals treating the war-wounded, they were able to travel throughout most of the province. 
Their work offers a rare window into a part of Yemen outsiders rarely see, and where civilians are suffering. It's a place where people like al-Aslami are working overtime, despite the fact that the fight against hunger feels like an uphill battle, especially when patients leave her care and can't afford food once again. 
"When I dismiss mothers and children, I know that many of them will return malnourished again," she said. "Unfortunately, some of them will die in the villages I can't reach."
Less aid, more work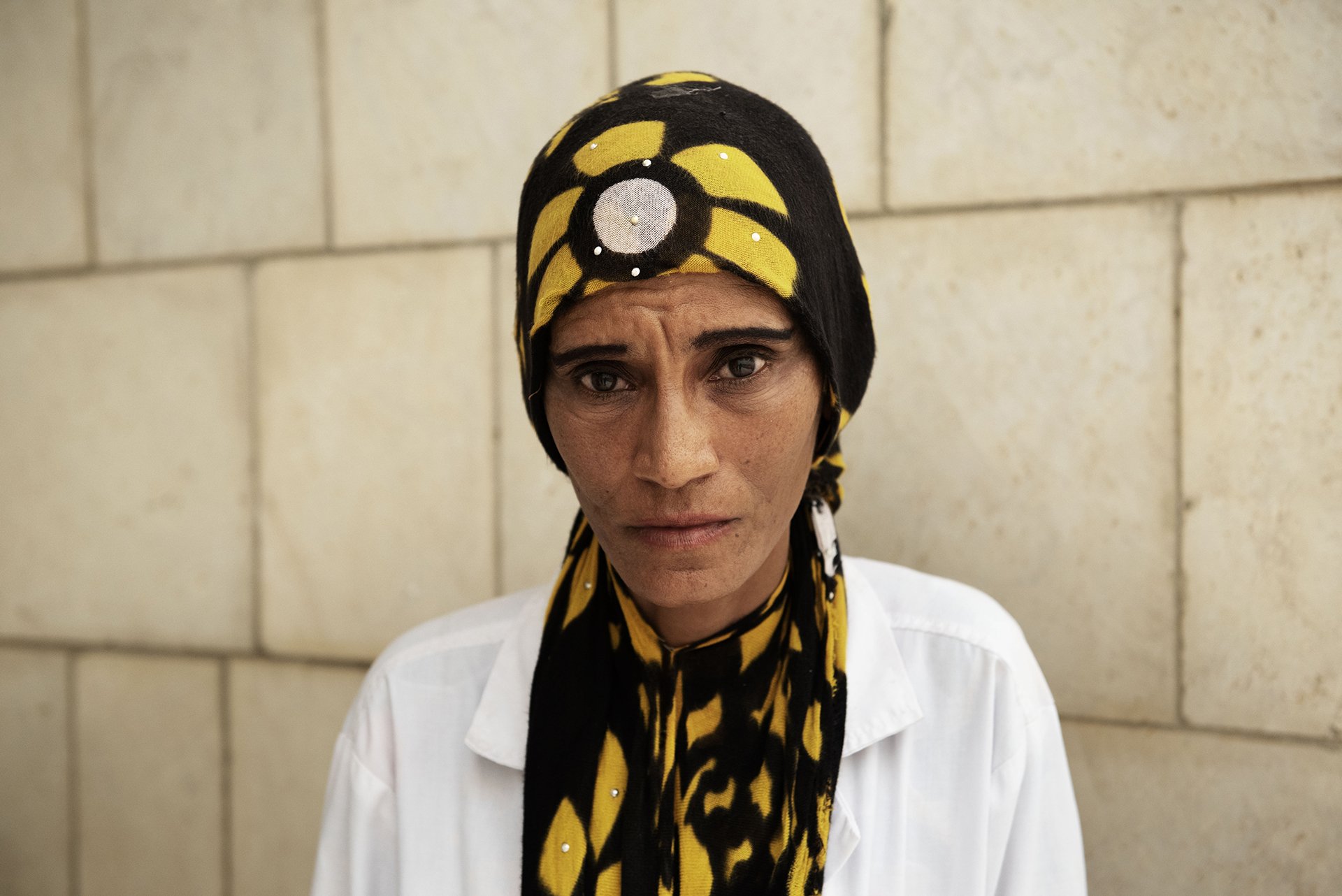 Al-Aslami's work is supported by some international organisations, including ADRA, the Seventh-Day Adventist Church's aid arm, but overall she says help is drying up as the war goes on.
Since September 2016, when a cash crisis forced Hadi's government to halt payments, hundreds of thousands of Yemeni public servants like al-Aslami have gone unpaid, or received their salaries only occasionally. Al-Aslami says she was last paid, by the Houthi rebel government in the Yemeni capital, Sana'a, three months ago.
Nevertheless, she opens the clinic at dawn and is the last to leave, when she is not travelling around the area looking for patients who can't reach her.
"It's my duty, and my mission," she said. "If I go home, I'm still at the clinic in my heart and my mind."
Aid diversion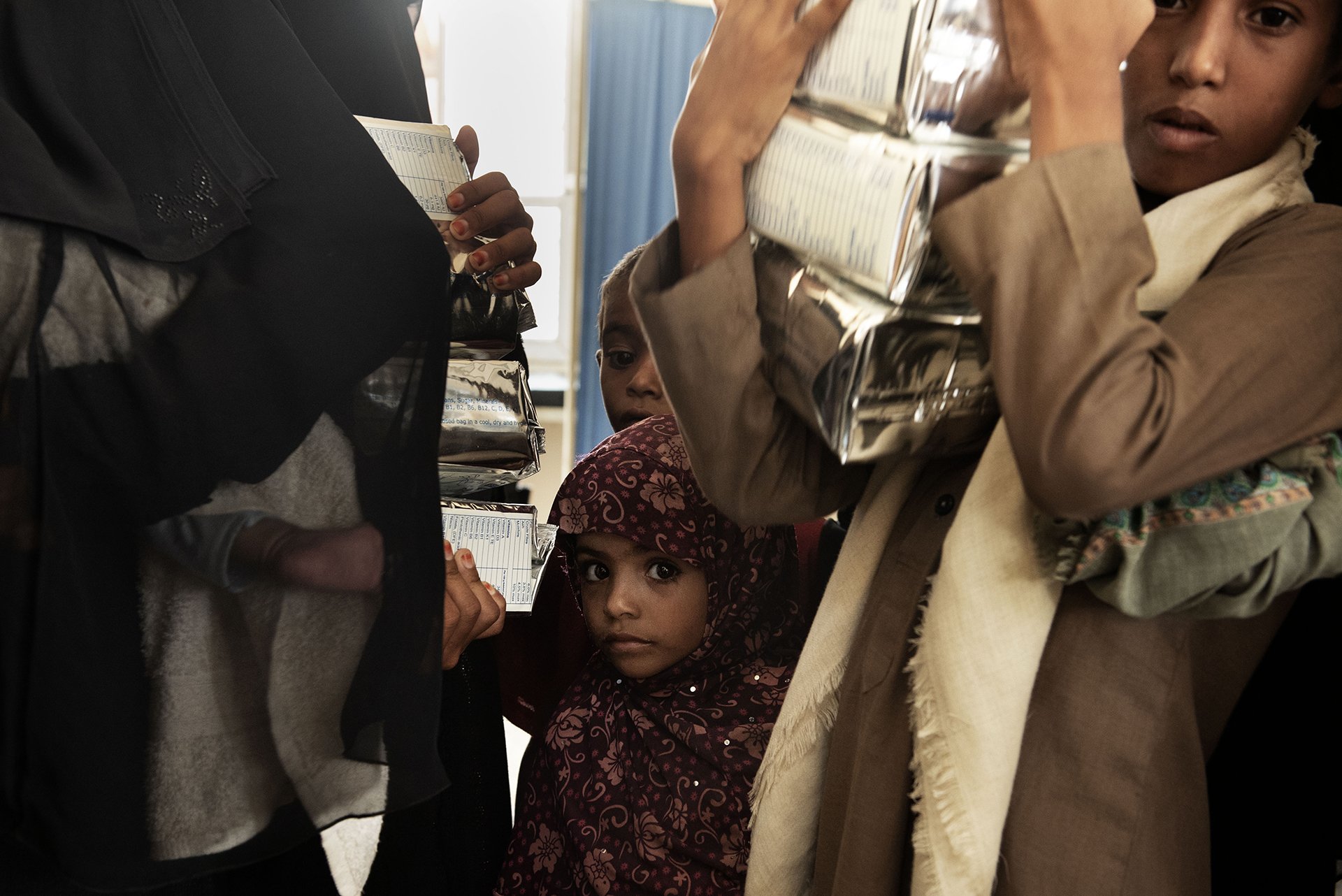 Yemenis pick up food aid at a medical centre in Abs district. 
Many women in the queue walk three hours to pick up their rations and have to make the same trek back, carrying both food and their children in their arms. Temperatures reached 45 degrees Celsius on the day this photo was taken, but the women said they had no food at home, or in their tents, and this was the closest place handing out assistance.
An aid worker in Abs, who asked to remain anonymous for security reasons, said the Houthi authorities favour relatives and acquaintances in handing out aid, and occasionally ask for bribes from people in need. "They use food aid as a form of pressure and blackmail," the aid worker said. They repeatedly hinder the work of humanitarian agencies. Sometimes we can negotiate, sometimes not. The situation is really frustrating."
The World Food Programme has accused the Houthis of diverting aid in parts of Yemen it controls. For more than two months, between between June and mid-August, it suspended aid to 850,000 people in Sana'a over a dispute about a biometrics registry the WFP said would help control fraud. 
When help comes too late
At the entrance of al-Aslami's clinic, children are placed in a plastic bucket to be weighed; then nurses measure their upper arms to determine the severity of their condition.
In the above photo, fathers wait for prescriptions to be written before they take their children home. 
Al-Aslami and her staff say that by the time many people reach her clinic they are already at an advanced stage of malnutrition and require aggressive, fast, and sustained treatment. They can't always be helped.
"Those who arrive [at the clinic] are often at the last stage, when we can do very little," said nurse Abdal Ibrahim. "It's a tragedy to see our children like this."
"The pain is still with me even when I go home; it never leaves me. It's impossible to describe in words what we see, and even when we do treat them [the children] we know that for the majority of children their malnutrition will turn into acute and chronic diseases we can't do much about."
Mobile clinics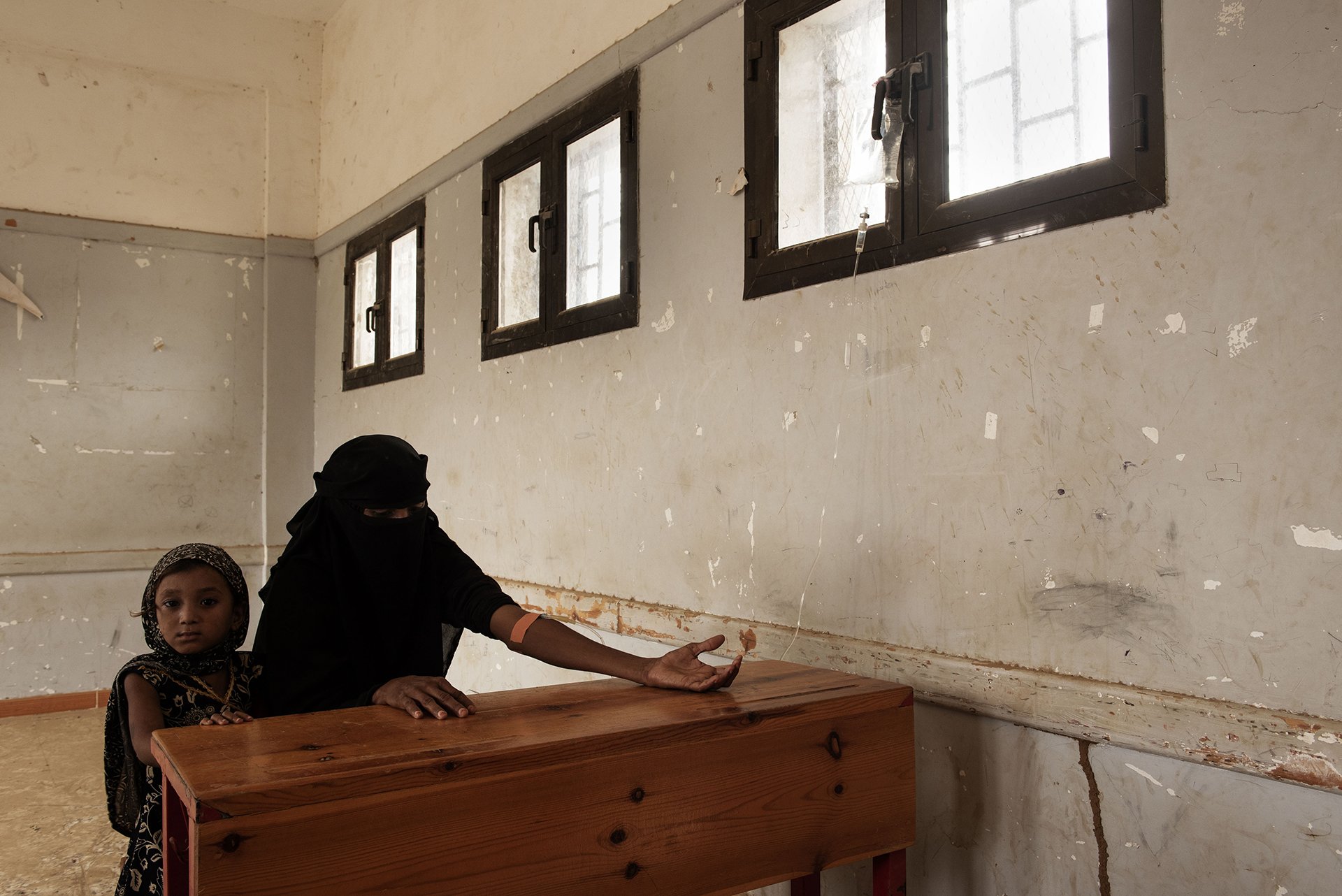 Yemen's economy is in a shambles. In many parts of the country there is food in the markets and shops, but people don't have the money to buy it. 
Many also can't afford the cost of a trip to a clinic, where treatment itself is free. So al-Aslami goes to them, travelling with a colleague in a 4X4, setting up clinics in empty schools or warehouses, and visiting rural villages where she has heard patients need her. 
In the picture above, an IV hangs from the window of an empty school in rural Aslam where al-Aslami saw patients for a day. "We don't even have a cot," she explained. "This woman should be lying down to receive this drip."
"Everything costs now," she continued. "A ride on a motorbike to go to the hospital; or a half an hour on the neighbour's tractor to try and grow something. Those who have something to sell; they sell it or rent it. Those who don't have anything to sell; they starve. Everything is for sale now in Yemen, even dignity."
Dangerous water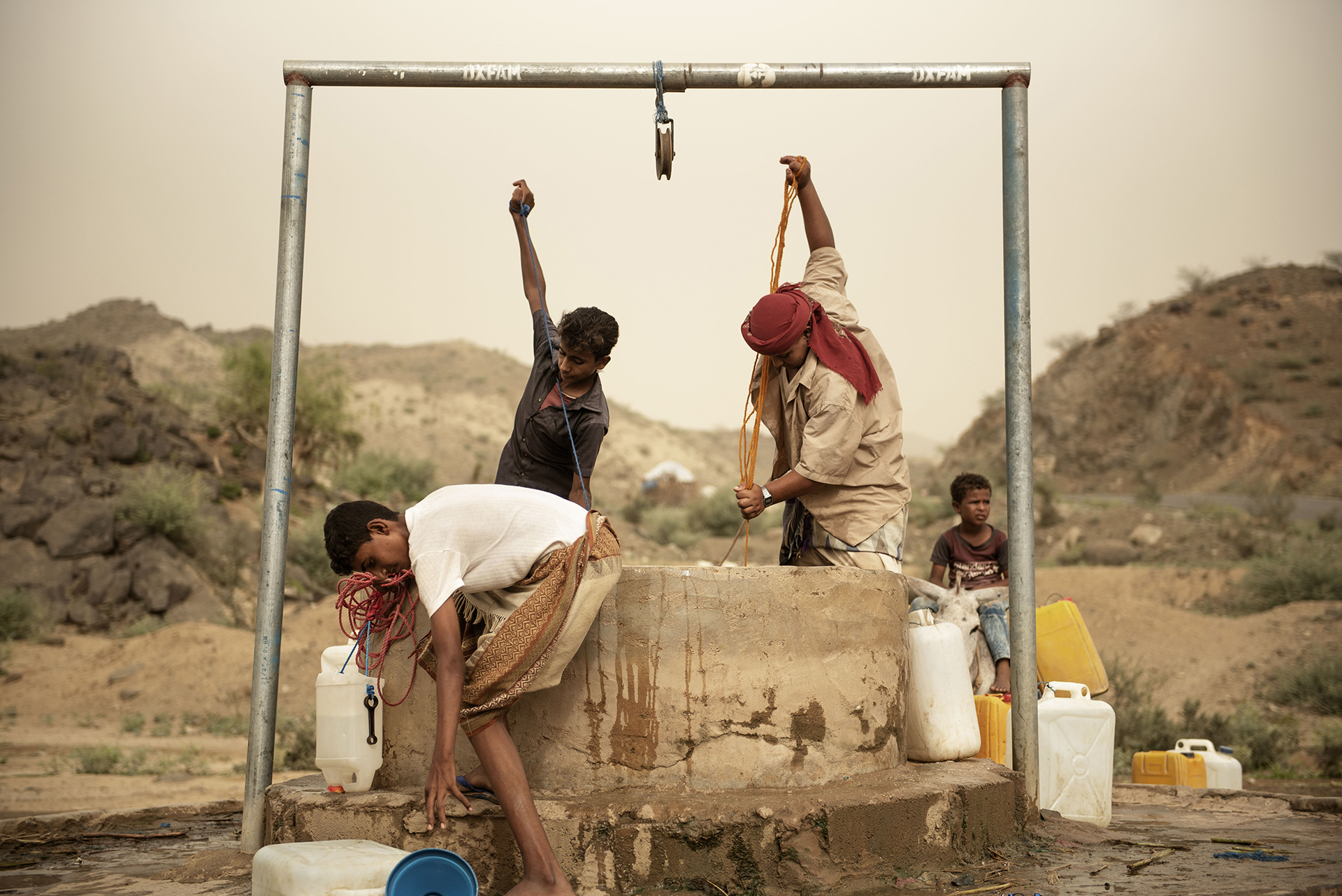 In Aslam, like many other parts of Yemen, safe drinking water is in short supply. 
People like Mohammed, 20, pictured on the right in a red head-covering, said they knew the water at this well in rural Aslam was not clean, but they had no other choice. Twice a day, he fills up two 40-litre jerry cans with well-water and brings them back to his family.
Several waves of cholera have killed more than 3,500 people since 2017. The UN says it has had to roll back vaccination campaigns, as well as some water and sanitation programmes, because donors have not given what they promised to the $4.2 billion Yemen aid response.
Al-Aslami said the lack of clean water in the area compounds the health issues she sees, as hungry people are less able to fight off diseases like cholera.
"The problem is that once the children are discharged [from the clinic], they return to their villages," she said. "Without food or drinking water, they deteriorate again quickly."
Malnourished children, desperate families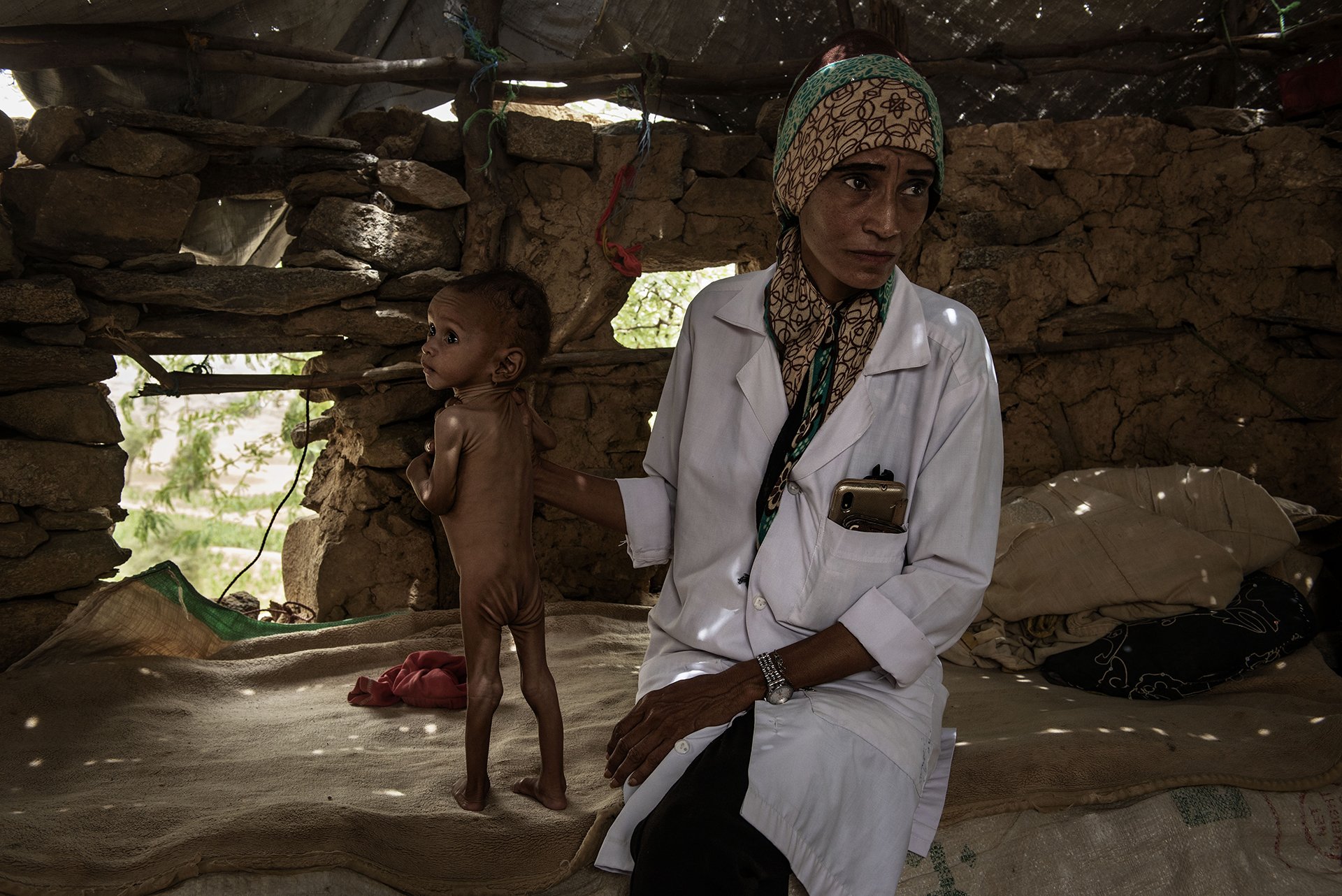 Nada, a 10-month-old who weighs 2.5 kilograms, has already been admitted to the Aslam centre twice in her short life, each time for 15 days.
Al-Aslami said "each time she came out of the centre she was stronger". But news recently reached the nurse, via other patients, that the young girl's condition had worsened once again. 
In the picture above, Al-Aslami had driven an hour to check on Nada in the village where she and her family live – a village that consists of huts of leaves and mud.
Nada's mother, Maryam al-Agrabi, said the girl – the youngest of nine children – hadn't been able to keep any food down for the past three days. She added that the family was surviving on one meal a day, and that the sum total of the food they now had for 11 people was a container of flour, one potato, and some stale bread.
"We have no way to pay for transportation to take her to the hospital, and the only thing left for me to do is watch her starving," said al-Agrabi. "When I hear her crying because she's hungry, I know I can't give her anything, and I feel like I'm dying. "
The 'forgotten patients'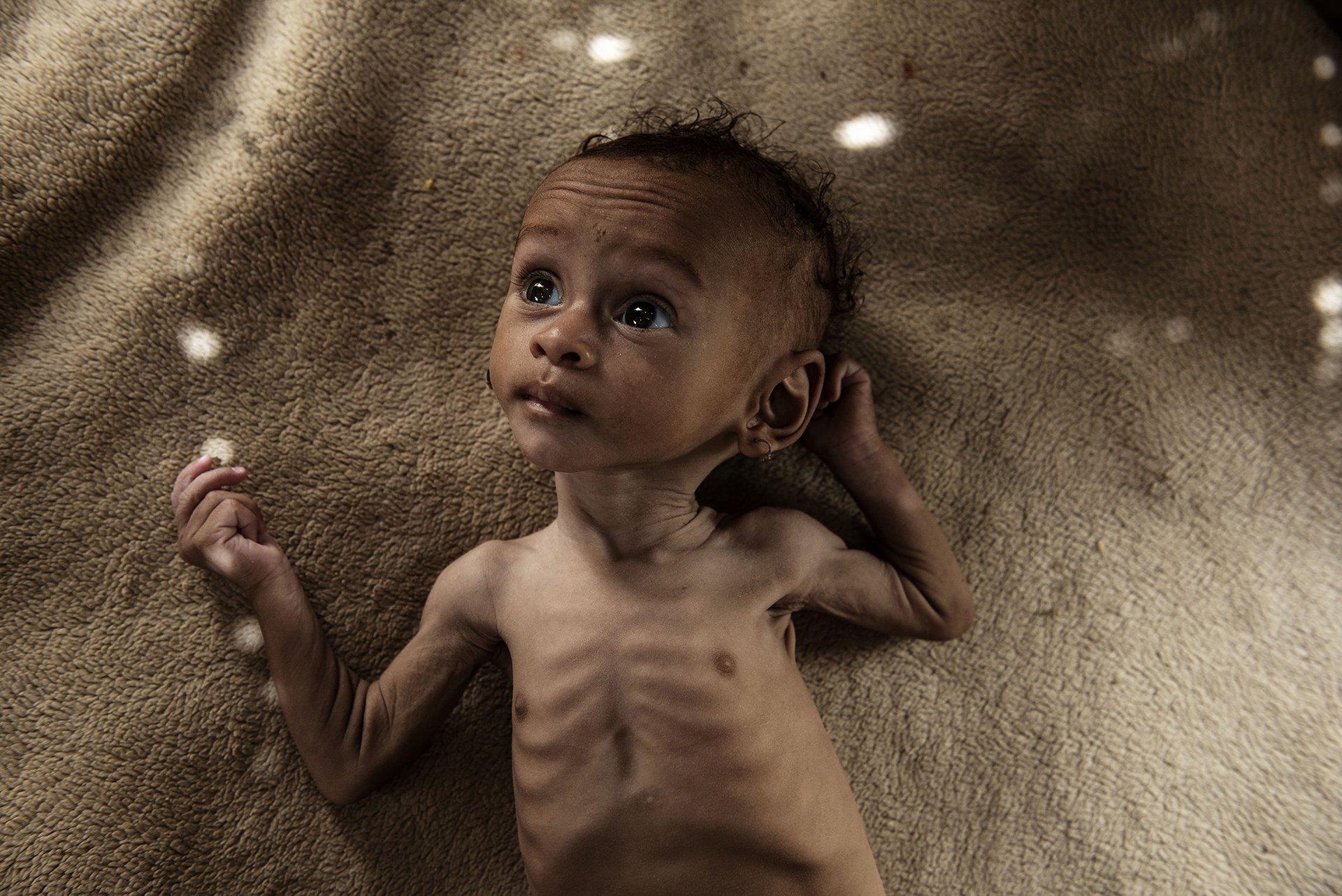 Al-Aslami called children like Nada "forgotten patients", because medical care often never reaches them, and because their illnesses, and deaths, are likely to be left out of official statistics.
"When I discharge a patient I can lose track of him or her for weeks, and… [sometimes] these children die without anyone hearing about it for months," she said.
Nada's father, Mohammad al-Agrabi, worked in agriculture before the war forced his family to flee the Houthi stronghold of Saada for Aslam. 
"We have no more money, we have nothing left. We are isolated," he said. "When I look at Nada and I think about how I can't take care of her, I feel desperate. I'm speechless. We are in the hands of God."
(TOP PHOTO: Nurse Makiah al-Aslami visits a patient in rural Aslam, in Yemen's Hajjah province.)
fm-ar/as/ag