More than six months after rebel groups in the Central African Republic signed a peace deal with the government, a trickle of refugees is returning back to the shattered country, but one in four Central Africans remain either internally displaced or living in neighbouring states.
Last month, photojournalist Adrienne Surprenant followed a convoy of 346 refugees travelling with the UN's refugee agency, UNHCR, from Bétou camp in Congo-Brazzaville to a variety of towns and villages back in CAR.
Her photos capture the joy of families and old friends reuniting, and the anxiety of returning to villages where the memories of war have not yet faded, and where social services are still desperately lacking.
UNHCR said it has helped support the voluntary repatriation of around 1,500 refugees this year, while a further 14,000 have expressed willingness to be repatriated in the coming months thanks to "improved security". The number of IDPs has decreased by 20 percent in recent months, according to the UN's migration agency, IOM.
Despite occasional convoys like the one Surprenant followed, UNHCR told The New Humanitarian that future returns are in jeopardy if the agency doesn't receive more funds. CAR's current humanitarian response plan – which covers all areas of assistance – is just 48 percent funded.
"It is hard because we do not have the budget to satisfy the return desires [of refugees]," said Jean-Cyriaque Grahouan, a protection officer at UNHCR.
For now, more than 600,000 people remain exiled in squalid, poorly funded refugee camps – most in Cameroon, Chad, and the Democratic Republic of Congo. And 464,000 more are dispersed across CAR, where 14 armed groups are vying for control.
Read more → Hurdles on the road to peace in the Central African Republic
On Sunday, clashes in the northeastern town of Birao between two rebel groups – the FPRC and the MLJC – caused thousands of people to flee their homes, underscoring the fragility of the new peace deal, which the UN says has been violated dozens of times already.
Signed in Sudan's capital, Khartoum, the agreement aims to end a six-year conflict that began when the mostly Muslim Séléka rebel alliance overthrew the government of François Bozizé, triggering reprisals from largely Christian militia known as anti-balaka.
Much of CAR's Muslim community fled the country in waves of violence by anti-balaka forces, while others moved into enclaves protected by peacekeepers. Many of those who chose to return have since found their homes either destroyed or occupied by other families. CAR's "outdated" land tenure system means they lack the title deeds necessary to get their properties back.
Though some parts of CAR are now relatively safe, aid workers and returnees say villages often lack basic infrastructure and long-term economic opportunities.
"The paradox is that you have relatively stable zones where there are development possibilities, but where there is nothing," said Davide Stefanini, who manages the EU's trust fund for CAR. "Most of the financing [for aid programmes] is oriented towards emergencies."
Read more → Central African Republic: Little peace to keep, but 4.7 million lives to live
UNHCR provides cash and food support for returnees, but many told Surprenant that products in their villages have become more expensive, homes need to be rebuilt, and families are struggling to pay their children's school fees.
Read more → "People are dying every day" – CAR refugees fleeing war suffer in Congo
While some refugees cited improved security as their motivation for returning home, others said they were leaving because conditions in the camps had become too tough to bear. Many mentioned waiting for food distributions for up to three months at a time.
"It got to a point where it became too hard to feed ourselves," said Jacob Lape, a father of eight. "We decided to come back home and suffer here instead of in a foreign country."
Take a look at the returnees' bittersweet journey, from the camps in Congo-Brazzaville to their homes in CAR.
Waiting to return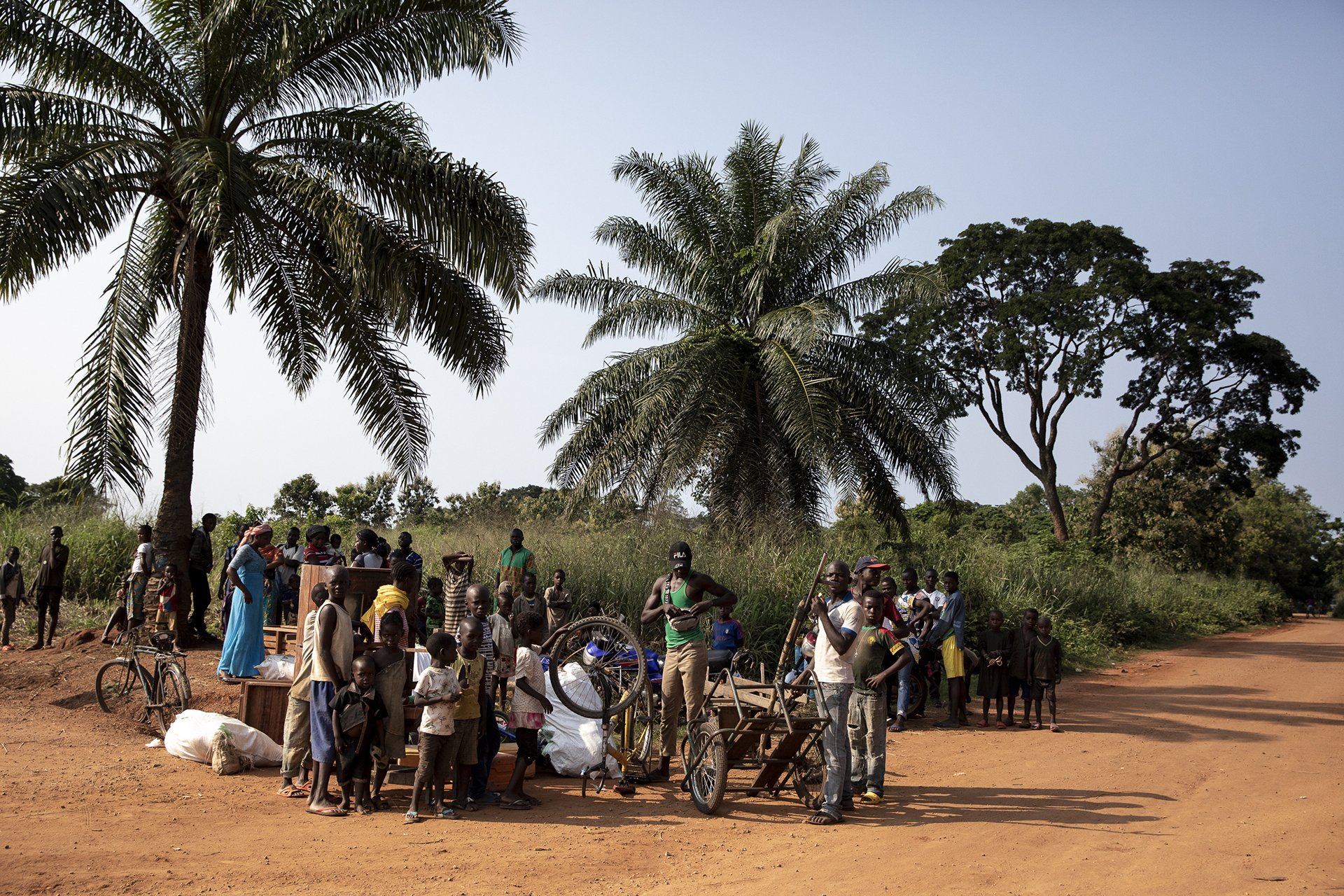 After six years living in a refugee camp in Congo-Brazzaville, 32-year-old Mermoz Mongo (wearing a green vest) is waiting to be transported back to his village in CAR. Of the 24,000 CAR refugees in Congo-Brazzaville, 4,000 are registered for voluntary return, but UNHCR does not currently have enough money to bring them all home.
The road home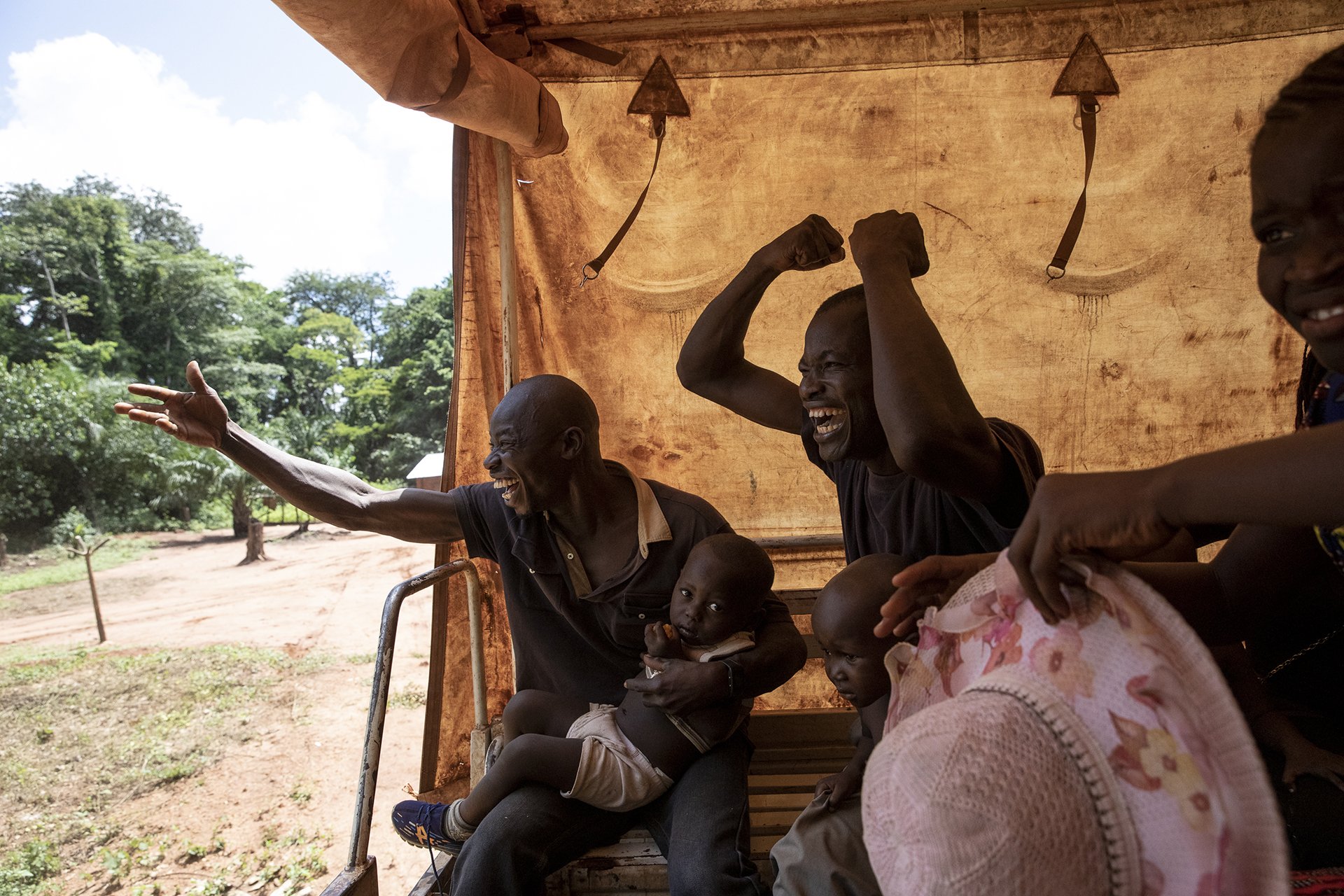 Saturnin Mbenga (left) and his family, sing, laugh, and greet people as they travel from Bétou to Mongoumba, a town in southwestern CAR close to the Congo-Brazzaville border. "To not be too pensive, I need to sing, be in joy, and greet those I know!" Saturnin said. The 36-year-old's wife stayed behind in Bétou to give birth, but Mbenga said he wanted his children home for the start of the new school year.
Health checks and cash support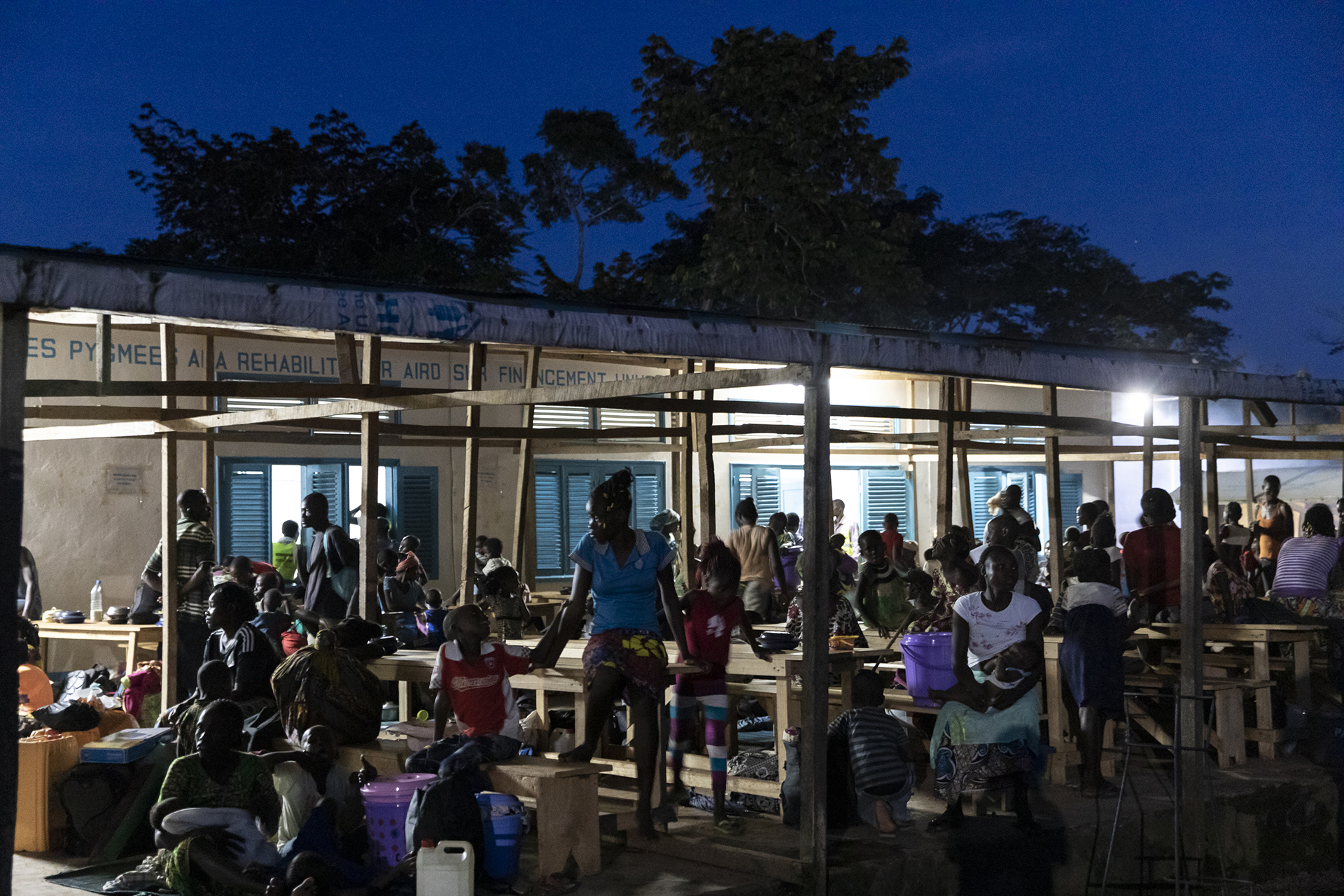 At a transit center in Mongoumba, returnees are offered health checks, a yellow fever vaccination, food to last three months, and a cash distribution worth $76 per child, $152 per adult, and an additional $84 per family.
Reflecting on the past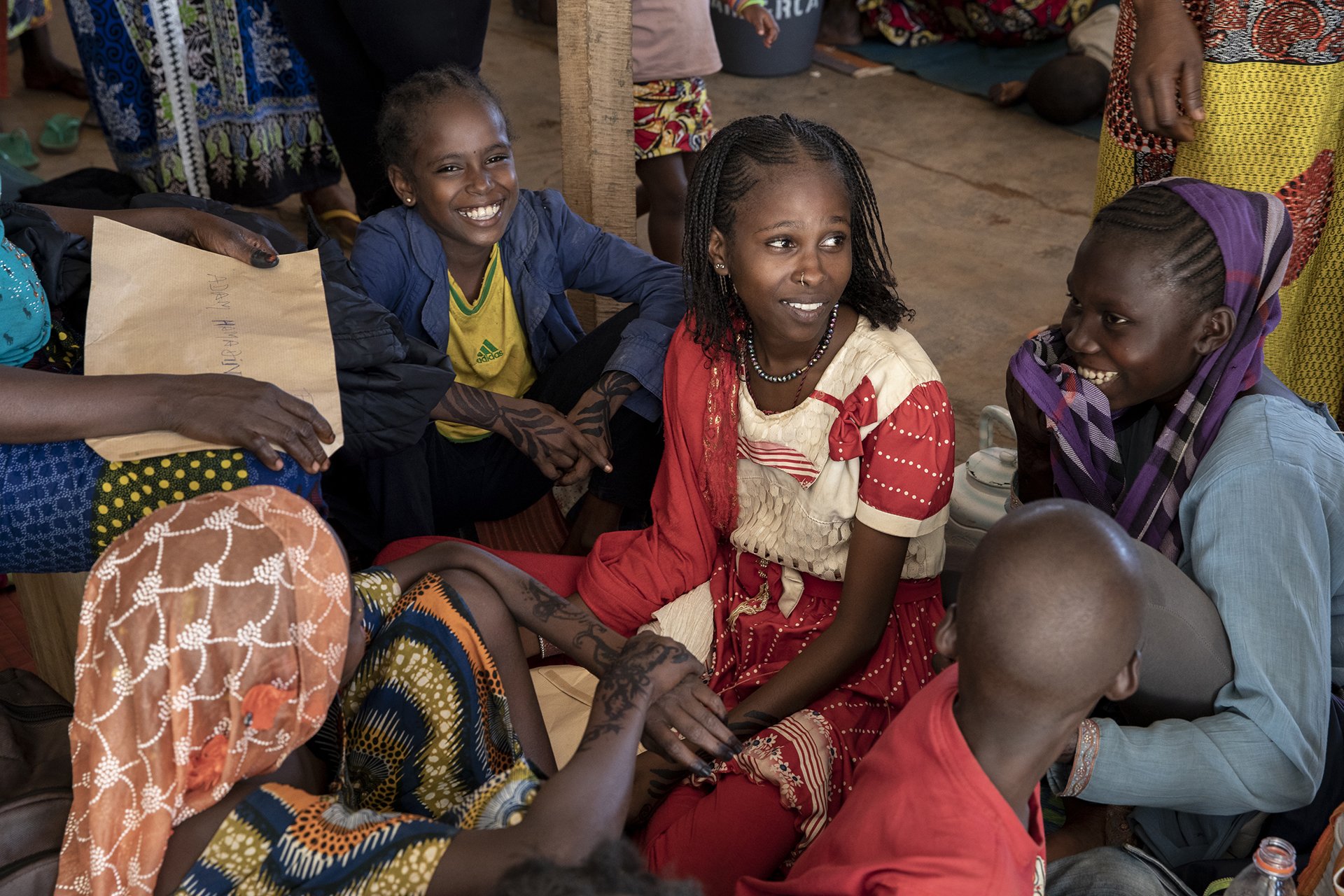 Thirteen-year-old Zeinaba Daha is heading back to CAR's capital, Bangui, with her mother and five siblings. Her memories of the city are still clouded by violence in 2013. "There were so many people running at the same time, we hid, ran by foot," she recalled. "My uncle and aunt died on the way [to Bétou camp]".
Looking ahead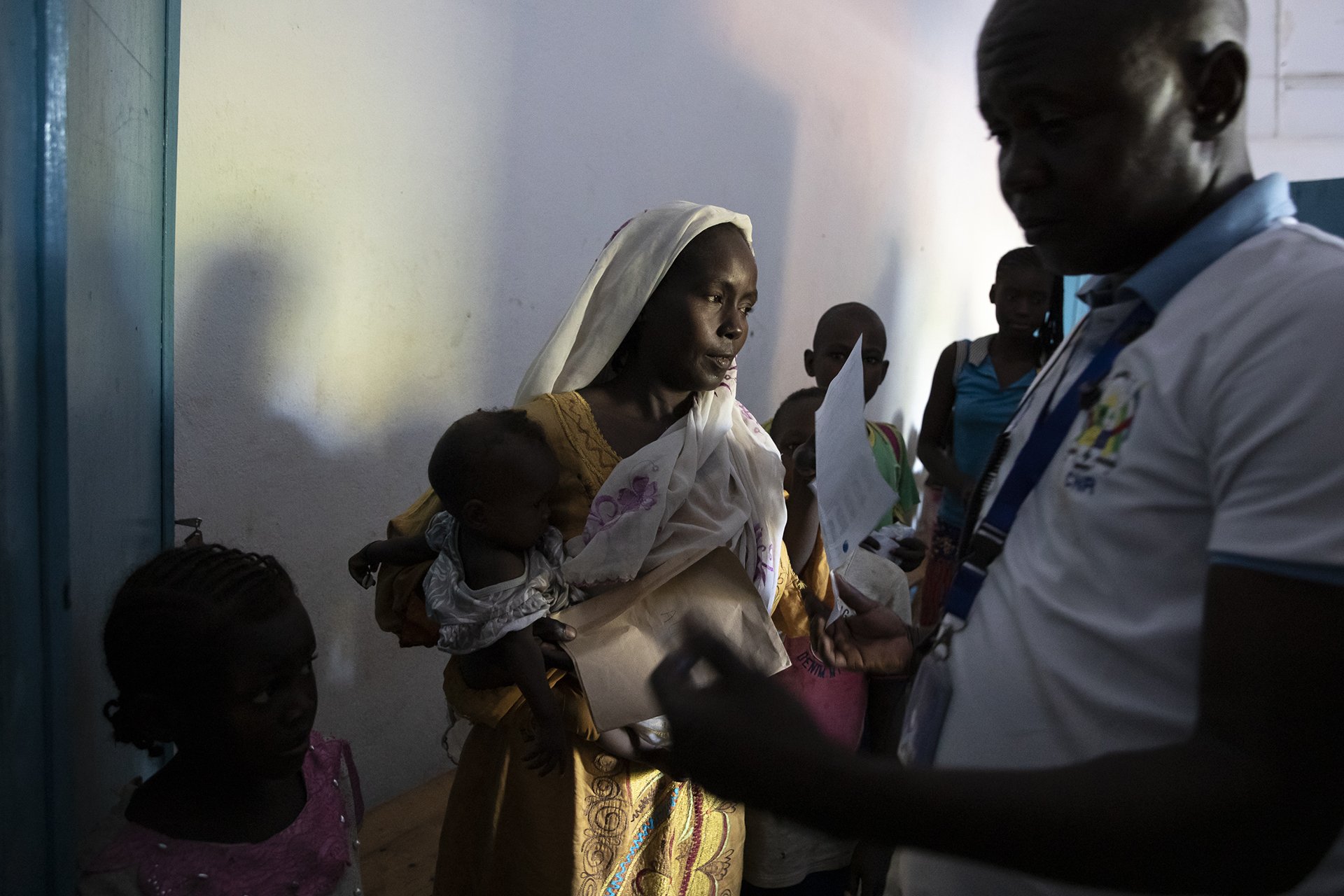 At Mongoumba transit centre, UNHCR staff verify the documents of Halima Adam, a 30-year-old mother of five. After years in exile she was told her family's land in CAR might be taken and sold if she stayed any longer. Now back in CAR she worries the fragile peace deal will soon be broken: "I heard rumors that [exiled former president] Bozizé would come to Bangui for [next year's] elections, that another war is on the way. I never want to live again what we went through."
First night home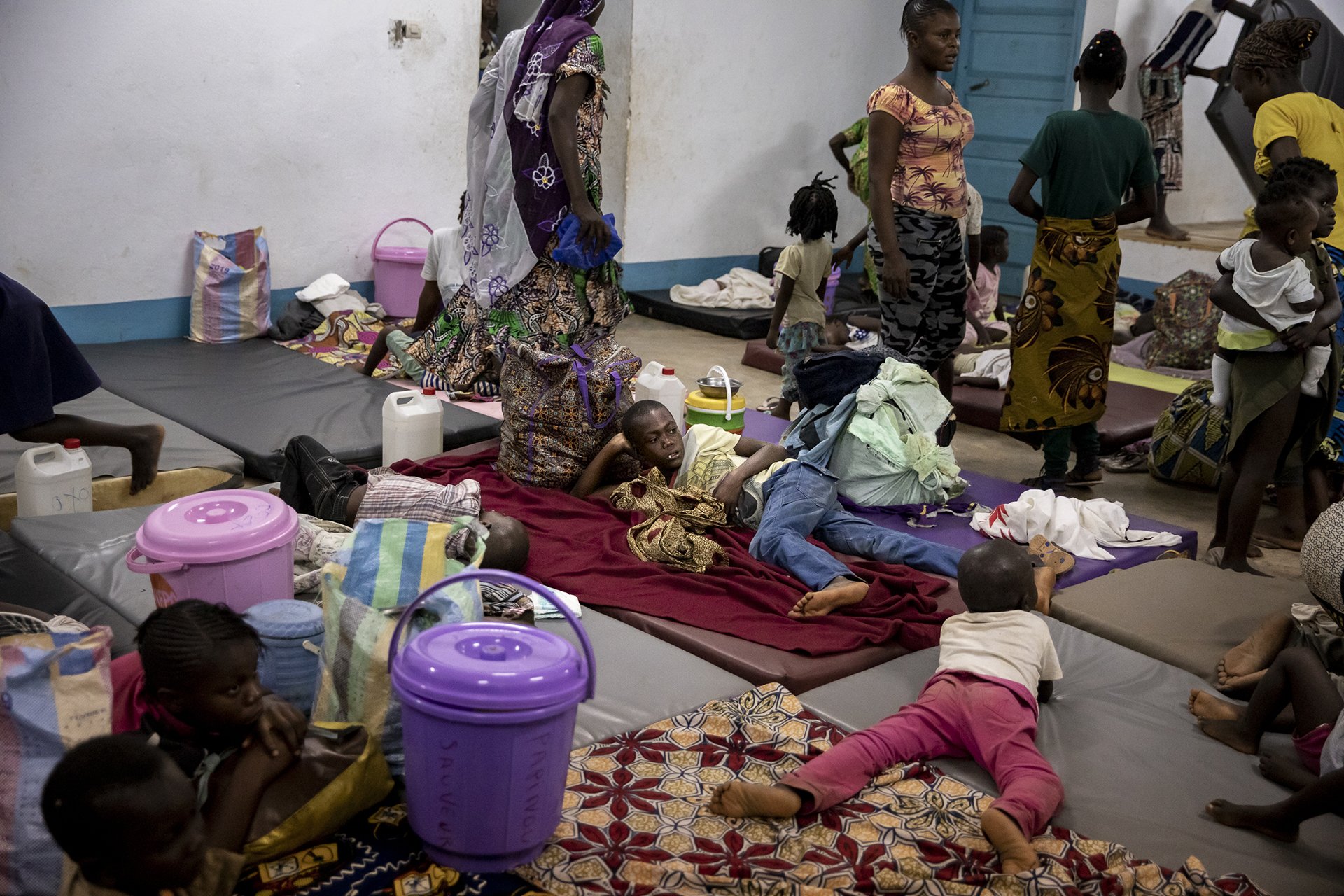 Returnees prepare to sleep in Mongoumba transit centre – their first night in CAR after years in exile.
Families reunited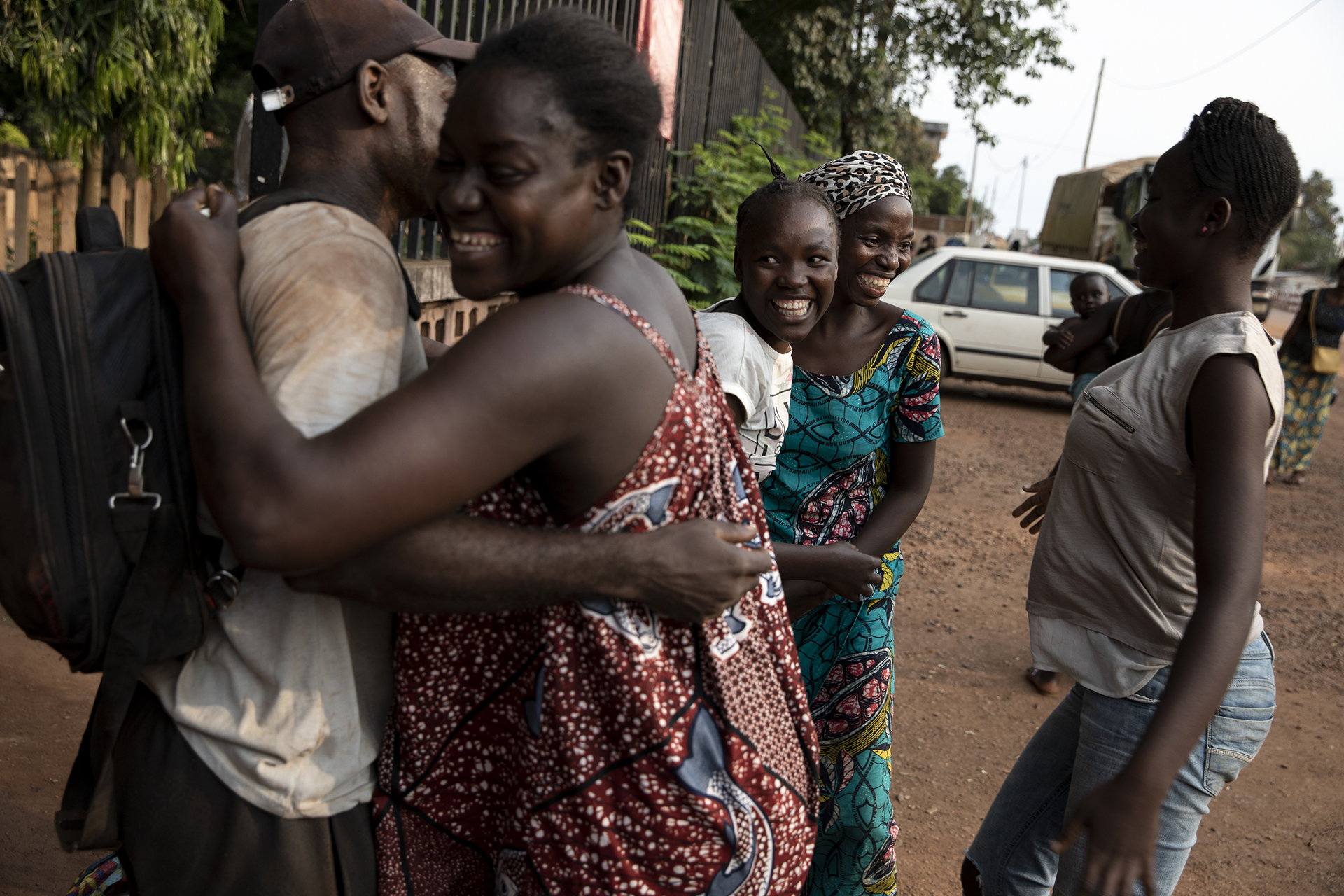 A family is reunited as the convoy arrives in Bangui. Of the 364 people repatriated this time round, 79 returned to the capital.
Tough homecoming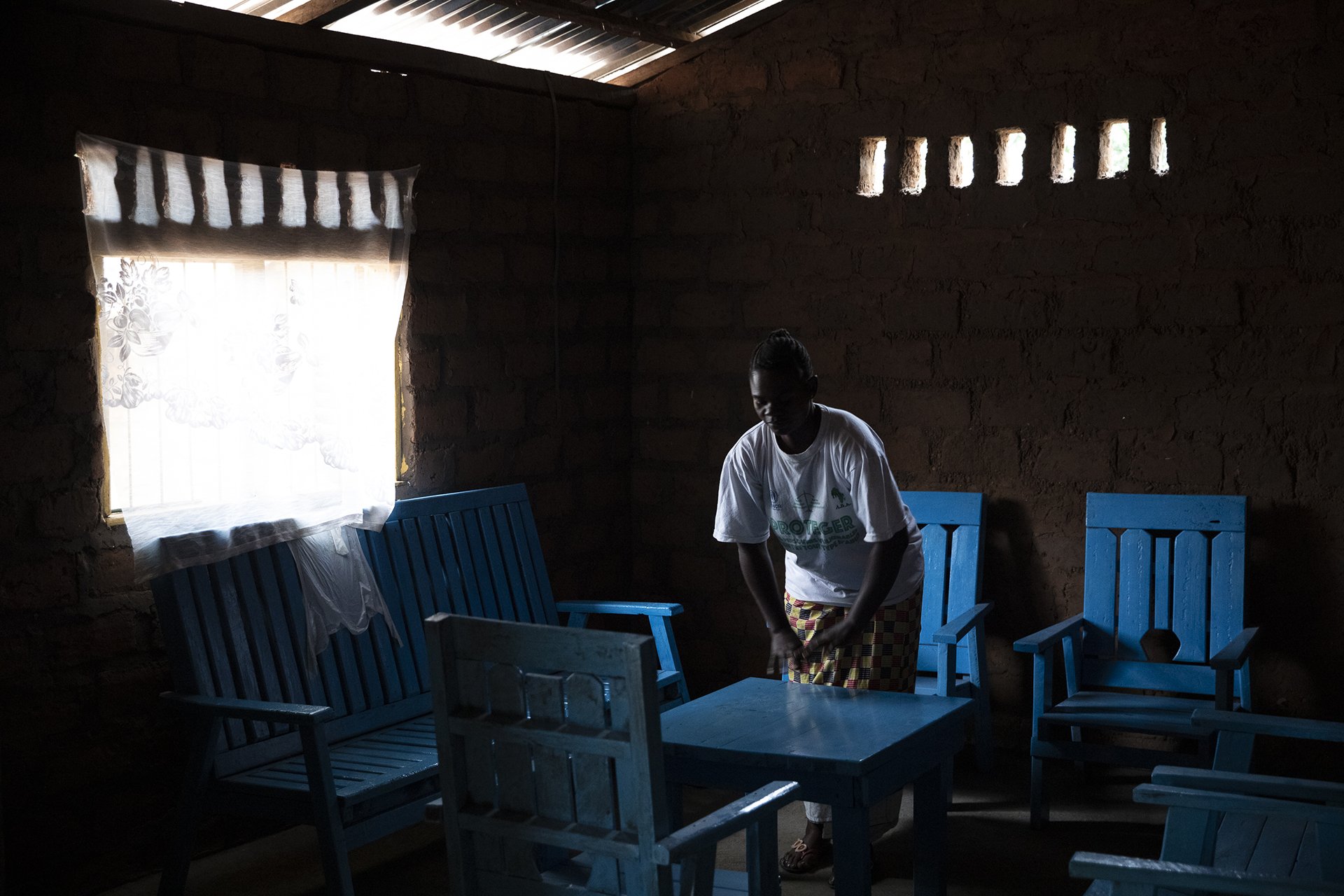 Fabiola Tembukade returned to Mongoumba from Bétou in April 2018. During her five years as a refugee she made good money selling food and other products. Doing the same back home in Mongoumba has been a struggle, however. "Before, Mongoumba was great, but it became difficult," she said. "There was food, fish, and vegetables in abundance; there were a lot more people. Now, life is hard. When we came, my 14-year-old son was determined to go back to the camp, but I forbid him."
More support needed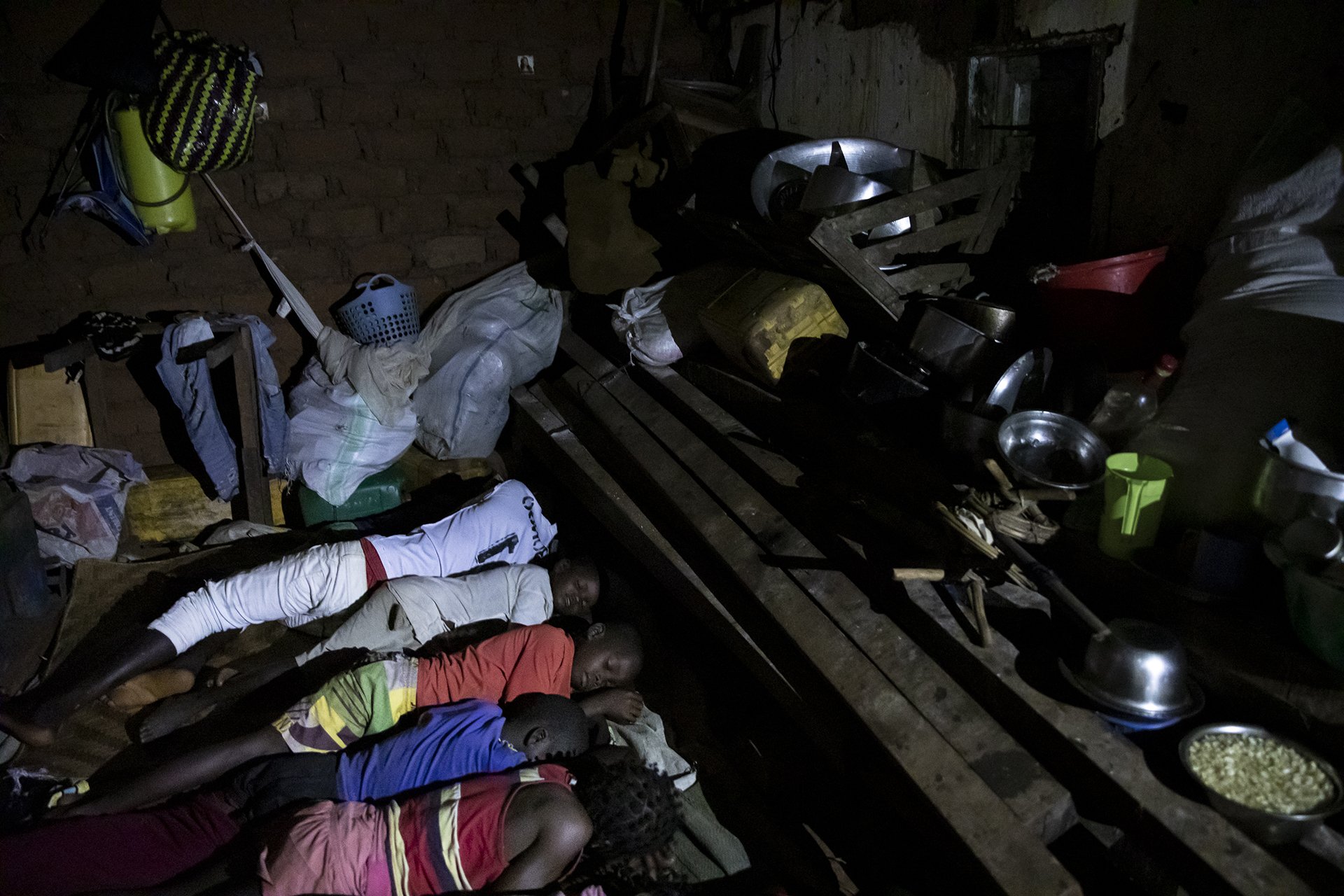 Jacob Lape's eight children and 12 grandchildren all sleep in the same three-bedroom house in Mongoumba. The family returned to the village in 2018, but Lape has struggled to make a living since. "If we want to facilitate the repatriations, we need to reinforce the structures – schools, water points, health centres," said UNHCR's Jean-Cyriaque Grahouan.
(TOP PHOTO: Blondine Pouon, 23, waits to be processed for repatriation at Mongoumba transit centre.)
as/pk/ag