More than a year after Raqqa was liberated from so-called Islamic State, tens of thousands of people who returned to a devastated city are still struggling to rebuild, and basic services – especially for women and children – are notably lacking.
After Kurdish forces and airstrikes from a US-led coalition ousted IS from Raqqa last October – the group still holds some territory in Syria – more than 166,000 people returned to the city and its surrounding villages, according to the UN. Raqqa once had some 300,000 residents, and as many as one million in the wider province of the same name.
A suicide attack on Monday was yet another reminder that life in the militant group's former capital is far from back to normal. IS claimed responsibility for the attack on what it called a "recruitment" centre for US-backed Kurdish forces. The UK-based Syrian Observatory for Human Rights said four civilians and one Kurdish fighter were killed.
Returnees have found homes destroyed and clean water and electricity in short supply. The World Health Organisation says one of two hospitals and eight of 19 public clinics in the city still need "major reconstruction".
Read → First person: In Raqqa, you can't go home again
Without money to pay for petrol or transport, those living on the city's outskirts find it even more difficult to access basic treatment, as Arianna Pagani and Sara Manisera found during three weeks reporting in the region in late 2018.
They spent time with healthcare workers who were visiting villages dotted around the city.
The network of mobile clinics and ambulances, financed by the EU and run by the Italian NGO Un Ponte Per (A Bridge To) and the Kurdish Red Crescent, is trying to fill the gaps, especially in healthcare services for women.
Medicine on the move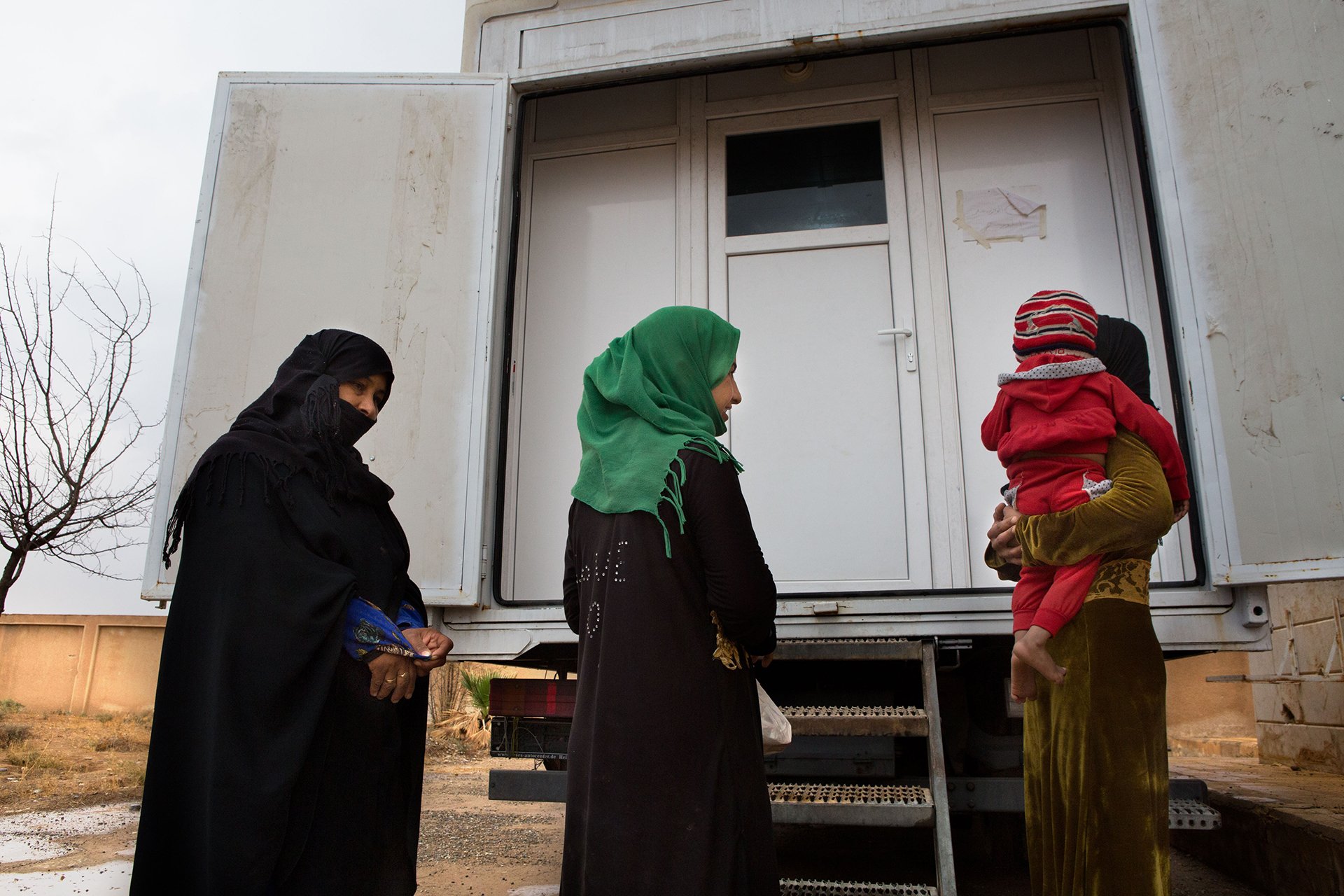 Residents of the village of al-Khalaya wait their turn at the mobile clinic, which stops by for three or four hours a week and sometimes sees as many as 100 patients in a visit.
For many of the village's estimated 6,000 people, this is their only chance to access free healthcare, as they can't afford the 30 kilometre drive to Raqqa.
In addition to visiting the villages outside Raqqa, mobile clinics also stop in rural areas of Hassakeh and Deir Ezzor provinces.
'A bad situation' for women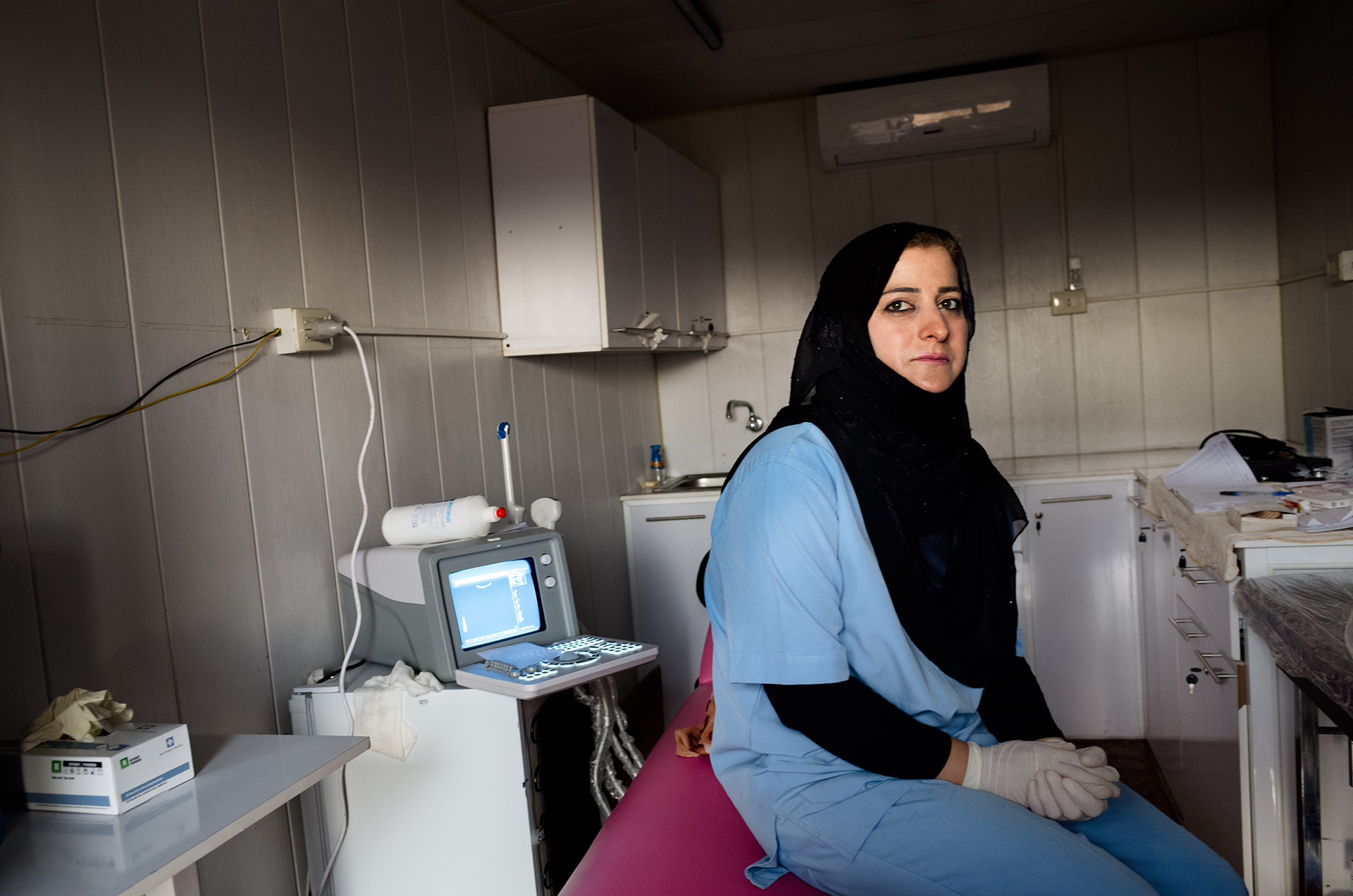 Sherin Moustafa Ahmad, 38, fled Raqqa with her family after IS took control of the city in January 2014, declaring it the capital of its caliphate.
She returned in 2017 after the liberation to find her home destroyed by shelling, and went back to work as a midwife in a mobile clinic.
Ahmad says the shortage of clean running water and poor sanitation facilities means women and girls end up with a variety of gynaecological problems, like urinary tract infections or cystitis.
"We try to reduce the suffering of all those affected by the war, [either] by IS or the coalition bombing," she says. "It's a bad situation. [Women] don't have the money to go to private clinics so we provide them free gynaecological exams, ultrasounds, and [other] consultations."
'They give us medication'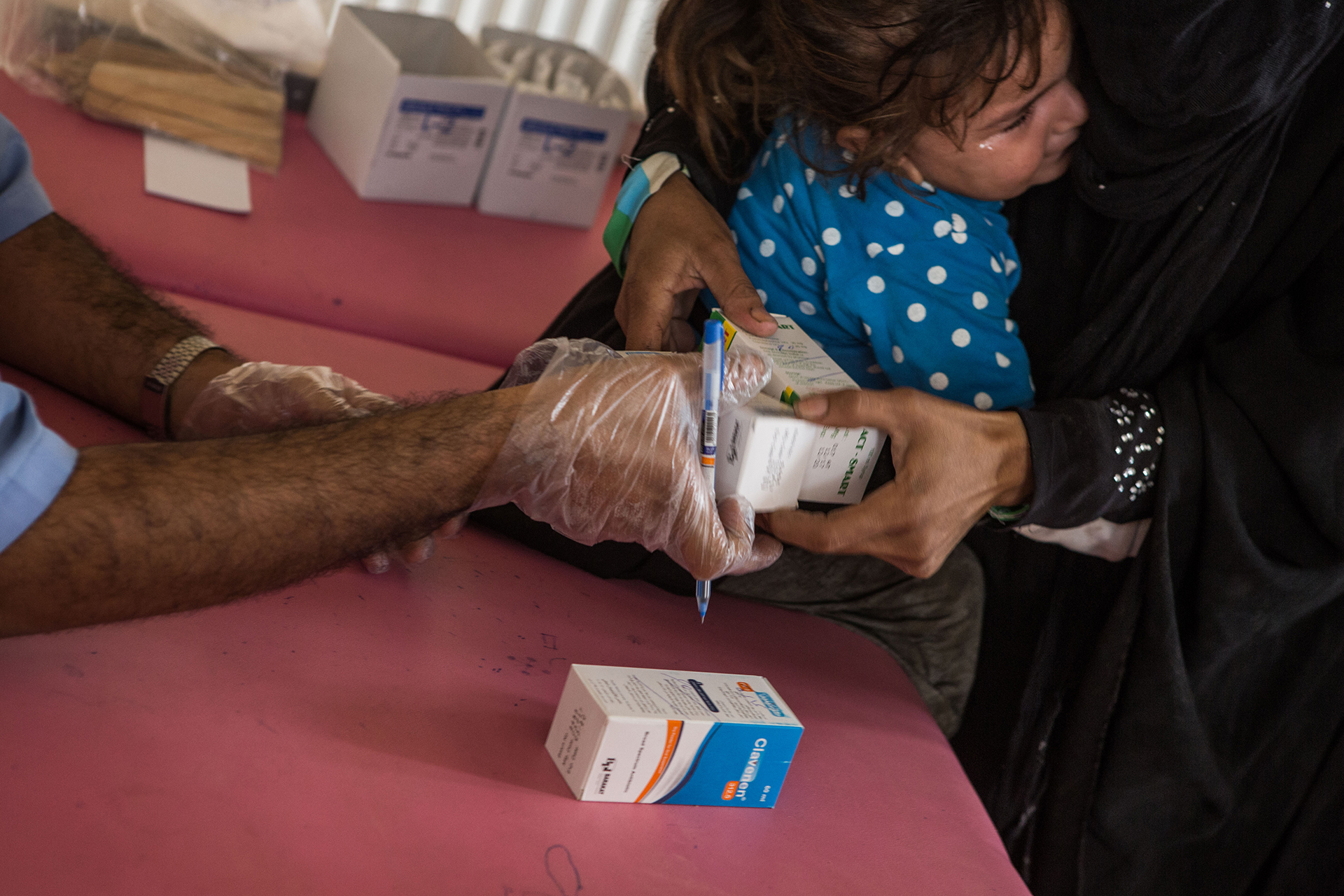 Medication is free at the mobile clinics. This woman, who asked not to be named or pictured, is picking up a prescription for her daughter. She stayed in the region even when IS took control, moving from house to house, and says that life is tougher in al-Khalaya now than it was before the war.
"Before it wasn't good, but a little bit better… IS entered our houses, they destroyed everything: doors, windows," she says. "We don't have money, we don't have jobs, we can't even buy basic food. My son [might as well] eat dust…. At least [at the mobile clinic] they give us medication, because otherwise I wouldn't be able to afford it."
Dirty water and disease
At Raqqa's al-Rasheed clinic, one of the few places that provides free healthcare in Raqqa city, staff say they see up to 300 patients each day, most of them children. Common ailments include pneumonia, diarrhoea, typhus, flu, and respiratory infections.
"The main causes of these diseases are dirty water and air pollution," says Munir Hussein of the Kurdish Red Crescent.
Ailments from dust and debris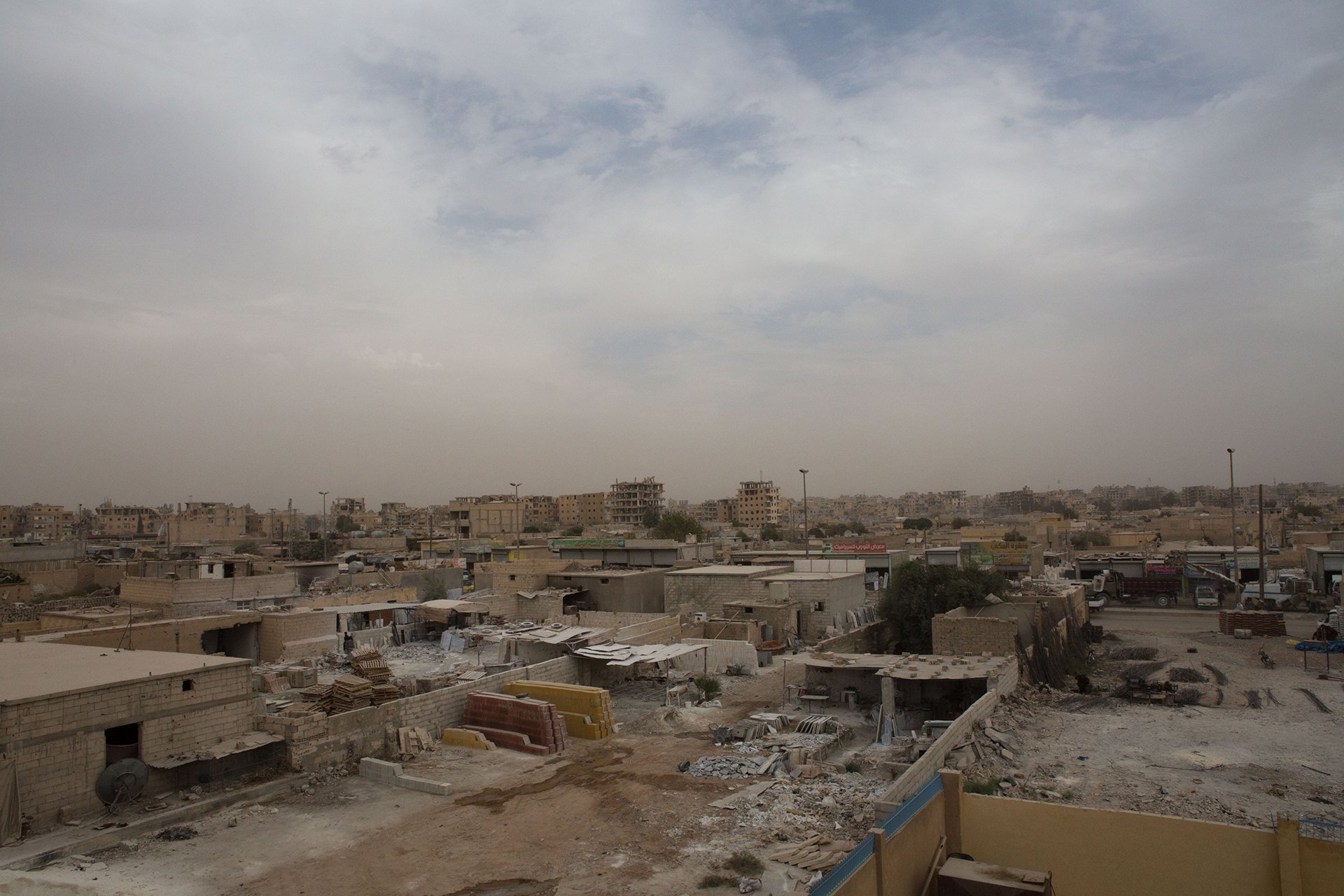 The fighting to take back Raqqa from IS, led by Kurdish forces on the ground backed by air support from a US-led coalition, left the city largely in ruins. Demining efforts are ongoing, as are efforts to clean up the city's streets.
"We've seen a reduction in blast-related casualties in the last few months, but people have a lot of other health problems due to exposure from the dust and debris that are everywhere in the city," says the Kurdish Red Crescent's Hussein.
Malnourishment and depression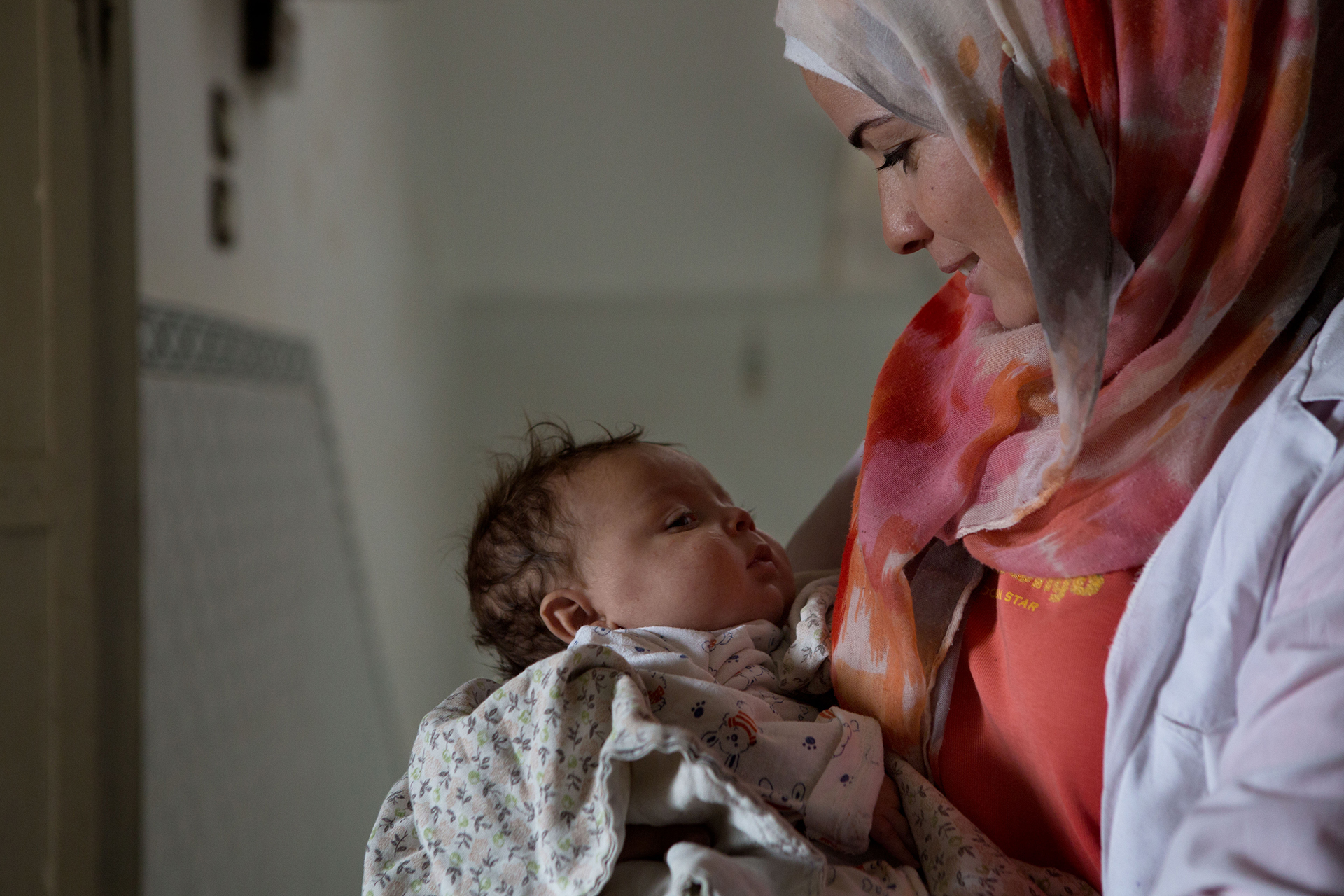 Maha Hussein, 28, a paediatric nurse at al-Rasheed, says she regularly treats children and mothers who are undernourished.
"This is a common problem, both for children and mothers, because they don't eat enough food so there's not enough breast milk. Most of the babies eat only starchy food, such as rice and potatoes. It's not sufficient for a growing child. As a result you have many nine-month-old babies weighing only four kilos," says Hussein.
Anxiety and depression are also a major concern for the mothers Hussein sees: "It is as if they were still living in a state of war," she says.
'We are abandoned'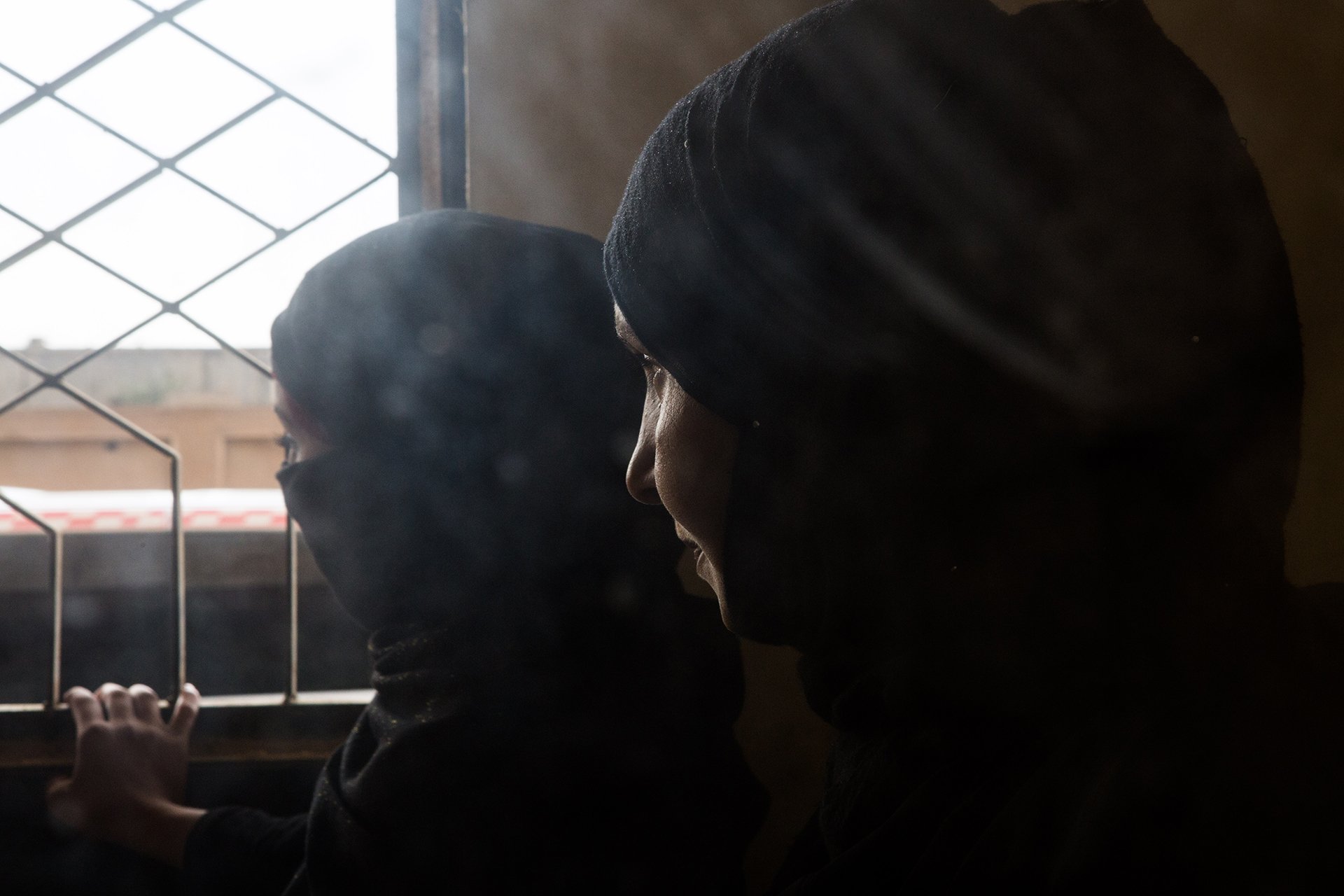 Sheltering from the rain in an abandoned building in al-Khayala, Kheffe Mahmoud says the mobile clinic is one of the only visible presences of aid from the outside world: "They are the only ones helping us in this area. We are abandoned. The world forgot us."
ap-sm/as/ag