During one of the relatively 'safe' times in Gaza, around the summer of 2022, I sat on a comfy couch, soft music playing in the background, a cup of cold fresh orange juice in my hand, and I thought: "When will I lose all of this?"
Having survived four major Israeli military attacks between 2008 and 2021, I couldn't stop thinking there would come a time when I would lose everything in the blink of an eye. I just didn't know when this time would come. Today I know, I am living it.
In Gaza, now, death seems to be closer than water.
On 13 October, I had to leave my comfy couch, my home, and 17 years of memories behind after I woke up to a phone call from the Israeli military. It was a recorded message telling the residents of the northern Gaza Strip and Gaza City to evacuate their homes and head to central and southern areas of Gaza as they would be carpet-bombing our neighbourhoods.
As I was running to wake my mother and my brother up, fetch my already-packed evacuation bag, and put my cat in his box, quotes from people who had been expelled from their homes during the Nakba* in 1948 – people I had previously interviewed – flashed through my mind.
"We took only the home keys and left everything behind thinking we would return a few days later, but it has been over 70 years now," one elderly woman told me, a couple of years ago.
I thought to myself: "I am telling myself it will only take a few days until I am back, but will I be interviewed by a young journalist 70 years from now and say the same thing?"
We took our official papers, our money, the house keys, and closed the doors in the hope that we would return in a few days.
Home is already a distant memory
I am currently displaced in a relative's home in the central Gaza Strip along with 60 other people, almost half of them children.
I am around 13 kilometres away from my home and keep opening the Google Maps application on my phone to check how long it would take me to drive there. Twelve minutes, Google Maps says. But I have been here for almost an entire month now, unable to drive back home.
With Israeli aircrafts, drones, gunboats, and tanks targeting people returning from central and southern areas to Gaza City – and as the roads connecting the city to other areas of the enclave have been destroyed by bombs – it's impossible for me to make the short drive.
It has been almost one month since I was displaced, since I became one of the victims who I am reporting on. The concept of "home" is already becoming a distant memory.
Since we left, Israeli aircrafts carpet-bombed my neighbourhood several times. I haven't been able to figure out if my home has been severely damaged or completely destroyed. It is impossible to know.
During this past month, I have lost a lot of people I loved, including relatives, friends, and colleagues. Israeli bombs and missiles knocked their homes down on top of their heads. Many of those killed were in supposedly safe areas – places where Israel had asked residents to move to.  
Starving the population 
As we struggle to cope with more and more deaths of people we know, we are also physically and mentally exhausted, trying to ward off hunger and starvation.
Every passing day, more grocery markets close their doors after they run out of products.
With Israel cutting off food, fuel, electricity, water, and medicine supplies to Gaza, a grocery store owner told me he didn't think he would be able to restock the empty shelves until the tight siege is lifted. As the attacks are intensifying each day, we cannot expect this to happen soon.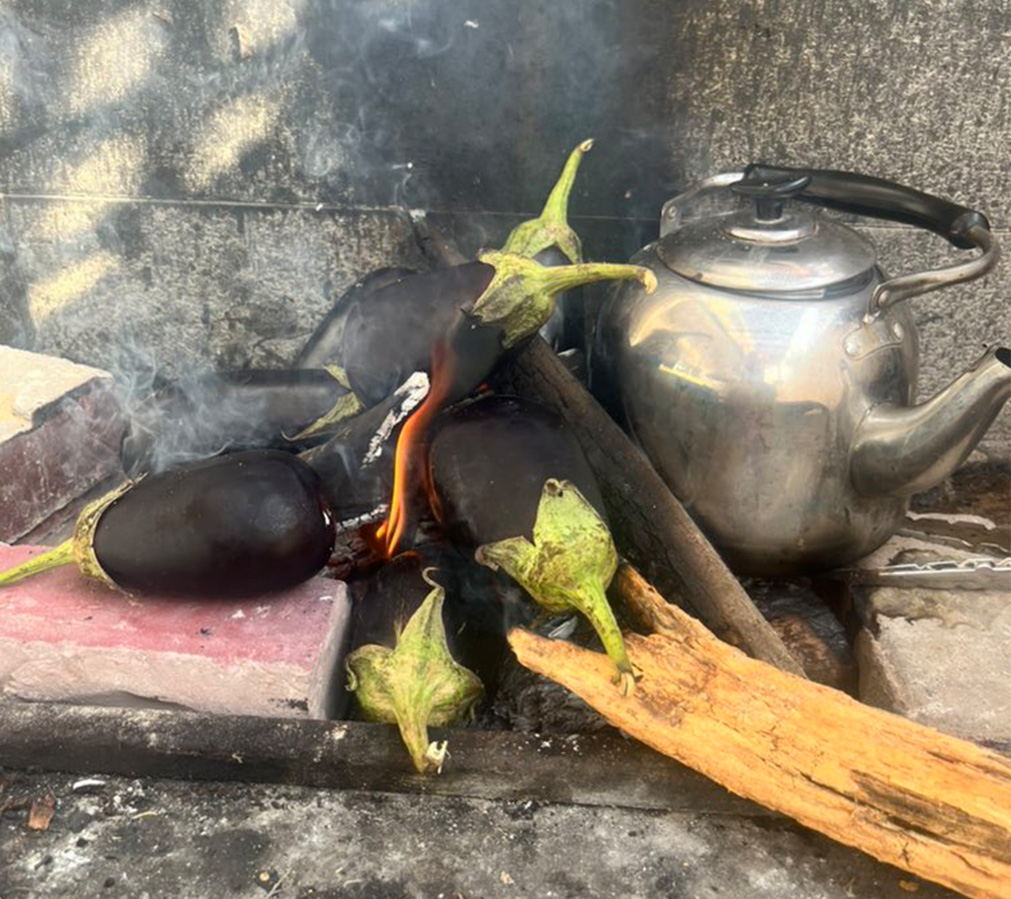 Instead, the situation is getting harder every day. The struggle of trying to stay alive and secure food and water grows a bit more desperate every single morning.
For example, in the first two weeks of displacement, we used to cook rice or beans for lunch, meals we thought were humble at the time. Today, this is considered a luxury; we have run out of cooking gas and rice, and we are now mainly eating canned food.
Getting bread to eat with the canned food has become a luxury. 
Last Friday, I woke up at dawn, walked around three kilometres to reach the only bakery still open – but only partially operating – in the area where we have taken refuge. I waited in a long queue for three hours to get a few loaves of bread. Due to the scarcity of water, flour, and fuel, each person gets to buy only one bag of bread for their families.
Two days later, I walked to the same bakery, only to find out it had closed its doors. They explained they had run out of fuel and could no longer cover the overwhelming needs of residents and displaced people coming from different neighbourhoods all over central Gaza.
For around a week now, we haven't been able to find or eat bread. Dozens of bakeries have been targeted by Israeli airstrikes, and the rest, like the one we used to go to, have closed their doors due to the lack of fuel and flour.
Prior to 7 October, over 130 bakeries were operating around the coastal enclave, providing bread for the over 2.3 million residents. Now, I heard on the local radio that only one bakery works regularly, with the support of the UN, and eight others work partially, three days a week.
In Gaza City, several Israeli airstrikes targeted the solar panels that the only bakery still operating was relying on to provide bread to the residents who have not evacuated the city.
With essential food items and drinking water running out rapidly, the entire population of the Gaza Strip currently faces starvation and thirst.
Cut off from the world
The amount of aid entering Gaza through the Rafah border crossing to Egypt wouldn't cover the needs of the over two million residents during regular times. Most of the aid that does get through goes to displaced people sheltering in UNRWA (United Nations Relief and Works Agency for Palestine Refugees in the Near East) schools. Those still in their homes, or who have sought shelter in their relatives' homes, receive no aid.
Since we were displaced, we've been facing an almost total blackout, with no internet connection and extremely bad phone signal. We feel completely disconnected, not only from the outside world, but from each other, even across the different neighbourhoods and areas within Gaza.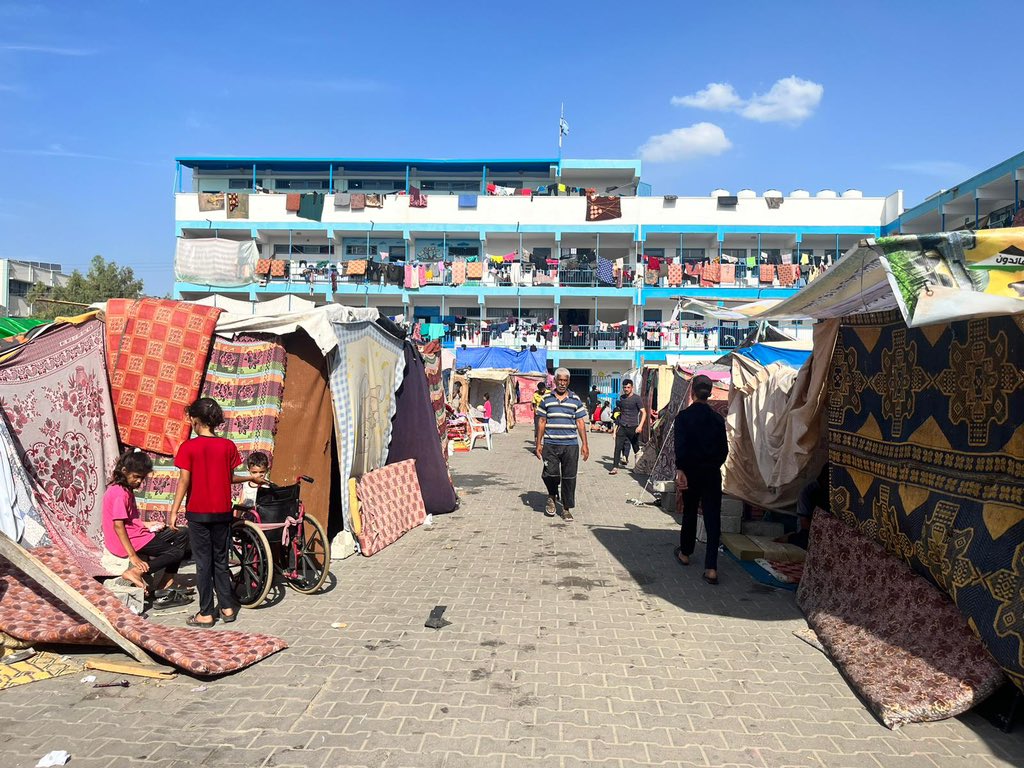 To access the internet and report on the ongoing attacks, I have to stand on the highest rock on the rooftop of the house we are staying in. By doing this, I am aware that I risk being targeted by Israeli drones and gunboats, which I can clearly watch bombing the adjacent areas.
At night, the bombardment gets heavier, so we can't go up on the roof. To know what is going on around us, we gather around a table in the yard of the house – with an FM radio in the middle – where we listen to news all night.
Sometimes, local radio stations are hacked by the Israeli military, which airs recorded messages for hours, threatening the residents that they will be targeted if they support the Palestinian armed factions, and telling them to evacuate their homes.
But with so many of us already displaced, and no place in Gaza safe from Israel's attacks, where are we supposed to go?
*The Nakba is the Arabic term, meaning catastrophe, for the forced displacement of around 700,000 Palestinians and the destruction and depopulation of more than 400 Palestinian villages that accompanied the creation of the state of Israel in 1948.
Edited by Eric Reidy.