In the immediate aftermath of Hamas' deadly attack in southern Israel on 7 October, as the Israeli military began to bomb and lay siege to Gaza, Jewish and Arab activists in Israel – who have long worked together to advocate for a more equitable, shared society – found themselves paralysed. 
Accounting for just over 20% of the country's population of around 9.3 million, Palestinian citizens of Israel feared being labelled terrorists simply for being Arab, and braced themselves for the possibility of retaliatory violence from extremist Jewish vigilantes, emboldened by far-right members of Israel's government. 
Meanwhile, Hamas' massacre of civilians touched on fundamental Jewish fears stemming from the trauma of generations of persecution, and evoked collective memories of the history of pogroms in Europe and of the Holocaust. 
Intercommunal violence that erupted in May 2021 had also served as a chilling warning: Back then, Israeli police had raided and restricted access to al-Aqsa mosque in Jerusalem during the Muslim holy month of Ramadan, touching off hostilities between the Israeli military and Hamas in Gaza. Violent confrontations broke out in mixed Israeli cities, injuring hundreds of people, both Jewish and Arab; rioting destroyed homes, synagogues, mosques, schools, and businesses; and at least three people were killed. 
After 7 October, Jewish and Palestinian activists in Israel feared their communities would once again be convulsed. 
The number of people killed in the Hamas attack reached more than 1,400 – making it the deadliest day in Israel's history – and around 240 people were taken as hostages to Gaza, according to Israeli authorities. The death toll from the Israeli military's bombardment has also spiralled, and is now approaching 11,000, according to the Health Ministry in Gaza, which is governed by Hamas. 
A little over one month since the beginning of hostilities, the feared intercommunal violence in Israel is yet to materialise. 
During a recent visit to several communities in northern Israel, dozens of activists The New Humanitarian spoke to described still feeling a pervasive sense of dread. But they were once again mobilising to try to salvage and carve out space for a vision of a more just and inclusive Israeli society for Jews and Palestinians.  
That was the aim of a gathering of nearly 400 Jews and Palestinians in an event hall on 6 November in Baqa al-Gharbiyye, an Arab city in northern Israel bordering the West Bank that is home to around 30,000 people. 
"We are here with a simple message: We are determined to work together, Jews and Arabs, even – especially – at this time!," Alon-Lee Green, founding national director of Standing Together, an Arab-Jewish advocacy and activist group, declared from the stage as the crowd clapped. 
The crowd continued to clap and cheer as each of the five Jewish and Arab speakers called for the return of all the hostages held in Gaza by Hamas, for the protection of innocent civilians, and for continuing to work together for equality between Arabs and Jews in Israel. Several of the speakers also called for an end to Israel's war in Gaza, a highly controversial position in Israel's current political climate but one that had wide support at the gathering.
The evening was one of a dozen or so similar meetings between Arabs and Jews, organised quickly throughout Israel over the past two weeks, largely through the efforts of Standing Together.
As the speeches concluded, the organisers called on the participants to raise posters they had been provided. Purple and white, the signs read, in Hebrew and Arabic, "Standing Together" and "Where there's struggle, there's hope". 
"It's kind of goofy to put up these signs," said Sondus, a 26-year-old Palestinian woman wearing a hijab, who explained that she was giving her first name only because not everyone in her family approves of joint Jewish-Palestinian activities. "But it feels right to be here," she added, "to be with other people who believe in equality."
Palestinian citizens of Israel
Most Palestinian citizens of Israel either remained, or are descendants of people who remained, in what is now Israel after the country's 1948 War of Independence. Referred to by Palestinians as the Nakba, or catastrophe in Arabic, it led to the displacement of around 700,000 Palestinians to neighbouring countries and the destruction and depopulation of more than 400 Palestinian villages.
Seventy-five years later, in Israel, Palestinians and Jews live very segregated lives.
Palestinian citizens of Israel have most of the same legal rights as Jewish Israelis, including the right to vote, participate in political life, and receive equal social welfare benefits. But despite communities often being located close to each other, 92% of Jews and Palestinians live in separate towns and cities, and Arab cities and towns tend to have a lower socio-economic status, due to their lower tax basis and discrimination in government allocations. For these reasons, too, their schools are not as good (as determined by achievement scores), Palestinians tend to have less formal education, and they face extensive individual and collective structural discrimination.
Most Palestinians in Israel speak Hebrew as their second language, but only 1% percent of Jews and Arabs in Israel study in the same schools. Even in Israel's eight so-called mixed cities – which include Jaffa in central Israel and Acre and Haifa in the north – the communities live largely separately, interacting only in shopping centres, when accessing basic services, such as healthcare, or in workplaces with Jewish and Palestinian employees.
"My identity as a Palestinian citizen of Israel, who wants to live here in a shared society with Jews, is very complex."
For the first 18 years of Israel's existence, Palestinian citizens of the state lived under military rule, but since it was lifted in 1966, they have increasingly integrated into the Israeli economy and now form an integral part of almost all sectors, including the medical and paramedical professions, law, education, the service industries, and tourism.
Yet, while there has been a significant increase in household income among both Jewish and Arab families, the gaps between the two populations have grown larger over the past decade.
Many Palestinians, especially the younger and more educated, feel they straddle two worlds – between their Arab and Palestinian identities and their citizenship and integration into Jewish Israeli society.  
During times of increased tensions or war between Israel and other Arab states, Palestinian citizens of Israel often feel "our country is at war with our people", according to Thabet Abu Rass, co-executive director of The Abraham Initiatives, a Palestinian-Arab advocacy group. 
This has become even more pressing due to the increasingly rightward turn Israeli society has taken and the appointment, in January 2023, of the most extreme right-wing government in Israel's history – one that seeks to implement even more discriminatory policies against the Palestinian minority.
"My identity as a Palestinian citizen of Israel, who wants to live here in a shared society with Jews, is very complex," Abu Rass said.
"This week, I am worried about my aunt, who is caught in Gaza, and 17 of my family members have already died in the bombings. I am worried about the safety and well-being of my Jewish friend and colleague, Vivian Silver, who has been kidnapped into Gaza by the terrorists. And I am worried about my friend's son, who is like a son to me, who is in the [Israeli] army, fighting in Gaza."
A dramatic rise in suspicion and hatred
A recent opinion poll showed that at least 80% of Israel's Palestinian population categorically opposed Hamas' 7 October attack, while another 18% refused to answer the polling question, and only 2% expressed support for it. 
Still, Palestinian citizens of Israel The New Humanitarian spoke to said that a pervasive suspicion of all Arabs, as well as a rise in expressions of hatred toward Arabs, has spread through Israeli society. "I know that Jews are afraid," said Rula Daood, co-director of Standing Together. "But many of them have come to believe that every Arab represents all of the Arabs, including terrorists."
Since 7 October, at least 110 Arab Israelis have been arrested for alleged violations of Israel's anti-incitement and anti-racist legislation for things they have said or posted on social media, according to information provided to The New Humanitarian by Adalah, the Legal Center for Arab Minority Rights in Israel.
"I feel like I might be shot for being an Arab, or for speaking Arabic, or because I didn't denounce the massacre strongly enough. I understand the fears of the Jews, but this feels like a witch-hunt to us Palestinians."
People have been called in for questioning and even arrested for liking posts by pro-Palestinian social media accounts, posting photos of the Palestinian flag, making statements that are deemed to be pro-Palestinian, or criticising the war in Gaza. 
In addition, Adalah reports that more than 100 complaints of incitement have been made against Palestinian students with authorities at universities and colleges throughout Israel, 74 Palestinians have been summoned for disciplinary hearings for posts on social media, and three students have been expelled from universities and colleges after the complaints.
As mutual suspicion grows in mixed Jewish and Arab workforces, groups like Standing Together have received numerous reports of Jewish workers informing on Palestinian colleagues (and sometimes Jewish colleagues) to their bosses and to the police. And extreme right-wing Jewish groups are trolling Facebook and other social media accounts searching for "incriminating" statements. 
In late October, Arab students at Netanya Academic College were attacked by hundreds of Jewish residents and forced to barricade themselves on the roof of a college building until the police arrived and evacuated them. The riot was accompanied by cries of "death to Arabs". 
Some local authorities, including several suburbs of Tel Aviv, have tried to ban Arabs from their towns, explaining that "the very presence of Arab workers is problematic at the present, because people are anxious". The ban was prevented by court intervention.
Some politicians, like the hard right-wing minister of internal security, Itamar Ben Gvir, are abetting Jewish fears.
On 11 October, Ben Gvir was accused of fear-mongering when he announced he had instructed Israel's police commissioner to prepare for intercommunal violence. Ben Gvir has also eased requirements for obtaining gun licences and established 566 local armed response squads – composed of Jews only – that will patrol in towns and cities throughout the country.
"I feel like I might be shot for being an Arab, or for speaking Arabic, or because I didn't denounce the massacre strongly enough," said Daood. "I understand the fears of the Jews, but this feels like a witch-hunt to us Palestinians."
Searching for light in the darkness
In response, numerous joint Jewish-Arab initiatives, such as Standing Together, have established hotlines to connect Palestinians who have been fired from their jobs or suffered other abuses with pro bono legal advice from Jewish and Palestinians lawyers. 
They have organised frequent solidarity vigils at major intersections throughout the country, and campaigns to bring food and other aid to people who have been displaced from their homes due to not only the war in the south, but also the threat of a possible war with Hezbollah in the north, which has caused Israel to evacuate nearly 100,000 civilians from the border region with Lebanon.
Others have resumed working on joint Jewish-Palestinian projects that were underway before 7 October.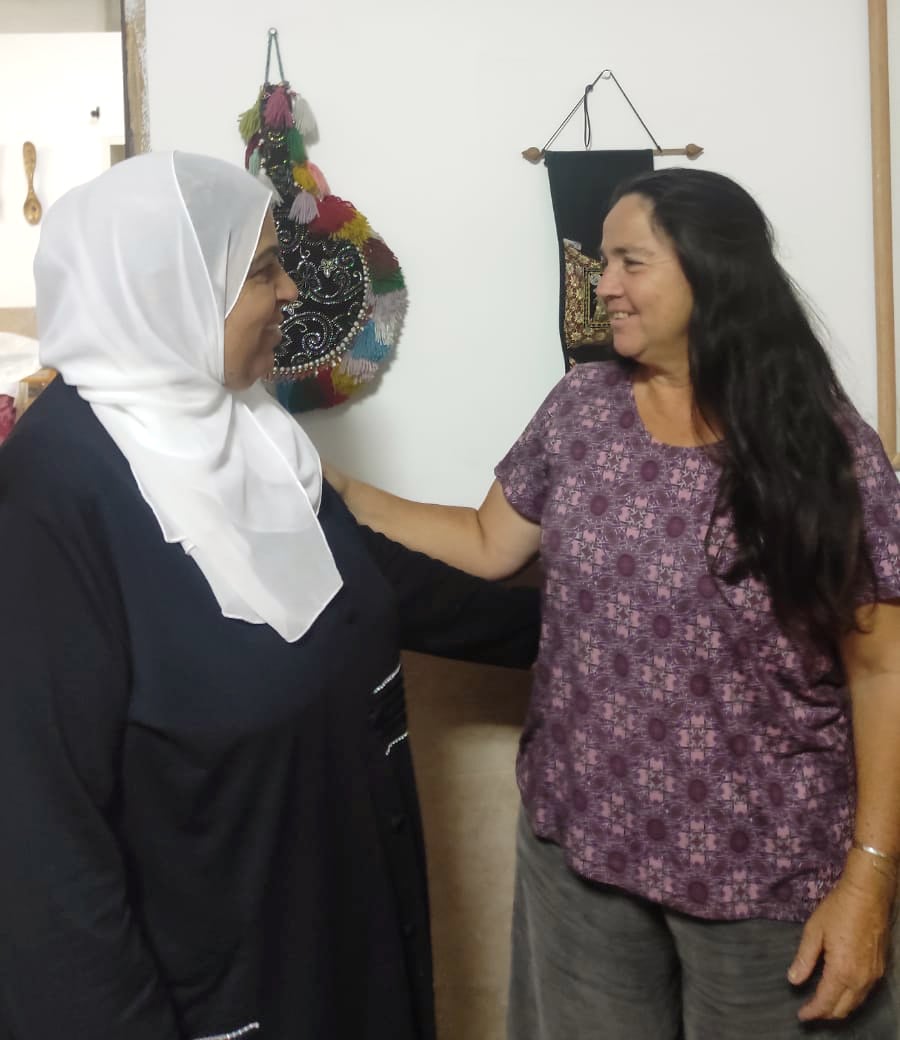 For example, registered tour guides Amna Kanana, 62, a deeply devout Muslim Palestinian from the village of Kafr Qara in the Wadi Ara region of Israel, and Tal Raz, 57, a secular Jew from the nearby city of Harish, have resumed their planning for The Green Tapestry Wadi Ara Tourism, a joint Palestinian-Jewish initiative promoting regional tourism to Jewish and Arab sites in Wadi Ara (known in Hebrew as the Iron Valley) in northern Israel, which is populated mostly by Arabs with a smattering of smaller Jewish towns and villages.
"We're in the middle of a war, and there are no tourists, but we are meeting together to plan the future," Raz told The New Humanitarian. "The horrific massacre has made the gaps between Jews and Arabs even worse, and the fear among us is even more generalised to the 'other' than before. We hurt, and we feel paralysed, but Green Tapestry provides us with a way to work for our shared goals."
"I am surrounded by darkness, so I have to search for the light," Kanana added. "I feel torn in so many different directions – as an Israeli, a Muslim who abhors violence, as a Palestinian, as a woman. My identities are jumbled now, but my identity as a human being who believes in a better future is clear."
At Medical Wadi, a group advocating for improved medical services for the Wadi Ara region, Director Shady Zeid has also slowly resumed activities. In the first weeks after the war, most of Medical Wadi's joint activities for Jews and Palestinians, such as women's preventive health and prenatal groups, could meet only by Zoom. "At first, everything was too raw to meet in person," Zeid said.
But the groups have begun to meet in person again, and the activities will succeed, Zeid believes, because they meet two sets of shared needs. "We are located in the geographical and social periphery," he explained. "So both Jews and Palestinians need improved medical services, and we need to meet and break down the barriers between us so we can live in peace."
In Nof Hagalil, a multicultural neighbourhood of Nazareth with a population of around 45,000 people, Bustan, a community group, has instituted nightly unarmed patrols of Jewish and Arab residents to increase a sense of security and strengthen community ties.
Bustan's vision is to "transform Nof Hagalil from a mixed city, with Palestinians and Jews from many different backgrounds, into a shared city that we can all feel proud of", said Nir Rubin, 46, a leader of the group.
"In times of crisis, some of the Jews here feel besieged, even though they are a majority: They are surrounded by Arab villages and Arabs live in the city. When they hear that Arabs murdered people in their homes, it raises their most primal fears," Rubin continued. "And the Arabs are fearful too: They are a minority and are afraid that someone might attack them because of what happened.
"Everyone is fearful now, and we know that there are extremist groups who would be happy to take advantage of that fear," he added.
The patrols, each staffed by two Palestinians and two Jews, drive through the town for three hours each night, their cars topped with a flashing police light provided by the municipality. 
"The streets are empty now because of fear," Khalil Bakly, 61, a member of Bustan, told The New Humanitarian. "People feel more secure knowing that we are here to tell the police if we see a suspicious gathering or a provocation that could turn into violence, and we provide them with an example of how Palestinians and Jews can work together for common goals.
"I am an Arab, a Palestinian, a Muslim. I do not intend to ever give up my language or my historical narrative," Bakly added. "But I also don't expect anyone else to give up on their identity or narrative, either, and we can live in mutual respect. These patrols represent that."
Planning for a better future
Despite deep divisions between the communities, and historical grievances, tensions between Jewish Israelis and Palestinian citizens of Israel rarely lead to violence.
May 2021 was one exception. Another took place in 2000, when demonstrations and violence broke out within Israel at the beginning of the Second Intifada: 13 Palestinians were killed by Israeli police, and one Jewish citizen was killed when his car was stoned by Arab rioters.
Until the Second Intifada, groups that organised meetings between Jews and Palestinians focused on coexistence, rather than addressing the substantive and structural issues that divided them, according to prominent peace activist Shuli Dicther, 70. 
"But the inequality and lack of mutual recognition persisted. In 2000, the coexistence movement died, and in its place we began to talk about a shared society and shared activities, built on equal partnerships," Dichter said. 
He believes that the relative calm that has held since 7 October is a testimony to the importance of the work done by the "shared society groups" that formed after 2000.
"These organisations, such as Green Carpet, Medical Wadi, Bustan, and many dozens of others, largely held together, even through the events of 2021, and I believe that they will hold through these horrific events, because they emphasise shared equality," Dichter said.
"The violence in 2021 shook us all, but ultimately the shared society organisations were able to quickly recoup and get back to work, as they are now," added Ameer Fakhoury, a 35-year-old cultural sociologist and social activist who works with Dichter as a consultant to civil society organisations. 
"Throughout most of our history, the Palestinians were the poorer, weaker side. Now we are in a position where although our cause [for equality and an end to the occupation] is just, the means that Hamas used were evil," Fakhoury said. "As Palestinians, we must oppose this, not because we are weak or fearful, but because this is our true ethical position.
This will not only allay Jewish fears of what will happen if Palestinians do have power, he continued. "It will prove that we believe in co-citizenship in Israel, and that we are committed to achieving this through politics, not violence," he said. "At this time, it is almost unreasonable to expect us to transcend our feelings, but we must. We must plan for a better future."
Fakhoury, Dichter, and the other activists The New Humanitarian spoke to all said they are cautiously confident about the future.
But as Israeli Jewish society painfully, and increasingly angrily, mourns the victims of the Hamas massacre and largely supports the war in Gaza – and as Palestinian citizens of Israel face increasing repression and the death toll in Gaza continues to rise – they all know there are difficult days ahead.
Edited by Eric Reidy.