The situation for asylum seekers and migrants in Libya has been bad for years, but it recently became even worse. 
I grew up and live in the capital, Tripoli, where refugees and migrants – most of them from sub-Saharan Africa – have been part of our society for decades. Many in Libya view these people as inferior, but I believe in human rights, social justice, and African solidarity; and I have always seen their presence as enriching.
On 1 October, I woke up early to find posts from my friends on social media about the sound of heavy gunfire in the western part of the city. It reminded them of the many rounds of armed conflict we have suffered in Tripoli, and some feared the worst.
It turned out the gunfire was not the beginning of yet more clashes, but a crackdown by Libya's provisional Government of National Unity on people wrongly portrayed by officials as drug traffickers and sex workers in a neighbourhood of the capital called Gargaresh.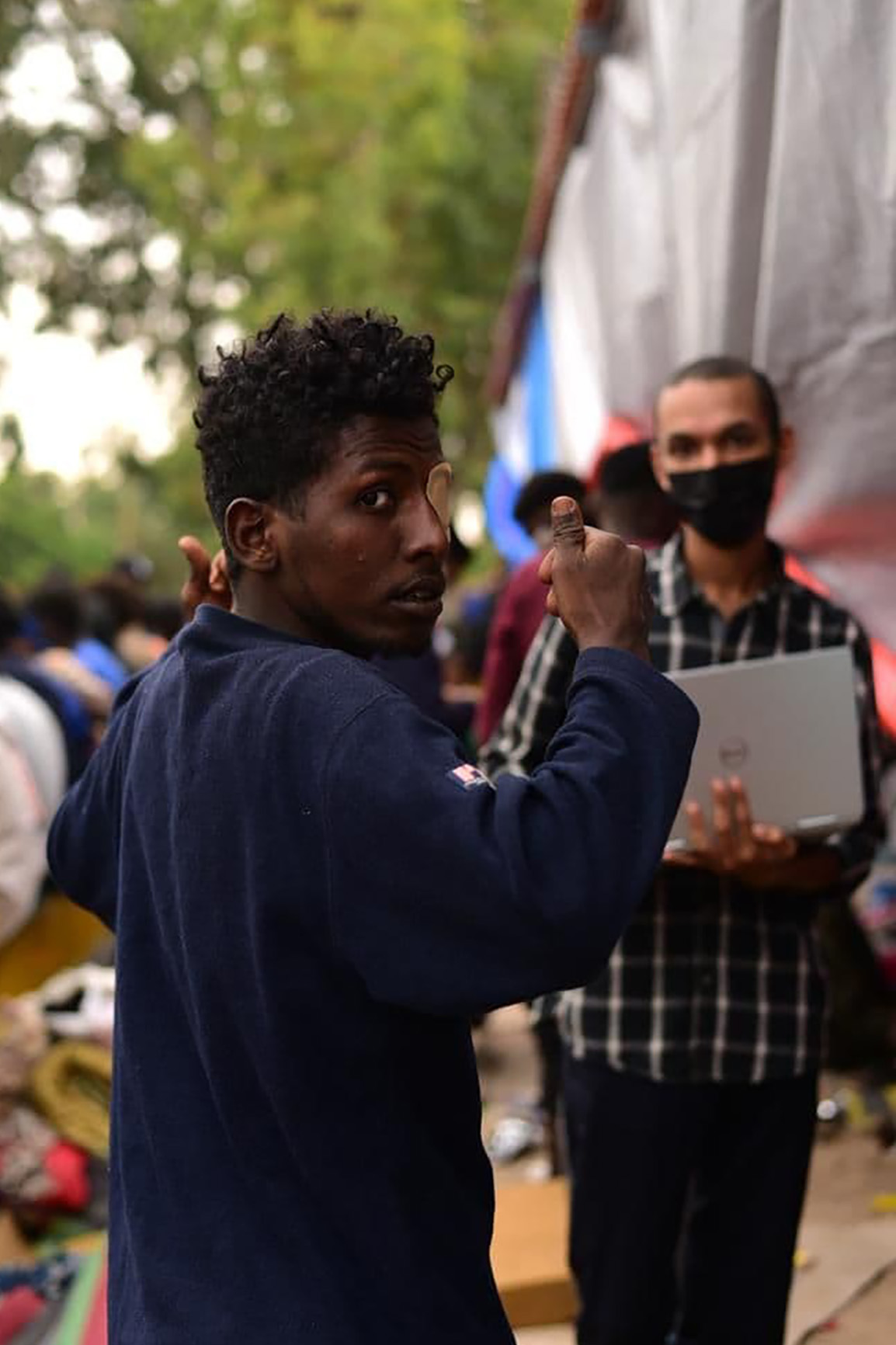 The news saddened me. Many vulnerable sub-Saharan Africans live in Gargaresh, and I soon found out that more than 5,000 people – including many recognised as refugees by the UN's refugee agency, UNHCR – had been rounded up by security forces over the course of several days and sent to already overcrowded detention centres. In the process, at least one person was shot dead and 15 injured. The numbers held in government-run detention centres in Tripoli reportedly tripled, almost overnight.
About a week later, at least six more asylum seekers and migrants were killed and two dozen injured by guards at Tripoli's Ghout al-Shaal detention centre during a mass escape attempt. Many of those who survived – along with others who joined them – are now camped out in front of a community development centre run by UNHCR and some partner NGOs. In total, around 3,000 people are now sleeping rough on the side of the road in front of the complex. 
I have spent the past month organising and running an independent initiative to provide aid and assistance to these people. When I first visited the makeshift encampment in the middle of October with a few other volunteers – including a doctor and a therapist – we saw hundreds of people who needed urgent care. 
People had gunshot wounds, marks on their bodies from torture, fractured bones, and trauma wounds to their heads. Some of the injuries occurred during the October raids, but others were due to people being subjected to violence by smugglers and militias while attempting to cross the Mediterranean or in detention centres. There were also pregnant women, diabetics in need of insulin, kidney patients in need of dialysis, and many people who were sick with tuberculosis and other diseases that ran rampant in the crowded, unsanitary facilities where they were held. 
Countering distrust
The asylum seekers and migrants were distrustful of us when we first came to visit, asking what organisations we were affiliated with. If we worked for an international aid group, many would have rejected our assistance. We had to continually explain we were independent and just wanted to help.
As part of this initiative, I have used social media to collect donations from friends and other Libyans who want to help. I often encourage people to go to the UNHCR-run centre themselves to give their donated items so the asylum seekers and migrants see that not all Libyans are smugglers or bad people trying to do them harm. 
My main focus has been on providing support to women and children. Women and girls are particularly vulnerable and face patriarchal barriers but still have a strong feminist spirit and raise their voices to advocate for themselves, despite all the odds. 
We have been able to help some of the pregnant women, and were able to support one of them while she gave birth, even though she couldn't access the public hospital, which almost always refuses to help asylum seekers and migrants. 
But the donations we've received, and our efforts, are not enough. The situation remains difficult. The people in front of the community centre raise money for food among themselves, but it isn't sufficient: people go hungry. There is also no bathroom or toilet for them to use. Between this, the injuries, and other medical issues, the situation is on the brink of becoming a major health crisis. 
"I often encourage people to go to the UNHCR-run centre themselves to give their donated items so the asylum seekers and migrants see that not all Libyans are smugglers or bad people trying to do them harm."
By sleeping in front of a UNHCR-run building, people hope they will be protected from further raids, but they have also lost faith in the international organisations providing aid to them in Libya, which they see as a temporary, ineffective bandage to a problem that needs a holistic solution. Refugees are demanding – and many will accept nothing less than – immediate evacuation from Libya to European countries, saying they cannot be safe here.
UN-organised evacuation and repatriation flights from Libya to African countries recently resumed after being suspended by Libyan authorities in August. But the flights are still infrequent, and for those who cannot (or do not wish to) return to their countries of origin – or be sent to wait for some unknown future in another African country – there are no clear solutions.
Turning things around
Citing security concerns, UNHCR suspended the aid operations it was running out of the community centre complex, but it does still provide assistance to asylum seekers and migrants elsewhere in the capital.
The UN refugee agency is in a bind. It is stuck between restrictions placed on it by Libyan authorities, the lack of any real will from European countries to find real solutions, and the demands of asylum seekers and migrants who have no one else to turn to for help and feel let down and abandoned. 
It's clear that there needs to be stronger advocacy for changing migration-related laws and policies in Libya that treat all asylum seekers and migrants as being in the country "illegally" and subject to arbitrary detention.
To rebuild trust with the people it serves, UNHCR needs to apply pressure on the Libyan authorities to ensure there is no repeat of the October raids. It must also act as a mediator and engage with the people camped out in front of its community centre to work towards achievable solutions. 
Also, the EU and its member states must end their policy of supporting the Libyan Coast Guard's interception of asylum seekers and migrants at sea. These EU-backed interceptions only worsen the crisis and have resulted in more than 27,500 people being returned to detention centres this year.
Speaking out about these issues and doing independent volunteer work with asylum seekers and migrants in Libya is dangerous. Human rights defenders can be forcibly disappeared by armed groups or intimidated and investigated by the security agencies; and migration is a sensitive topic that Libyan authorities view as damaging the country's reputation internationally.
So far, we have been able to provide some assistance, but the aid we are giving is a temporary measure that can only partially fill the gap left by the disintegration of the relationship between international organisations and asylum seekers and migrants following the raids in October. 
It is up to international organisations, the Libyan authorities, and the European countries supporting the Libyan Coast Guard to work together to find some desperately needed solutions. Otherwise, the suffering of asylum seekers and migrants in Libya will not only continue, it will deepen.